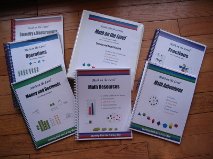 Math On The Level is a pre-K through pre-Algebra math program designed to accommodate families teaching multiple children of various ages.  It is a relatively new curriculum on the home-schooling scene.  The authors, Carlita and John Boyles, developed this wonderful math curriculum as they home-taught their own children.  With advanced degrees in several Education fields for Carlita and Electrical Engineering for John, they are well-qualified to teach mathematics!
The philosophy behind MOTL includes:
Teaching math through real life
Teaching concepts when a child is mature enough to learn them
Continually reviewing previously learned material
Staying flexible to meet the needs of your family.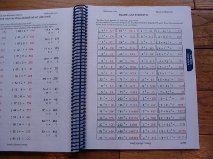 The curriculum is composed of 7 main volumes.  Four of the volumes cover the bulk of the actual material, with the remaining three volumes containing supporting and record-keeping resources.  The four main books cover Operations, Money & Decimals, Geometry & Measurements, and Fractions.  In the supporting materials, Carlita and John have developed various charts and tracking tools to help you keep track of what each child has learned, what they're still reviewing, and what topic to introduce next.  The back-bone of MOTL is the 5-a-day review.  Rather than learning a concept only to forget it a few weeks later, the 5-a-day review and tracking system provides a way to keep concepts alive.
I've used MOTL for one full year now, so here is what a day in the life looks like for me:
I collect the notebooks of my two children who are using MOTL (I have other older and younger children).  Looking at the tracking chart I can easily see which concepts my child needs to review.  The charts are all color-coded with four main books, making it easy to select the right book.  Each book has lessons in the front half that explain how to present a concept.  The back half provides a page of practice problems (with solutions!) for each concept.  I select the problems I wish my child to do, copy 5 into their notebook (usually from several books – covering several review concepts), and let them start working.
While they work, I take note of the new concepts to be taught that day, and briefly familiarize myself with the way Carlita explains topics.  I trade off teaching one child, then the other.  Carlita has a handy "suggested teaching sequence" that I love – but you are free to veer from that.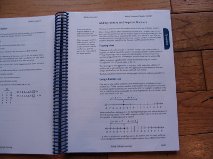 What I Love –
I love that it takes virtually no prep work.  Hey!  I'm a busy mom!  I love that the children are given manageable portions of review problems – and that they get review problems.  I think the teaching instructions given by Carlita are phenomenal.  If I find my child struggling with a topic I've been teaching, a quick review of Carlita's instructions helps me see what I'm doing wrong (the fault is usually in my presentation) and clears everything up!  The Yahoo Group is active and a wonderful resource – Carlita and John are active moderators and participants.  I love knowing that I can ask a question and receive a timely reply.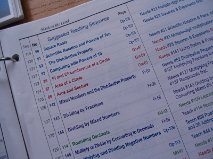 What I Don't Love –
Honestly, there isn't a lot to say here, but I will mention some things that might be turn-offs to others.
First, the cost.  If you consider the cost of the curriculum spread out over multiple children for many years, it's very reasonable; however, the upfront cost may seem prohibitive.  To help with taking the plunge, Carlita and John offer a great 60-day refund if you try the curriculum and are not satisfied.  It's nice to be able to take things for a test-drive before committing!  Also, you can order the curriculum in chunks without affecting the overall quality (though you would eventually want all of it).
Second, the record-keeping, while thorough and very well done, takes some getting used to and can seem onerous.  I honestly don't do all of it and I'm fine with that.
Third, some might feel that 5 problems a day is not enough review.  Obviously, you can do more.  You can write more problems yourself, use more of the ones in the book, or print off free worksheets from the internet (or buy workbooks).  I find the amount of work to be satisfactory for my children.
A Final Note –
If you favor a living books or unit studies approach, you will find that this curriculum would dovetail nicely as you can easily select books by concept and have your children doing problems of varying difficulty in that concept.
After I spent nine months wishing (and saving), I was able to purchase Math On The Level.  A year later, my family still loves it.  Both my children are at or ahead of grade level, and most importantly, math is a subject we all enjoy doing together.  For more information, or to see samples of the program, please visit www.mathonthelevel.com
–Written by Kelly Richardson is the 9-year, accidental home-schooling mother of five amazing children (13, 11, 8, 3, 2).    She is a voracious reader, regular break-baker, sometimes runner, and rare artist .  Her passions are learning about education, home-making, and playing her piano, but her all time favorite thing is spending time with her husband and family, especially in the redwoods or at the beach near her home.  She chronicles her family's adventures at www.coastcrew.blogspot.com.