We are visiting an old favorite in new form. Having used CalcuLadder with my older girls (now 28, 27, 25), I knew that I liked this program, but I was not sure of the download format. As it turns out, I love it!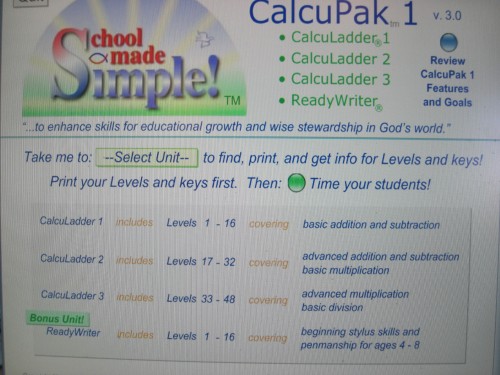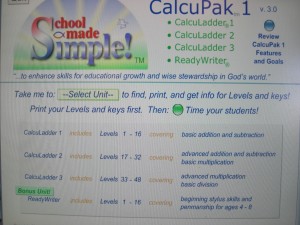 In this mathematics drill program, the student will work on the same page each day until he meets the preset time and errors allowed goals. When he meets his goals, he moves on to the next drill.
In case you think your kids will hate this (drill work), my boys are surprisingly okay with it. I'd almost say they enjoy it. There are not too many problems on each page and each drill builds on the last without a huge leap in difficulty. I even had one son ask if he could have another shot at his drill for the day- not in a frustrated way- in a determined to beat the challenge kind of way.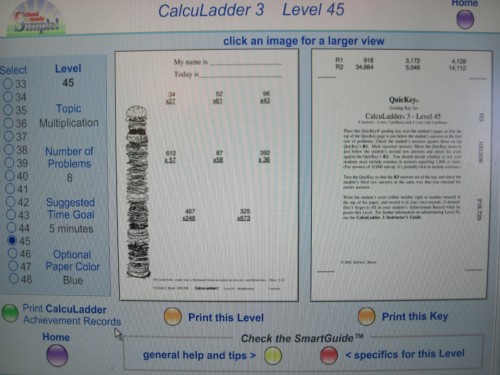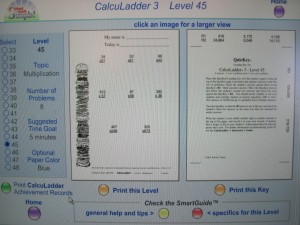 While too much  "drill" can take the joy out any topic, to enjoy mathematics it helps to have quick recall of the facts. That is exactly what this program helps accomplish. These learning vitamins, as they are referred to, are designed to "turn conceptual knowledge into practical know-how". Not a bad return on two to five minutes of time invested each day.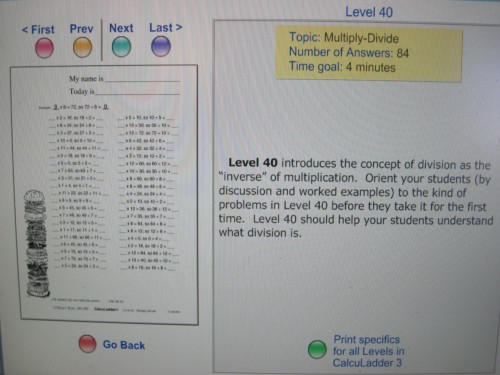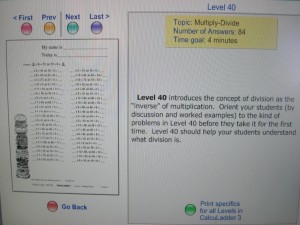 CalcuPak 1 is suggested for grades 1 and up, and CalcuPak 2 is for grades 4 and up. To choose the best level for your student(s), visit  School Made Simple to see what concepts are included in each level.
We have found this very simple to use.  When my boys complete and correct their timed "learning vitamin" (which sounds so much more appealing than drill!) for the day, I print the next page needed and they file it in their notebooks ready to go.
As our family has been trying set aside the traditional textbooks to take a more hands-on approach to math, this might seem like an odd fit for us. No matter the approach, mathematics may not be as enjoyable if a child struggles to recall basic math facts.
-Laurie Duquette is mom to 7 children and a grandma of 3. Her family is beginning their 19th year of homeschooling. You can read more about their  homeschooling adventures at Keeping It Simple.