Often when kids hear the word school they automatically groan and don't want to do it. But if you can find ways to make learning more fun, then school doesn't seem so bad. There are tons of homeschool math games you can find and create to help make learning math skills fun!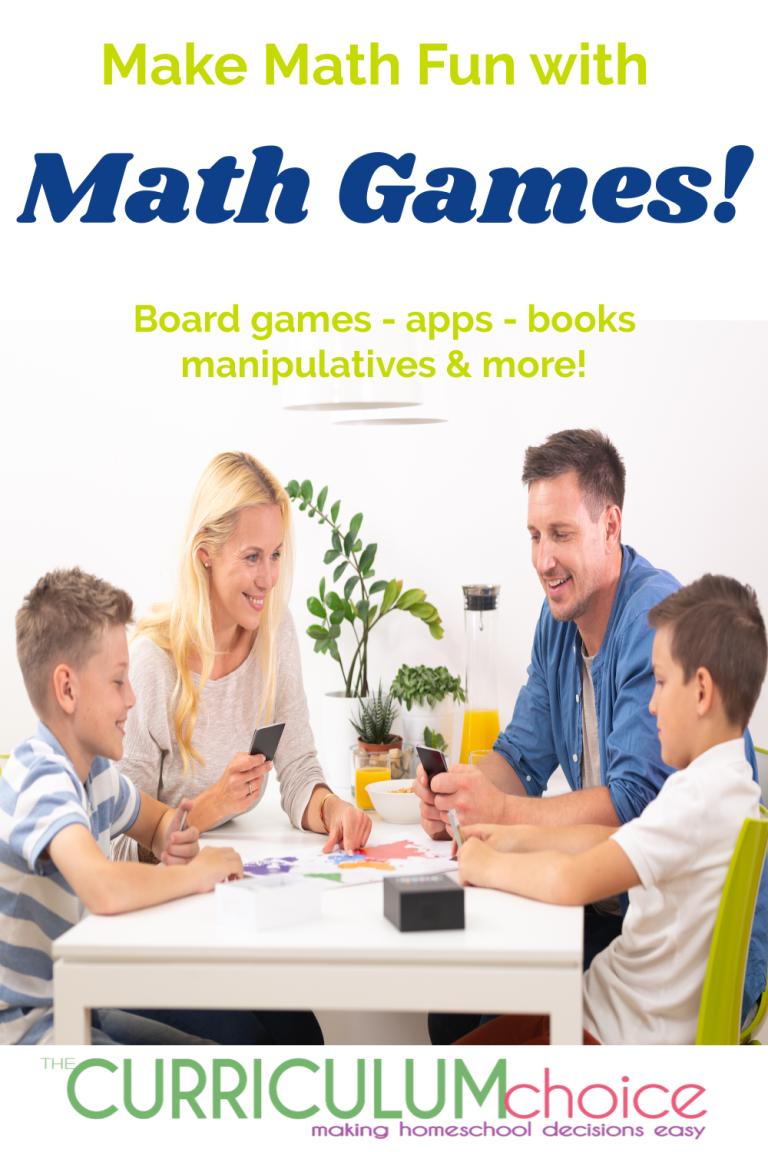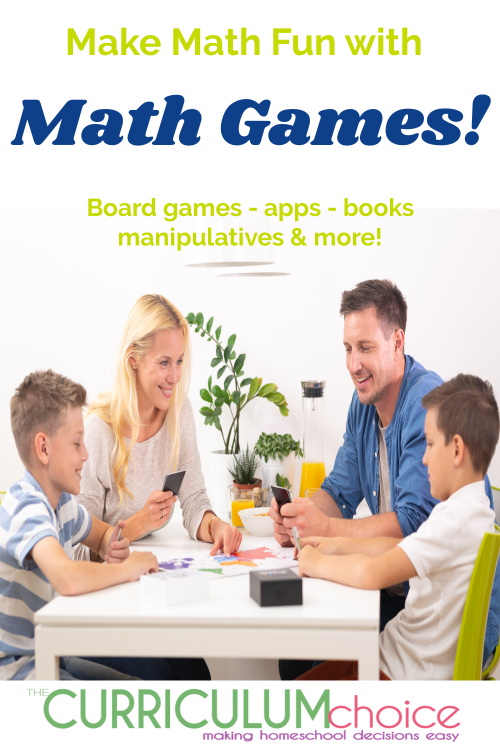 Affiliate links are used on this website. Please see our disclosure policy for more details.
Whether you are looking for a card game, board game, online game, music, app or book, this is a collection of math games to help you make learning math skills engaging and fun for your kids.
Homeschool Math Games
Math-terpieces – Math-terpieces is a neat tool for developing math skills with your student while also introducing famous art masterpieces. This book focuses on building computational and problem-solving skills while introducing art history. Components from each art masterpiece are used to display sets of items that students then have to group together to come up with the desired sum.
Mind Benders – While not directly math related, Mind Benders are thinking puzzles that develop logic, reading comprehension, and mental organization skills vital to achieving high grades and top test scores in all subjects. They're also great for developing real-life, problem solving skills.
Games for Math – This book includes games for Kindergarten through Third Grade, covering a wide variety of topics including: Counting, Logical Thinking, Size and Shape, Addition and Subtraction, Multiplication and Division, Estimation, Geometry, Measurement, Place Value, The Number System (Base-10).
Multiplication Through Music – One day I happened upon this music disc called Multiplication Unplugged. I picked it up to play in the car as we often listened to children's music CDs in the car. Much to my surprise I found that I had children who learned to skip count and multiply, even before adding was solidified! (You can also get Addition Unplugged, Subtraction Unplugged, and Division Unplugged if you prefer to start elsewhere!) We would listen to it only in the car and sing the melodies together.
Memorizing Math Facts – Memorizing Math Facts can be done in a myriad of ways such as math games (board and electronic), flash cards, and drill sheets. This is a collection of resources to help your kids memorize their math facts.
Addition the fun way – This curriculum is a fun, picture method of learning and the addition facts.
Math with Manipulatives & Living Math for Your Homeschool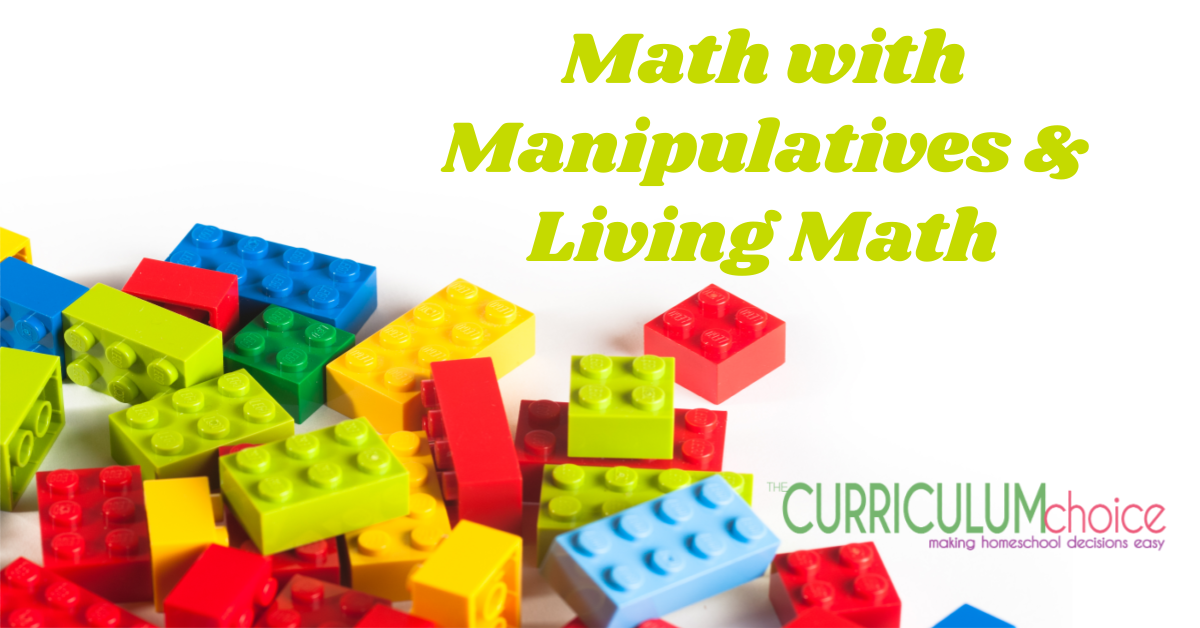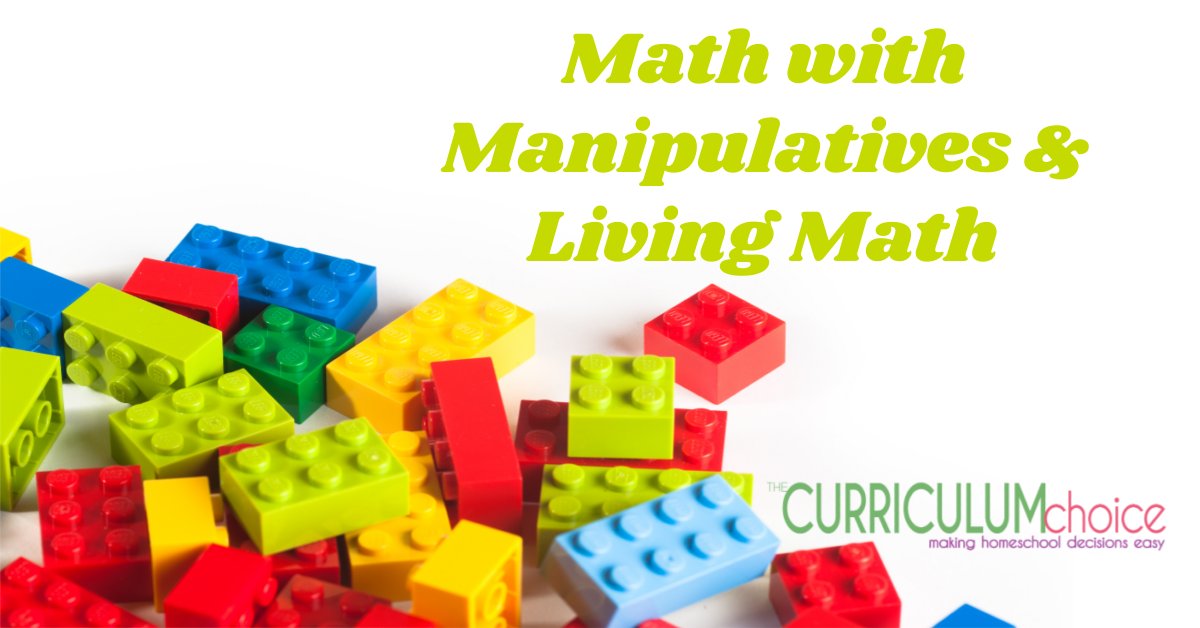 Lego Math – The Brick Math series which uses Lego Bricks to help teach math concepts such as fractions, multiplication, addition, division, subtraction, Geometry, Measurement, Ratios, and Statistics.
Loving Living Math – Loving Living Math taught me, the teacher, how to see the everyday math learning opportunities. It helps answer the practical question, "How will I use this in the real world?"
Your Business Math – Your Business Math Series is a fun "living math" kit that reinforces math skills for ages 8–12! Your student uses math knowledge to keep his or her very own store running and, hopefully, make a profit
Playing and Learning with Manipulatives – Early math is all about hands on learning and the use of manipulatives for young mathematicians! The basic manipulatives needed for early math can be found in your own home. Numbers and Patterns – K can be done using simple supplies easily found, such as small toys, buttons, crayons, etc.
Websites and Apps with Math Games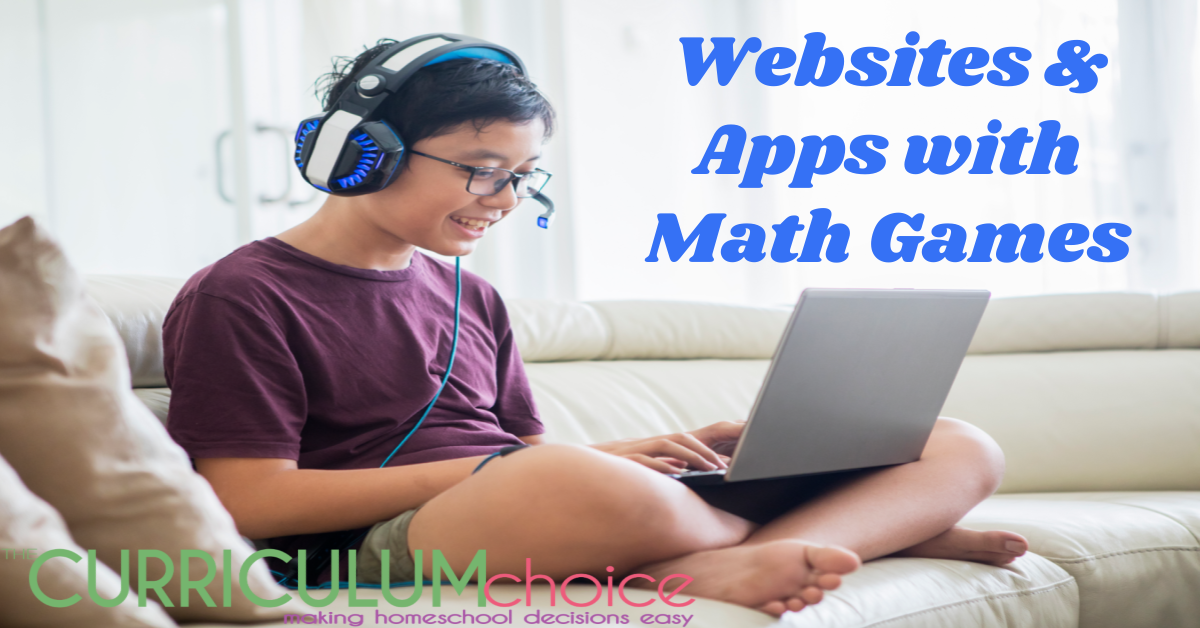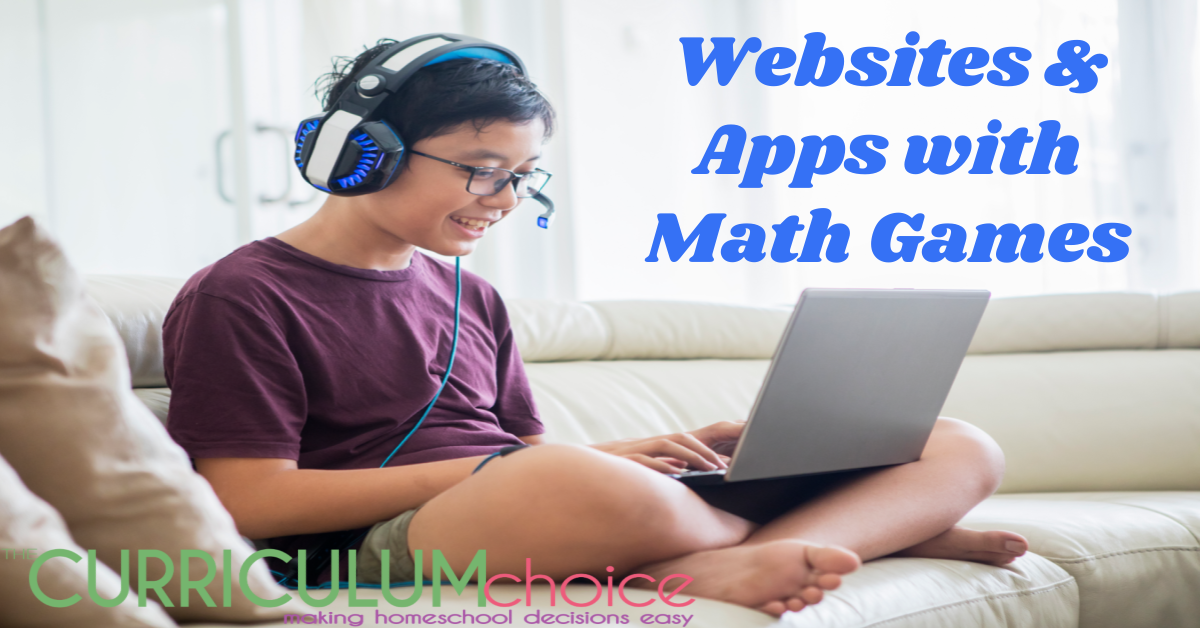 Times Alive – Times Alive includes animated cartoons, stories, songs, quizzes, and interactive games to teach all the times tables 0s-9s. App keeps track of student progress showing completed lessons, test scores, and time for completion. Easily clear progress to re-take a test or to start a new student. Find Times Alive in the app store.
BEAST Academy Playground: FREE Math Games – is a growing collection (New videos are released each week) of math games, crafts and activities that Beast Academy offers for FREE! This playground helps kids build numerical literacy and problem-solving confidence.
Rocket Math App Review – you build your own rockets from the ground up. As you build a rocket, you have to earn money for parts by doing math problems. There are over 90 colorful pieces and parts from which you can build your own unique rocket. Once your rocket is complete, you can put it on the launch pad and blast off into space. Tilting the device steers your rocket and a slider controls the thrust.
BRAINIKA A fun math game in Roblox – educational math game on Roblox for kids in K to 2nd grades. It takes kids love for online games like Roblox and turns it into educational time parents can feel good about!
Timez Attack – a fun, story play style video game that teaches multiplication. There are also division, addition and subtraction options too!
Homeschool Math Board and Card Games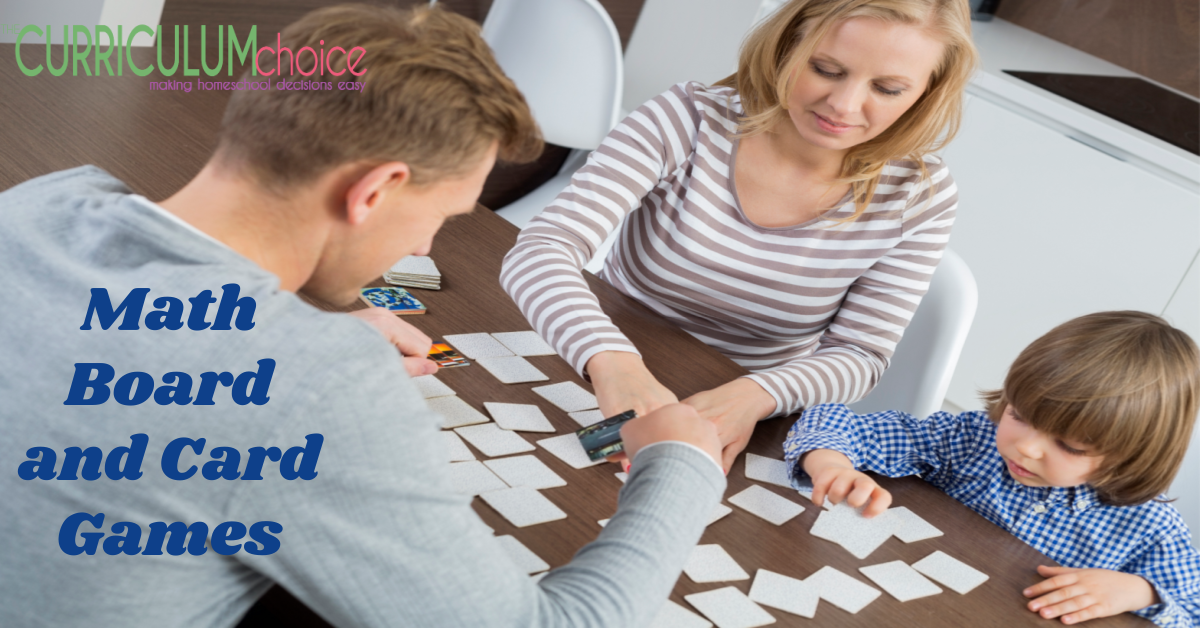 Sum Swamp – teaches addition and subtraction facts in the context of a fun game. The game also teaches about odd and even numbers. Sum Swamp is appropriate for preschoolers who can be trusted to not put small objects in their mouths up to about 2nd graders.
Speed! Skip Counting Game – You get 8 decks of cards in the box, one for each multiplication factor (2s, 3s, 4s, 5s, 6s, 7s, 8s, and 9s). The object of the game is to get rid of all your cards by building up or down counting by 2s (or whichever deck you are using).
Money Management for Teens Board Game CASHFLOW – an educational board game that simulates real life financial strategies and situations. As a simulation, you learn valuable lessons and gain priceless insights into personal finance and investing without having to put your actual money at risk. CASHFLOW teaches you and your kids how to get out of the Rat Race and onto the Fast Track, how to make your money work for you – not the other way around.
Math Gamesology – A board game developed by a math teacher to help practice math facts for elementary, middle and high school students. Quite simply, players draw a card and show it to the person on their left. The player on the left solves the math equation on the card. If correct (as determined by the person who drew the card and can see the answer), the player moves a given number of spaces on the game board.
Buy It Right – In this fast-paced and interesting game, children learn and practice: adding and subtracting decimals, counting money, giving back correct change, calculating the highest price and the lowest price from three numbers, calculator skills, practice in paying for purchases, practice in determining if one has enough money to purchase an item. Two, three, or four players can play Buy It Right at a time. While the game is targeted for children between the ages of 5 and 9, the game can be played by younger children with modifications that are explained in the game instructions.
Playing Card Math for Middle School – Grab a deck of cards and play these fun games with your middle schooler! Work with multiplication, exponents, and more!
Right Start Math Games – This Math Card Games book has 300 card games providing practice in learning concepts and the facts. Chapters on: Number Sense, Addition, Subtraction, Multiplication, Division, Money, Clocks, Fractions. The games become progressively harder within each chapter.
Card Game Math – This Mega Fun Card Game Math Book is geared towards grades 3-5. There are 25 card games presented. The only supplies needed are a deck of cards. Some games in the book call for score sheets or other masters, which are included.
Playing Math with Equate – Equate plays like the crossword game we all know and love (Scrabble). You can build equations up and down and across. Unlike a word game though, an equation reads both ways so you can often add on to someone's equation with the ever so helpful equals sign.
The Allowance Game – from Lakeshore Learning reminds me of Monopoly, only much simpler and in kid friendly terms. While this game is like Monopoly, there are two major differences that stand out in my mind. The first difference is that there are no large bills (the largest bill is $5), no buildings, mortgages, etc. Instead you have change (1, 5, 10, and 25 cents) and small bills ($1 and $5). The second difference is that the squares (or tasks that are landed on) are all kid friendly. They spend money on things like going to the movies, playing video games, buying a toy and more. To earn money they get their allowance as the come around the board each time, as well as earn money for things like, babysitting, birthday money, and losing a tooth.
Homeschool Books to Make Math Fun
Sir Cumference – a series of math adventure books featuring Sir Cumference, Lady Di of Ameter, and their son Radius for wordplay, puns, and problem solving.
Life of Fred – written in a story format about a little boy named Fred who uses math in his everyday life. Fred is a 5 year old boy who is a professor at KITTENS University. He encounters a need for math first, and then he does the math. At the end of each chapter is a section entitled "Your Turn To Play" with questions for your students to answer that relate to what they have learned in that chapter.
Options for Homeschool Math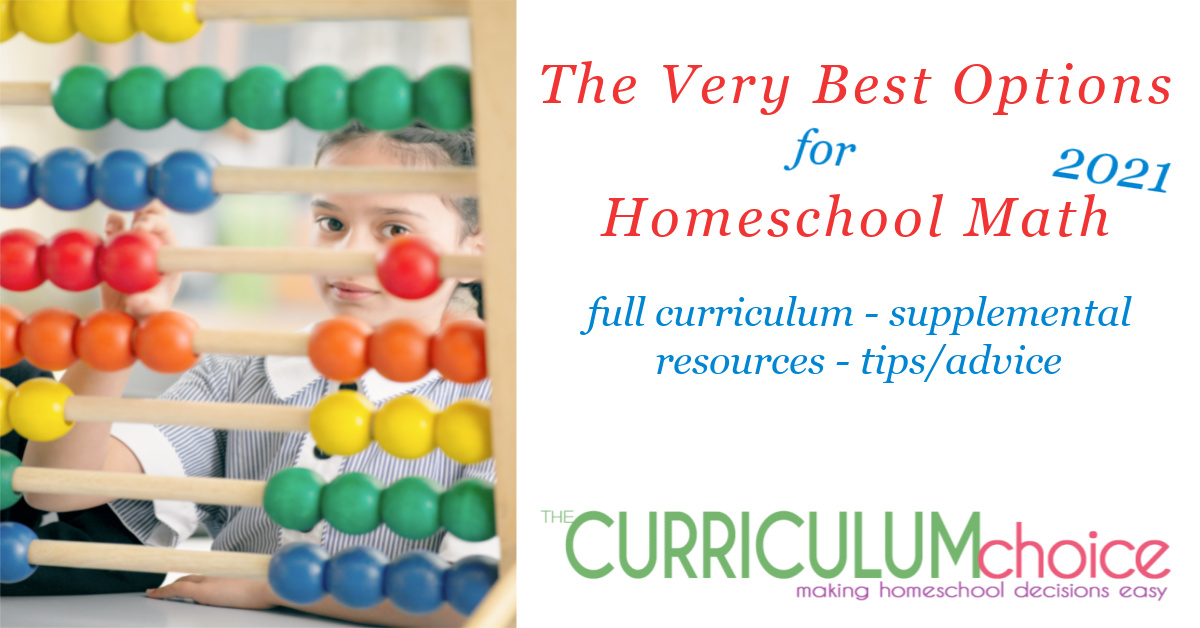 Options for Homeschool Math is a huge collection of full curriculum options, as well as supplemental resources, and tips/advice for tackling homeschool math.
Other Educational Games to Make Learning Fun