Middle School is a time of development and transition from the grammar stage of elementary school to the higher thinking and processing rhetoric stage in high school. At this time kids are learning to think more critically and logically. Lightning Literature and Composition offers middle school students that opportunity through literature.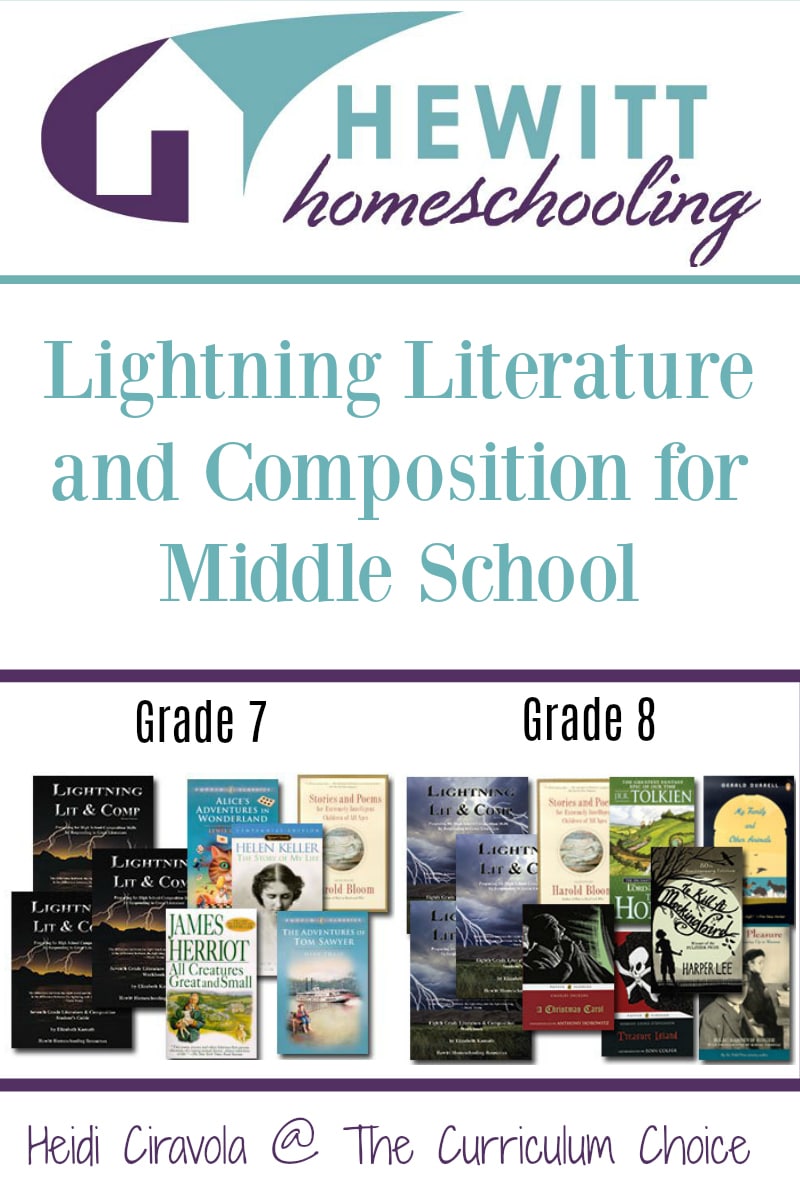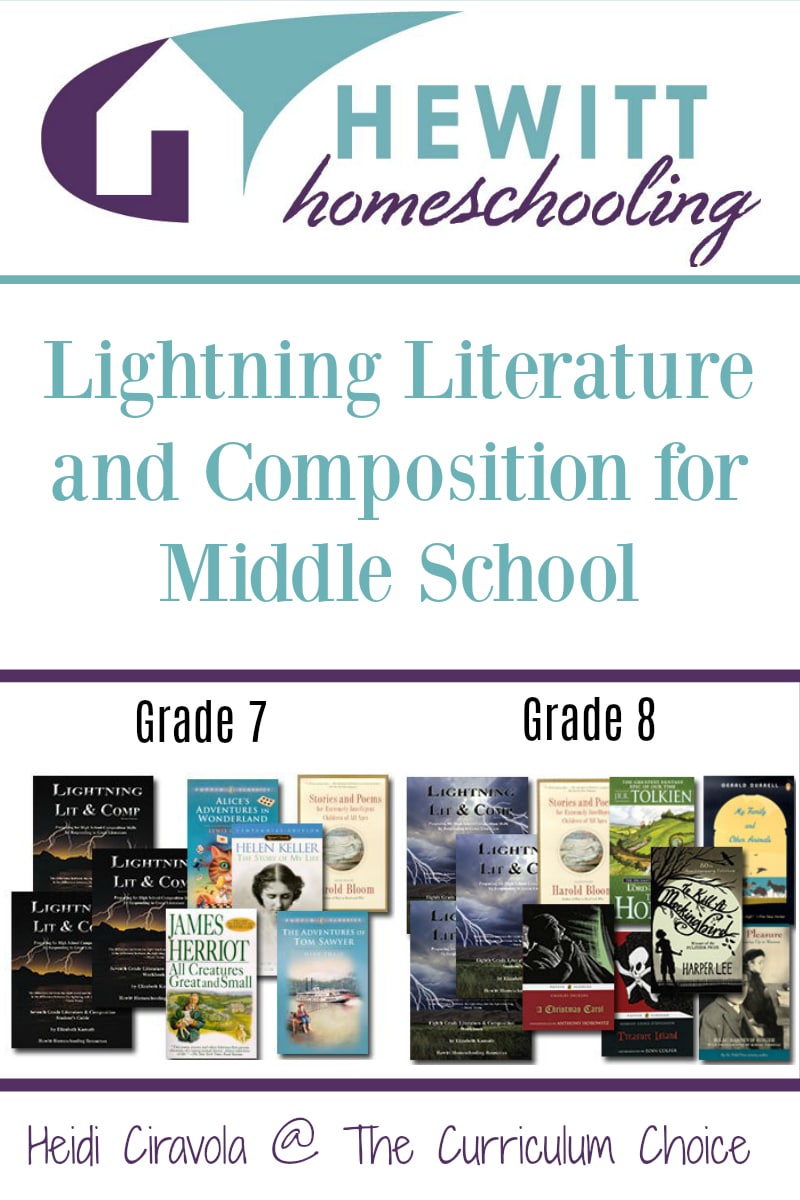 Lightning Literature and Composition
Lightning Literature and Composition from Hewitt Homeschooling is a literature based program whose focus is on Preparing for High School Composition Skills by Responding to Great Literature. Using literature as a base, Lightning Literature teaches reading and writing skills, literary analysis, composition skills, and vocabulary.
What's Included:
Teacher's Guide – Planning schedule, answers to comprehension questions, discussion questions to use with your student to help them think more deeply about the literary work they just read, and workbook activity answers.
Student's Guide – contains the main lesson material. This contains things like a brief reading about the author of the literature they will be reading, extensive vocabulary lists (broken down by chapter) with definitions, comprehension questions, literary lessons final writing exercises for each chapter and more.
Workbook – writing and literary activity worksheets, crosswords, and search a words.
Beyond these books you will need the literature books that are covered during each year. I keep a running list of books to be on the lookout for when we head to library sales, garage sales, and used book stores so I can pick up books we will be using super cheap. If I haven't found them at a local sale we get them from the library instead of purchasing new because it's so much cheaper.
What Stands Out:
I have used this curriculum in my homeschool for many years, and at all the levels. This year I will have one using Grade 7 and one using British Literature. Having such a wide range of experience with multiple levels and children using Lightning Literature has given me the rich understanding of why I keep coming back to it.
1. Solid, Classic Literature
While we do not stick strictly to one type of homeschool (I would call use eclectic), I have always kept classical education at the core of so many things we do. For this reason I stick to reading whole written works, and classic literature. Lightning Literature (LL) does this! In middle school your student will read such works as Tom Sawyer, All Creatures Great and Small, To Kill a Mockingbird, A Christmas Carol and Alice's Adventures in Wonderland.
2. Using Literature to Teach Specific Literary and Writing Skills
To build on their use of solid, classic literature, this program uses each work to teach specific literary skills. They begin from Day One of Grade 7 reading a poem, Rikki-Tikki-Tavi by Rudyard Kipling to focus on Plot Line (including exposition, rising and falling action, climax, and resolution).
3. Workbook Activities
Hewitt Homeschooling offers LL for all ages, and their basis is the same, each level grows with the student, meeting their needs at that stage. The middle school (junior high) program includes something distinctly different in the workbook from the High School (senior high) options.  There are up to twelve different workbook activities for each chapter, many of which relate directly to both the reading and the Literary Lesson.  These activities are the crowning jewel for middle school students to learn different writing skills, literary analysis and more. They break each thing down into manageable steps, offering practice and guidance in mastering each new literary skill. In the work word search puzzle and a crossword puzzle for each chapter might be optional, but the crossword puzzles seem useful reinforcement for lesson material.
4. Planning Schedule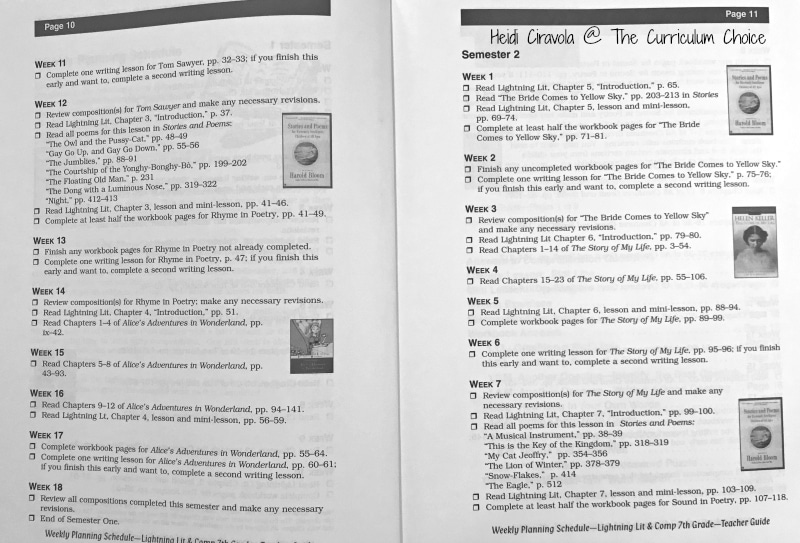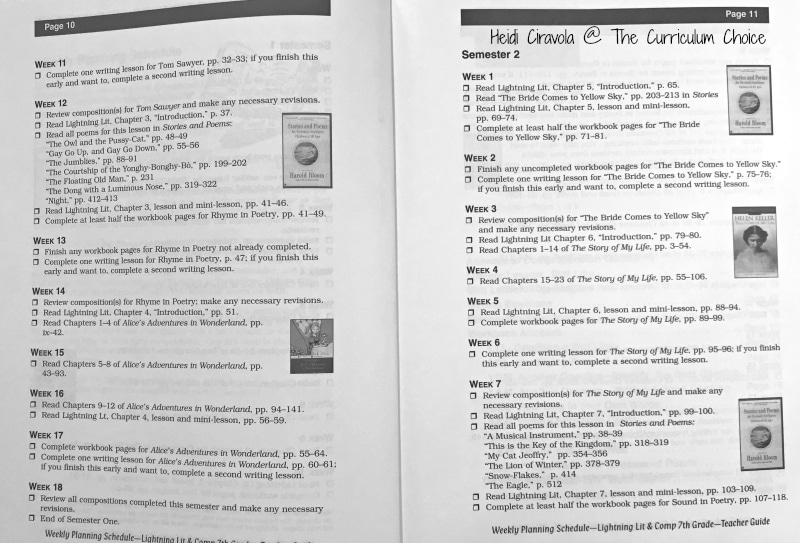 Another strength of this program is the provided planning schedule which can be found in the Teacher's Guide. While many programs boast having a planning schedule, they often fall short in really being helpful. I print a copy of the schedule for my kids so they can see what is coming and expected of them and can check it off as they complete it.
If you want to see more of what the high school (senior high) level looks like head over and check out my review Lightning Literature for Homeschool High School Reading & Language Arts.
Purchasing Lightning Literature
All the Lightning Literature products can be found at Hewitt Homeschooling's website. You can purchase each item separately or as a bundle. In case you don't want to search, they also have bundles that include all the literature you will need.
Elementary – the currently have grades K-4 available
Middle School (Junior High) – this includes 7th and 8th grade
High School (Senior High) – these are broken down into topics instead of grade levels including: American Literature, British Literature, World Literature, Speech, Shakespeare, as well as some strictly Christian options.