It isn't a book my son picked off the shelf. The plain red cover is worn, stained, and wrapped with tape.  It looks uninspiring, but after the first chapter we are both captivated by the amazing story of two brothers.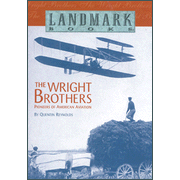 The Wright Brothers- Pioneers of American Aviation by Quentin Reynolds was originally published in 1950 by Random House for the Landmark Series. This series contains some of the best children's history books I've come across. (In fact, Raquel Werk recommends beginning a Principle Approach study with one, The Landing of the Pilgrims.)
It would be simple to use The Wright Brothers as a foundation for the science and history of  flight. My son and I discussed those things, but I observed something even more wonderful.
While reading about the insatiable curiosity of Wilbur and Orville Wright, my son's eyes sparked with understanding. Ideas tumbled out and half grins flashed often.
Now he knows exactly where those old, history books are on the shelf.
For more information:
Our small collection of Landmark Books is from library sales and second-hand stores, but many have been republished. Valerie's Living Books has more information about available titles and current versions.
What books have captivated the imagination of your children lately?
Written by Renae Deckard, Biblical Principled mother of 3. Find Renae's reflections about homeschool and family life at Life Nurturing Education.