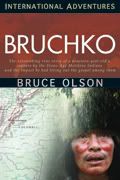 Wow.  We just finished reading Bruchko, the story of missionary Bruce Olsen, and I can truly say it's an amazing book!
So many times, missionary stories can be rather dry and difficult to trudge through.  Not so with Bruchko – we were enthralled from beginning to end!  The excitement of the wonderfully woven true tale kept us on our toes.   Witnessing the perseverance of this young missionary who followed God's call in spite of a lack of financial support was inspiring.  But most of all, seeing God's work in the Motilone people of South America made our jaws drop.
You meet Bruce Olson as a young teenager as he learns to love and follow the Lord with all his heart and with passion.  You then follow this determined young man at the age of nineteen into South America with little support either financially or emotionally from family or missionary boards.  You watch him struggle time and time again, ready to give up so many times, as the Lord continually provides and assures him that he is doing His will.  You rejoice with him as he finally reaches a godless, harsh tribe of people with the Truth of Jesus.  And you walk a path of many highs and lows over the next several years of his life with the Motilones.  Most importantly, you clearly see God's hand in every event throughout the book.
What's most unique about Bruce Olson's mission work is his rather unconventional method of bringing Jesus to the people.  Unlike so many missionaries who tend to "Amercanize" unreached people by bring their customs, songs, medicine, clothes and such to the people, Bruce instead helps the Motilones find Jesus in their own culture.  It's amazing to watch the transformation!
I cannot tell you how much my children and I enjoyed this book!  It's published by YWAM Publishing, who also put out another favorite series of mine – Christian Heroes: Then and Now.  Two of my favorite being:
For those of you who have very young children, you should be aware that there are many things in Bruchko that might scare them.  Death, war, disease and very poor living conditions are not tiptoed over.  I read the book with a nine year old and twelve year old with no misgivings at all.
I've already offered to lend my copy out to a friend, but you'd better believe that I put my name on the inside cover.  This is one book I definitely want back!
-Cindy, eclectically Charlotte Mason mom of 3.  You can find her blogging at Our Journey Westward and Shining Dawn Books.