I first discovered King Alfred's English in 2012 when a friend of mine reviewed it on her blog. With her glowing praise for the book, I ordered a copy. However, my kids were just too young then so it remained on my library shelves until this fall.
We have gradually been progressing our kids to become independent learners. When my daughter began 8th grade this past autumn, we sat down and mapped out our shared vision for high school. What classes are of interest to her? Where does she see herself in five years?
Languages are important to her and she is determined to begin study of a third language in a year or two (she's been studying Mandarin since she was five years old). As such, I knew she would be interested in etymology or the study of the origin of words and the way in which their meanings have changed throughout history.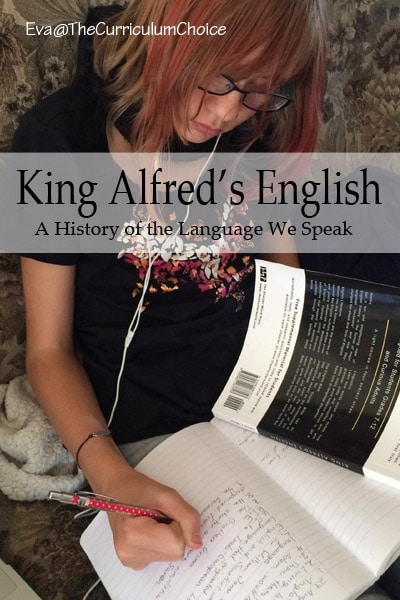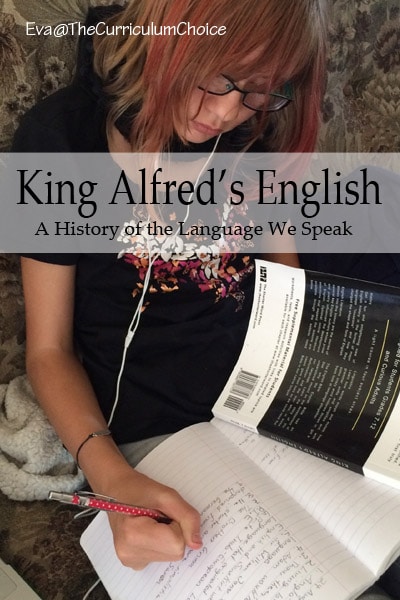 We've always been Unschoolers at heart, so a traditional English class would have bored her to tears. As we created her five-year plan, I remembered the black and white text that had always intrigued me. I pulled it down and suggested she work through the material independently. She wasn't sure at first but agreed to give it a try.
Aimed at students grades 7-12, King Alfred's English is not only entertaining but very educational.  This concise book gives an overview of the history of Europe, explaining the shifts of the invasions around England, France, Germany, Spain, Ireland, Norway, Sweden, and Italy. The supplementary material provided at The Shorter Word was of particular interest.  Here you'll have free access to a variety of material including:
Worksheets for each chapter
Tests that cover each unit
Original source material
Online articles
Suggested movies and videos
Each week, I would assign the review questions and the Not to Be Missed activities. I would then ask that she select one or more of the Expanding the Lesson activities. We would also watch one (or more) of the suggested movies as a family.
Coincidentally, while she worked through the lessons in the book, were also transitioned between history texts, moving from ancient to medieval times. We also traveled to Italy as a family and we were thereby immersed in Western Civilization and history.
My daughter loved this book and would frequently share anecdotes and tidbits she had learned with us that tied into our history readings or the places we had visited on our travels. She also developed a keen interest in Celtic mythology as a result of the lessons in King Alfred's English. I love curricula that sparks new passions.
You might also like Annie Kate's review of King Alfred's English.