Growing up I read book after book. However, very few of the volumes I read are remembered or revisited.
At the library I checked out whatever looked interesting: Nancy Drew mysteries, Grace Livingston Hill romance novels, or historical fiction. My random searches hid some amazing authors. Now I get to discover these imaginative writers with my children.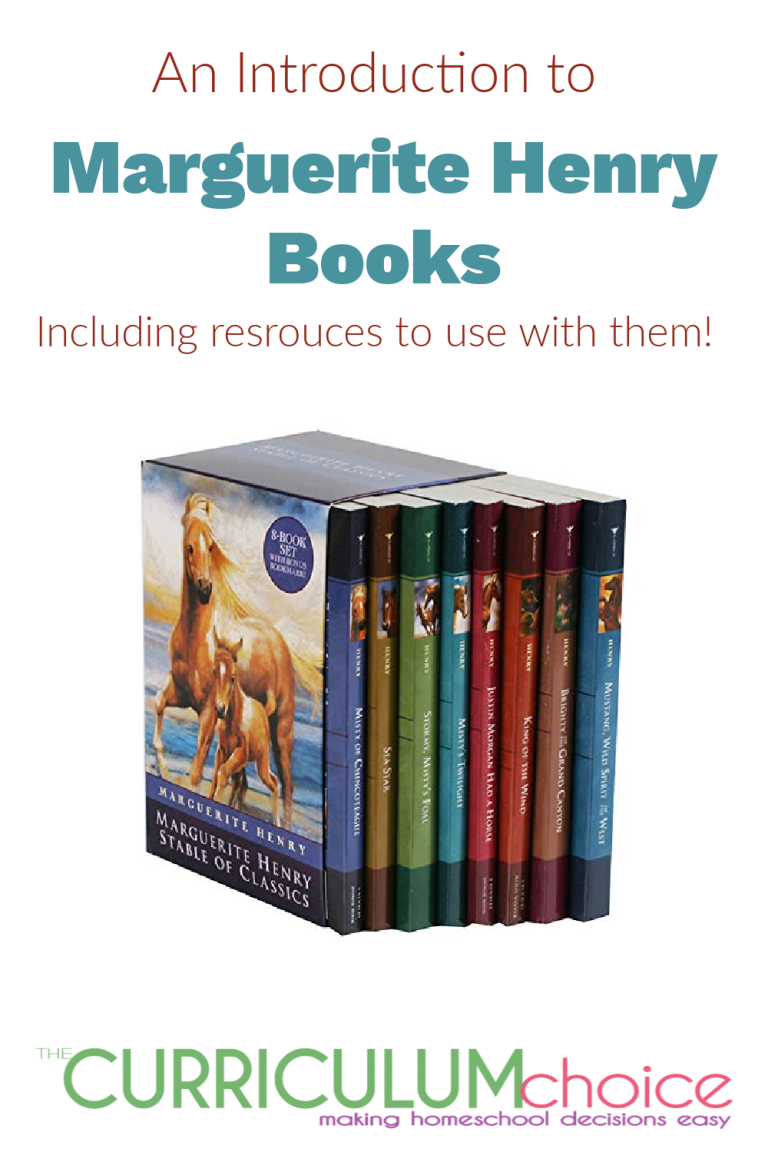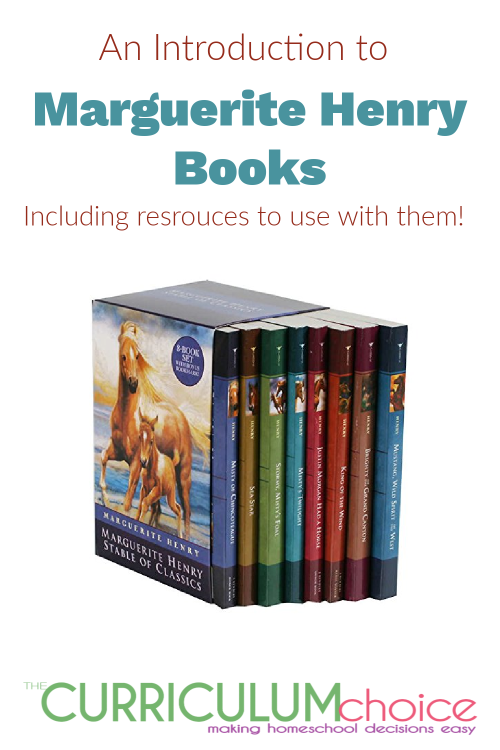 Affiliate links are used on this website. Please see our disclosure policy for more details.
Why I Love Marguerite Henry Books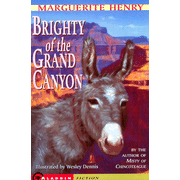 After lunch I read aloud Brighty of the Grand Canyon.
"One more chapter please!" begs my three-year-old.
Her five-year-old sister crowds close and grins widening bright blue eyes. Eleven-year-old brother peeks in almost every chapter. As the verbs bounce off my tongue, the suspense of the story pulls him away from Lego.
Our collection of Marguerite Henry's horse books was rescued from the trash. Library books thrown out to make room for new stories. Brighty of the Grand Canyon taken home only once in eight years. Was this spirited burro on the shelf at my school library? If he was, I didn't take him home either.
Marguerite Henry was not introduced to me in my youth. But I know her now.
Her stories are revisited often in this home. Benjamin West and his Cat Grimalkin roam the house resting next to Father's side of the bed, then Mother's. Justin Morgan Had a Horse cracks my voice and spills tears over my eyelids. Children gasp, "Why are you crying?"
For many reasons, I'm sure. Because life is full. Because ideas are powerful. Because children crowd around me to enjoy the lacing of words. Stories crafted to communicate ideas of liberty, hope, and faith. Morsels I want to savor together as we read book after book…
A List of Marguerite Henry's Misty Books
This is her most popular series of books, starting with Misty, a wild pony and following her life along with her offspring.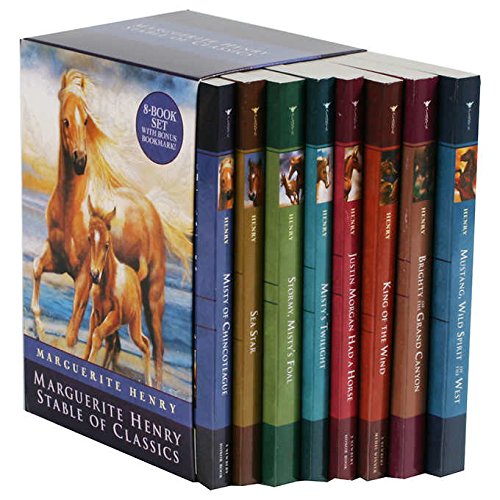 Misty of Chincoteague – On the island of Chincoteague, off the coasts of Virginia and Maryland, lives a centuries-old band of wild ponies. Among them is the most mysterious of all, Phantom, a rarely-seen mare that eludes all efforts to capture her—that is, until a young boy and girl lay eyes on her and determine that they can't live without her.
Sea Star: Orphan of Chincoteague – Movie men have come to Chincoteague to film the annual Pony Penning, and Paul and Maureen are thrilled—until they learn that the producers want to buy their beloved Misty. Reluctantly, they agree to sell in order to send their uncle to college. But how will they ever fill the lonely place that Misty leaves behind? Finding an orphaned colt helps Paul and Maureen deal with their loss, and they soon discover that little Sea Star needs them just as much as they need him.
Stormy, Misty's Foal – A raging storm slashes across Assateague and Chincoteague islands. Water is everywhere! The wild ponies and the people must battle for their lives. In the midst of the storm, Misty—the famous mare of Chincoteague—is about to give birth. Paul and Maureen are frantic with worry as the storm rages on…Will Misty and her colt survive? This is the thrilling story of the hurricane that destroyed the wild herds of Assateague, and how strength and love helped rebuild them.
Misty's Twilight – Misty's Twilight is part thoroughbred, part Chincoteague pony, and one hundred percent fire and talent. A direct descendant of the most famous pony ever, Misty of Chincoteague, Twilight has greatness in her blood. Now it's her turn to shine, perhaps as a cutting horse, a jumper, or in the graceful art of dressage.
Justin Morgan Had a Horse – Joel Goss knows that Little Bub is a special colt, even though he's a runt. And when schoolteacher Justin Morgan asks Joel to break the colt in, Joel is thrilled! Soon word about Little Bub has spread throughout the entire Northeast — this spirited colt can pull heavier loads than a pair of oxen. And run faster than thoroughbreds!
King of the Wind – This is the classic story of Sham and his friend, the stable boy Agba. their adventures take them from the sands of the Sahara. to the royal courts of France, and finally to the green pastures and stately homes of England. For Sham was the renowned Godolphin Arabian, whose blood flows through the veins of almost very superior thoroughbred.
Resources to Accompany Marguerite Henry Books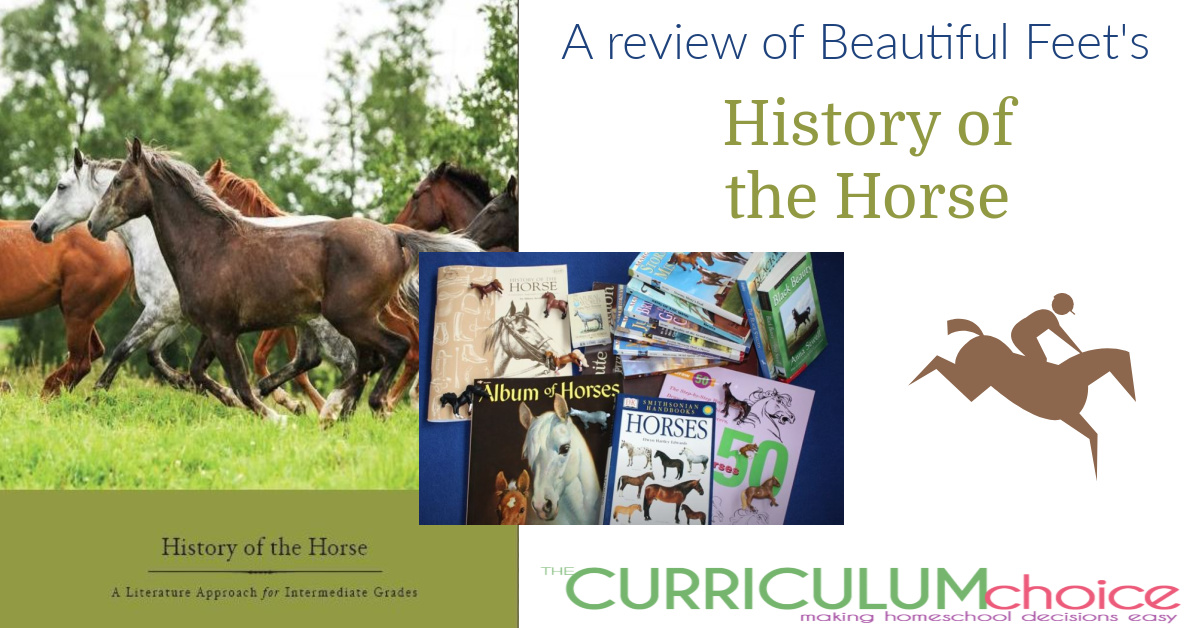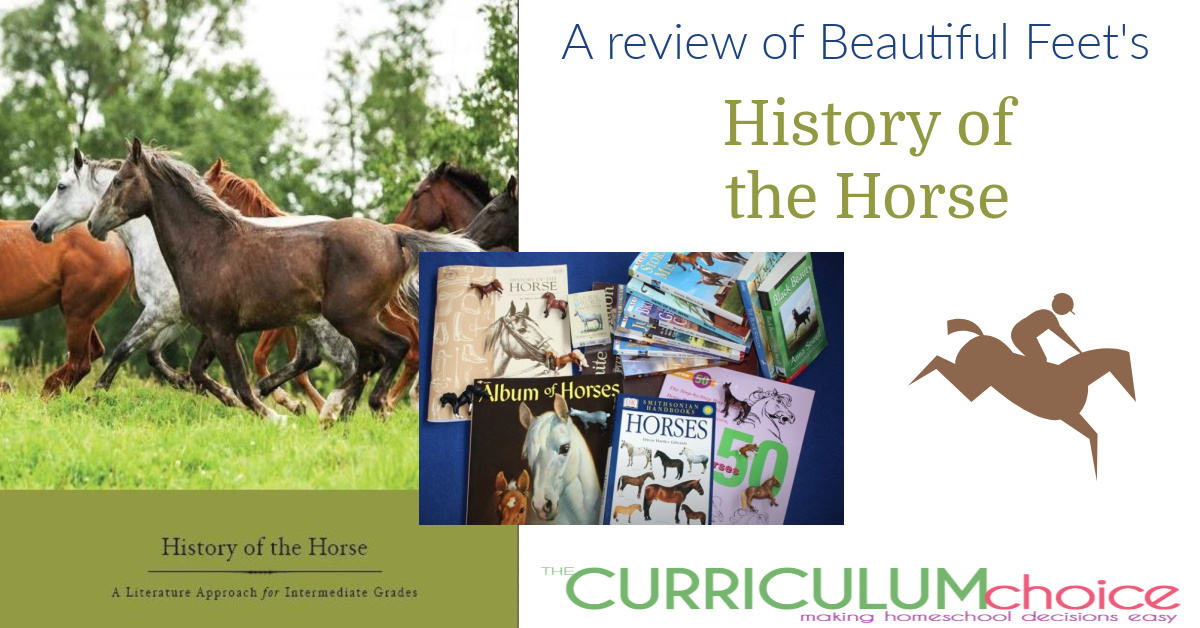 ~ Originally posted December 2015, written by Renae Deckard, Biblical Principled mother of 3.