Planning for art appreciation is one way to make sure it happens. Many times we leave the planning to chance and then when our busy week hits, we find ourselves dropping this important and fun subject from the schedule. Art and music appreciation is the counter-balance to all your academic subjects and for certain kinds of learners it is the breath of fresh air they need where they can exercise the right side of their brain each week. There are just a few steps to go through to make a simple and effective plan for your art appreciation: Set goals, plan manageable steps, build on art appreciation, and then celebrate your successes. Here is how to plan art appreciation for home or co-op.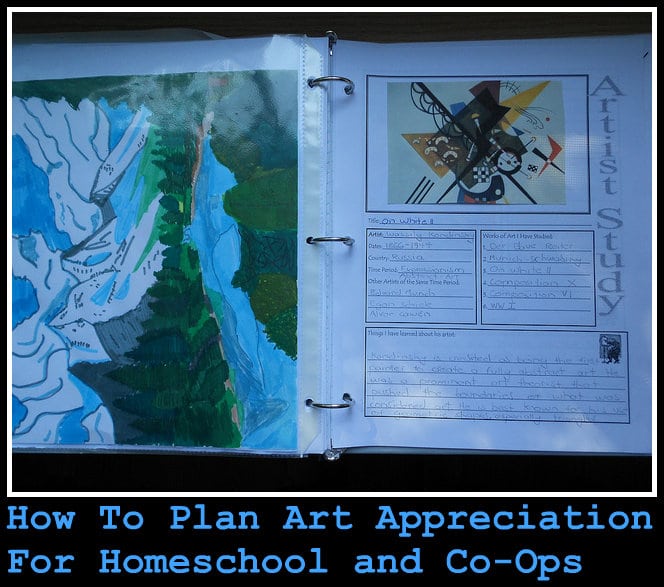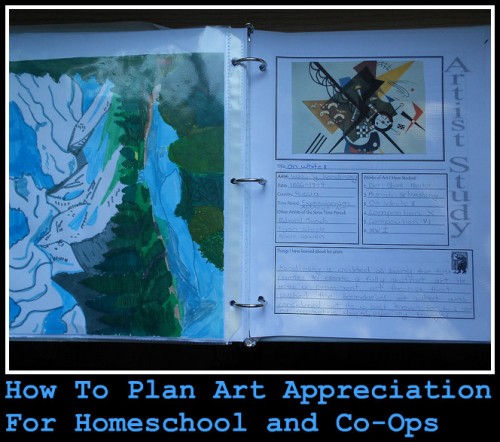 Plan Art Appreciation with Goals:
One way to get started is to make a set of goals for your family or for your co-op art class. These can be simple and can be customized to fit any age group. I have found that keeping goals very open-ended helps my planning and then with following through. Once you have a rough idea of what you want to cover in your art appreciation, you can make concrete goals.  What should be the foundation of those goals?
Are you learning about a certain period of time in history?
Do you have a favorite artist you want to learn more about?
Do you have resources to use like a calendar or book that you want to cover in your art appreciation?
Sample goal: Over the school year, learn about four artists who lived in the Renaissance. Aim to learn the names of eight paintings created during that time period. Keep a notebook of artists studied, paintings viewed, and follow-up artwork for the year.
You may like to see my top five art book suggestions on Hubpages or my review of Child-Size Masterpieces if you are looking for a source of inspiration for your art appreciation.
Plan Art Appreciation Steps:
Now that you have goals, take a few minutes to break those goals down into manageable steps. Are you going to have art appreciation weekly or monthly? Decide how much time you can spend on each aspect of your goal.
Weekly: If you have weekly art appreciation, spend the first fifteen minutes or so in picture study and then spend the remainder of the hour with a follow up activity like reading more about the artist, copying the artwork with colored pencils or pastels, or completing a coloring page.
Monthly: If you have once a month art appreciation, perhaps with a co-op group, you can spend more time looking at art during your class and then send the follow-up artwork home if you are short on time.
Sample Steps: If you have weekly art appreciation time and you want to cover four artists in the year, you can spend approximately eight weeks on each artist. You can view a painting each week, record the painting's name in your notebook and then at the end of eight weeks your child can pick two paintings to remember the names of for that artist. During those eight weeks make sure to read a biography and create a notebook page for the artist.
You  may be interested in viewing this entry on Harmony Art Mom: Homeschool Art Appreciation. Although this is written for high school age students, the steps easily apply to all ages.
Build on Art Appreciation
If you have additional time during your week, use that time to develop an art skill. Use books from the library or internet resources to fuel an interest in drawing, painting, chalk pastels (tutorials on Hodgepodge) or sculpting. Older children can be introduced to a variety of art medium and given time to explore using supplies that you have on hand.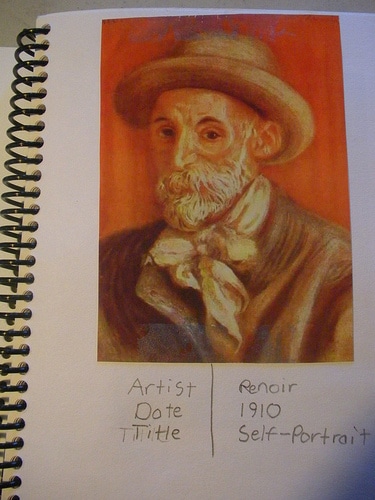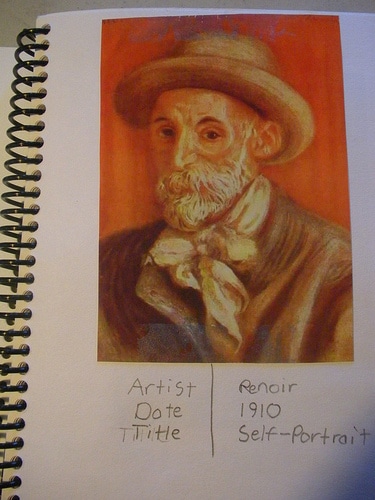 You may be interested in a series of posts I did on Harmony Art Mom Blog:
So What Do We Do After Picture Study?
Celebrate Your Love of Art
The best way to cultivate a love of art is to share it with others. You can keep it simple and have your child share their art appreciation notebook and projects with their family. They can display the paintings they have learned about and share the names they have memorized.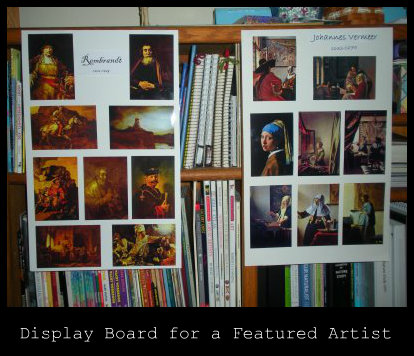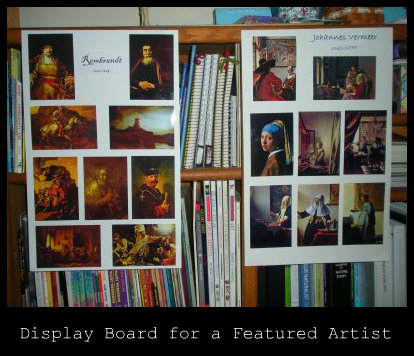 If you have time and interest, hold an end of the term art show where you display your notebooks and any follow-up artwork for friends and family. Our family has enjoyed both the notebook review and the art show ideas over the years and it is amazing what a little recognition will do for future interest.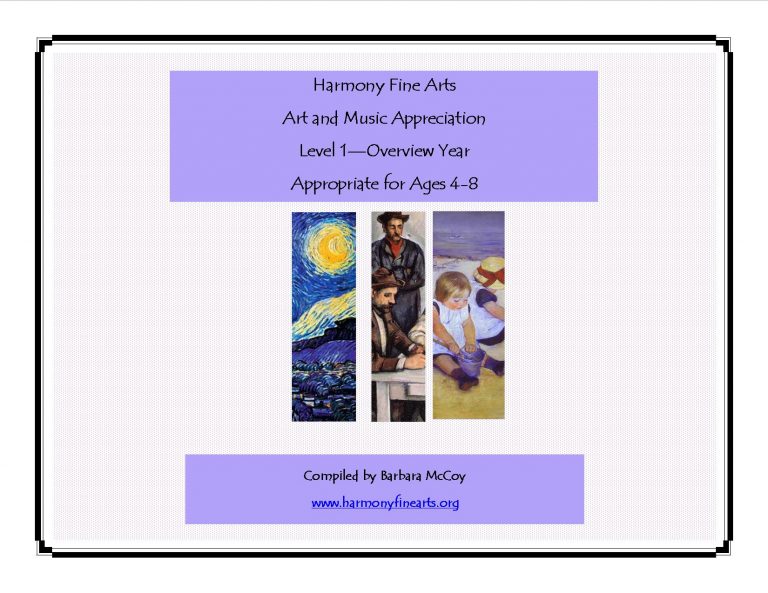 All of my Harmony Fine Arts plans are suitable for family and co-op use. Harmony Fine Arts plans will save you time in planning but are still flexible enough to allow for personal tastes and interests. I invite you to download and try any of the free samples available on the Harmony Fine Arts website.  Please feel free to contact me if you have questions about how to get started with my plans in your homeschooling.
I also would love to customize plans for your homeschool co-op art and music appreciation classes.
Written by Barb-Harmony Art Mom. I blog at Harmony Art Mom and am the creator of Harmony Fine Arts. I would love for you to join us for the Outdoor Hour Challenges at the Handbook of Nature Study.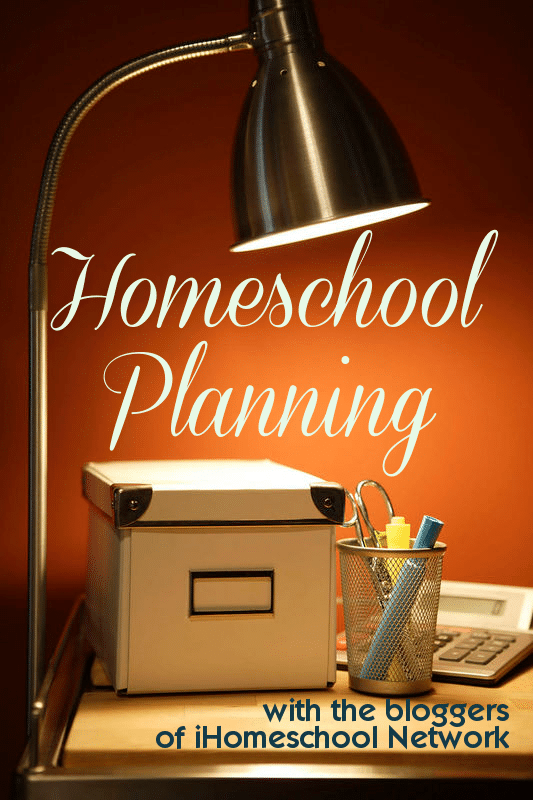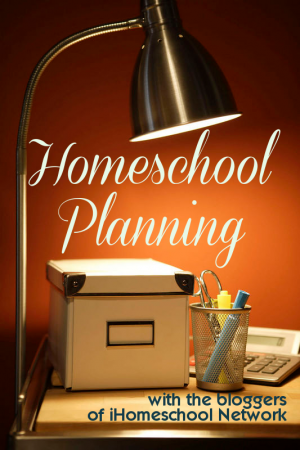 Be sure to stop by and see all the planning posts shared by iHomeschool Network bloggers!
-originally published December 2012