As a physicist, I understand, somewhat, the nature of mathematics.  It's actually a language, and children can benefit from being taught it as a language.  Among other things, this means using many different resources rather than just one curriculum.  One wonderful resource, the Key to Math Curriculum Series, has been a part of our math program for many years now.


Many people think of the Key To… Math curriculum as a remedial aid.  We use it in a completely different way:  to increase the children's ability to understand mathematical concepts on their own. Naturally this also increases their confidence and reduces my workload.
Summary
Key to… Math is a series of teaching workbooks covering Fractions, Decimals, Percents, Measurement, Metric Measurement, Geometry, and Algebra. It spans several years of math instruction and provides a wonderful introduction to each of these topics.
The Key To Math Curriculum Description
Each Key To… topic is made up of a series of workbooks and a teacher's book containing student pages with all the answers written in.  The booklets teach the concepts so simply that my children rarely have to ask me for help.  Instead, they learn independent study skills and gain confidence in their ability to teach themselves.  There is a lot of practice for each concept, so that by the time a child has finished a series of booklets, he has mastered the concept.
This series is, thus, not a spiral approach to mathematics, but a mastery approach.  Obviously, math concepts build on each other so some review is inevitable, but it is not a focus in these books.  The lack of review could be a challenge for some children, but mine like learning a topic well, being able to use it, and then moving on.
Each booklet is about 30-40 pages, except for some of the geometry booklets which are combined volumes.  Each page is simple, black and white, with space for the answers to be written in.  There is no clutter and no distracting color or silliness. (View sample pages by clicking on each workbook here.)  Math history is illustrated on the covers of the booklets and explained in detail so that children learn the background of mathematics as well as its substance.
How We Fit Key To…Math Curriculum into our Homeschool

After our children have finished Miquon Math, we let them begin the Key To Fractions series.  Since we have the children write the answers out in a scribbler rather than in the workbooks, it is a difficult transition at first, but by fourth grade our children have been able to manage this.  When they begin the series, they occasionally need me to explain the workbook's explanations.  The explanations themselves are clear, but at that age the children have a hard time slowing down enough to read them, and often they don't really believe that they can figure the problem out by themselves.  So I generally just read the workbook's explanation out loud, slowly.  Occasionally I'll also work out the problem on paper.  Rarely, I make up a few extra practice problems just to verify that the children understand the concept.
I mark the work as soon as possible, and the children redo each incorrect answer.
Because our children use overlapping curricula as well as various drill programs, they occasionally want to challenge a booklet.  I allow them to study it, and then take the end of booklet practice tests just as usual.  Although we do not use the available test booklet, we do use the practice tests at the end of each booklet.  If our children score over 90% they have completed the booklet, are rewarded, and move on.  If their mark is between 80% and 90%, they have to restudy problem concepts, and if they score below 80% they have to buckle down and actually do (or redo) the booklet.  In mathematics it's no use moving on to more difficult concepts if earlier concepts are not mastered.
Each year the children study several workbooks, and we aim to finish Fractions, Decimals, Percents, and Metric Measurement by the middle of grade 6.  Metric Measurement is a treat that gets divided up over the three years, because it is hands-on and full of simple projects.
After that, the children take a break from the Key To… Series and review it all by whizzing through Singapore Math 3a to 6b almost entirely on their own.   Then I have them struggle through the Singapore PSLE book.  By that time they are well into grade 7 and ready to work through Key to Geometry and start Key to Algebra.  After the fifth algebra booklet, they do Singapore's NEM 1, and then return to Key to Algebra before finishing the NEM series. Singapore math is known to be advanced and teacher-intensive, but after using the Key To… Series my children are able to learn Singapore math almost entirely on their own.
What We Think about The Key To… Math Curriculum

If your child does not do well with the spiral approach to learning mathematics, try the mastery approach.  In these booklets, each concept is taught thoroughly until a child knows it.
Our children needed more drill and more practice with large number multiplication and division than was provided in this series.  Other than that, the elementary Key To… Series is a wonderful curriculum.  Our children do well at math, understand it, and are not afraid of it.
Key to Geometry is an amazing hands-on course, but it does not meet the geometry needs of a high school student.  It gives an intuitive understanding that helps with a later logic-based geometry course, though.
Key to Algebra is a great introduction and confidence booster, but it is not a final algebra course.  It really helps students understand the concepts as opposed to just telling them what to do.
I love the Key To…Series booklets.  They give my children confidence, teach them math rather than techniques, and reduce my teaching load.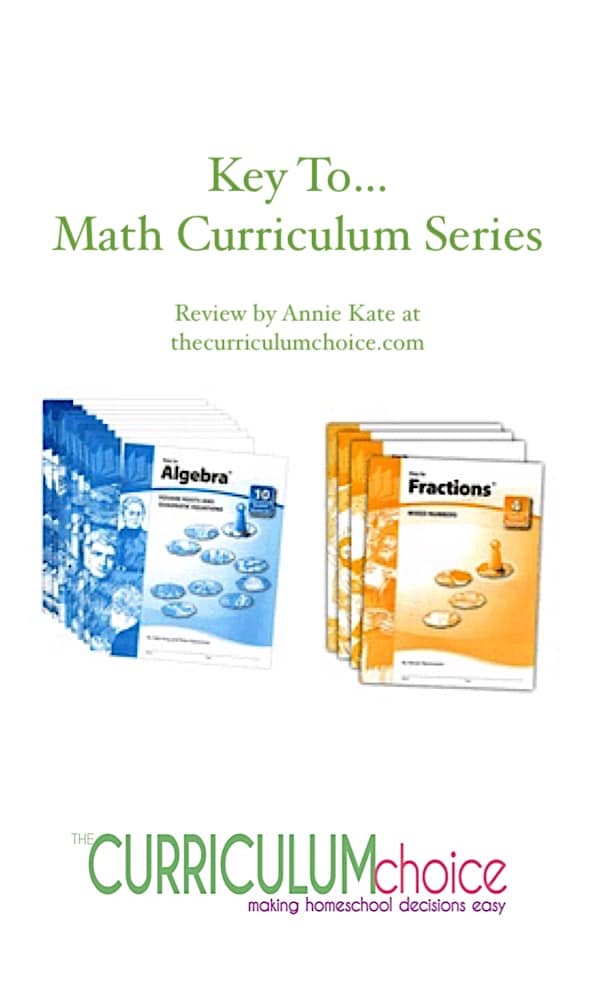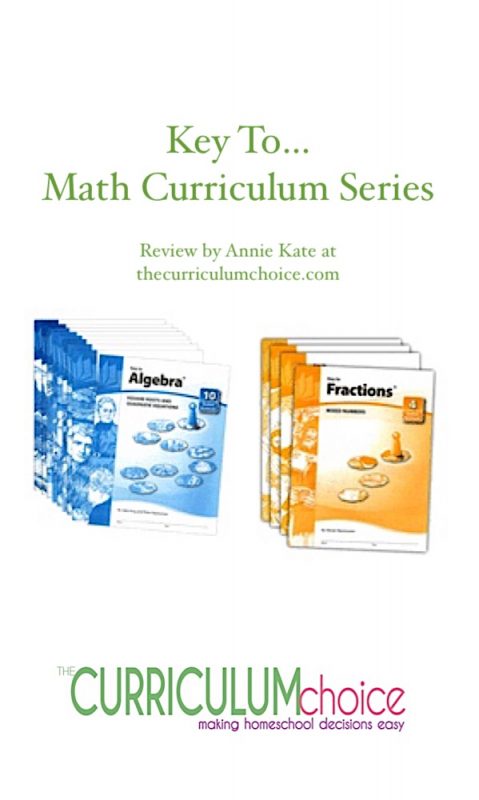 Disclosure: We have been using the Key To…Series for many years.  I received nothing from Key Curriculum Press in order to write this review.
-Written by Annie Kate, a Christian homeschooling mom of five great children, who blogs at Tea Time With Annie Kate.
You might also like:
Have you subscribed to The Curriculum Choice so you won't miss any homeschool reviews?
-originally published September 2010