Are you a mom of a middle schooler who is thinking about whether or not to homeschool through high school? Or are you already homeschooling high school in your house?  I am delighted to be given the opportunity to put together this group post for you on how to homeschool high school, featuring resources from myself and the other veteran homeschoolers who are authors here at The Curriculum Choice.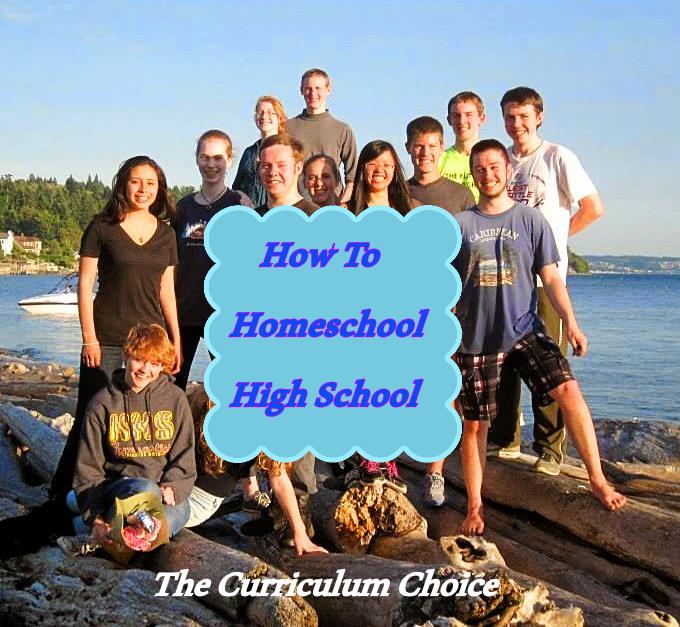 (Please don't miss the giveaway and sale at the end of this post.)
Many of us are already homeschooling high school. Besides preschool, being home with my daughter through the high school years was my most favorite time in our homeschool. Not that it was all rainbows and roses, but it was so worth it! Homeschooling our teens gives us so many benefits, not the least of which is how it builds up family relationships. It also gives us a chance to be there, side by side, while our teens are reaching out, exploring the world as young adults and beginning to find their own paths.
Homeschooling high school is so much easier with all the resources that we now have on the web! All it takes is an understanding of the special requirements of high school, such as: making transcripts, regular record keeping and figuring out how to assign our teens their high school credit.
Once the particulars are figured out, then it is all about encouraging our teens, choosing their curricula with them and helping them get going with their studies. Much of that is what we homeschoolers are already so familiar with!
Here's some of my favorite resources on high school at home, from my blog @ BJ's Homeschool: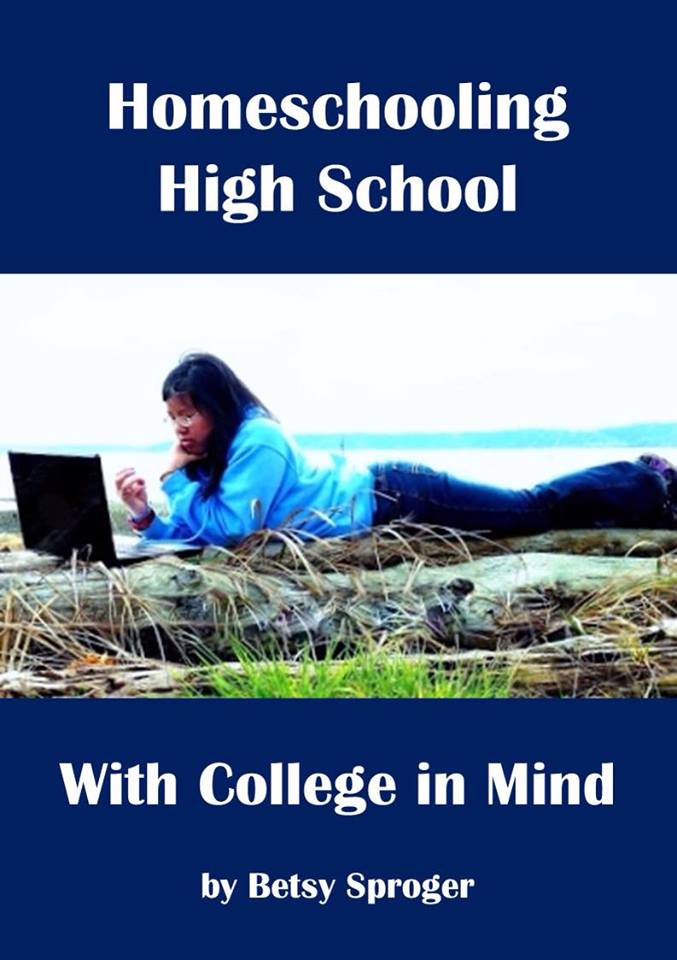 My ebook  and book – Homeschooling High School with College in Mind – gives you ten easy to follow steps to not only plan your high school years, but also deal with college, in case your teen decides they want to go there.  Lots of tips and planning printables, from doing your transcripts to writing course descriptions.   My friend and fellow Curriculum Choice author – Heidi @ Start at Eight, wrote a review on my book here.   More info on that, with a SALE and GIVEAWAY are at the end of this post. 
The Ultimate Guide for Homeschool Transcripts – Making transcripts is really not that hard to do!  How to make your teen's transcripts, with samples to check out, and lots of resources included, too.
Frugal Resources for U S History – Make your own course or use a prepared one.  Here's how we went about making our own frugal American History Course, and also some great finds for prepared courses as well.
100 High School Electives – Awe, the fun of doing electives with your teen!  And these can help them to get accepted into college, too, if that is where they are headed.
But what does a day in high school really look like?  Here's a week in our homeschool when my daughter was a teen.  BJ's Homeschool – A Week in the Life.
There are so many reasons why we homeschooled high school.  Here are 101 of them!  101 Reasons to Homeschool High School.  We are so glad that we decided to homeschool all the way.  And it prepared my daughter well for college, and is great way to get your teen ready for their next step, whatever that might be. While keeping your family relationships strong along the way.
How to Plan High School at Home – Here's my best tips for getting started with homeschooling high school.  It answers such questions as "Do I have to follow the public school graduation requirements?", plus all the basic information needed to get you started.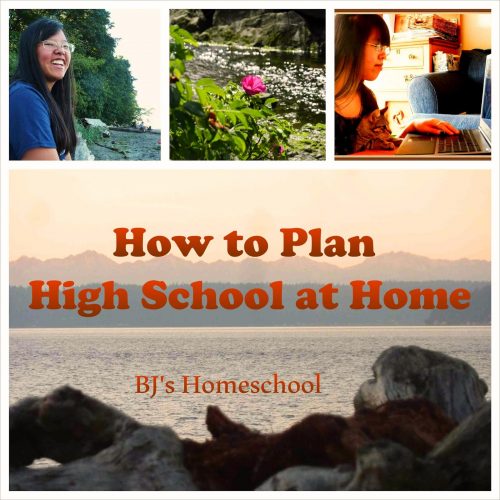 How to Homeschool High School From The Curriculum Choice Archives
At The Curriculum Choice we have shared tips for how to homeschool high school. Be sure to browse the tabs above to find curriculum reviews.  You might also enjoy these that we've selected from our archives.
Preparing for Homeschooling High School
Apologia Ultimate Homeschool Planner Review
Favorite Ways We Organize Our Homeschool Days
Online Homeschool High School Physics
Choosing High School Homeschool Curriculum
Choosing Homeschool Math Curriculum
American Literature by 7 Sisters – My Review
Help Your Teens Get Organized with A Plan in Place
How To Homeschool High School Resources From Curriculum Choice Authors
The Curriculum Choice authors have active blogs where they regularly offer ideas and experiences about their homeschool adventures.  Below are posts on their tips for how to homeschool high school.  Any many of us either have high schoolers in our house or have already graduated one!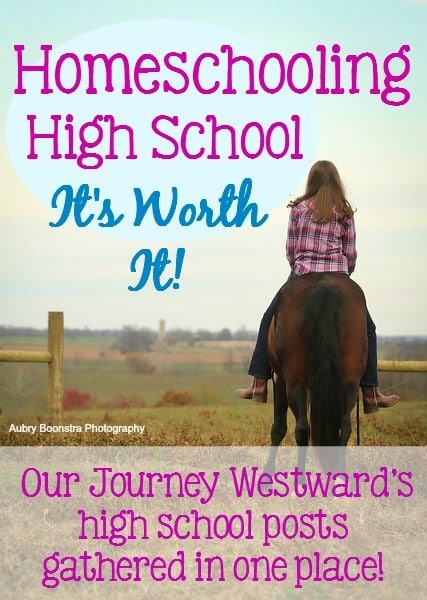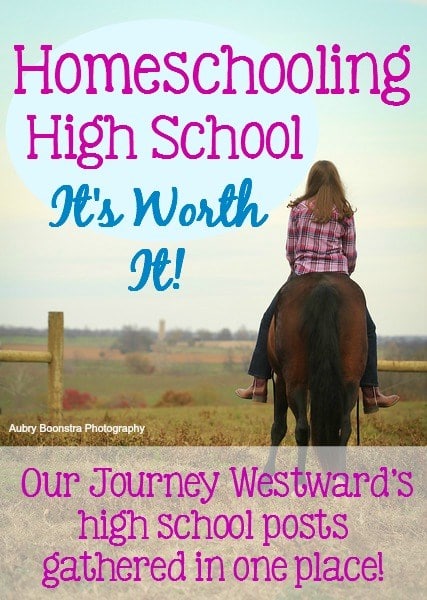 From Cindy at Our Journey Westward
I did it y'all. I have successfully graduated one kiddo who has done splendidly in college for the past two years. Woohoo – this homeschool thing really does work!
This year, I'll have a senior who is mostly finished with all his requirements and will spend many credits pursuing credits in entrepreneurship and music. I love, love, love being able to give my upper level high schoolers some wiggle room to follow their passions!
I hope these high school posts from my blog encourage you that homeschooling high school is VERY doable!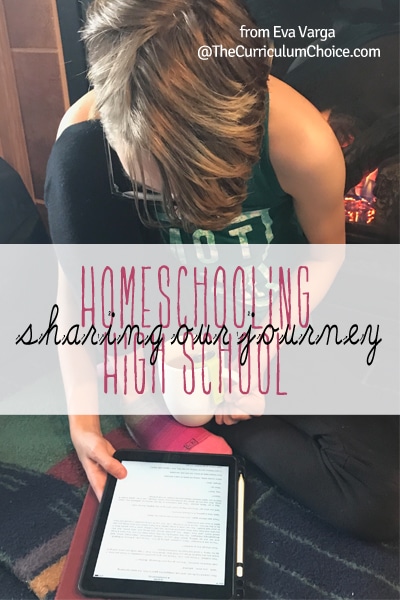 From Eva at EvaVarga.net
My oldest has just completed her first year of high school while simultaneously finishing 25 college credits at our local community college. She is on track to earn her Associates degree before she even finishes high school. She is loving the experience and is especially looking forward to this coming year as she'll have a few classes with friends from her high school swim team who have just graduated.
While we have only begun to homeschool high school, I have shared a few posts relaying the path we have outlined. I've also shared a high school literature study I developed upon her request after visiting Hemingway's home.
Homeschooling High School It's Not as Hard as You Think – my eBook on all things Homeschooling High School.
A few popular chapters from the eBook include:
Charting a Course of Study from High School to College -What are the steps to insure a great course of study in the high school years? Have you been wondering how to plot your teen's path for an excellent college preparatory education? Many tips for a successful high school at home experience.
Helping Your Teen Stay on Track –  Even though your teen may not seem to want you around them, checking in on them throughout the day, this is the time when they really need us the most. They need to know we care without being "in their face". Trust your teen and guide them, let them know how much you love them and that you are interested in all the things they are interested in. It will go a long way in the road to building good relationships that will last in to adulthood. And it's still your job as a parent to get them there.
How to Start Using 8th Grade as Prep for High School -In my Homeschooling High School eBook Homeschooling High School It's Not As Hard As You Think, I give some reasons why we like to use the last year of middle school, specifically 8th grade, as a preparation for High School.
With three children currently in university (one starting graduate school), and after having homeschooled high school for a decade, we can say that there are three main aspects to homeschooling high school—your teen needs to learn, you need to document the learning, and you both need to understand life and worldview issues.
There are so many things to think about during the high school years (see how we have done high school and what curricula we have used), so many out of the box options (such as this horse-related credit), and so many calls on us moms to help our teens plan their learning future (yes, we are guidance counsellors, too).
There are also many things to think about when documenting the learning.  Here's a comprehensive record-keeping resource that helped our teens get unexpected university scholarships (here and here). Or you can use this related, simpler record-keeping book.
Because this is a broken world you should also know what to do if your teen can no longer focus.  Finally but fundamentally, you need to understand the culture so that you can equip your children to live in it.  The best resource I have found, besides the Bible, is Total Truth by Nancy Pearcey. Please, do read that book!  I wish I had studied it with my older teens; the younger ones will be going through it with me.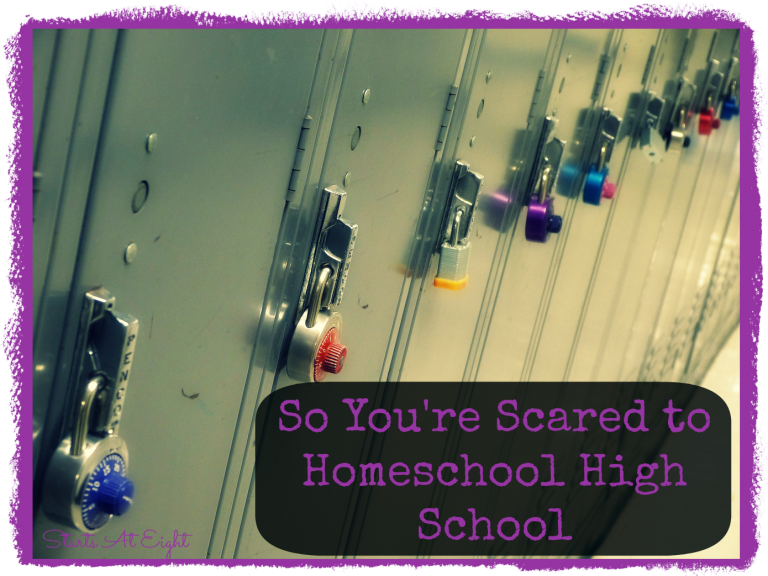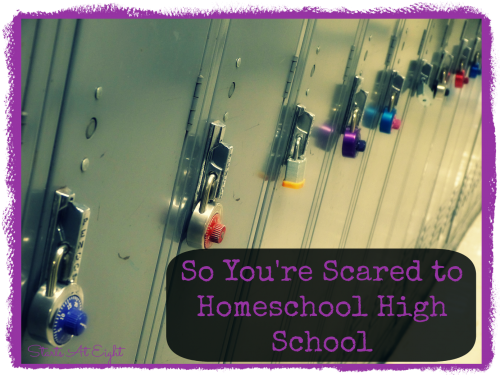 The thought of Homeschooling High School has to be one of the biggest fears that I hear from people when then think about homeschooling. There are a few things that really change when you hit high school: your teen needs to learn to become an independent learner who can manage their time, your record keeping needs to become more precise, high school electives, and a biggie is the addition of looking ahead to college and gaining college credit.
If your children might even consider going to college, high school is the time to prepare. They can even be earning college credit (dual credit) while still in high school through such avenues as CLEP Exams, AP Exams, and online college courses.
When it comes to high school electives, I have done a ton of research and written a lot about them. Choosing high school electives is important because they are an opportunity for your teens to explore their interests further (and get credit for it), and to delve into subjects they might want to consider for careers in the future.
One aspect I think is very important, and highly overlooked is Life Skills. We often take for granted the day to day things we do to keep our house running. Teaching our children these skills is an important part of them growing up and being functional adults. For just that reason I have written an entire series with FREE Printable Checklists for record keeping called Life Skills as High School Electives: Home Economics and Shop Class, it covers topics like cooking and sewing basics, laundry, basic household repairs, as well as plumbing and electrical.
Here are a few Things I Wish Someone Had Told me Before I Started Homeschooling High School, and a look at Homeschooling Through the Eyes of a High Schooler.
From Tricia at Hodgepodge
What I've Learned Homeschooling High School to College – Includes:
the Imperfect Homeschooler's Guide to the College Search
Fall College Visits
our high school curriculum choices, planning and organization
homeschool graduation favorites
Plus a recap of what I've learned after graduating two homeschoolers. We do follow a college prep course of study in our homeschool. Not because we are certain that each of our children are headed to college. But because we know that a rigorous four year plan will not only challenge our students but prepare them in case the Lord does have a college path in His plans.
Homeschooling High School Learning Styles – I was pondering just how very different my two eldest children are. As I thought about this, I found myself grateful for such a thing as homeschool high school learning styles and being able to meet the needs of same.
Celebrating a Homeschool Graduate –  different ideas for celebrating based on your homeschooler's style.
College Dorm Checklist (with a fun vlog from my daughter) – This video has a the bulk of the purchases she made in preparation – and the best of the tips.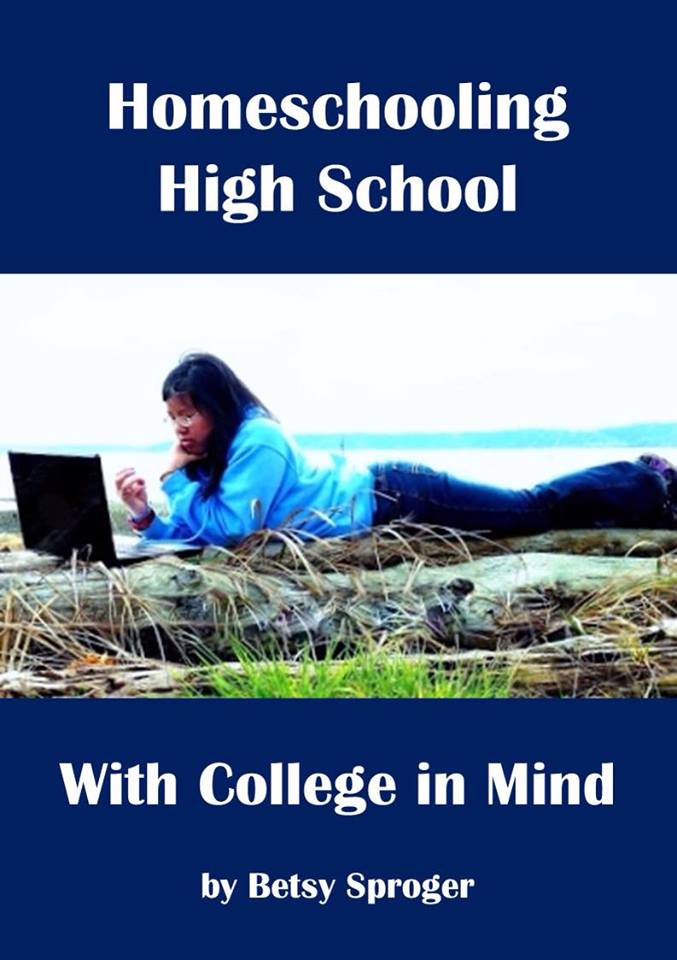 Now for the giveaway!
Giveaway of 1 copy PDF of Homeschooling High School with College in Mind from Educents, including the 12 high school planning printables (below) and an editable transcript form, ready for you to use.
At Educents @ $6.49 now regular price for the PDF (Also available as a paperback or kindle on Amazon) 
Simply follow the instructions in the rafflecopter widget below…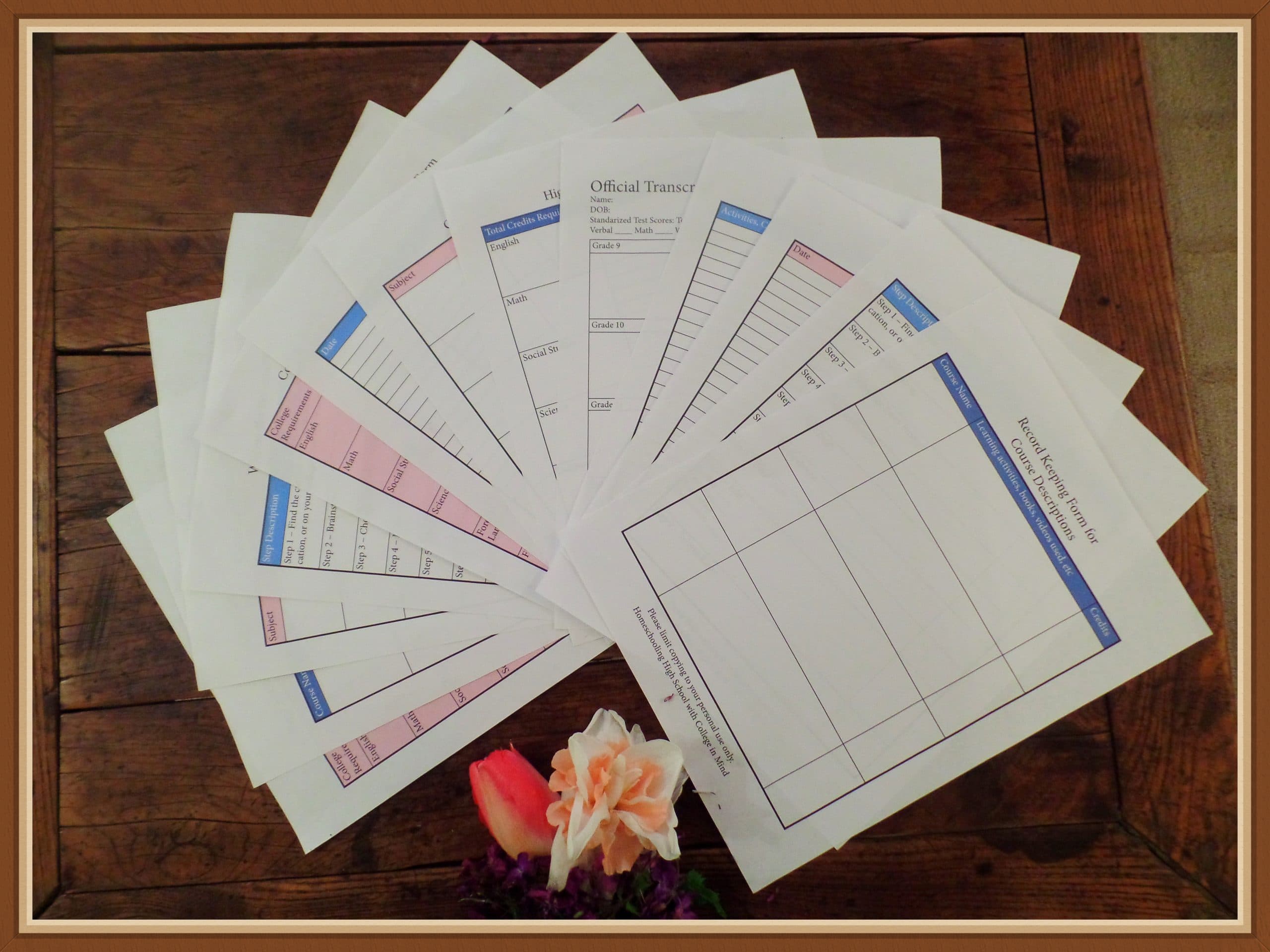 The Curriculum Choice Review Team Features
Have you enjoyed this special post from our review authors? Our Curriculum Choice review team features a topic monthly. You can see all that our authors have shared on electives, math, curriculum choices and more under Review Team Features.
Be sure to SUBSCRIBE so you won't miss any reviews from our team of veteran homeschoolers!
~ Betsy is mom to her soon-to-be college senior, whom she homeschooled from preK through high school. She blogs at BJ's Homeschool, about the early years, high school & college and wrote the book – Homeschooling High School with College in Mind.  She also offers homeschool help through FREE  messages at BJ's Consulting. She loves watching her daughter take on college and they still do photography road trips together whenever they can.

Save
Save
Save