Homeschooling with Unit Studies is a homeschool method in which instead of using a linear curriculum you spend more focus time on one topic at a time, incorporating as many subjects within the unit as possible. For instance you might do an entire homeschool unit on Medieval Times, or Zoo Animals.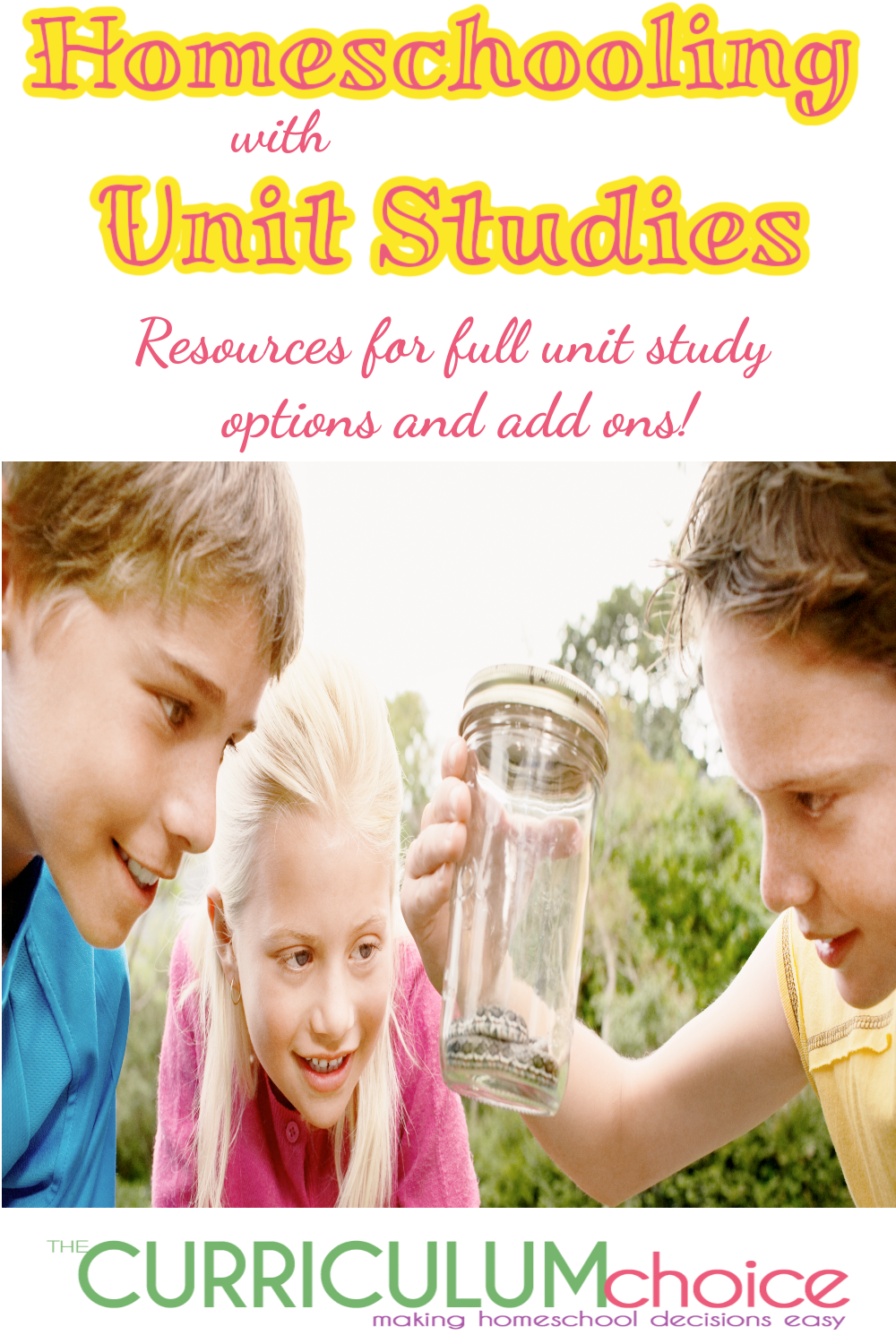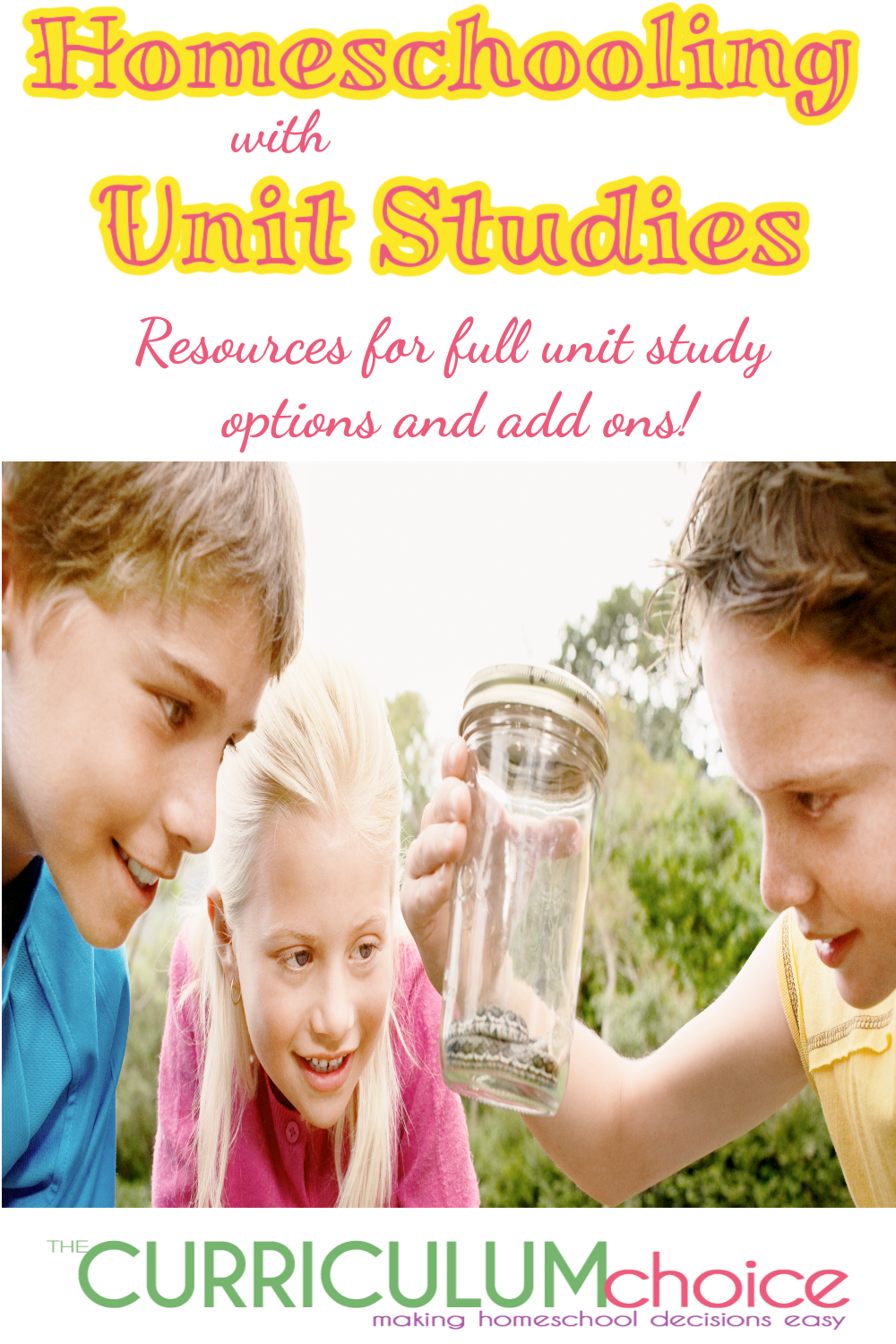 Affiliate links are used on this website. Please see our disclosure policy for more details.
Homeschooling with Unit Studies
Unit Studies typically encompass all the scholastic subjects through the study of one topic, although they can be focused to one specific subject as well.
Simply put, a unit study is any topic that you focus on for an extended period of time in your homeschool. During the "unit", you make an effort to incorporate every subject you can, so that you can build your entire lesson plan around that single thematic topic.
For example:
you could develop your child's recent rock collecting interest into a unit study by incorporating or covering subject related literature, math, geography, history, art, and English/Language arts by requiring a report (writing/grammar) or speech
or you could follow your child down her bee obsessed rabbit hole and find every resource on bees (books, videos, activities, worksheets, etc.) and then fill in gaps like math or history with an added resource
Unit studies typically take advantage of using living books, hands-on activities (like cooking, art, costumes, games, craft projects), field trips, and other forms of investigation.
Unit Studies as a Method vs. Using Unit Studies No Matter your Method
Unit studies can be the perfect curriculum option no matter the homeschool method you use in your homeschool. Whether you use them as your main mode of learning or throw in a unit study here or there to spice up the schedule, you'll find they pack a lot of learning!
Advantages of Homeschooling with Unit Studies
They provide a rich learning experience. The students live with the topic for several days, weeks, or even months. By the end of the study, they truly understand and retain the material.
They are an efficient and cost-effective way to teach multiple ages. The whole family joins in the fun of learning about the same topic, so you don't have to purchase individual textbooks and workbooks for each grade level.
A topic can be covered as in depth as you'd like and can be tailored to fit your students' interests and needs.
They can ignite a love of learning even in the most reluctant learner.
They can make use of quality literature (living books).
They encourage creativity and problem-solving.
Our Favorite Homeschool Unit Study Resources
Beautiful Feet Books
Beautiful Feet Books is a homeschool history curriculum using the best literature available to help bring history alive. Along with this great literature are teacher guides to make each program easy to use. If you are looking for an easy way to use living books for homeschool history, than Beautiful Feet Books has just the thing for you!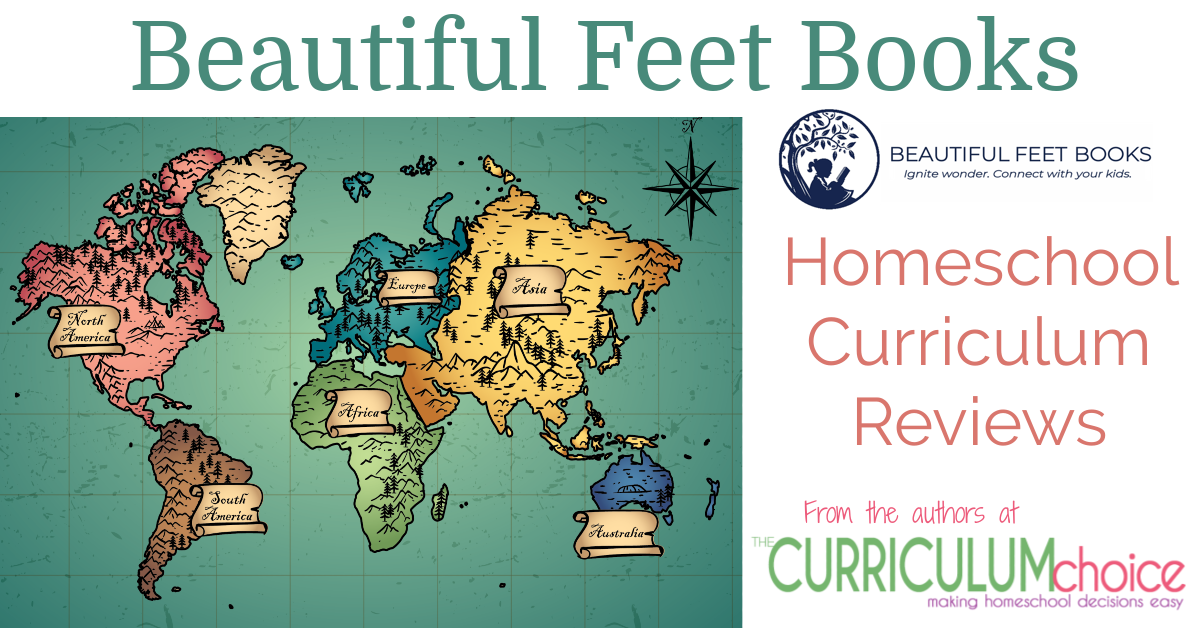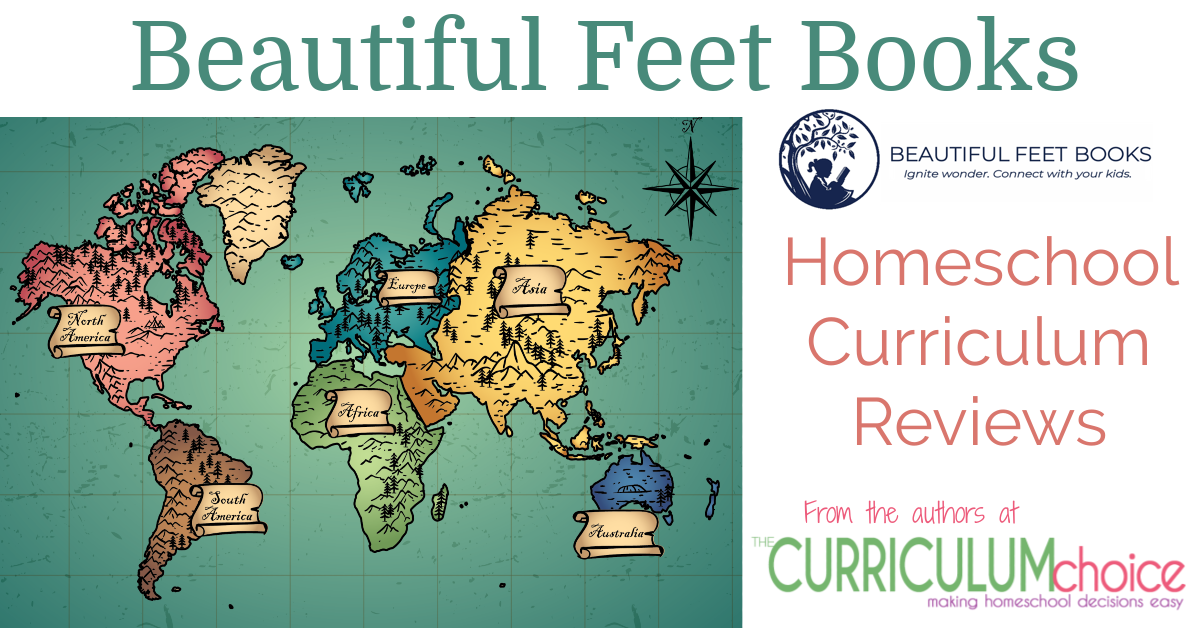 See our Beautiful Feet Books Curriculum Reviews page for more reviews and information on how to use Beautiful Feet Books in your homeschool!
BookShark
BookShark is a complete, literature-based, homeschool curriculum that uses a variety of educational resources including literary fiction and nonfiction, biographies, illustrations and hands-on experiments to deliver an engaging and complete education.
BookShark uses levels based on age ranges instead of a rigid grade system.
"We use flexible levels because kids mature at different rates. When you choose a homeschool curriculum to match your children (instead of forcing them into a particular grade level), they can blossom at their own natural pace!"
Here are a few BookShark Reviews:
Five in a Row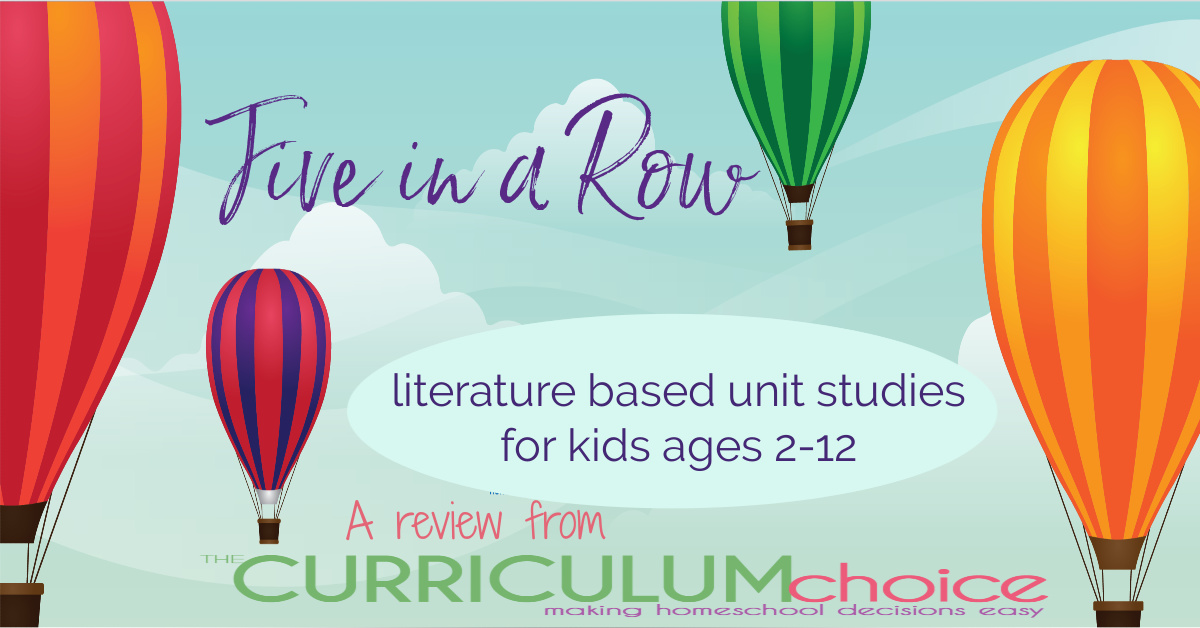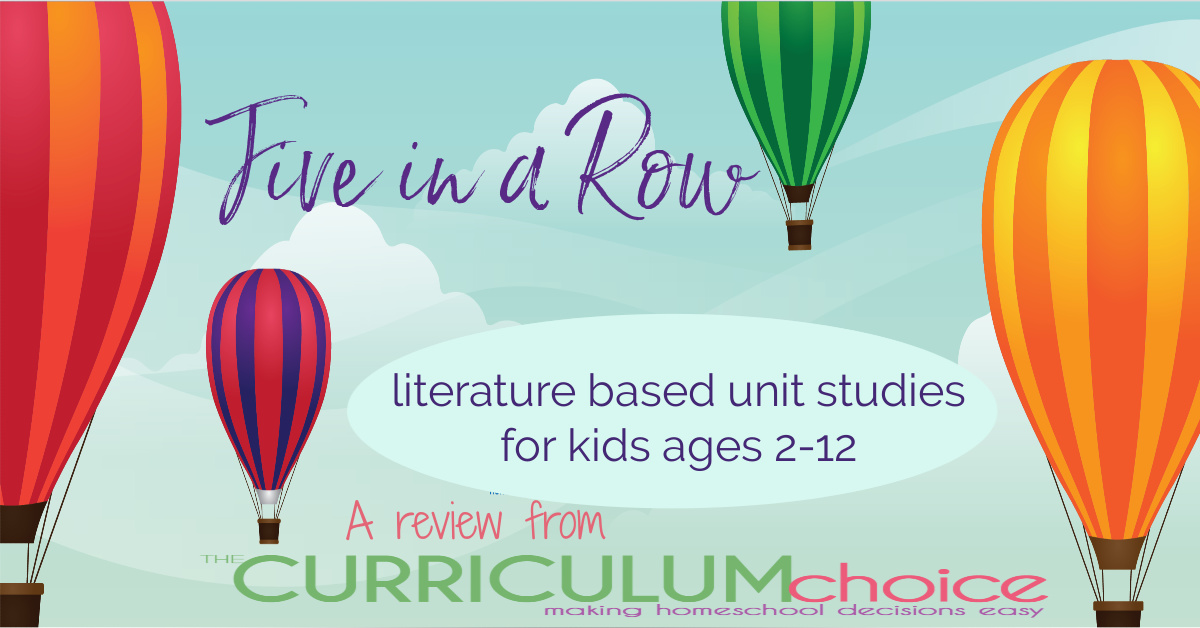 Five in a Row is a collection of literature-based unit studies.
There are four separate volumes of Five in a Row.
Before Five in a Row (ages 2-4)
More Before Five in a Row (ages 3-5)
Five in a Row (ages 5-10)
Beyond Five in a Row (ages 9-12)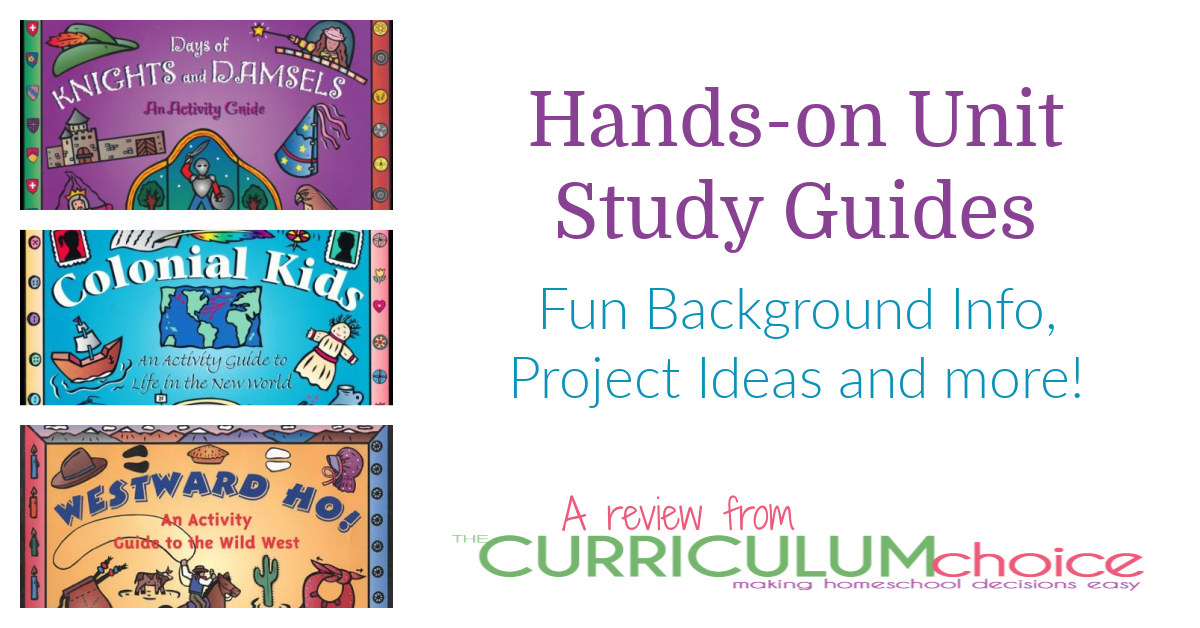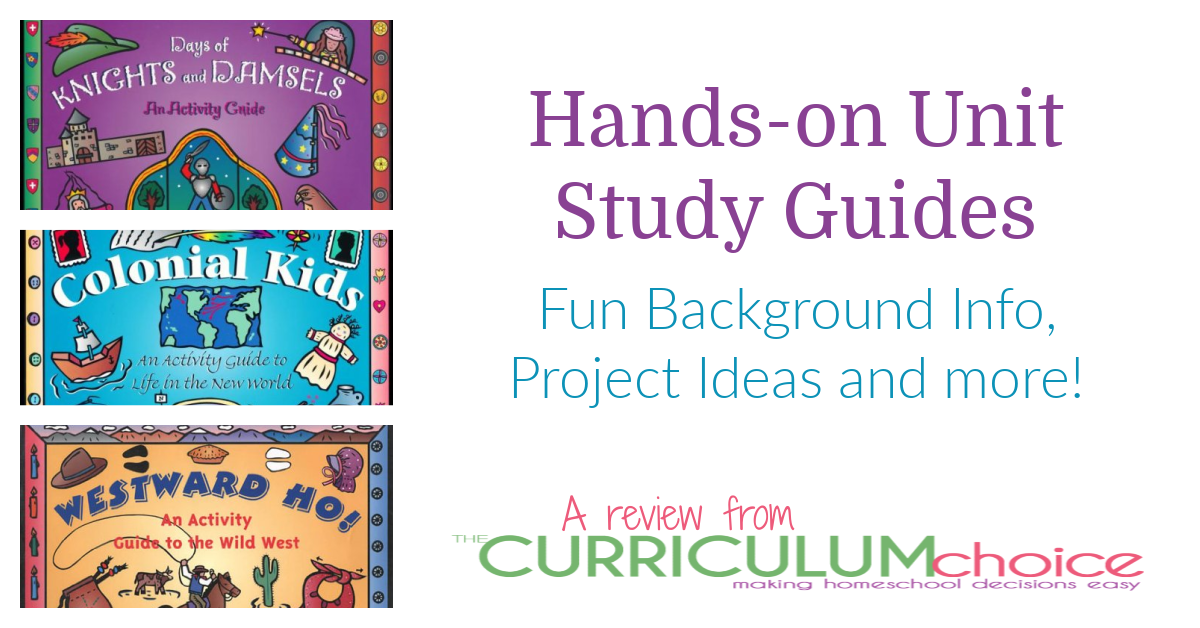 A Kid's Guide Books are hands-on study guides for various topics. They include super background information, hands-on ideas and project ideas! They make great spines to create a unit study around.
Enjoy topics such as:
Ancient Egyptians and their Neighbors
Old Testament Days
Classical Kids – Ancient Greece and Rome
Days of Knights and Damsels
More Than Moccasins – Traditional North American Indian Life
Colonial Kids – Life in the New World
Westward Ho! – the wild west
Homeschool Share houses hundreds of free unit studies, lapbooks, and printables. It also hosts the Tip-Top Printables store where you can purchase additional learning resources for your students.
Use their search to find tons of resources for history, science, geography, language arts and math!
Home School in the Woods offers hands on history resources such as lapbooks and activity packs.
Check out some of these Home School in the Woods Reviews:
In The Hands of a Child is a company that develops unit studies in which the activities are completed, for the most part, using mini-books. All of these mini-books are meant to be contained in a series of file folders that are attached to one another so that you have a neat, complete and thorough record of the unit contained in one place. All the background information, templates for mini-projects, and directions for completing the units are included. Color pictures are also included to show what the final project should look like.
Broad topics include: social studies, geography, holiday and seasonal, thematic early childhood lapbooks and so much more!
Here are some In The Hands of a Child Product Reviews:
KONOS
KONOS unit studies cover topics including Bible, Character, History, Science, Literature, Writing, Practical Living, Field Trips, Critical Thinking, Arts/Crafts, Music, Drama, Speech, Geography, Social Studies, Health/Safety.
Distinctive Traits :
Godly character traits focus, grows character
Units integrate ALL subjects
Hands-on activities use all senses
Discovery learning creates critical thinkers
Multi-level learning builds families
Here are two KONOS Review from here at TCC:
My Father's World
My Father's World is a Christian Homeschool Curriculum for pre-K through 12th grade. It uses simple hands-on projects organized in a chronological learning sequence without the hassle of planning. Whether homeschooling one child or multiple children, My Father's World offers a learning experience which unites and engages the entire family!
For the homeschooling parent with multiple children, deciding how to split your time among each child and keep track of many different topics poses a major challenge. The Family Learning Cycle solves this problem with curriculum packages that can be taught to children at several different grade levels all at the same time.
Here are two reviews of My Father's World from here at TCC:
NaturExplorers Nature Unit Studies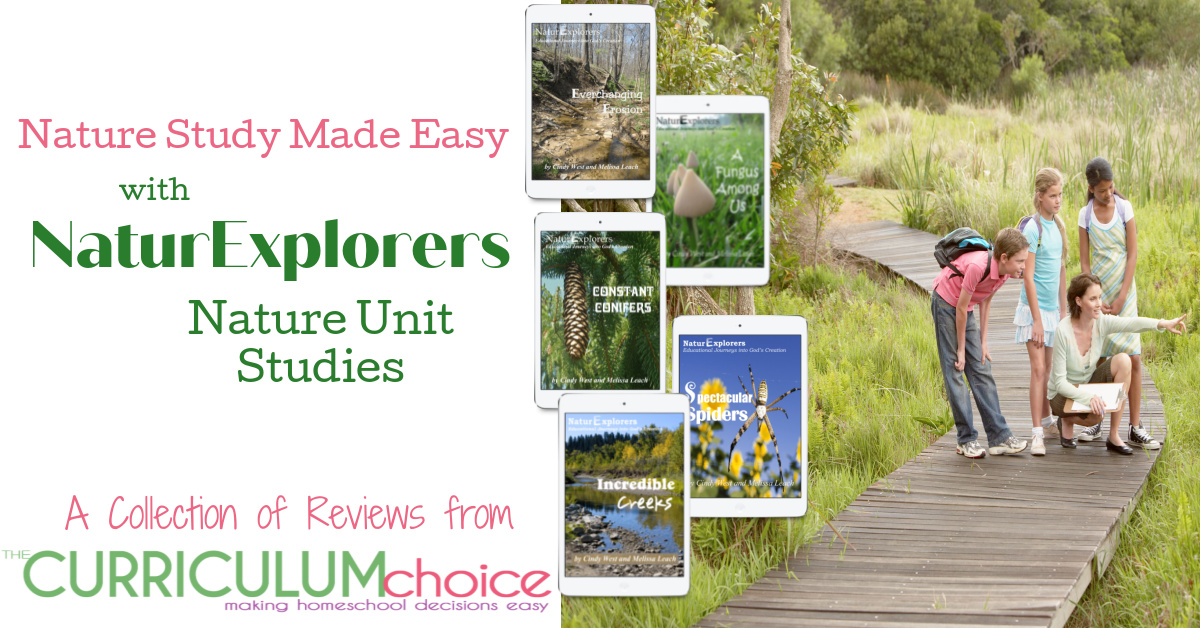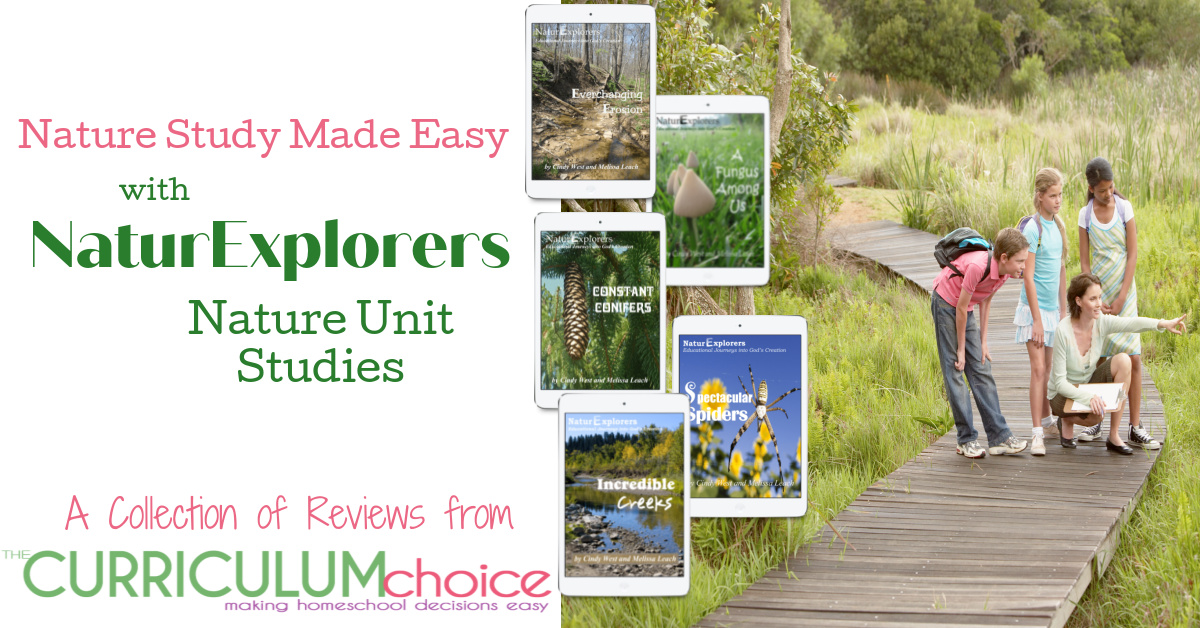 NaturExplorers Unit Studies consist 19 different, complete nature based science studies for 1st – 8th grades.
Inspirational literature suggestions
Background information for the parent or teacher concerning the main focus of the nature topic
An abundance of creative nature walks
Follow-up hands-on activity ideas
Writing and research ideas that encompass several subject areas
References for Bible study, artist study, composer study and poetry tie-ins
Child-friendly internet links and book lists for further study
Ideas for adapting the material for younger and older children, as well as ideas for groups of children
Several colorful, prepared notebooking pages
General nature study suggestions
Passport to Adventures is an elementary unit study style curriculum that uses the Magic Tree House books (1-34) as a spine. It covers science, geography, art and more in a hands-on, fun, and multi-sensory way. Each of the books is covered in a stand-alone unit that is designed to last one week. It was created to be flexible because each family is unique, and their learning adventures should be too.
This Passport to More Adventures program is meant to last 28 weeks and includes a deep dive into the topics of each individual book, covering history, science, and geography. It consists of week long unit studies for each of the first 27 books in the Merlin Mission series.
Sonlight
Sonlight is a complete literature-based curriculum. Easy-to-use lesson plans, schedules, and materials from preschool through high school. Sonlight is the complete Christian, literature-based homeschool curriculum that includes everything you need to teach your children: homeschool history, math, science, and more!
Here are some Sonlight reviews from here at TCC:
Tapestry of Grace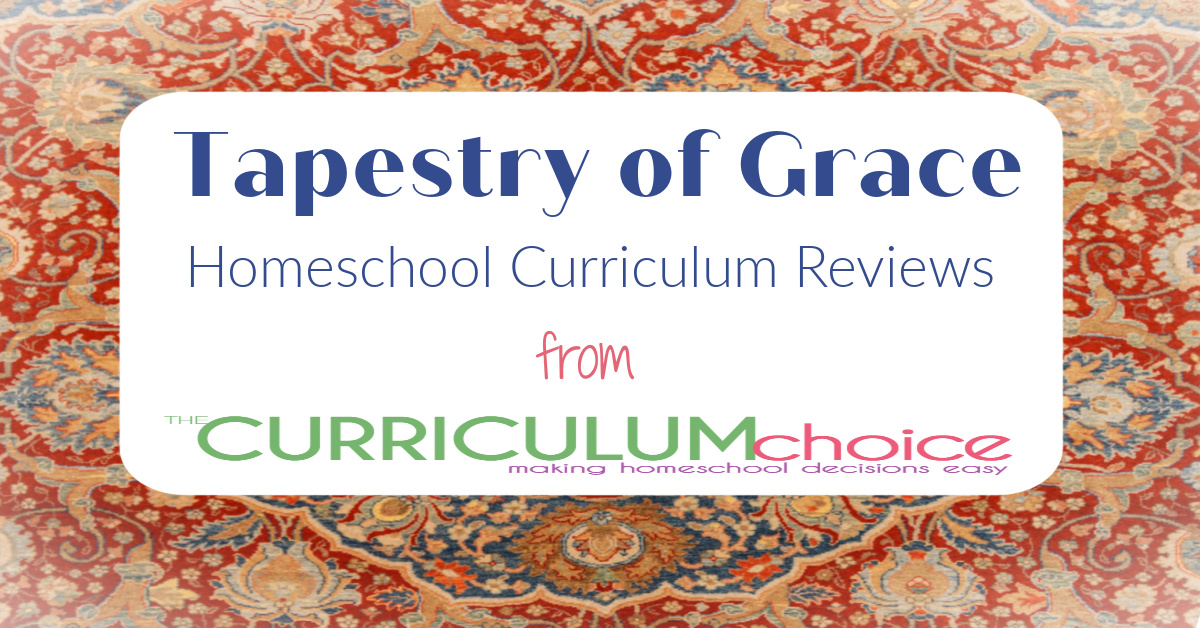 Tapestry of Grace is designed to help parents provide a Christian, classical, Charlotte Mason education. The history of the world is Tapestry's organizational theme. Its goal is to help students see the patterns of God's personality and works.
Tapestry of Grace (TOG) is a unit study style curriculum that covers most of the major subject areas for students in grades K-12.
Unit Study.com (Unit Studies by Amanda Bennett)
UnitStudy.com has 3 different types of unit studies:
Download N Go – unit studies are geared toward grades K-4, interactive, engaging and cross-curricular (include history, geography, science, etc.). They include a lapbook, and are ready to use immediately—no preparation required.
Passport Geography – unit studies take an in-depth look at world geography in a whole new way to learn about this important subject. These one-week studies use a lively interactive approach (covering geography, history, science, etc.) to take students on virtual journeys around the globe.
With no prep required, the Passport Scout titles are for elementary ages and include a lapbook, while the Passport Explorer titles are for Jr/Sr high ages.
Unit Study Adventures – are four-week studies that contain daily lessons for both elementary grades and Jr/Sr High grades. These studies offer an in-depth look at a topic (space, trees, cars, etc.) that takes into account many areas of the topic, such as geography, science, history, art, etc. Cross-curricular in approach (include history, geography, science, etc.), these unit studies have been written in a simple, ready-to-use format.
Unit Studies from You Are An Artist
You Are An Artist goes beyond art! They take art and add it in to so many facets of learning to help bring the learning alive for kids! They have tons of FREE Lessons on their website as well as a Membership Site where you get ALL the goodies!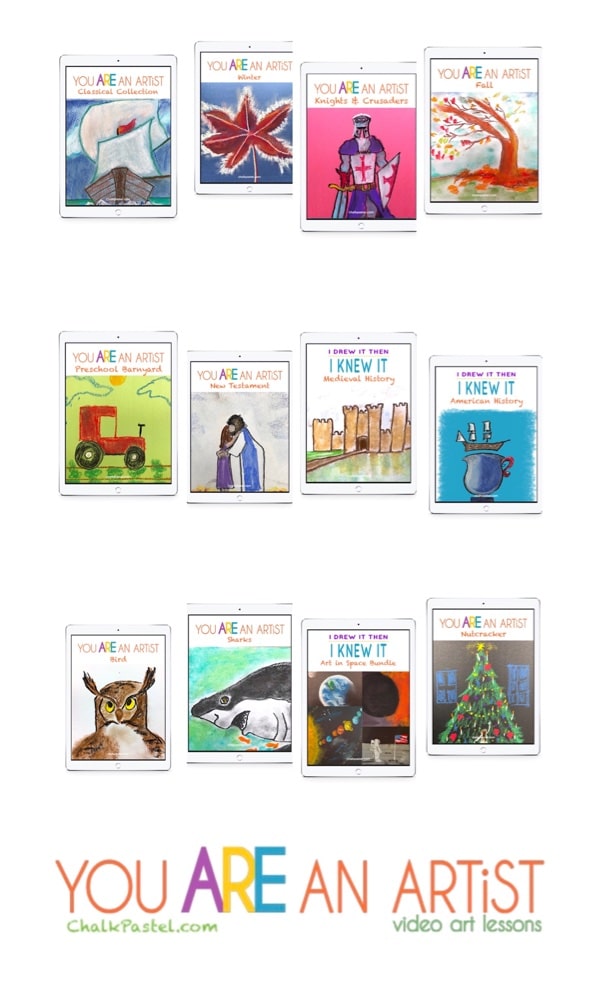 Here are just a few literature unit studies you can find there:
Lord of the Rings – A Unit Study To Rule Them All – Bring The Lord of the Rings to life in your homeschool with this literature art lesson.
Anne of Green Gables – "Oh Anne, how we love her! Her personality, wit, and genuine ways have hooked us all. As a young girl, I daydreamed of Anne's adventures and country lifestyle. I have desperately wanted to share Anne with my daughter, and I am thrilled to get started. So, I am calling all of my fellow Anne of Green Gables fans to celebrate Anne with a literature-based art & tea time today!"
Charlotte's Web – "Charlotte's Web is a fantastic elementary read-aloud, and I am so excited to share some art & tea time ideas to help you plan something memorable for your homeschool too."
End of book celebrations are not only an incentive to complete the book, but they are a great way to continue to grow a love for reading. If you have a child who is a reluctant reader or hasn't adapted to family read-alouds yet, you may want to think about adding in these hands-on homeschool art lessons from YOU ARE AN ARTiST.
Harry Potter – Check out this fun Harry Potter homeschool teatime that even muggles will love! You'll find magical art lessons that everyone in the family will enjoy. You don't have to have a magic wand or spellbook. All you need is a simple set of chalk pastels, a pack of construction paper, and the teatime treats of your choice to bring the magic of art and Harry Potter into your home!
The I Drew it Then I Knew It Series includes titles like:
American Presidents
Composers
Maps
Ancient History
American History
And SO MUCH MORE!
WinterPromise
WinterPromise (WP) is a Charlotte Mason style curriculum for preschool through high school. It's a themed curriculum, similar to a unit study but with a few differences. WP predominantly uses the Charlotte Mason approach to education, but much of the learning occurs around themes as in unit studies. Along with real books, WP courses use ebooks published by WinterPromise, the occasional text or workbook from another publisher, and your choice of math programs from other publishers.
Check out some of our WinterPromise Reviews:
Designing Your Own Homeschool Unit Study
Designing Your Own Unit Study creates a tailor made learning experience and a rich, meaningful way of learning for your homeschool. And it's not as hard as you might think! Come along and learn how you can get to creating your own homeschool unit studies.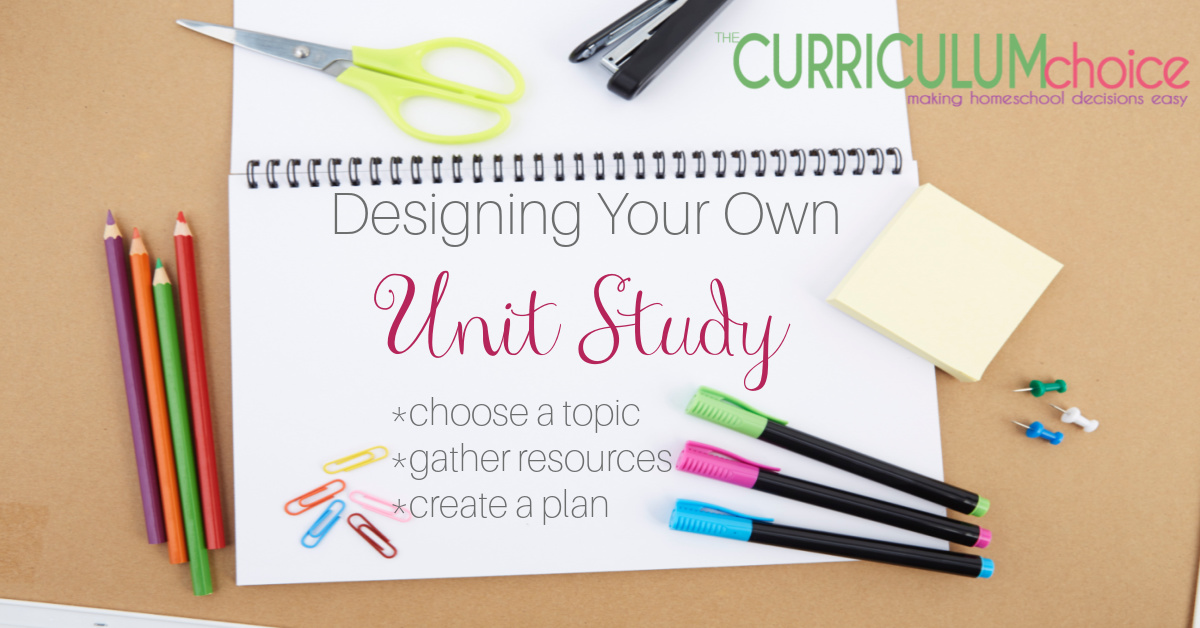 Homeschool Unit Study Documentation and Resources
Unit Study Documentation & Resources offers ideas for record keeping as well as places to find good unit studies for your homeschool.
Homeschool with Unit Studies Pinterest Board
HOMESCHOOL METHODS SERIES
Be sure to bookmark or Pin this What do Homeschool Methods Look Like in Real Life Series?