I'm super excited to share with you the Best Homeschool Nature Study resources I have come across recently! It includes resources like our sister site – Homeschool Nature Study, various unit studies, full curriculum and even great reference books!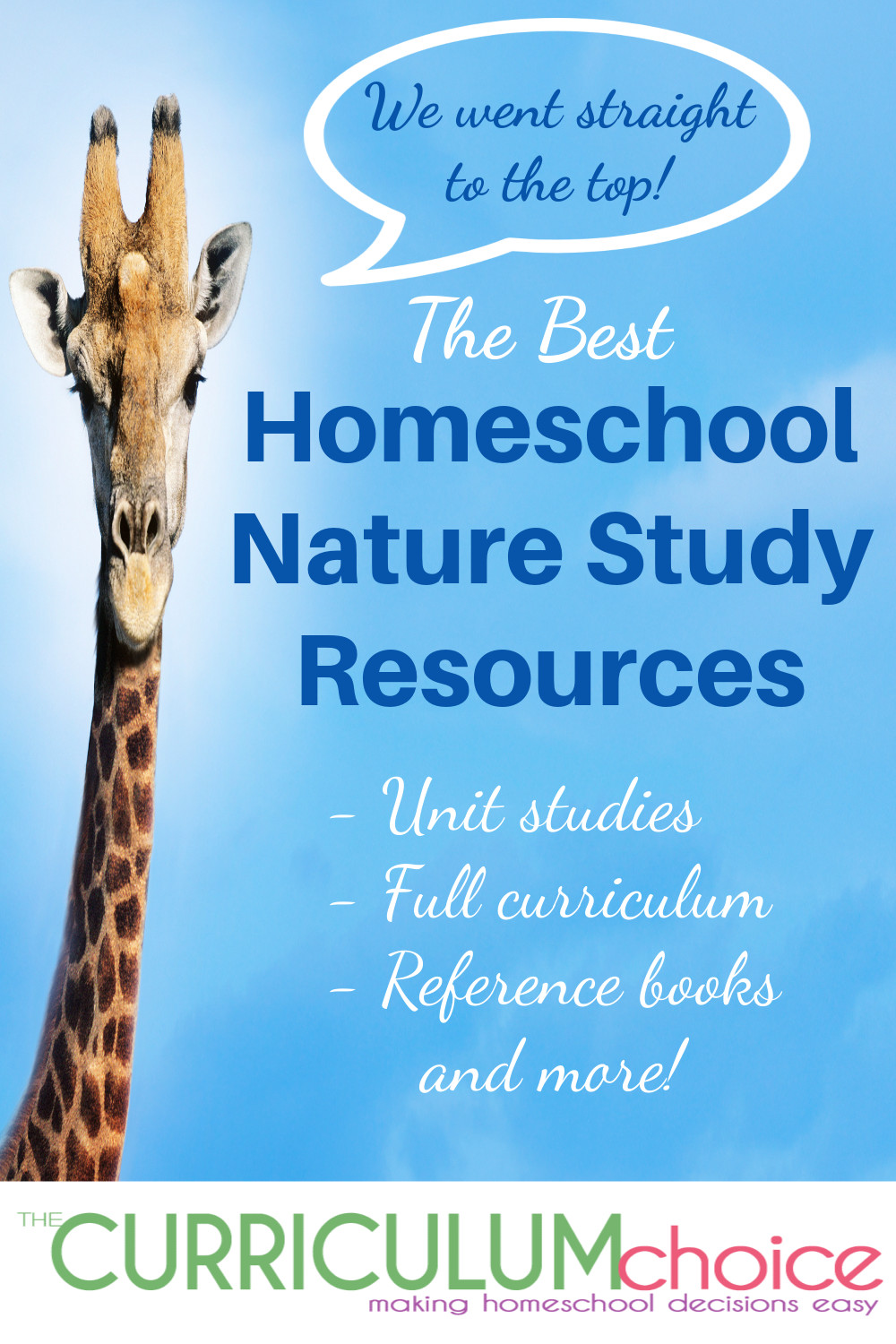 Affiliate links are used on this website. Please see our disclosure policy for more details.
The Best Homeschool Nature Study Unit Studies and Curricula
1. Homeschool Nature Study – The Handbook of Nature Study
First up is our sister site – Homeschool Nature Study which has everything you need to bring The Handbook of Nature Study to Life!
Just how do you get started in homeschool nature study? How do families participate in the Outdoor Hour Challenges? It is so simple to get started and we will show you how. Grab this free Homeschool Nature Study Guide and discover the joys of nature study in your homeschool.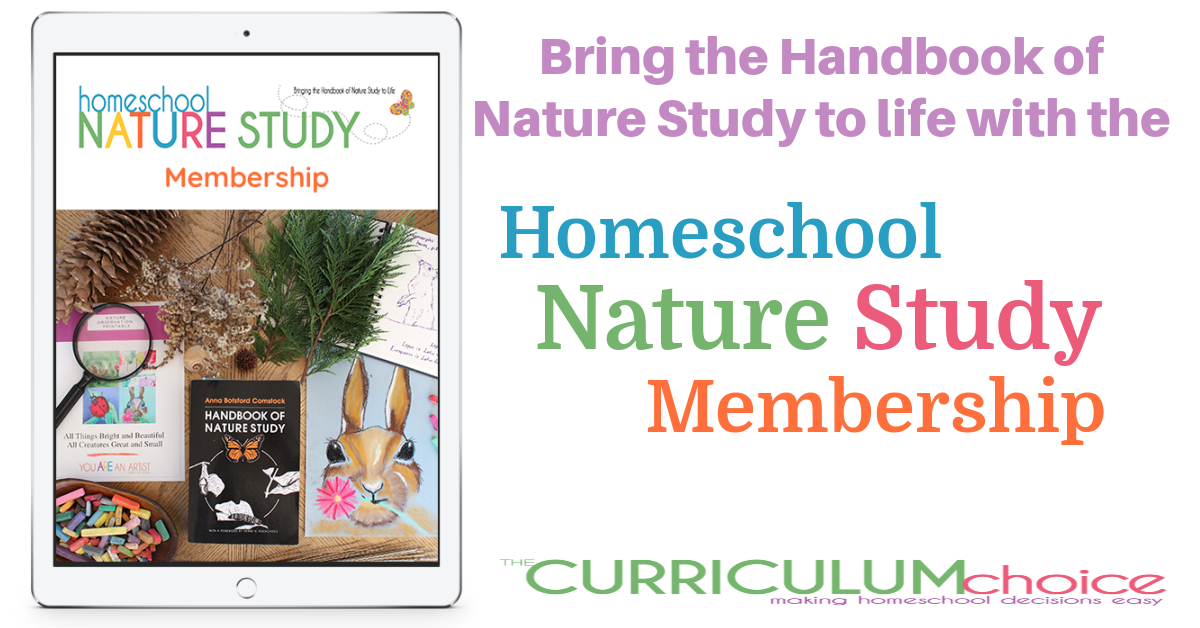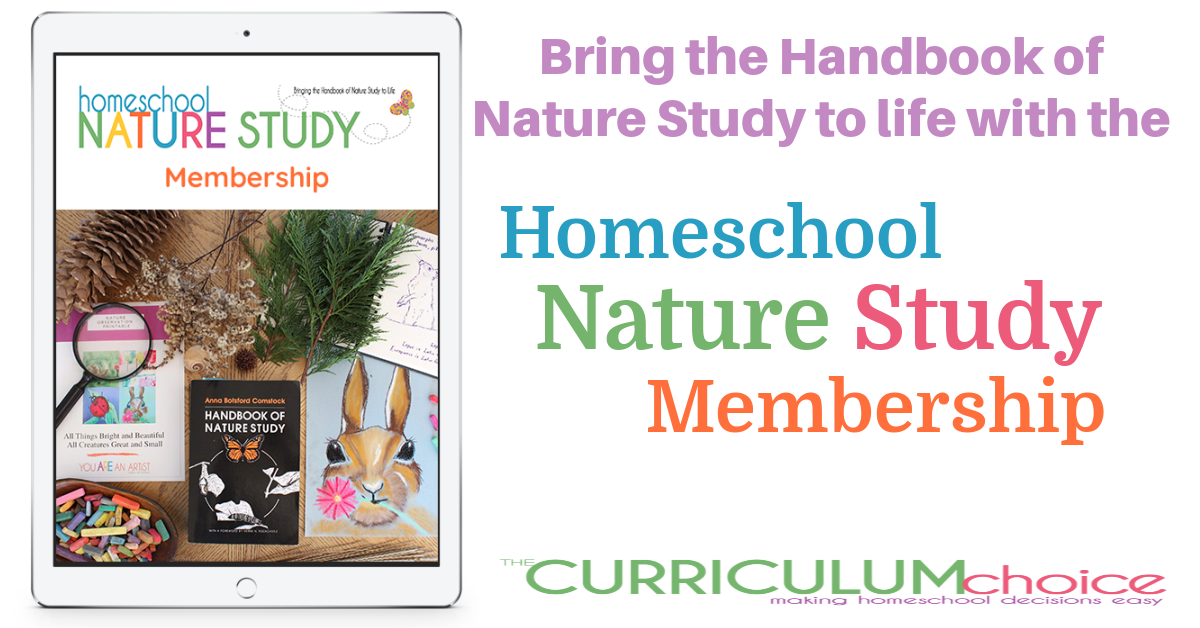 26+ Outdoor Hour Challenge Homeschool Curriculum ebooks on many nature topics
Three NEW courses for moms – The Outdoor Mom, Nature Journaling and Nature Crafts courses!
Monthly features from 65+ past newsletters! Each newsletter is filled with encouraging articles from homeschool moms using the Outdoor Hour Challenges in their homeschools
All NEW homeschool nature study curriculum courses – click through and easily find what you need
All NEW and nature study plans and activities during your membership year
A Monthly Calendar with a Homeschool Nature Study Prompt for Each Day
A sampling of nature video art lessons from You ARE an ARTiST
Also Check out These Articles on The Handbook of Nature Study:
2. NaturExplorers
Does your child want to dig deep into nature study topics with creative nature walks, hands-on activities, kid-friendly research projects, literature, poetry, artist & composer study, and printable notebooking pages? Then the NaturExplorers Nature Unit Studies might be just what you are looking for!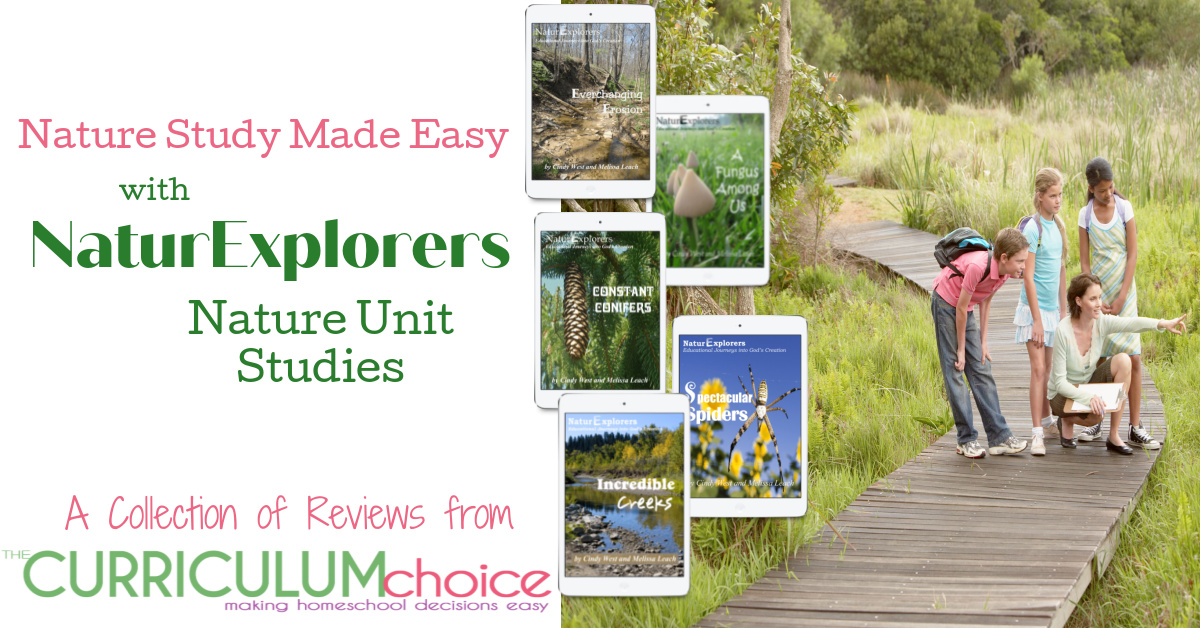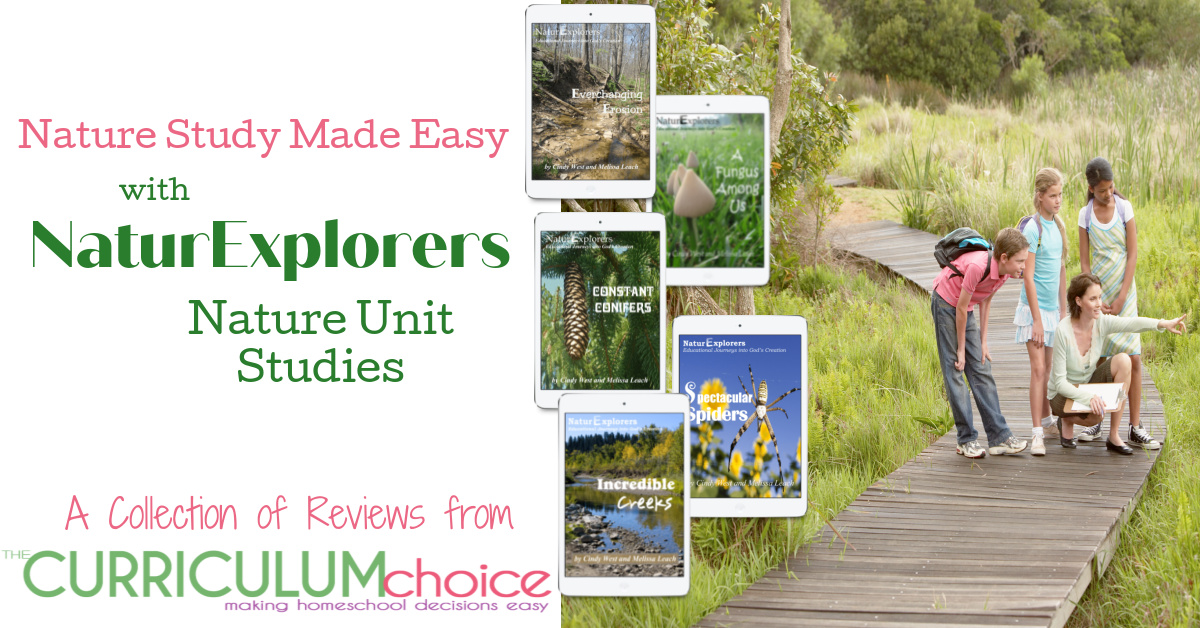 There are 19 different, complete nature based science studies for 1st – 8th grades. With topics like, A Fungus Among Us, Animal Signs, Beautiful Birds, Captivating Clouds, Coping with the Cold and Flying Creatures of the Night, there is sure to be something to delight every child!
3. Julia Rothman Collection
Can I just say that as an adult, I fell in love with these books! The illustrations are beautiful! You can see a full review of the books themselves here: Food, Farm & Nature Anatomy – Books for Exploring Our World Review.
Beyond that there are now notebooks to accompany the Julia Rothman nature books.
This series is perfect for the creative student who gets bored with science textbooks and would prefer to draw, label, and answer open-ended questions rather than take tests and write papers.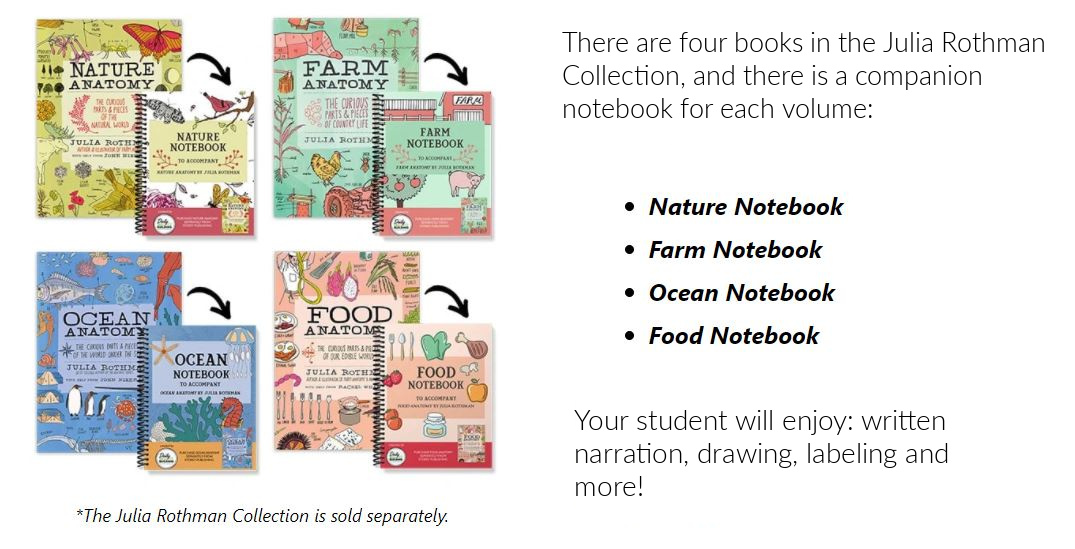 There is no prep-work involved – you simply grab your copy of the book and your notebooking journal and work at your own pace.
4. UnitStudy.com by Amanda Bennett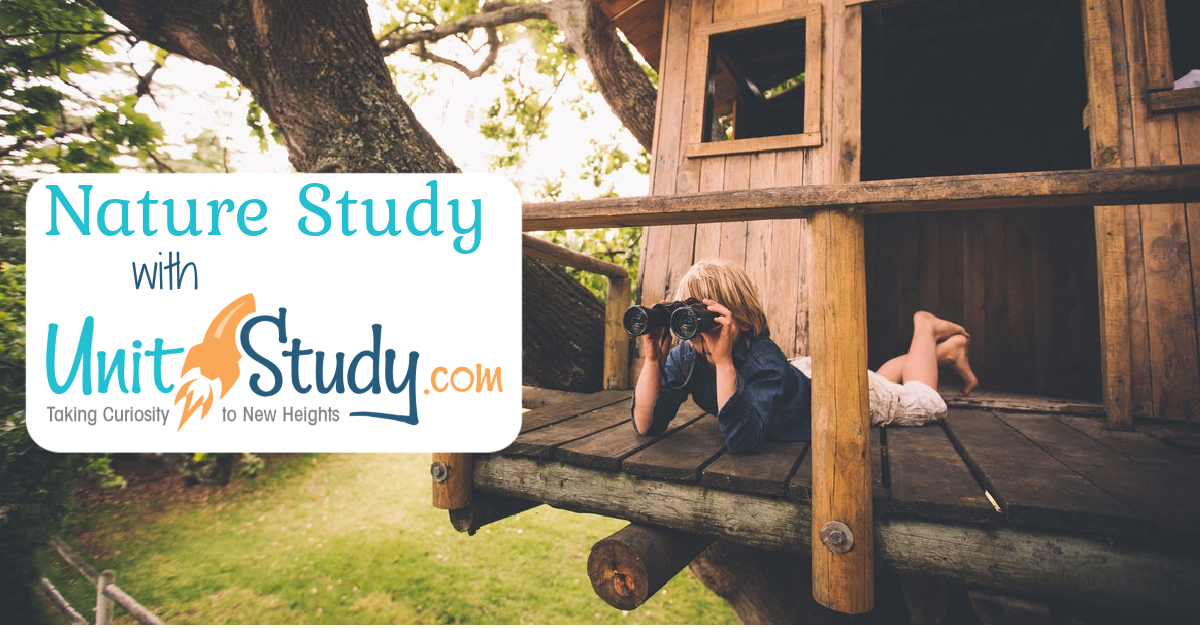 With UnitStudy.com enjoy open and go unit studies. Not Teacher prep needed. Instantly download up checkout.
AND ONE OF THE COOLEST FEATURES… All links are maintained to that you always have access to a live page!
Here are some of the nature unit studies:
Insects
Gardens
Butterflies
Trees
The Seasons (Spring, Summer, Winter, Fall)
Ducks Horses
Sea Life
and more!
Also be sure to check out the Winter Wonders Review here at TCC.
5. Exploring Nature With Children
Exploring Nature with Children is a complete, year-long curriculum designed to guide you, step by step, through an entire calendar year of nature study. Completely self-contained, this book has all the information you need to make nature study happen regularly for your family.


Exploring Nature With Children contains:
An entire chapter devoted to getting you up and running with nature study.
Forty-eight weeks of themed and guided nature study; four weeks for each month of the year, organized by season. Exploring Nature With Children can be used as a whole year's study, or dipped in and out of as you please.
There is also a Exploring Nature with Children Companion Journal you can purchase. The journal is divided into seasons and months, with each month having four weeks of guided journaling for your child, directly following the Exploring Nature With Children Curriculum. There are journaling pages for 48 weeks of guided nature study.
Check out some of the Exploring Nature with Children Reviews here at TCC:
Best Homeschool Nature Study Books

Help and Inspiration for Exploring Nature Studies in Your Homeschool
Cultivating Curiosity with Nature Study in Your Homeschool – "Cultivating curiosity with nature study in your homeschool is simply a delight. It comes naturally with just a bit of practice. Here is how independent nature study went one day in our homeschool."
Backyard Birds in Winter: Homeschool Nature Study – "We enjoyed a wonderful study of chickadees and other backyard birds in winter. I wanted to share because I know you will enjoy this winter homeschool nature study too!"
The Gift of Nature Study – "Besides all of these gifts of nature study we count, one gets me the most. When a child says, "I noticed some yellow flowers. Can I borrow your camera?" She loops the strap around her neck and is gone. Then she sits next to me as we pull in the photos. Excitedly she tells of her adventures as the photos scroll across the screen. Flowers, blooming bushes, little anoles, bees and more. All she's noticed! She creates an entire post of her photo nature finds."
A Homeschool Bird Study with Chalk Pastels – "Each year we do a homeschool nature study of birds in anticipation of the Great Backyard Bird Count! We incorporate all sorts of Backyard Biology resources including books, games, bird feeders, binoculars, and even owl pellets! This year we've also added a chalk pastels bird study with Nana to the mix!"
Spring Art Celebration with Chalk Pastels – "Perfect for commemorating spring, Nana's spring art celebration with chalk pastels explores all creatures great and small and all things bright and beautiful! These nature-inspired art lessons are easy and fun for the whole family!"
This Homeschool Moon Unit Study is Out of the World – Moon activities, books, and fun art lessons for all ages! Learn about moon phases and more with this homeschool moon unit study!
Fall Hygge Homeschool Art Lessons – Here are some super simple ideas on ways to create a fall hygge homeschool art lesson with items you may already have on hand or within easy reach.
Other Nature Study Collections Here at The Curriculum Choice
Homeschool Reviews for Nature Study, Science, and Technology by Barb – Choosing a science curriculum is a big decision when you homeschool your children. Each family has its personal interests and preferred methods of offering science from year to year. Are you looking for your curriculum for science and nature study? Looking to add in some formal technology training too? This post is full of ideas and practical suggestions for making your science, nature study, and technology choices easier. Check out what other families are using and LOVING!
Our Favorite Homeschool Nature Study Resources – by Eva – "Nature journaling and exploration are great activities for families and children. It is thereby not surprising that nature study is a popular component of many homeschools. Simply put, it is the study of nature via simple, truthful observations which over time cultivate one's understanding and appreciation for the world around them." Be sure to check out this collection of nature study resource reviews from the authors here at The Curriculum Choice
Homeschool Nature Study Curriculum – by Dawn – Not only is this a collection of links for here at TCC but, "The Curriculum Choice authors have active blogs where they regularly offer ideas and experiences about their homeschool adventures." Be sure to check out this collection of posts on their tips for choosing homeschool nature study curriculum.
Nature Study FUN for the Whole Family by Betsy – "The book is called Hi Diddle Diddle Read a Book Riddle and it is written to middle schoolers, but it can be enjoyed by all ages. The book consists of 28 accurate and complex riddles that cleverly describe each of the 28 birds that are featured in this book. What a fun way to keep your nature study going during the summer months!"