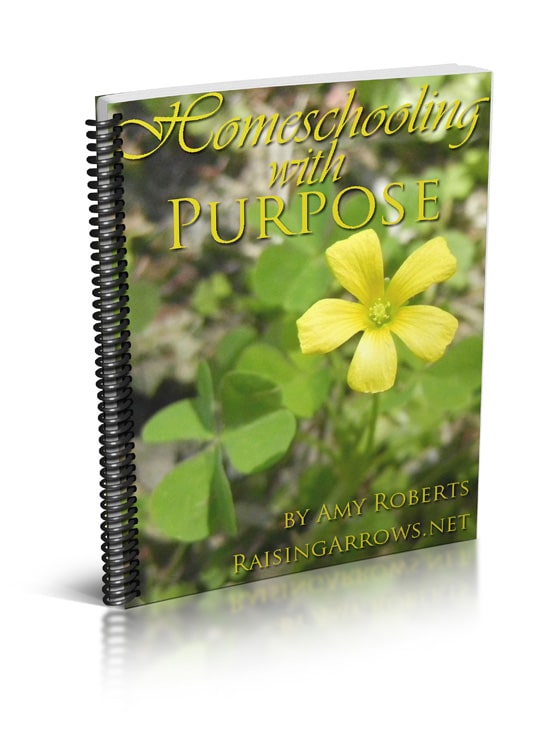 Homeschooling with Purpose, by Amy Roberts of RaisingArrows.net, is just the breath of fresh air many homeschooling mothers need when we find ourselves in "the winter of our discontent." According to Amy, this ebook is not intended to be another instructional manual full of homeschooling how-to's. Instead, Amy writes, "I want to dig deeper . . . below the surface of inspirational ideas that will eventually fizzle . . ." And she does just that. Homeschooling with Purpose invites us to consider purpose in five areas of our lives:
A Purposeful You
A Purposeful Home
A Purposeful Day
Purposeful Children
A Purposeful Worldview
When we lack purpose, our homeschool struggles, our spirits sag, and our energy sinks. Our priorities become skewed. We lose focus. However, by carefully attending to ourselves, our homes, our days, and our children in ways that highlight our most important priorities, we can reshape our lives into things of beauty that glorify God. Amy shows us how and points us to the authority: God's Word.
Additionally, Amy offers options for resources to help guide us along the way, such as books, websites (linked within the ebook), and even a CD. I'm always looking for encouragement, so I was especially pleased to find more sources to check out.
I enjoyed this book very much. I especially loved this point: "if your heart and soul are lacking purpose, your homeschooling years will never feel productive." That really resonated with me.
If it resonates with you, too, read Homeschooling with Purpose and consider how you might want to re-orient your focus.
Ellen Barski, a Southern belle married to a Yankee hockey player (there's a story there, y'all), homeschools two middle graders. When she's not doing that, she's writing, editing, Girl Scouting, grooming ponies, hot gluing bagels to a tray for a theater production. . . . She blogs about it all at http://bluestockingbelle.blogspot.com. She tweets @embarski.
Hearts and Trees: Art, Handicrafts and Nature Study for your Homeschool