Setting out to homeschool high school for the first time, we found ourselves looking at lots of curriculum – from biology to language and vocabulary – everything was new to us.
Along with academics came a need to organize daily assignments.  High school is a necessary time to learn skills of keeping up with one's work load a little more independently than before.
We searched office supply stores, but nothing seemed to fit just right.  Somewhere in the summer, I came across the planner we eventually purchased and are incredibly happy with:  Well Planned Day's 4-year High School Planner!
Now, I'll say right away there's also a one-year planner available in case this sounds overwhelming, but we took a leap to try out the longer version.  Wow…an excellent resource for my high schooler!
There's plenty of space for recording daily assignments, grades, credits, literature read…space to chart attendance, write out which projects are being worked on in a month, and soooo much more.
Here's a peek into more of the 4-year planner:
Over 330 Full Color Pages
Spiral Bound with Three Hole Drilled to Fit into Binders
Plan Each High School Year with Class Plan and Checklists
View Semester Calendars with Holidays
Schedule Each Month: Track Class Assignments, Attendance, Community Involvment, and Grades
Record Progress: Grades, Attendance, Portfolio Information, and Journaling the High School Experience
Plan a College Portfolio
Review College Considerations and Visits.
Maintain College Grants and Scholarship Information.
and much more….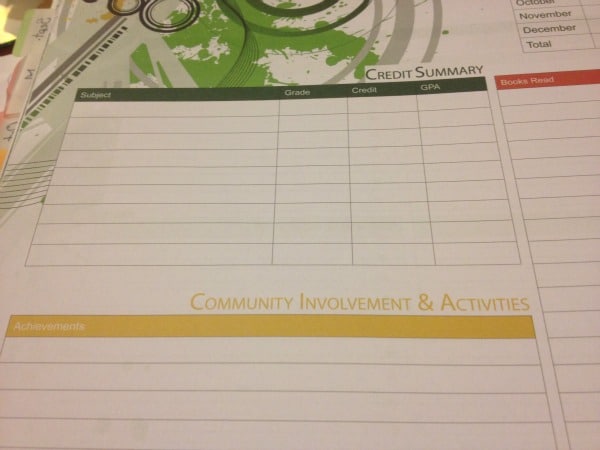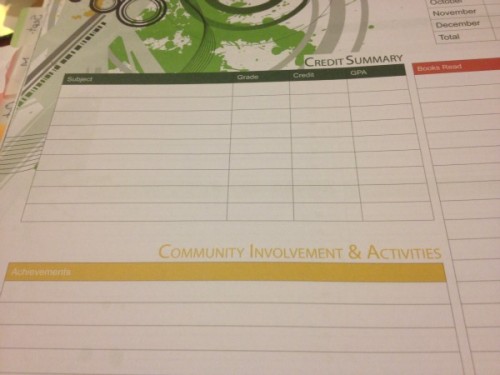 As a parent, I appreciate the ongoing checklists and reminders in prepping for college – from when to study for entrance exams, tips on applying for internships, scholarship info, to full articles geared toward supporting the high school to college journey.
As the student, my freshman likes the whole planner is color-coded by year and offers space to write in extras, such as volunteer opportunities she participated in during the semester or her likes or dislikes (journaling section for each semester).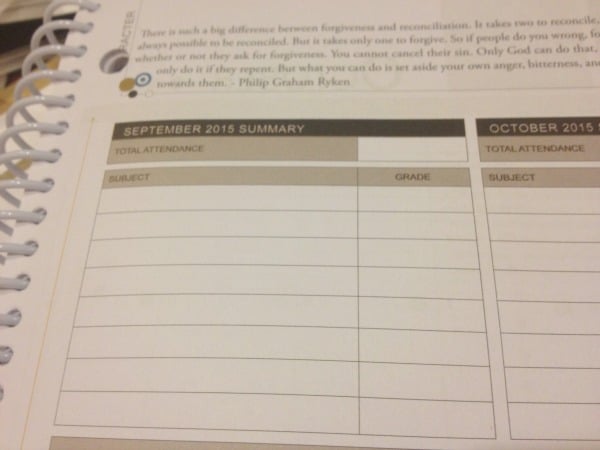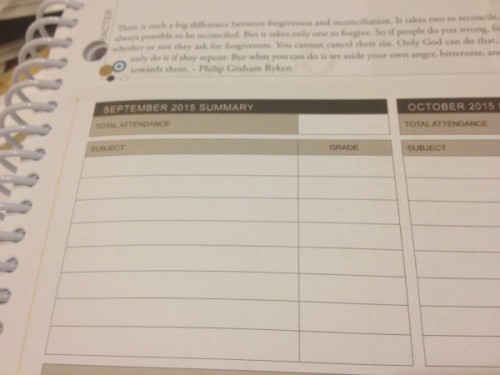 Geared towards Christian homeschoolers, the 4-year planner is peppered with encouraging scriptures and tidbits spoken directly to the student.  But shhhh…Mom finds these uplifting as well!
We both appreciate pages are hold-punched, though I personally wish they were also perforated so that pages could be filed after a time.  I was concerned the whole thing would become shabby-looking by junior year…but my teen is the neat type.  Not sure I would purchase 4 years at once for some of my other kiddos! 🙂
Overall, this planner is an excellent resource to both student and parent.  Well done, Well Planned Day!
: :
{post written by Daniele of Domestic Serenity – a homeschooling Mama of 5 finding grace & fun in the everyday!}