Every year in May, not only do we celebrate Mother's Day, but there is an entire week dedicated to Teacher Appreciation! So why not Homeschool Teacher Appreciation? We homeschool moms work hard and deserve a little fun and pampering once in awhile!
A shout out to all you homeschool moms that are probably reading this! I am in the trenches with you! And if you are like me, you don't want to help your kids make gifts for you, or plan a celebration for yourself! Am I right? So be sure to send this along to your hubby or older children to give them a not so subtle nudge!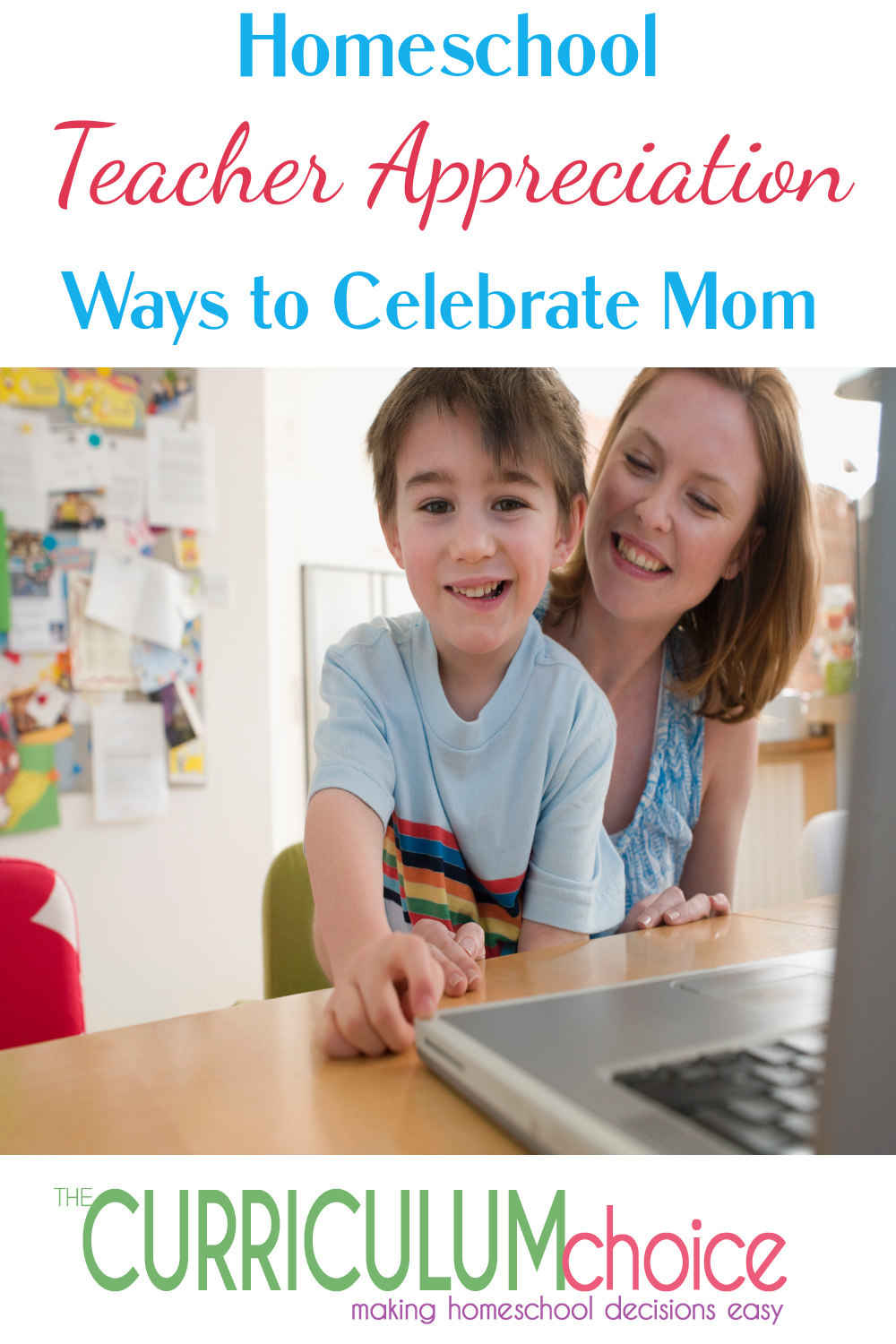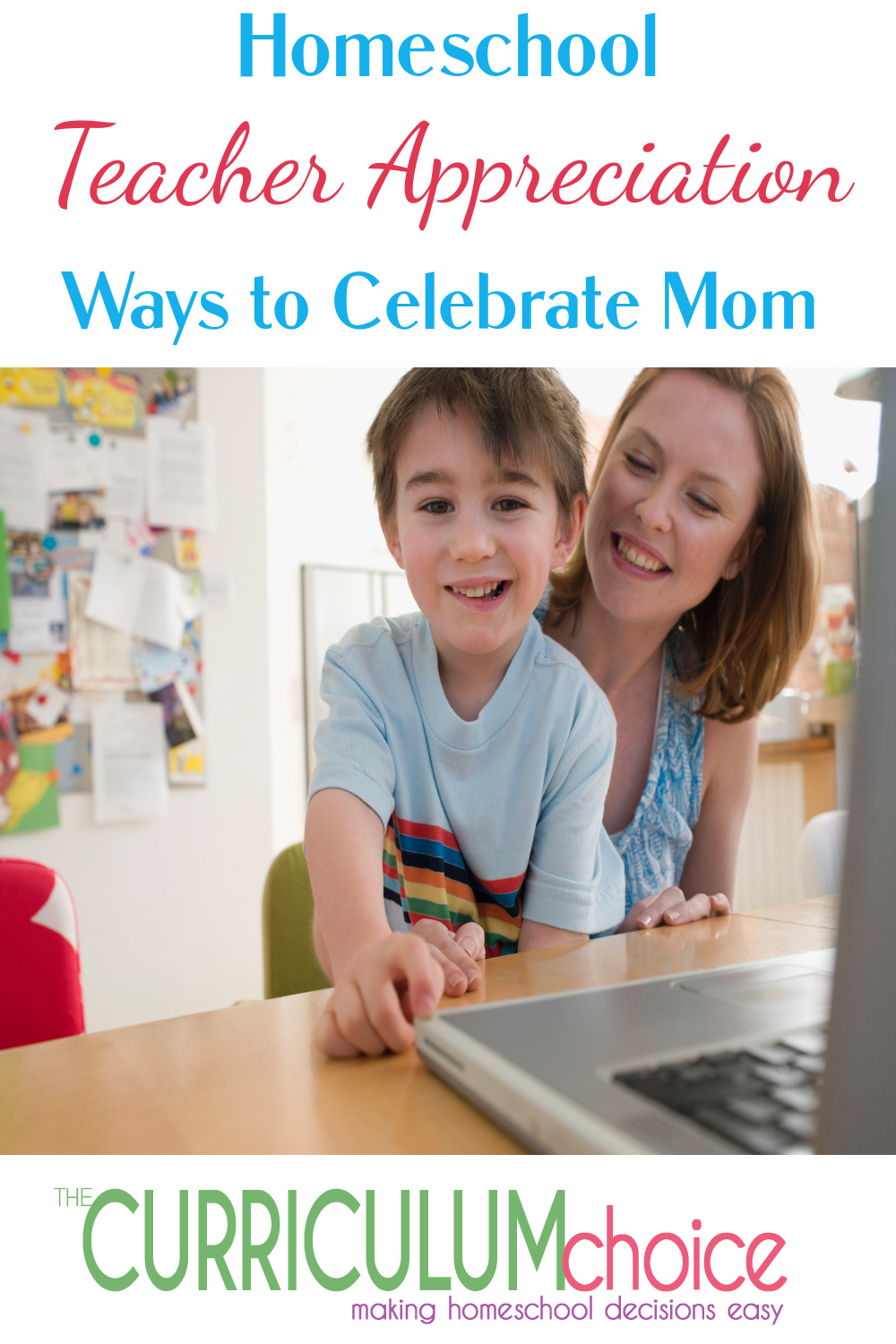 What is Homeschool Teacher Appreciation?
Homeschool Teacher Appreciation is a chance to celebrate the sacrifices mom has made outside the usual "mom duties". This is an event separate from, but similar to Mother's Day.
We homeschool moms are on the job 24/7. There is no bus to drive our kids around, no counselor to plan out their academic schedule, it is us wearing all these hats. We are the principal, the bus driver, the lunchroom staff, all the teachers, janitor, and so much more!
Teacher Appreciation Week is celebrated the first week in May every year.
Mother's Day is celebrated on the second Sunday in May.
So when is Homeschool Teacher Appreciation celebrated? I'd say we could have an entire week! Why not include Homeschool Teacher Appreciation with Teacher Appreciation!
Ideas for Celebrating Mom
Whether it is for Mother's Day, Homeschool Teacher Appreciation, or you just love your mom and want to show her, we here at The Curriculum Choice have come up with a collection of ideas to help you celebrate mom!
A massage or other spa service
Kids cook and clean for dinner one night
Gift card to you favorite clothing store
Shopping trip to a favorite bookstore or hobby store
Gift card to Amazon or Barnes and Noble so you can buy books for YOU!
A day off. One where you can stay home totally alone and do whatever soothes you!
Dinner out without the kids
A cleaning day where hubby and kids to a thorough house cleaning while you relax.
Have your husband teach lessons for a day
Homemade brownies or cookies made by the kids.
An inspirational book such as Homeschooling with Purpose
Flowers
Create or Print a Mom's Coupon Book
Tickets to a sporting event
A gift card for a cleaning service. Even if it's just for one day.
A subscription to a meal planning service. Even if it's just for a week.
Handmade thank you cards and thank you notes from the kids.
Heidi Ciravola @ Starts At Eight
As I was creating this article I noticed something, we moms don't write about ourselves too much! I have written numerous articles on St. Patrick's Day, Easter, Christmas, even Memorial Day, but only 1 pertaining to Mother's Day!
I have to say that many of my most favorite gifts were personalized items. A wonderful way to celebrate mom is with photos. The puzzle frame hangs prominently in our living room and since receiving it I have already added a piece to it, and plan to continue to do so as our family grows.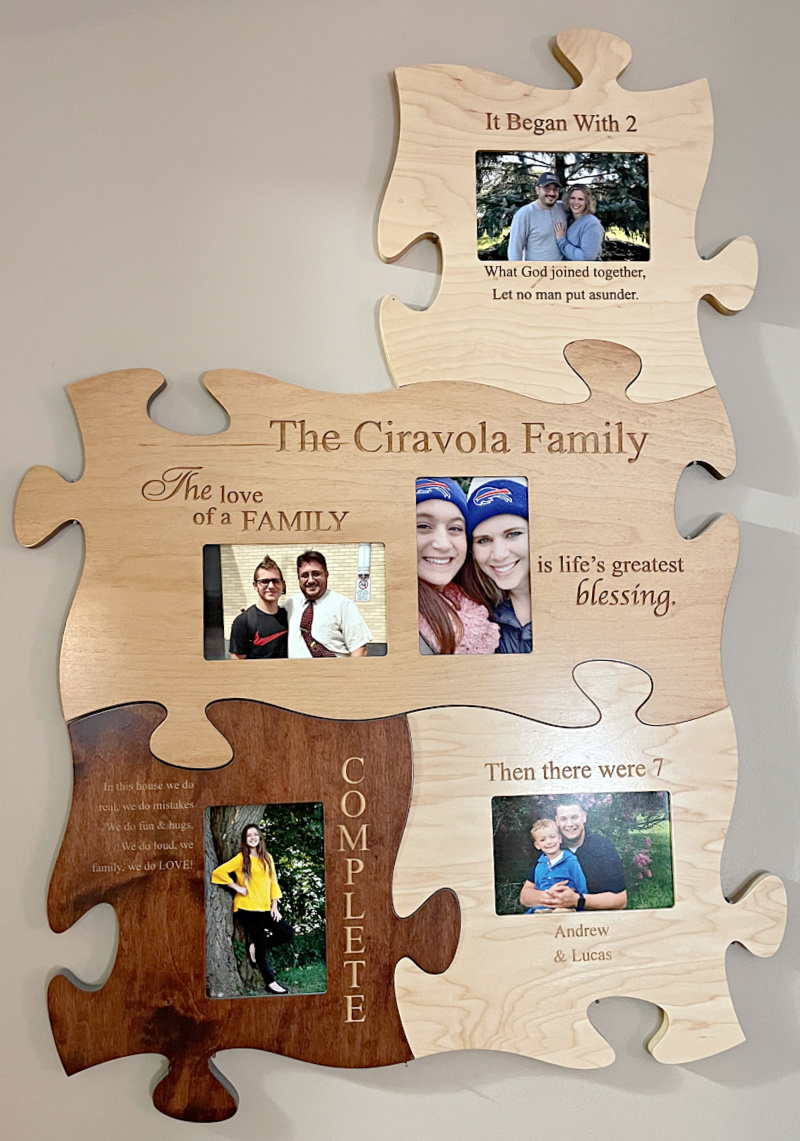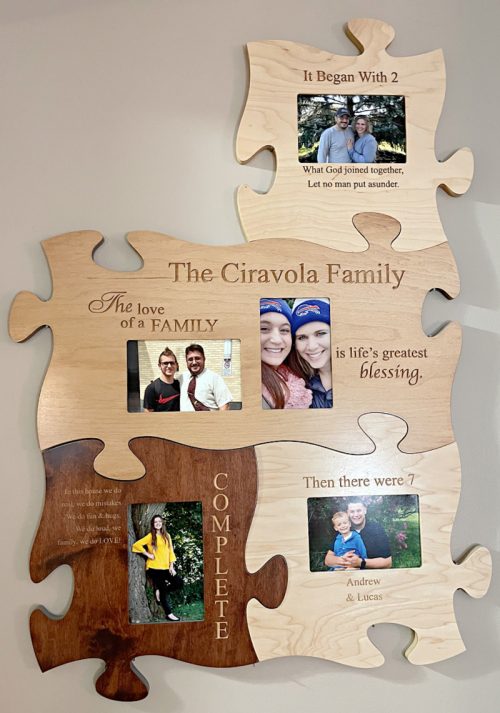 Tricia @ Hodgepodge and You ARE an ARTiST
We have our southern traditions for Mother's Day! One is wearing a rose in honor of your mama. I remember Mother's Day Sundays growing up. We children would wear a rose in honor of our mother. My brother and I would find a pretty, deep-pink rose bud on the backyard bush. Mama would pin it on with a straight pin. Or maybe a safety pin if we were so lucky to find one that morning.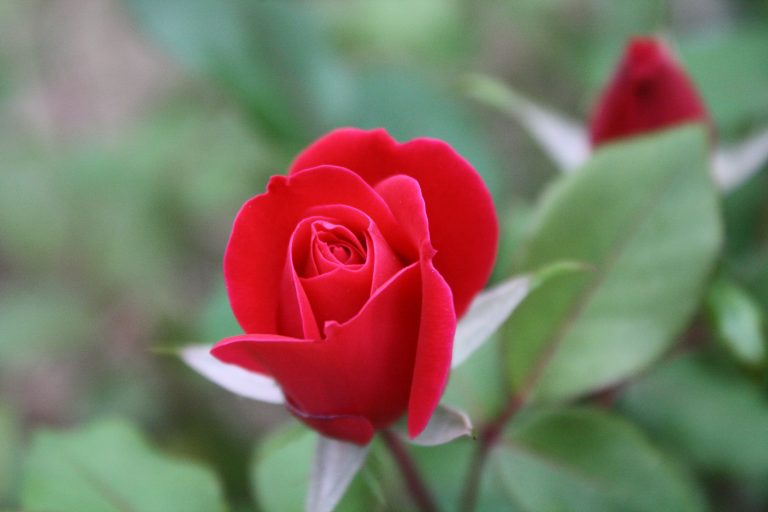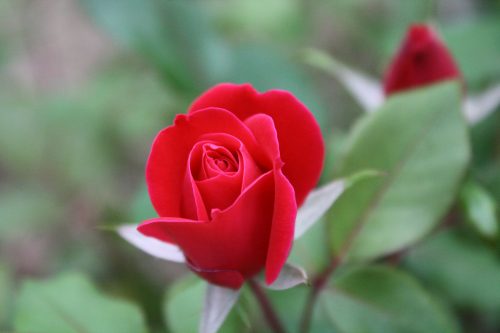 You can find our Mother's Day gift and homeschool teacher appreciation round up here. We're busy getting ready for Mother's Day. We've also been recognizing and thanking teachers. Of course our gifts involve food. And, they have to be easy to do.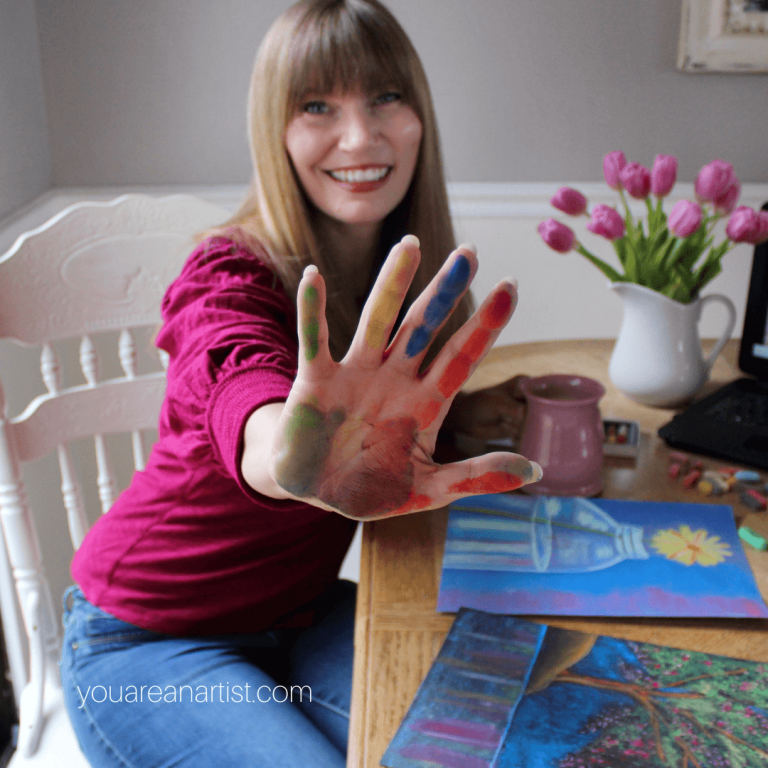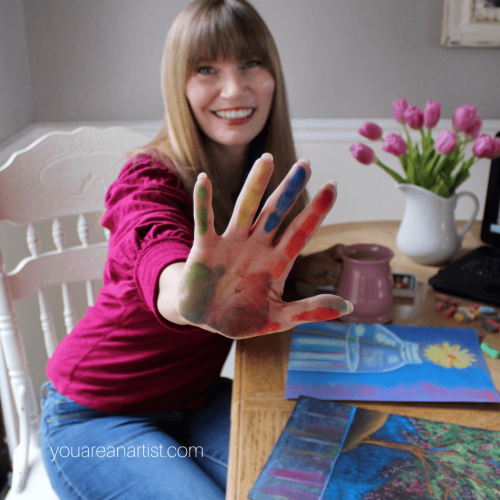 At You ARE an ARTiST, we are celebrating mothers all month with Mini Moments for Mom with Art! Erin encourages us – whether you have 5 minutes, 10 minutes, 20 minutes, or more, take the time to recharge your spirit with these mini moments for mom. Even busy moms can appreciate the simplicity and ease of chalk pastels. No super long supply list is needed! Just a starter set of chalk pastels, a pack of construction paper, and a few moments is all that is required for a mom to reconnect with herself and her love of art. Sometimes even getting 5 minutes of alone mom time can still seem impossible. That's why I also make regular mommy and me time during the week. This is just a lovely way to share one-on-one time with your child while also incorporating art. After all, art isn't just for kids. It's nourishing for moms too!
You might also like our Curriculum Choice Gift Ideas Pinterest Board.