It's that time of year when we, as homeschoolers, begin to think about our curriculum choices for the next school year. You are likely getting catalogs daily from curriculum companies, browsing the web, reading reviews, and making a shopping list.
Choosing curriculum can be a lot of fun, but it can also be overwhelming. The writers here at The Curriculum Choice would like to help ease that burden. We've thereby compiled the posts detailing our own curriculum choices at each grade level. You'll sure to find suggestions and tips to ease the burden of choosing the homeschool curriculum that is best for you and your children.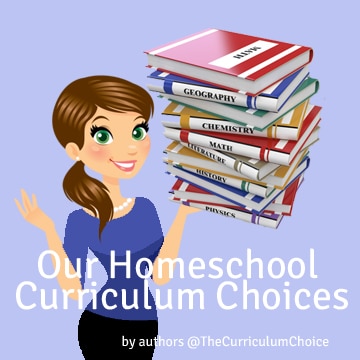 From The Curriculum Choice Archives
Be sure to browse the tabs above to find curriculum reviews to help you with your homeschool curriculum choices. You might also enjoy these that we've selected from our archives.
Homeschool Curriculum Choices From Curriculum Choice Authors
The Curriculum Choice authors have active blogs where they regularly offer ideas and experiences about their homeschool adventures.  Below are their curriculum choices for their homeschools – for each age/grade level.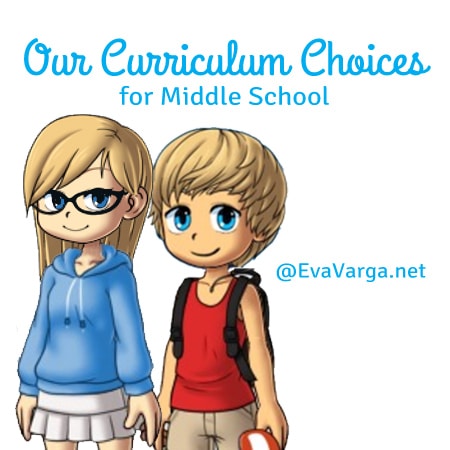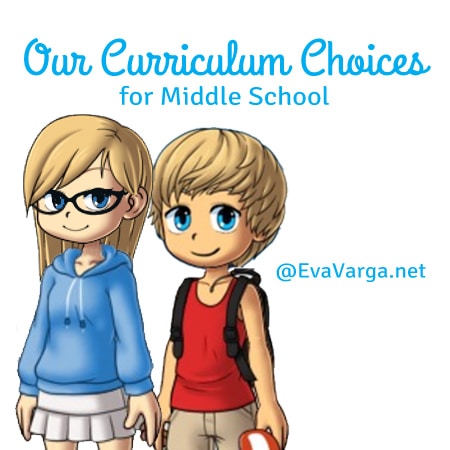 Eva at EvaVarga.net 
I can hardly believe we have nine years of homeschooling behind us! This fall, we will begin our 10th year. We first began homeschooling in Oregon, spent four years in California, and are now returning to Oregon!
While the biggest challenges we've faced are settling in with new communities and making new connections, I have been blessed to know I made the right choices in regards to curriculum from the beginning. With the exception of language arts – where I continue to try new approaches and materials, our choices have been consistent.
I recently shared a post describing Our Curriculum Choices for Middle School. As middle schoolers, they are both more independent and their skills have grown enough that I know I can pull back a little and allow them to take more of a lead. As their interests and passions evolve, so do our curriculum choices. In my post, Independent Study Projects, I describe how giving students time to learn what they want to learn allows them a chance to experience what adults are expected to do every day at the workplace or at home.
When my children were in elementary school, we did a lot more unit studies than we do now. I kept a digital scrapbook of sorts on Squidoo (now HubPages). You can browse a list of our unit studies and our favorite read alouds here, Our Curriculum Scrapbook. From trolls, to Shakespeare, and the Iditarod – to name just a few – our thematic studies kept us busy in those early years.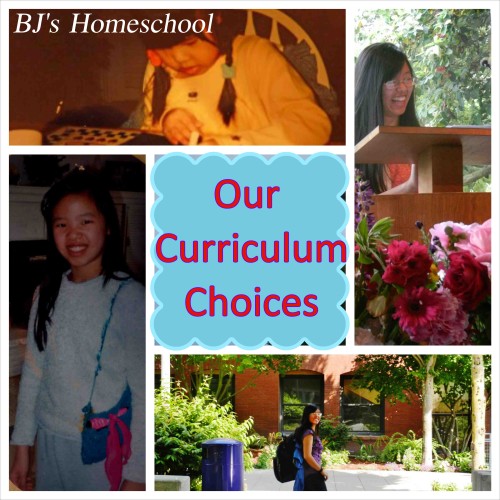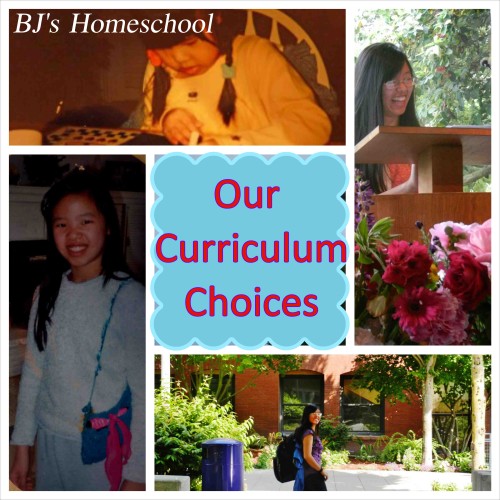 Betsy at BJ's Homeschool
This year, my always homeschooled daughter will be a sophomore in college!  It has been such a joy a to homeschool her all the way…..and then watch her take on college, too.  I was nervous for her first year there, but she has had a great time, making lots of friends, and finding her life goal, of becoming a leader.  She wants to help children who have been bullied, and we are excited to see where that will lead her.
Planning for the next year, was always one of my favorite times in our homeschooling journey. Each year, we kept our favorites choices, then added a new one of two, as it fit my daughter's needs.  Sometimes we dropped a curriculum that was not working, and chose another, and that was an important step, as well.
In preschool and kindergarden, we loved using hands-on, play oriented approaches, especially for math play.  I wanted my daughter to get the basics, while keeping it fun.  Here's our  Top Picks (and Tips) for Preschool/Kindergarden.
During the elementary years, we loved using Oak Meadow curriculum, especially for history and english, which is integrated together.
Oak Meadow – First Grade Curriculum –  "A gentle introduction to the three R's for your little ones, full of hands on activities, including lots of creative hand arts, drawing, painting and more, mixed right in with ABC's, math…"
Oak Meadow – Fifth Grade Curriculum – "Oak Meadow strives to reach the child…head, hands and heart, with it's creative, project-oriented approach, with solid history lessons which speak to the child."
And here's  our favorites for homeschooling high school, which gave my daughter a solid high school education, with lots of time for homemade elective courses, too.  These choices can be used as college prep, but also fit well for kids who are headed directly into a vocation, as well.
I also wrote a series, called Our Steps to College, which includes, how we researched the colleges, their entrance requirements, etc, and how we made our curriculum choices for my college bound kid.  Feel free to browse my page on High School for more ideas as well.

Cindy at Our Journey Westward
Over the years, I have used a lot of curriculum, but some have risen to the top time and time again with multiple children.  Thinking about these favorites led me to write a series of posts highlighting my top picks.  I hope you find some tried and true gems yourself!
Early Elementary Curriculum Favorites (K-2)
Upper Elementary Curriculum Favorites (3-5)
Middle School Curriculum Favorites (6-8)
High School Curriculum Favorites (9-12)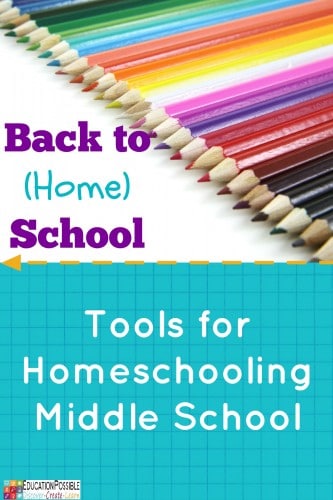 Susan & Megan at Education Possible
At Education Possible we don't use a lot of "traditional" curriculum to teach our middle school kids. Instead, we utilize a variety of unique resources.
Through a series of "Back to Homeschool" posts we share tools you can use to homeschool your 5th – 9th graders. These resources will engage your children, helping them connect with the material they're studying.  Through these lists, you'll also get a glimpse into our lives. You'll see that we use a lot of living books, technology, and activities in our home schools.
Among our Tools for Homeschooling Middle School you will find resources for teaching Life Skills, Geography, writing for reluctant writers, History, and more!
Annie Kate at Tea Time with Annie Kate
We have grandiose plans for our homeschool each fall, as exciting as the smell of new crayons and the crispness of new scribblers.  However, there have been years—and this was one of them—when illness or other life circumstances completely changed all of our plans and, indeed, our goals.  That is fine; God's plans are always best and ultimately he is in charge of our children's education.  On the other hand, while being flexible to such changes, we also need to be responsible and plan carefully.
You might find some inspiration in our detailed curriculum plans, with at least one complete curriculum plan listed for each grade.
As a mom of teens, I try to remember these things while making curriculum choices: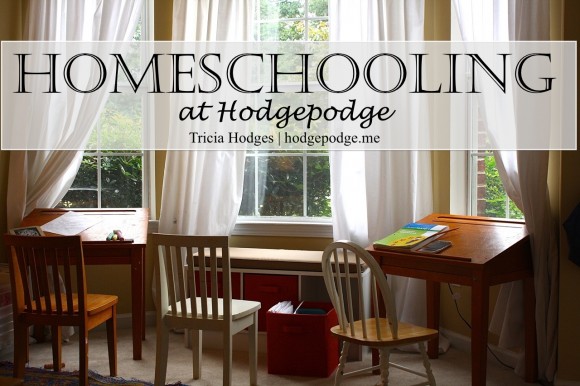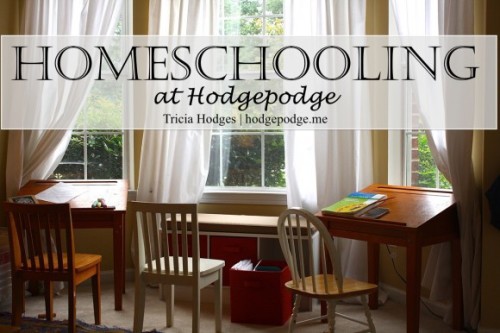 Tricia at Hodgepodge
Would it surprise you to know that our methods truly are a hodgepodge? One ingredient added. Another sifted in. Mixing slowly. Seasoning to taste. The roots of our method are classical. There's a healthy dose of Charlotte Mason enrichment. Plus, the unit studies help us all learn together. And the whole-hearted approach speaks of each child's relationship with the Lord.
Follow Curriculum Choice's board Choosing Curriculum on Pinterest.
The Curriculum Choice Review Team Features
Be sure to SUBSCRIBE so you won't miss any reviews from our team of veteran homeschoolers. Plus you will receive both our Ultimate Guide to Choosing Homeschool Curriculum and our Ultimate Homeschool Planning ebooks for free!
~ Hosted by Eva, EvaVarga.net