One of the strongest rhythms in our homeschool is work out of our Morning Time Basket.  The basket holds our history spine, a poetry anthology, songbooks, and our Bible memory work.  We spend time reading aloud everyday.  This shared learning simplifies our schedule, and builds our family culture as we share good words together.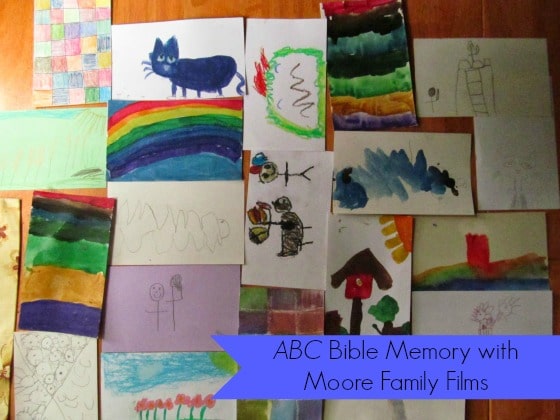 ~ Don't miss the discount code and giveaway at the end!
We subscribe to the not-word-perfect school of memory work.  We aim for exposure instead of perfect recitation.  In our family we've got some learners who are very verbal and pick up memorization quickly, and there are others who are quieter and have a harder time memorizing.  Because we focus on exposure, it helps keep competition at bay.
For this next school year, we'll be reciting A-B-C Bible verses.  You can find many, many collections on Pinterest.  We have written our verses on 3×5 cards that we decorated with drawings and paintings during the Index Card a Day Challenge.
Because we were already planning on memorizing A-B-C verses, I was excited to receive a review copy of ABC Say It With Me from Moore Family Films.  It's a delightful collection of vignettes starring real kids in a family.  My children loved watching the brothers and sisters interact, especially when they speed clean the messy living room in fast motion!  They also love the baby goats and kittens.  The Moore family plays and works and bakes and cleans with love and joy.  We loved
how the music accompanying the video added interest without distracting
hearing Scripture in the voices of children–lisps and all.  The variety of voices was a neat reminder that we are all fearfully and wonderfully made, and we each bring glory to God in our unique way.
that the Scripture verses use the King James version
On the Moore Family Films website you can download a printable list of all the verses for reference, and there is a link to a free coloring sheet featuring farm animals and the the verse for the letter O from Psalm 104:24.
O Lord, how manifold are thy works!
In wisdom thou hast made them all: the earth is full of thy riches.
Tricia and her family enjoyed the film called More Than Making Maple Syrup! So if you're looking for a wonderful way to supplement your studies, Moore Family Films may be just what you're looking for!
Special Discount Code for The Curriculum Choice Readers
The Moore family is offering a generous discount for Curriculum Choice readers! Simply use code JULYCHOICE25 for a 25% discount on any order placed at Moore Family Films website through July 31, 2015. And be sure to keep up with Moore Family Films by signing up for their newsletter and visiting their Facebook page.
Now for the giveaway!
The Moore family is giving away a copy of ABC Say it With Me DVD to two (2) winners. Simply follow the instructions in the rafflecopter widget below…
a Rafflecopter giveaway

Kortney Garrison lives with her family in the Pacific Northwest.  Her days are filled with stories and poems, nature walks, drawing, and pots of tea.  She writes about homeschooling through the church year at kortneygarrison.com.