Do you remember your biology class from high school? I do. I remember it was lackluster and as secular as it could get. But despite all that, I learned a valuable lesson from that class. A lesson that I wouldn't realize until I was a homeschool parent.
The takeaway for me was this; I can't expect my children to enjoy a subject or cultivate a genuine love of learning if I feed them boring bits of information. If I want my children to crave knowledge and spark curiosity in them, I have to inspire that somehow.
Thankfully there are incredible resources available to Christian homeschool families that can do precisely that. Inspire!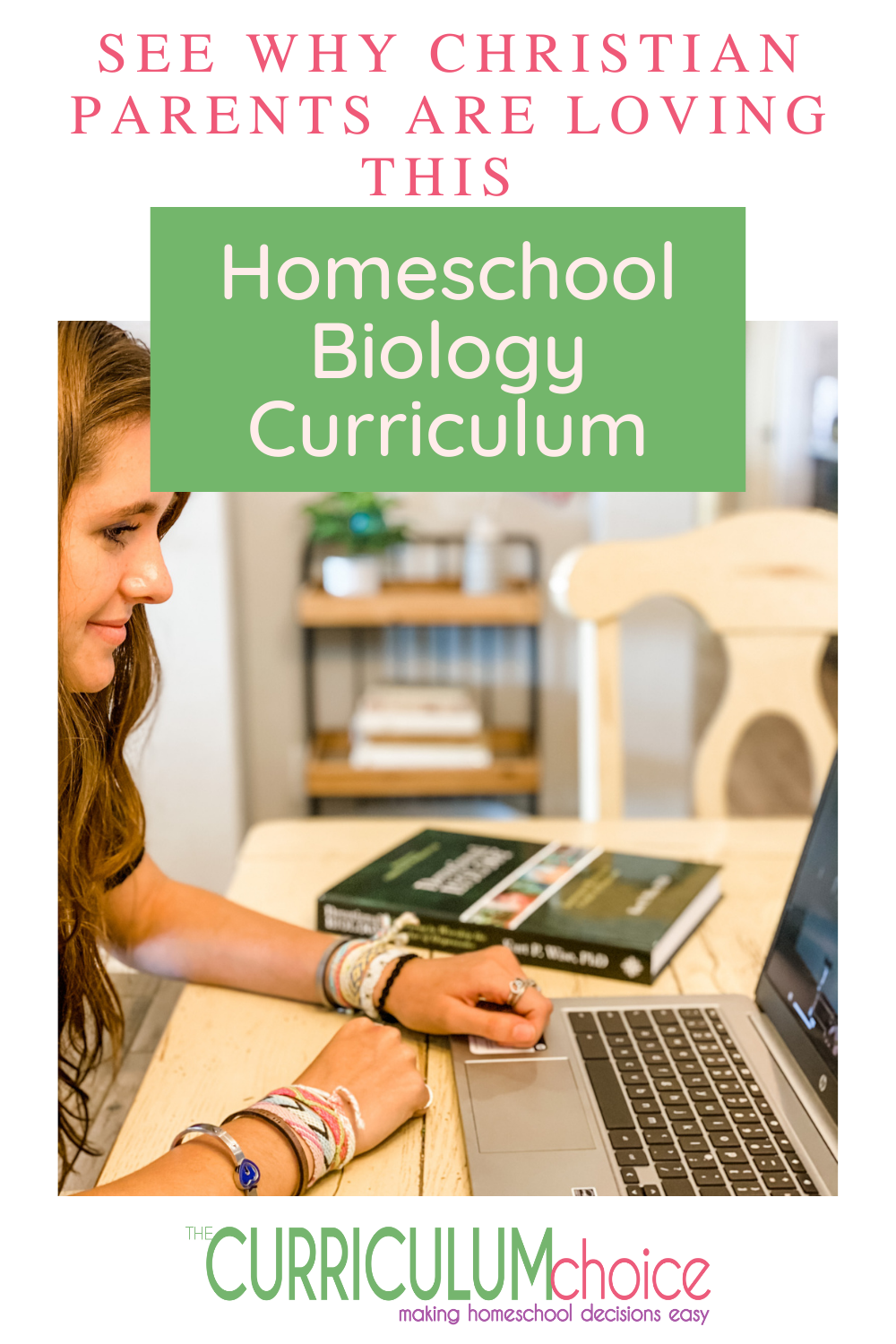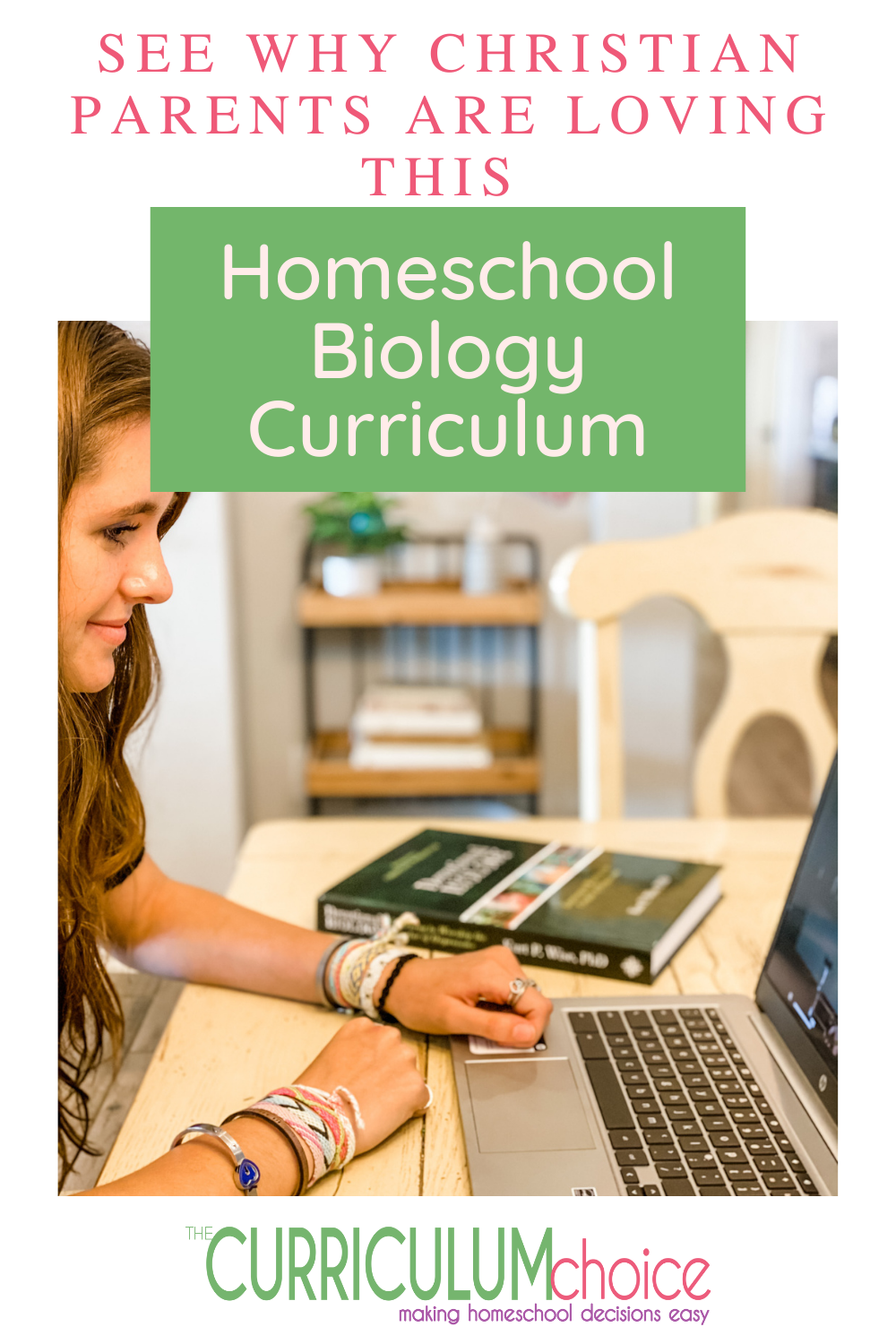 Compass Classroom's Devotional Biology is like no other homeschool biology curriculum I have seen. Honestly, I have been blown away by how well-done this course is. How different would I feel about biology today if my high school teacher would have presented it in the same way that Dr. Kurt Wise does?
So, if you have a high school student that needs a biology credit or lab science credit, I encourage you to keep reading. I am beyond thrilled to share a solid resource for homeschool biology curriculum taught from a Christian Perspective with the homeschool community.
I received this course in exchange for my review; however, I have expressed my honest opinion and never recommend anything we haven't personally used in our homeschool. The affiliate links included are for resources we absolutely love. Please see our disclosure policy.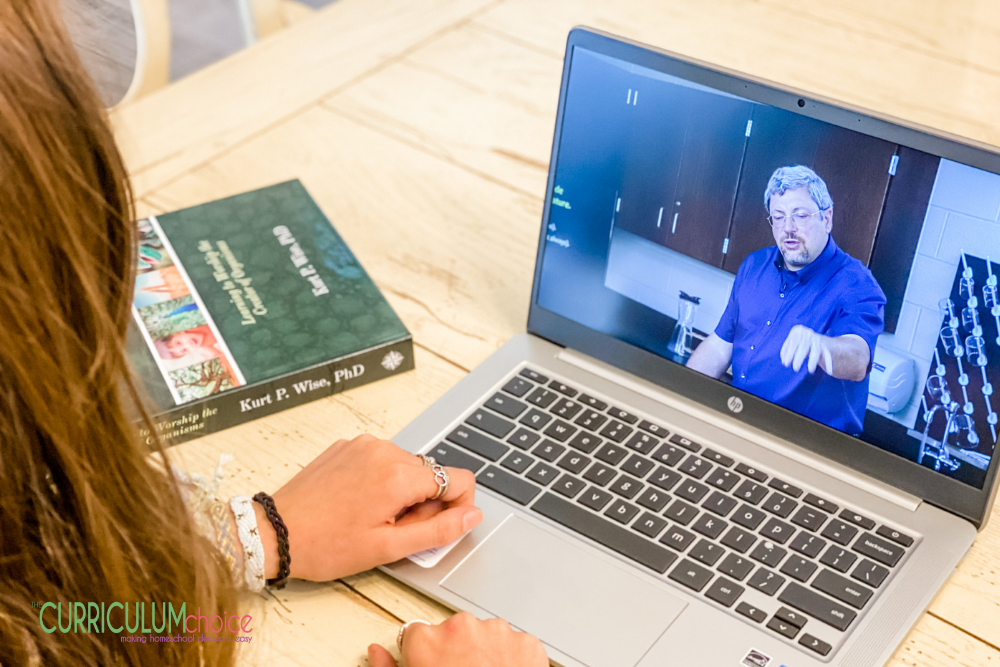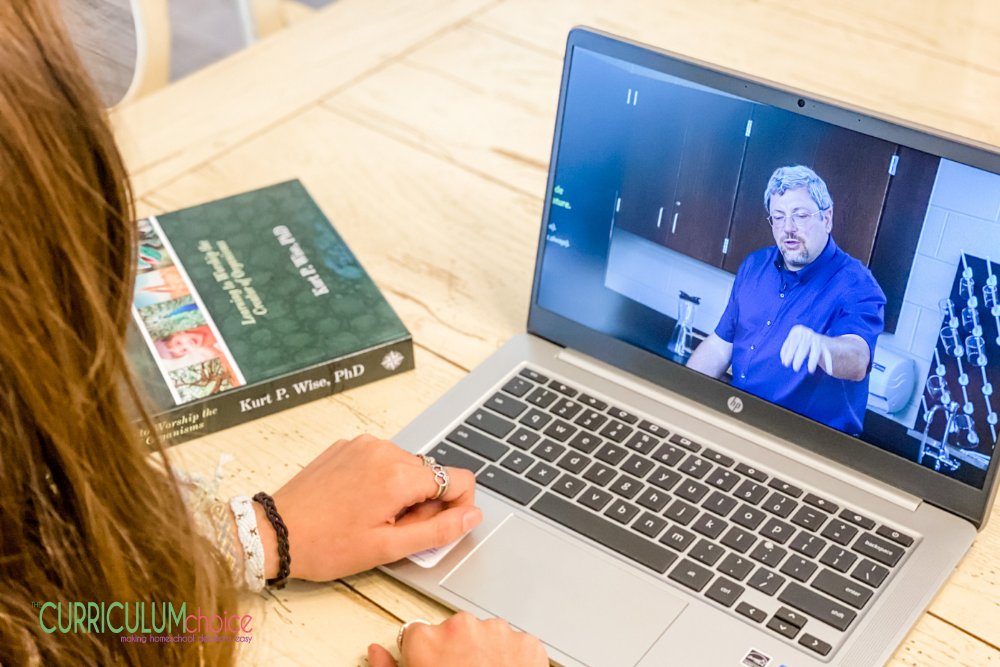 The Homeschool Biology Curriculum For Christian Families
There are so many great reasons that I can recommend Devotional Biology from Compass Classroom to you, but I am going to give you the most important reason first. And as a Christian homeschool parent, I know you will appreciate this one too.
Christian Perspective – Like so many of you, when I began homeschooling, I decided Bible was not going to be just another subject. I wanted Jesus and His Word woven into every part of our days, just like in our actual lives. There is no part of my day or life that Jesus is not allowed. Science is no exception.
Devotional Biology is taught from a robust Christian Perspective, and Compass Classroom does not shy away from combining the Bible and science like so many other curriculum companies do. It makes perfect sense that the creator of all life should be a considerable part of teaching biology? I love and respect that.
Top Creation Scientist Teacher – If there is anyone that you would want to teach your high school students about God's creation, Dr. Kurt Wise couldn't be a better choice. He is only one of the top creation scientists in the world. Yep, you heard that right! In the world.
Dr. Kurt Wise designed a class like no other that integrates Christian Worldview and Biology. He seamlessly blends the two together the way God intended. How can we discuss all that God created and leave God out? Dr. Kurt Wise highlights how God shows himself to us through biology. What a beautiful way to educate your children about nature and God's creations.
Dig Deeper – The high school years are perfect for digging deeper into particular subjects, even approaching them as one last chance to drive it home, if you will. Compass Classroom's Devotional Biology is the perfect option if you want your student to walk away with a deeper understanding of biology and how God plays the most significant role in it. The lectures are comprehensive and will spark a lot of deep conversations at home. Students will also learn about being stewards of God's magnificent creation. How beautiful is that?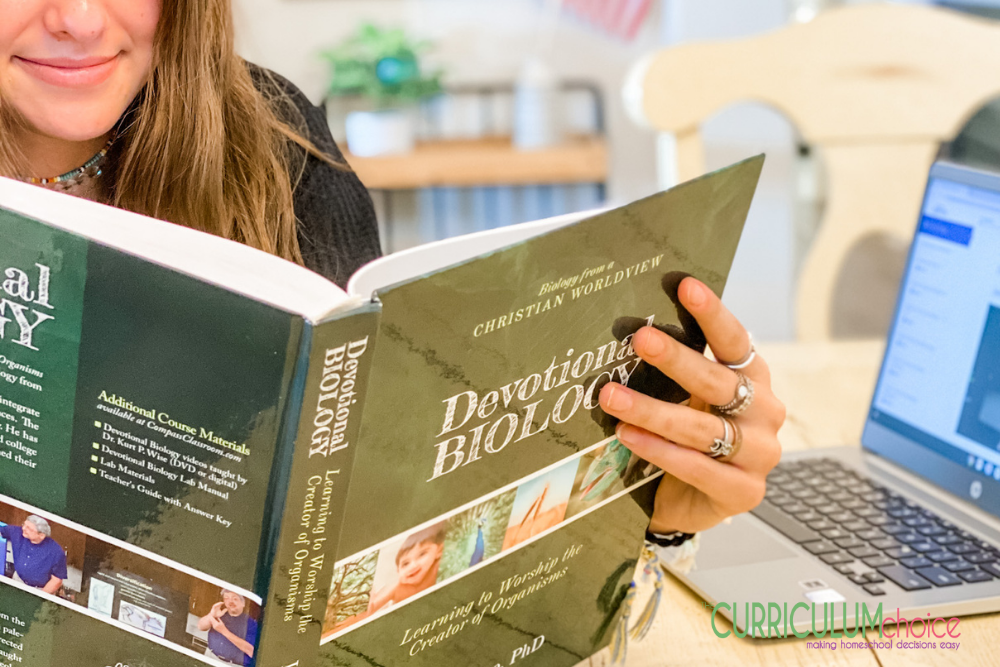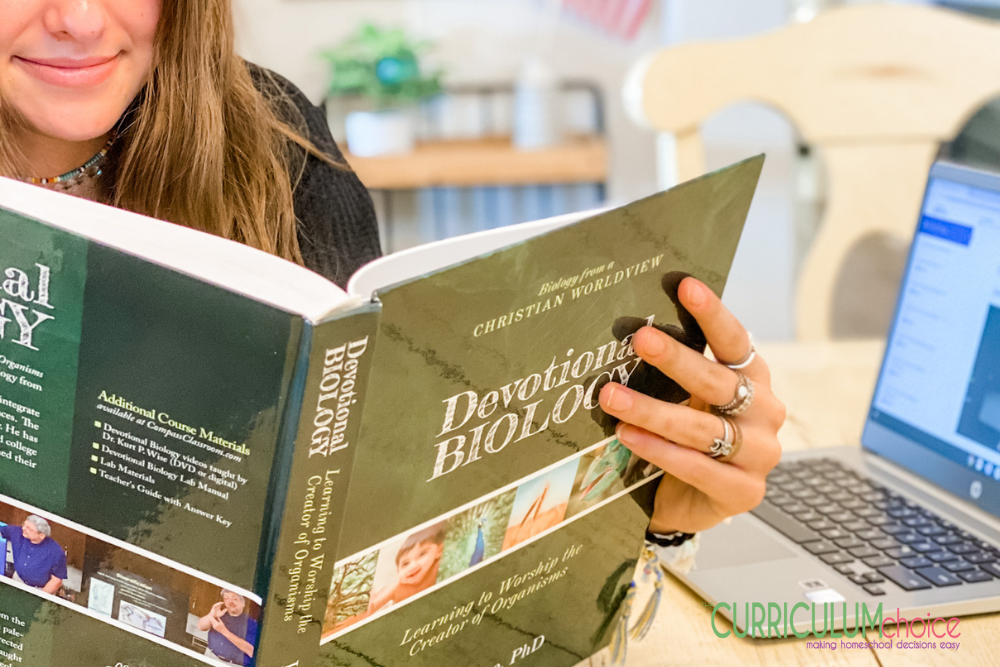 What To Expect From Compass Classroom's Devotional Biology:
The course is a well-rounded balance of videos, text, and labs. In addition to the excellent balance of resources, you can customize how you purchase the course. Choose if you want a physical textbook or you prefer to download a digital copy. Another great option is to choose DVDs or whether you prefer to stream the lectures. You also have the option to get a lab manual and teacher's guide. If you plan to be a little more hands-off and allow your student to work independently, you may not feel like you need the teacher's guide. I always prefer a teacher's guide or manual; even if I plan to let my high schooler work independently, it helps me track along where we should be and not skip anything important.
Devotional Biology is a quality homeschool biology curriculum. The content is challenging and thought-provoking! Expect to be impressed; there is no better way for me to prepare you for how well done the course is. Like I mentioned at the opening of this post, we want our children to be inspired and excited about education so that they will continue to crave knowledge. Dr. Kurt Wise delivers the course enthusiastically, and his passion for the subject matter is contagious. You might even catch yourself lingering to overhear the lecture; better yet, watch it with the whole family! Your younger children will glean from it as well.
Set Your Own Pace. Flexibility is one of the main reasons many of us homeschool. Luckily, another fantastic benefit of Compass Classroom's Devotional Biology is that you can work at your own pace. Self-paced courses are perfect for students who prefer to work ahead and even students who don't work well when held to due dates. Due dates for online courses can create unnecessary stress for some high schoolers; self-paced classes can help eliminate this. At the same time, some children prefer the option to work faster than the schedule allows. Either way, allowing your student to work at their own pace is an excellent idea for many learning styles and abilities.
We hope this gives you a good glimpse into Devotional Biology from Compass Classroom. If you are looking for a homeschool biology curriculum, you will definitely want to check it out! We think it's a solid choice for families that want to learn about biology aligned with the Bible.