The most important subject we will cover in our homeschools is the Bible. Not that the Bible is simply a book to study, because it isn't, it is a relationship to uncover. Through it God has made himself known and we have the privilege of making Him known to those small people he has entrusted to us. Of all the things we teach the one thing we are guaranteed will not to return void is the word of God.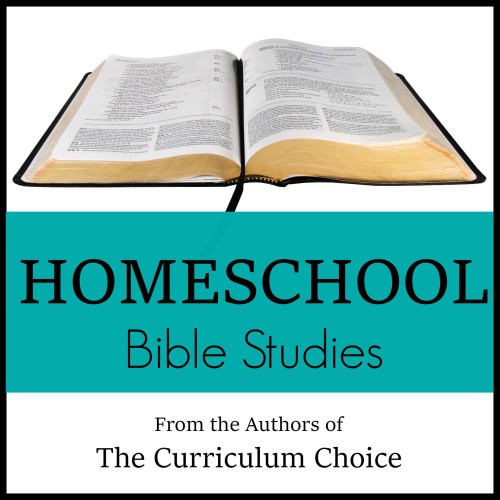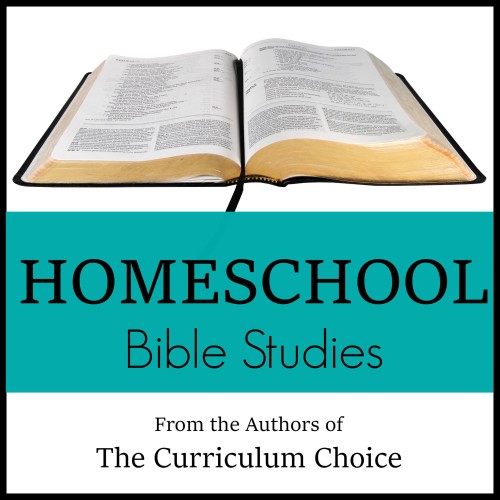 "For as the rain and the snow come down from heaven and do not return there but water the earth,making it bring forth and sprout, giving seed to the sower and bread to the eater, so shall my word be that goes out from my mouth; it shall not return to me empty,but it shall accomplish that which I purpose, and shall succeed in the thing for which I sent it." Isaiah 55:10-11
Be sure to browse the tabs above to find curriculum reviews to help you with your homeschool Bible studies. You might also enjoy these that we've selected from our archives.
From The Curriculum Choice Archives
Homeschool Bible Studies From Curriculum Choice Authors
The Curriculum Choice authors have active blogs where they regularly offer ideas and experiences about their homeschool adventures.  Below they share their Bible studies for their homeschools.
Kyle McVay of Aspired Living
Teaching Children to Memorize Scripture– A review of  Truth & Grace Memory Book by Tom Ascol.  Truth & Grace Memory books are wonderful little books that include scripture Memory, Hymns and a Baptist Catechism.
Training Children to take notes in Church – When we consider the words of Isaiah 55:11 we cannot help but look at our little ones and think that he is also talking to them. For our family the words of Isiah 55:11 ring in our ears that the Lords word "it shall not return to me empty". Well our current church hands out a children's sheet that covers some of the basic information from the passage.
Reading the Word to Littles– I am always looking for ways to fill our home with scripture. At the Above Rubies retreat we went to the speaker (Nancy Campbell) mentioned in passing that one of her daughters had all of her children listening to the Bible on CD. She'd stop the CD and they would discuss what they just heard and then they would plow on ahead as Mom and the children all listened  and discussed the Bible intently for about an hour.
Cindy West from Our Journey Westward
Bible study is the most precious time I ever spend with my children!  We begin studying the Bible early in our homeschool and hope to raise children that never stop digging into the Word.  Below, I've shared two posts that give you a glimpse into our creative Bible time.  The first post explains the process I use to plan our Bible studies each year and the second gives you a jam-packed list of books that we use to encourage Bible study and/or demonstrate practical application of the Word.  Enjoy these sweet Bible moments with your children.  They matter!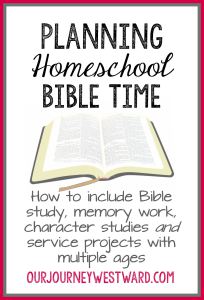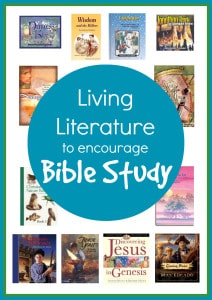 Tonia Lyons from The Sunny Patch
One of the most important goals I have for my daughter is to instill a love of the Word and the habit of daily Bible reading. We've used a variety of resources for study and devotions over the years – these 10 Bible study resources are some of our favorites (especially for elementary kids).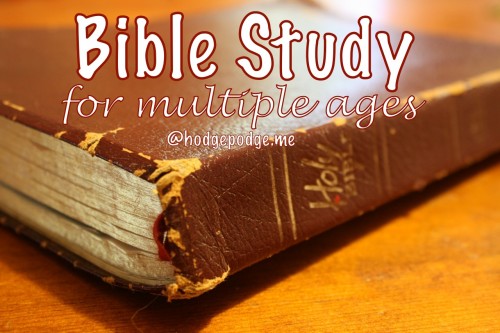 Tricia Hodges of Hodgepodge
Bible Study and Character Training for Multiple Ages – I remember a time when I was searching for and seeking out devotional books plus asking for ideas from fellow families. But now that we've gathered a pretty good library, if we need an answer to a question, we just open one of several Bible resources. We are blessed that way. So today I share with you our favorites. Some we turn to for family devotion time. Some we have available for our children to enjoy independently.
Pilgrim's Progress All in One Curriculum – Did you know? Pilgrim's Progress is the best selling book of all time other than the Bible! And we have been enjoying the Pilgrim's Progress All-in-One Curriculum set from Answers in Genesis.
5 Ways to Weave Hymns into Your Days – I've always loved the old hymns. Like many, I was fortunate to be raised on them. They are a part of me. But for quite a while now, I've made sure I spend part of my morning quiet time flipping through that hymnal.
Favorite Devotionals – I recently shared a photo and listing of our current favorites with an Apologia Instagram challenge.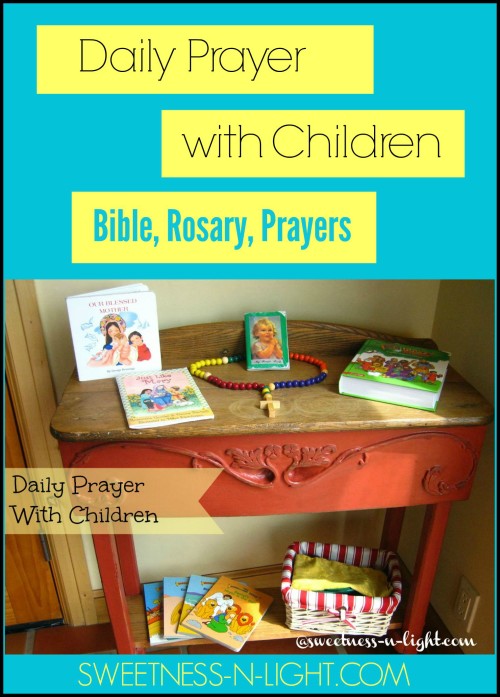 Meredith Henning of Sweetness-n-Light
Are you seeking to add more prayer time into your day-to-day? Daily Prayer With Children is a wonderful example of how to begin incorporating daily prayer time with your children into each morning before you begin your school day. We actually consider it part of our school day as we are continually learning about Our Lord and how He can help us throughout our days as Children of God.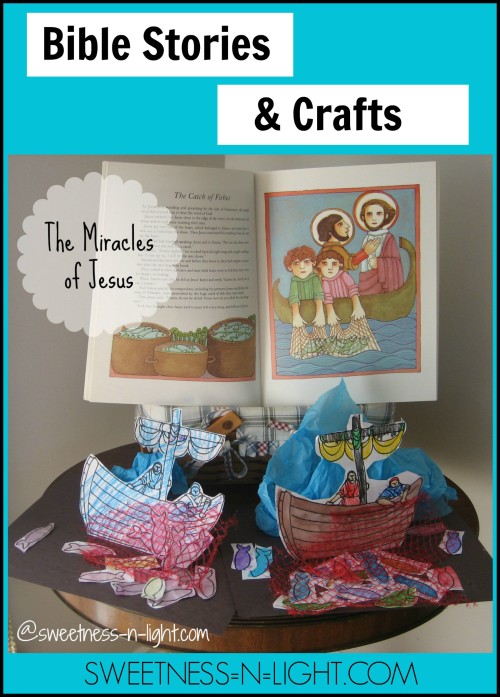 Bible Stories & Crafts – Here is a fun bible craft for your younger children that is sure to encourage much discussion and joy as your little learners create something based on one of Jesus' parables, The Miraculous Catch of Fish.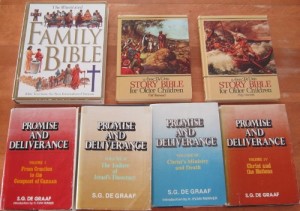 Annie Kate from Tea Time with Annie Kate
In almost two decades of homeschooling we have used various Bible curricula. However, the most important curriculum has always simply been this: read the Bible regularly and often.
Learning all the Bible stories is crucial for a good understanding of its message, and here is a list of Bible Narratives for Ages 10-15.
Other, more formal resources we especially love, all of which have been reviewed here on the Curriculum Choice:
Promise and Deliverance, Volumes 1-4, an excellent resource for teens and adults; available free and in print.
The Illustrated Family Bible, a colorful and very effective way to combine Bible narratives with learning about Bible times, suitable for all ages.
Show Me Thy Ways, a thorough grade 4-6 Bible curriculum focused on understanding, map work, and personal application. This may be difficult for the intended age range and is actually also suitable for teens.
Finally, here is a list of other resources, not curricula, that have taught our family more about the Bible, Christian living, and apologetics. It includes some devotionals for moms as well.
The Curriculum Choice Review Team Features
Do you want more information? Well, be sure to follow our contributors boards!
Follow Kyle @ Aspired's board Christian Education on Pinterest. Follow Curriculum Choice's board Bible on Pinterest.
Have you enjoyed this special post from our review authors? Our Curriculum Choice review team features a topic monthly. You can see all that our authors have shared on electives, math, curriculum choices and more under Review Team Features.
Be sure to SUBSCRIBE so you won't miss any reviews from our team of veteran homeschoolers!
~ Hosted by Kyle