Hi everyone,
This is our fifth year homeschooling our children. We are a homeschooling family in Indonesia. Our first son was pulled out of school when he was in middle the 4th grade and the second son was in the middle of the 3rd grade. I felt that the national curriculum didn't work well for our children at that time. The next step was finding affordable curriculum. We would spend too much on shipping by purchasing the hard copy of books. Therefore, I am very glad to find a set of Mathematics curriculum that is available to download online with an affordable price for us. Since we have three children, after downloading the free sample files, I decided to purchase the everything bundle with the series inside.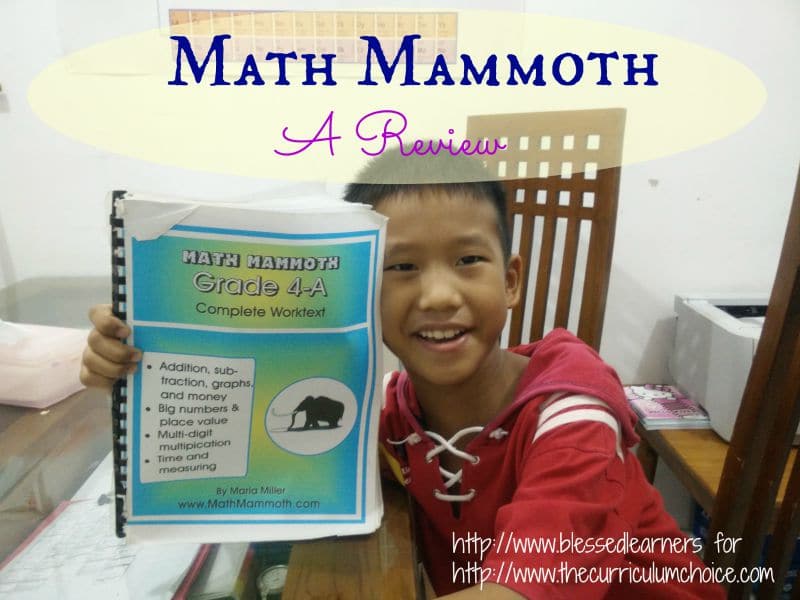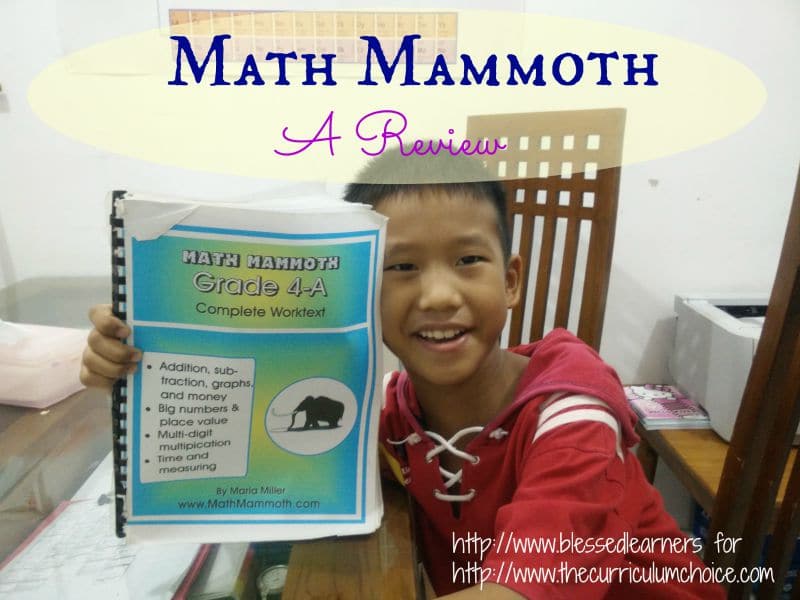 You might say that Math Mammoth is our life saver in starting homeschooling our children with simple and affordable Math curriculum. Therefore, I am very happy to share how it helps us. We have used Math Mammoth for all of our children in their elementary grade levels.
What are Included
There are several series in Math Mammoth. Here are the different series of books included:
They are sold separately and in bundles. There are also various bundle series available to purchase based on your need. We chose the Everything Bundle that includes all components of Math Mammoth books.
Here is a short video by the author of Math Mammoth, Maria Miller, explaining the various series in Math Mammoth:

How We Use Math Mammoth in Our Homeschool
It is in a form of e-book. We simply print what we need. At first, I printed the file and bound it with a plastic spiral. Recently, I just put it in a 3 ringed binder. It just take less time in this way. It doesn't take a lot of space to keep the paper. When the year has finished, I don't need to keep all of those papers, but I will just refill the binder with the next level the children need to do. In addition, it doesn't have any shipping that will take a longer time for us to receive and we don't need to pay more on the shipping fee.
We really love how the concepts are explained in very simple ways. I have never thought that my math hater could understand a lot of things using Math Mammoth. It has what maths lessons should have, which are:

the balance between warming up topic practice, drilling on certain topic as well as reviewing the previous topics, and word problems.
the balance between visual and motoric explanation, that includes hands-on activities.

There are also several links contain online games and resources related to each of the topics in the light blue series. Kids are sometimes bored with the monotonous worksheets and they will choose using the games that are linked to the pdf files.
My two elder sons used the light blue series which give the American mathematics curriculum in sequence for the first two years being homeschooled in grade 4 to 6. My youngest son in his grade 3 uses the Blue Series (Books by Topics) adjusted with our national curriculum since it was very hard to determine which grade he should start with. What I want to say is that Math Mammoth is very flexible and easy to customize with the children.
Right now my two eldest children don't use Math Mammoth as the spine book for Maths anymore since our national curriculum demands different things, but they still use the Green Series to help them with the basic of the current curriculum they use. Math Mammoth is really suitable to help us with the basic concept explanation to more advanced Maths. The language is very easy for children to understand. For your information, English is not our native language.
We can use the simple and basic explanation of maths with the maths notebooking activities. We keep the notebooking pages as a portfolio of their maths learning.
How to Get Math Mammoth
Math Mammoth is available to purchase in some online homeschooling curriculum stores with various discount and promo in certain events. However, you might visit the main site, MathMammoth.com, to learn more about the products in more detail and see which stores are having promotion.
In summary:
I would like to recommend homeschooling families use Math Mammoth since it is very simple to understand and it is affordable.
If you live outside the United States like us, Math Mammoth will be a great choice to purchase.
If you find your children need to start math from the scratch, Math Mammoth would be very helpful to get them caught up on the Math lessons for their level.