The Homeschool Art and Music Curriculum from You ARE An ARTiST is an easy and fun way to include music and art in your homeschool. And in high school you can easily fulfill their fine arts credit requirement!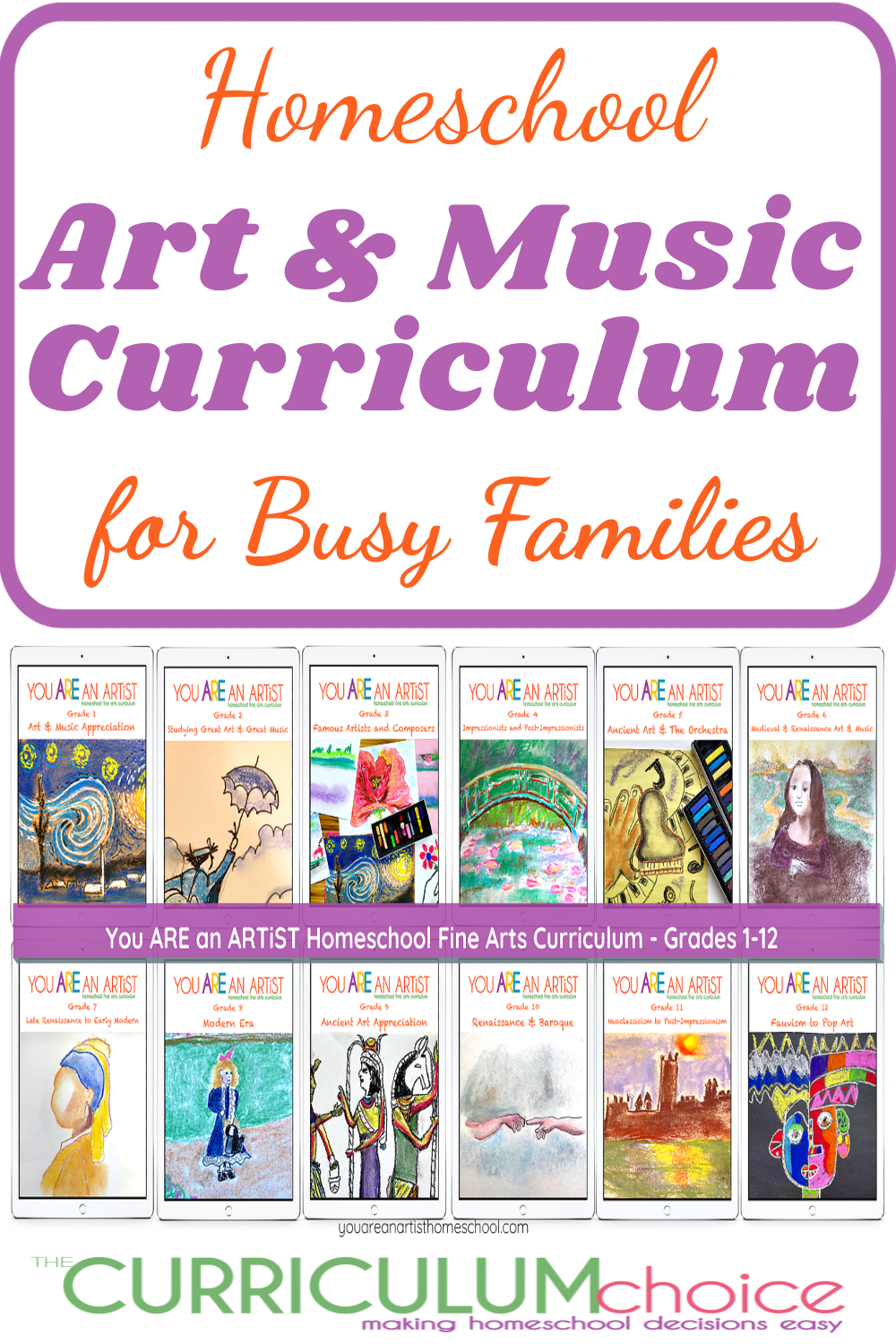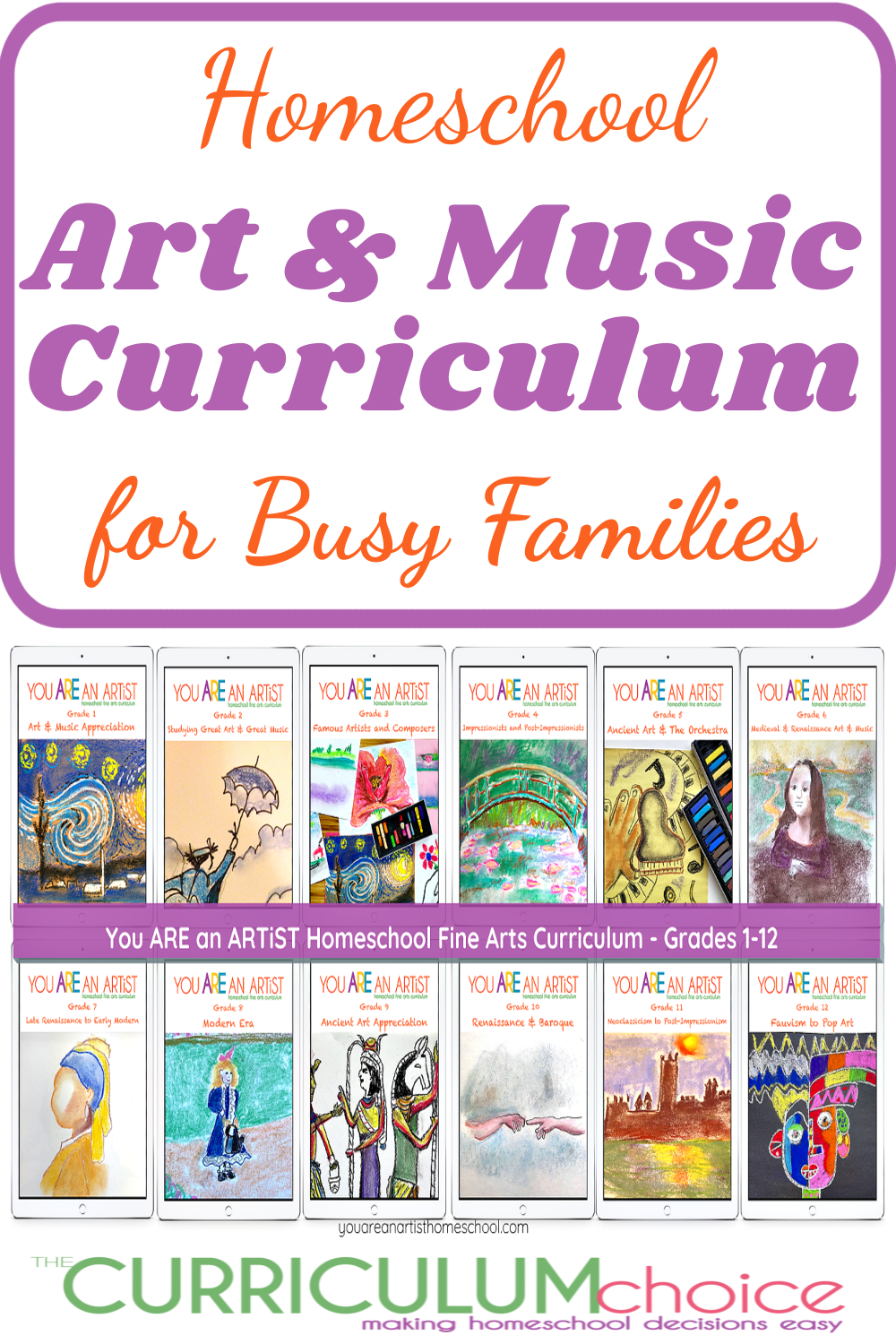 Homeschool Art and Music Curriculum

"This is the art and music appreciation program for busy people. We have done all the research and organizing. You are able to open our plan and offer a great program for your children."


Barb McCoy
You ARE an ARTiST Homeschool Fine Arts lesson plans organize great art and music appreciation resources into the classical four-year cycle of history and seasons each week with a Charlotte Mason flavor.

These homeschool art and music curriculum plans organize a variety of resources so you can open the schedule and, with little preparation, offer your child experiences with great artists and composers.

That means you get artists, composers, and resources organized into a curriculum that is easy to use and flexible! As with all of our resources here at You ARE an ARTiST, our plans are only a suggestion. Please use the curriculum however it fits your family and homeschool routine best.

You ARE an ARTiST's plans pull together affordably priced materials along with internet links so you can have a reasonably priced art and music appreciation program. There are 32-36 weeks planned at each level, and this allows your family plenty of flexibility to complete the curriculum in one homeschool year. The plans are listed by grade, but you can also use them family-style if you have multiple children at home.

Homeschool Art and Music Plans For Each Grade
These lesson plans are available for Grades 1-12 and offer families three different options for art study and a detailed plan for music appreciation.
Each flexible and easy to use 32-36 week plan includes:
Notebooking pages
Coloring pages
YouTube links for art tutorials and listening to classical music
All these plans are undergoing an update and will be released over the spring 2022 semester!!
Take a look at all of the You Are An Artist Homeschool Fine Arts Curriculum for Grades 1-12. I have listed each one with a description below.
A few things of note:
All grades from 1-8 can be used family style
High school grades earn one credit
There are single units (6-9 weeks each) that can be used Family Style with multiple ages such as the Van Gogh and Handel unit which is currently available. PLUS there are at least three more coming!
Preschool – Use grade 1 or grade 2 for your preschoolers!
Here is an overview of how to enjoy these plans with your preschoolers: Preschool Art and Music Curriculum For Your Homeschool.
Grade one covers 8 Artists and 8 Composers (using the book Lives of the Musicians).
This is an overview year that covers a sampling of artists and composers to build interest and enthusiasm in your family for art and music appreciation.
These plans are appropriate for students in grades 1-4 or for families who are new to art and music appreciation.
Artists Included
Pierre Renoir
Edouard Manet
Mary Cassatt
Paul Cezanne
Vincent Van Gogh
Edgar Degas
Paul Klee
Camille Pissarro
Composers Included
Antonio Vivaldi
Johann S. Bach
Wolfgang A. Mozart
Ludwig von Beethoven
Frederic Chopin
Franz Schubert
Johannes Brahms
Peter Tchaikovsky
Uses many Disney movie scores for the music portion!
This year of fine arts will expose your young artist to 32 different artists, one in each week. Please note these artists are from various time periods and present a variety of artistic styles.
Many of the artists will be featured in the later years of our Fine Arts Curriculum as well. The Old Masters Rock—How to Look at Art with Children book will guide you through each painting and artist with things to look for and facts about the time period and the artist.
The paintings are grouped into four themes:
animals
people
landscapes
things people do
This year of fine arts aims to have your child sample some of the great art and artists that will inspire them to desire to learn more and enjoy creating their own art.
This set of homeschool plans feature Late Renaissance to Early Modern period art and music.
If you have older children, there are also middle school level art and music appreciation plans for Late Renaissance and Early Modern times (Grade 7).
Please note that Grade 3 and Grade 7 have different artists and composers so they will not "match" except in covering the same time period.
Grade 3 includes plans for six composer studies.
This set of art and music appreciation plans features Modern (or 20th Century) period art and music. It features 6 artists and 6 composers.
Homeschool Fine Arts Plans for Middle School
Grade 5 Homeschool Fine Arts Plans include art studies of Ancient Art and an overview of the instruments of the orchestra! Each week will have a specific instrument or composer to listen to and learn about. This title is also great for family-style learning.
Ready for Medieval and Renaissance art? Homeschool Fine arts and music appreciation program for grade six has it covered. Leonardo, Raphael, Botticelli, Michelangelo, and more are all planned out for you to view and discuss with your whole family.
Do you want to listen to a little Vivaldi, Bach, Handel, Mozart, and a few more composers during your school year? The homeschool plan is all outlined for you.
Artists Included
Giotto di Bondone
Fra Angelico
Leonardo da Vinci
Raphael
Sandro Botticelli
Michelangelo
Pieter Bruegel, the Elder
Albrecht Durer
Composers Included
Antonio Vivaldi
Johann Sebastian Bach
George Frideric Handel
Joseph Haydn
Wolfgang Amadeus Mozart
Ludwig von Beethoven
Franz Schubert
Hector Berlioz
Grade 7 Late Renaissance to Early Modern Homeschool Fine Arts Plans plans are packed with exciting artists and composers that will appeal to everyone in your family.
Not only do the plans cover artist study but if you complete options 2 and 3 you can include watercolor lessons, working with clay, and lots of drawing.
This is a great year for middle school students to gain confidence in their art skills with simple and incremental lesson plans.
Grade 8: Modern Era – plans tackle 20th Century artists and composers in a way that brings out all the unique qualities and style of that time period.
Impressionism to Abstract Art, these artists can be exciting and confusing but the resources used in this grade level will help your student get the most out of their artist study.
This is also an interesting period for composers and the plans line up a great list of music to listen to in simple weekly plans. Includes plans for six composer studies.
Homeschool Fine Arts for High School
If you are in the process of completing high school credits for homeschool, you may need an art credit. Many states require one visual art credit for the completion of high school.
If that's the case for you, we will show you how simple it is to use You Are An Artist to obtain your student's visual art credit.
Learn more and find out how you can get your downloadable Art Credit Tracker in This is How Your Teen Can Earn an Art Credit for High School.
Spine Texts for all four high school years of the Harmony Fine Arts art appreciation plan are The Annotated Mona Lisa: A Crash Course in Art History From Prehistoric to Post-Modern and Sister Wendy's The Story of Painting.
Grade 9 Ancient Art Appreciation includes these time periods Prehistory-3rd Century:
Prehistoric
Egyptian
Greek
Roman
Pre-Columbian
African
Byzantine
Romanesque
Gothic
Provided in these plans are week by week suggestions for readings in The Annotated Mona Lisa and The Story of Painting. The plan also gives optional assignments for watching The Story of Painting series.
Nine composers with 36 weeks of study:
Chopin
Schumann
Strauss
Liszt
Wagner
Bruckner
Brahms
Bizet
Musorgsky
1780-1900 CE
Weeks 1-6 Neoclassicism
Weeks 7-12 Romanticism
Weeks 13-16 Realism
Weeks 17-24 Impressionism
Weeks 25-26 Photography
Weeks 27-34 Post-Impressionism
Please Note: Nudity is found in all the resources scheduled for grade eleven. Please preview the materials to determine any adjustments your family may wish to make.
Nine composers with 36 weeks of study
Weeks 1-4 Peter Ilyich Tchaikovsky
Weeks 5-8 Antonín Dvorák
Weeks 9-12 Edvard Grieg
Weeks 13-16 Gustav Mahler
Weeks 17-20 Claude Debussy
Weeks 21-24 Richard Strauss
Weeks 25-28 Ralph Vaughan Williams
Weeks 29-32 Arnold Schoenberg
Weeks 33-36 Maurice Ravel
Homeschool Fine Arts Plans for Grade 12 includes Twentieth Century: Fauvism, Expressionism, Cubism, Surrealism, Abstract, Minimalism, Pop.
Nine composers and 36 weeks of study to match year four in the homeschool history cycle:
Orff
Bartok
Stravinsky
Prokofiev
Gershwin
Poulenc
Copland
Shostakovich
Berstein
Reviews of this Homeschool Fine Arts Curriculum
We have a bunch of reviews of this wonderful Homeschool Art and Music Curriculum for you to check out! Hear first hand what some of our review author's experiences have been using this fine arts curriculum.
Reviews of Accompanying Homeschool Fine Arts Resources
In addition to picture and music studies from You Are An Artist, the plans offer additional art appreciation books, music, and podcasts that you can use as you have time available.
We also encourage you to incorporate hands-on art lessons with Nana. Children learn best by doing, and creating the art is always the most fun part! By creating a habit of viewing paintings each week and listening to carefully curated music, your children can get to know a variety of artists and composers within a particular time period.
Easy Ways to Include Art and Music
Looking for more ways you can easily include art and music in your homeschool? Check out this article (5 Ways To Sneak Art Into Your Homeschool) which offers great tips and ideas for sneaking art into your homeschool.
And in similar fashion you can sneak music in by turning on various composers in the background while your kids are playing quietly or doing school work. I find it helps create a calmer and more focused learning environment. And before you know it your children will start to recognize the pieces they are hearing!