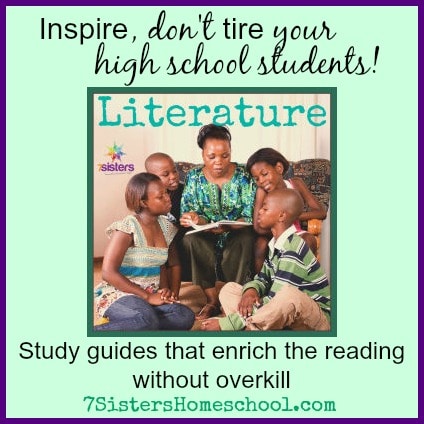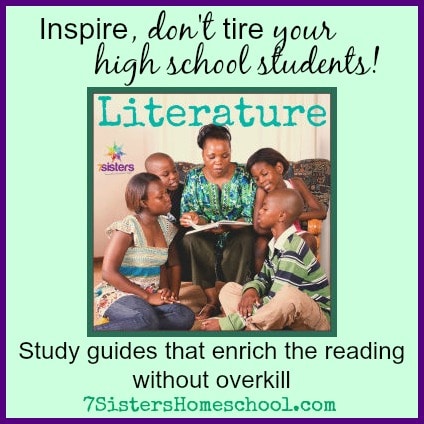 Are you looking for something for your high schooler for their English credit next year?  I received an ebook from 7 Sisters in exchange for an honest review. All opinions are my own. Please see our disclosure policy.
Today, I'd like to look at the 7 Sisters Literature Guides and all the other options that they have for your teen's English studies.
The 7 Sisters approach is based on over 20 years of homeschooling and was developed by moms who were teaching their own teens while running an umbrella school at the same time.
These veteran homeschool authors know how to capture a student's interest and then lead them into a solid study of literature all while avoiding any busywork. Let's take a look at their high school homeschool English courses.  Did you know that they have both literature courses and writing courses as well?
And that they offer them in a variety of ways, such as year long courses, or Literature Guides for just one particular novel that your teen wants to read?
When my daughter was in high school, we often chose Oak Meadow curricula for her English courses. We loved it because it was full of interesting novels to read, with lots of great critical thinking questions to answer, which taught my daughter literary analysis. It also introduced her to a wide variety of good literature.
At that time, I did not know about the 7 Sisters Homeschool English Curriculum, and all the high school courses that they offer. Their literature courses have a similar approach as to the Oak Meadow courses.  The 7 Sisters English courses teach the students to understand literature and do critical thinking. And the 7 Sisters courses are SO much more frugal.
Do you like to put together your own courses?  You can do that so easily with these great literature guides.
What do the 7 Sister's Literature Guides consist of?
For an example, let's look at their Guide for Little Women. Oh, what a lovely book! One of my favorites!
7 Sisters Little Women Literature Guide is an ebook,  including:
1 .   Vocabulary Study – This is done for three different levels, basic, college prep, and honors.
2.  Background Information – This includes biographical info on the author and a discussion of historical perspective.  For Little Women, it focused on Transcendentalism, as those ideas are interwoven into most every chapter of the book.
3.  Discussion of TranscendentalismDiscussion questions for the first part of the book.
4.  Read the rest of the book, looking for two of the Transcendentalist ideas in your reading.
5.  A writing assignment to do
I like how they guide the student to look for the hidden meaning in Little Women, and relating it to the beliefs of the author.
A Teacher's Guide is not included, as this guide allows any well thought out answers clearly written to be considered acceptable.
The questions in the ebook can be used for discussions and I recall my own daughter learning so much from that. At the same time, the guides can also be used as an independent study.
C.S. Lewis' delightful Chronicles of Narnia is not just for kids! Homeschooling high schoolers should revisit The Lion, the Witch and the Wardrobe in order to study the theological and philosophical concepts he imbedded in the stories.
As always, 7 Sisters' Literature Study Guides contain NO busywork- just the important take-aways from each book. In The Lion, the Witch and the Wardrobe Study Guide, homeschooling teens will gain experience in inferential and critical thinking skills.
In addition to these two Literature Guide, 7 Sisters offers tons more to choose from, including:
A Separate Peace
A Raisin in the Sun
The Scarlet Letter
To Kill A Mockingbird
The Hobbit
British Poetry Selections
A Tale of Two Cities
Joni
Anne of Green Gables
Old Possum's Book of Practical Cats
The Invisible Man
The Three Musketeers
and over 40 more!
Do you prefer to use a prepared English curriculum instead?
If you prefer to use a complete course, 7 Sisters has that option as well. They have bundled their literature guides into whole one year High School English courses!
That includes World Literature, British Literature, American Literature, The Chronicles of Narnia, and more.  These are referred to as Bundles. Each course includes approximately 5 – 8 novels to read and analyze, with guides to help you and your teen for each lit book.
Here's another one!  If you are looking for a  Lit Course which covers Christian authors,  check out their course called the Great Christian Writer's College Prep Level Literature Course.
To check out all the great literature guides and lit bundles/courses, please just click here.  That will show you all that 7 Sisters has for your teen's Literature studies next year.
Now that we talked about the 7 Sisters Lit Guides and Bundles/Year Long Courses…..Let's look at yet one more option.
Are you really looking for a Literature and Composition Course which is combined?  7 Sisters has that, too!
If you want to combine learning to write essays, research papers and more, with the literature reading, then you may like this additional option. 7 Sisters also offers year long literature and composition courses.
In fact, they have three levels of those, starting with:
Intermediate Literature and Composition, and finally,
The intro level Literature and Composition course is for teens who have little experience with lit guides and high school writing. It's a super place to start.
The Intermediate Literature and Composition,is for teens with some experience with high school writing, and the advanced level is for teens who are more confident in their writing skills.
Intermediate Guide to High School Literature & Composition is a downloadable text that will inform and inspire your homeschooling high schoolers without boring or burdening them with busywork.
The guides contain brief background information, important literature terms and themes, vocabulary, comprehension and critical thinking questions.
Rubrics for editing and grading are included. (Answer Keys are included in the price of the text but download as a separate .pdf file for homeschool parents' convenience.)
The Advanced Literature and Composition is for teens who are more confident in their writing skills.  Included in this curriculum are two composition guides and five literature guides (these are also found individually in the 7 Sisters store):
I hope you enjoy browsing through these great courses, and they are quite frugal.  These one year courses are less than $30.00 for the entire year.
Each of these 7 Sisters courses have been used successfully with homeschooled teens already, as they were developed hands-on in the co-op type environment that the 7 Sisters offered to their community.  I can't think of a better recommendation than that!
If you are looking for quality and frugal English courses for your high schooler, our family recommends 7 Sisters. 
Betsy is mom to her now college senior, whom she homeschooled through high school.  She blogs at BJ's Homeschool, about the early years, high school, college, gifted/2e and wrote – Homeschooling High School with College in Mind.   She offers free homeschool help through messages at BJ's Consulting,  and has had her articles picked up by the Huffington Post.
Save
Save
Save
Save
Save
Save
Save
Save