As a Charlotte Mason homeschooler, I've used and loved Primary Language Lessons and Intermediate Language Lessons by Emma Serl for years and years.  The goals of the books are to create students who are confident and capable to speak and write the English language.  As my third child grows toward being ready for these, I was pleasantly surprised to find that workbook editions are now available!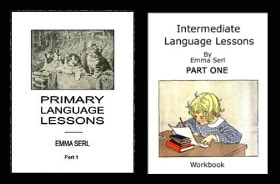 Emma Serl's original textbooks were meant to be used orally, or with regular lined notebook paper.  Cynthia Albright has reformatted the entire text of both books to include lined writing spaces so the work can be completed in the workbook – as well as allowing for more independence in the lessons.  She has also added glossaries, teacher's helps and resource lists.
Ms. Albright's versions keep every bit of the original integrity of the texts.  You'll still find the picture studies, narrations, dictations, poetry memorization, copywork, gentle grammar lessons, literature studies, drawing opportunities and nature study / observation.  There's simply room to write on the pages and a few updates made in vocabulary and relevance.  And, since the lessons are e-books, you can easily purchase one workbook to use with more than one child in your family.
Primary Language Lessons is divided into Part 1, meant for 2nd graders and Part 2, meant for 3rd graders.  Intermediate Language Lessons is divided into Part 1, meant for 4th grade, Part 2, meant for 5th grade and Part 3, meant for 6th grade.
In the end, your children will have an excellent elementary language education by completing the entire series!
Ms. Albright is quick to point out that you are not required to turn every lesson into a written lesson.  Feel free to do some orally if you desire.  The lined spaces for answers are there for your child's convenience if written assignments are expected.  At 172 to 253 pages per workbook, I believe the $8.95 price for each is very fair.
You are your children are sure to enjoy this gentle, somewhat relaxed approach to grammar!
-Cindy West is an eclectic Charlotte Mason homeschool mom to three living in Central KY.  She blogs about homeschooling at Our Journey Westward and offers creative curriculum at Shining Dawn Books. 
(Cindy received a copy of each of the Language Lessons workbooks in exchange for a completely honest review.)
Hearts and Trees: Art, Handicrafts and Nature Study for your Homeschool