A well-loved Snap Circuits set has seen a lot of use in our home over the past several years. We purchased it before we even began homeschooling because we've always favored educational toys, especially those with longevity.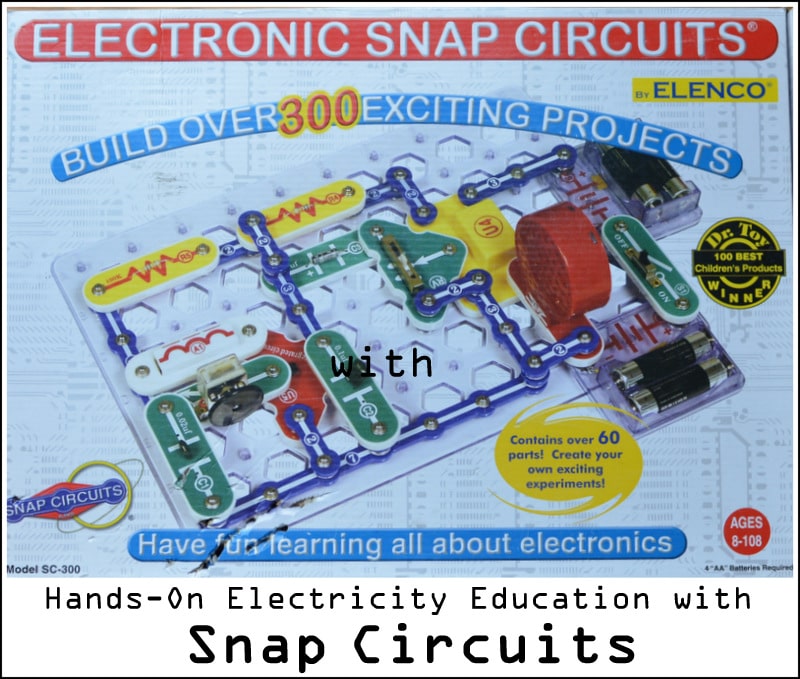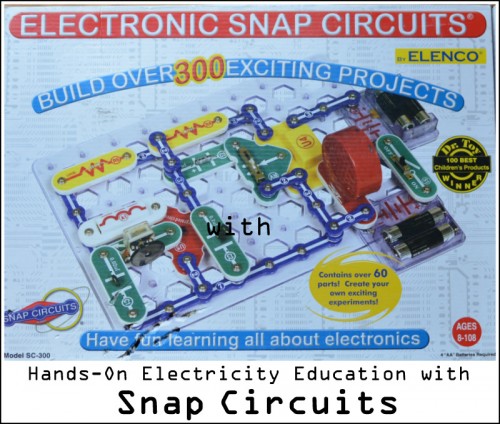 Snap Circuits ranks high on educational toy lists, and with an advertised age range of 8-108 it covers the longevity aspect, too!  Let me tell you a little about Electronic Snap Circuits sets from Elenco Electronics and the Student Guide sent to us free for review that increases the learning potential.
What is Electronic Snap Circuits?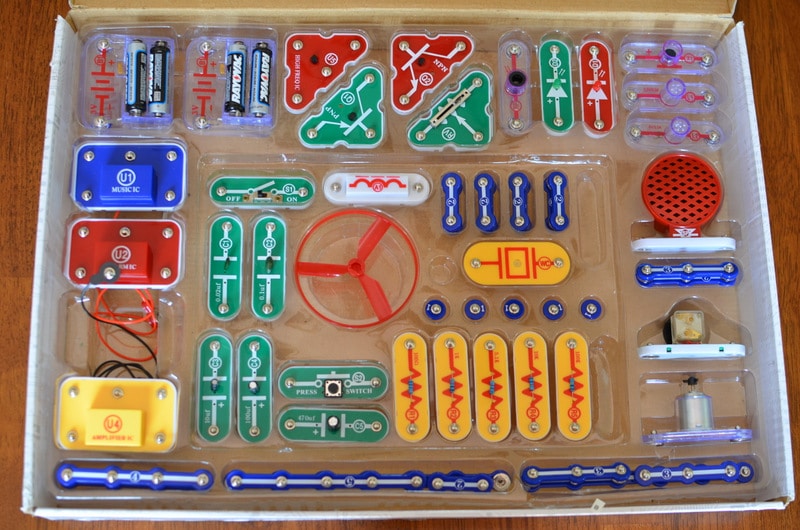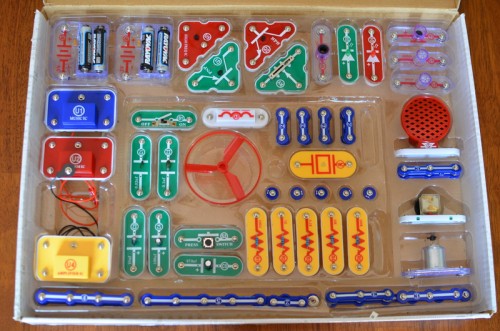 Inside a Snap Circuits set you'll find a base grid and various electronic components from snap wires, batteries and switches to motors, resistors and lamps that allow your children to build working electronic circuits.  The components are easy to snap together without the need to twist wires.  (Get it…Snap Circuits?)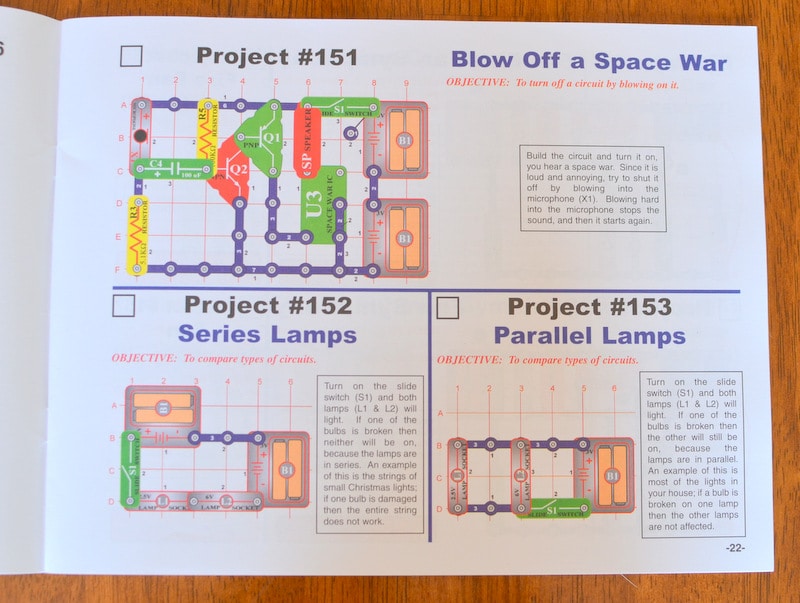 The instruction manuals contain easy diagrams for building over 300 circuits along with a short description of what is happening.  What I love about the projects is the hands-on experience building the circuits that are present in the electronics we use every day from electric toothbrushes to toys to computers.
Using the Student Guide with Snap Circuits
Elenco sent us the Teacher and Student Guides for review.  The Snap Circuits teacher's guide is not an instructional booklet, it is a set of quizzes for the chapters of the Student Guide.  The Student Guide contains all the information and end of chapter practice quizzes with answers.
I am very impressed with the student guide.  It would be a beneficial book for anyone with a Snap Circuits set, and homeschoolers would get especially excited.  The tagline is "Hands-on Program for Basic Electricity and Electronics" and that pretty much sums it up!
The Student Guide turns Snap Circuits from a process of following what amounts to an electronic "recipe" into a more thorough understanding of what's going on from a physics perspective.  The educational value of the Snap Circuits set increases tremendously when paired with the student guide.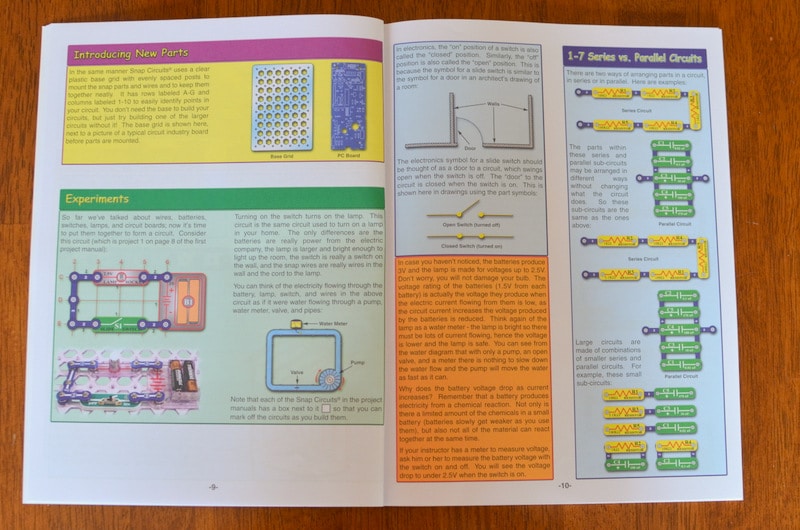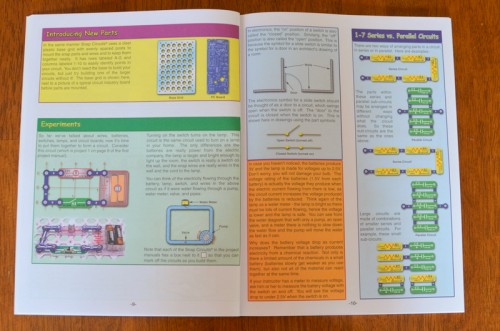 In the guide topics are covered with descriptions and illustrations that help make complex physics easier to understand.  For example, there are diagrams that show electrical circuits as water running through pipes with various components serving to constrict or alter the flow of the water.  This helps students (and their electronically-challenged mother) "see" things in terms they may more readily understand.  After reading about the concepts it's time to build circuits to solidify understanding.
To illustrate the learning potential of Snap Circuits, especially with the Student Guide, consider these two scenarios:
Scenario #1: You explain to your children that when lamps are connected in series, if one bulb goes out they all go out.  If connected in parallel, one bulb going out does not make the other bulbs go out.  Ho-hum.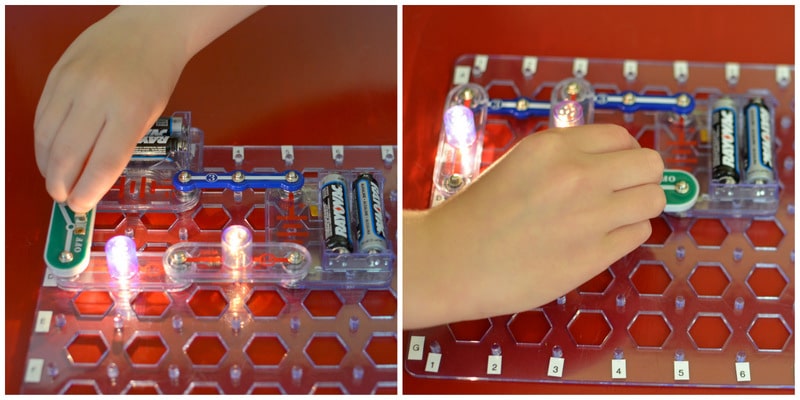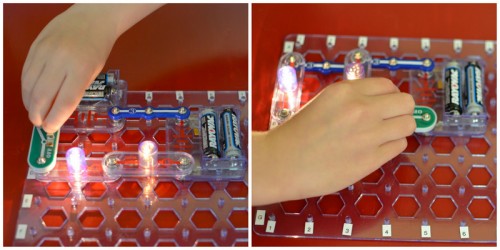 Scenario #2: After reading about series and parallel circuits with your children you build a circuit with lamps connected in parallel and in series so they can see what happens!  They can use their finger to physically trace the flow of electricity and see the difference between the types of circuits.
The topics covered include:
motors and generators
resistance and Ohm's law
capacitors
transistors
oscillators
integrated circuits (ICs)
electromagnetism
The Student Guide would work wonderfully as an independent learning project for a middle or high school student.  For my seven and 10 year old having my help reading and understanding the information was beneficial.
A Note About Elenco's Customer Service
The customer service at Elenco is commendable.  Like I said, our set has had years of use.  We noticed some of our circuits not working, possibly due to a certain seven-year-old boy who tried to make up his own circuit and probably created a short circuit.  My husband used the troubleshooting guide in the instruction manual to determine what components weren't working, and Elenco provided FREE replacement parts shipped right to us.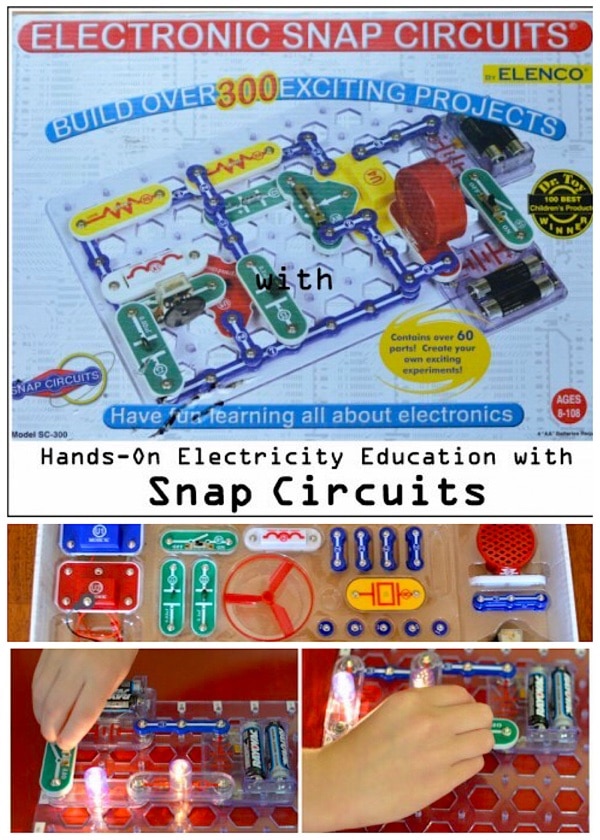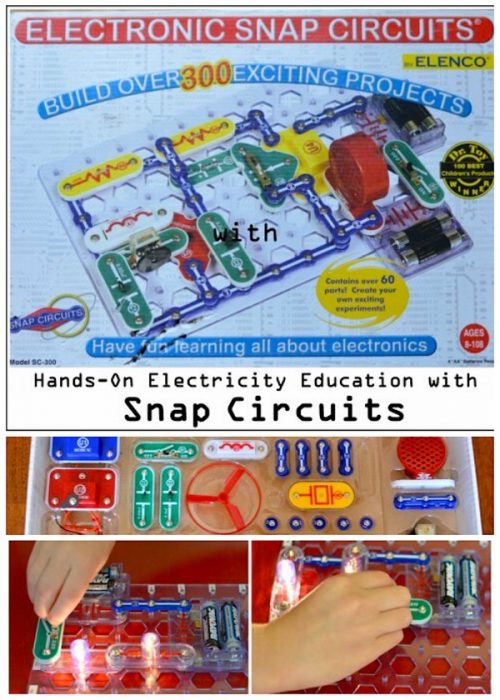 Purchasing Options for Snap Circuits
Snap Circuits sets are available in various sizes to suit your budget, from the SC-100 to the SC-750.  It's important to note that the SC-100 is the smallest set and has a separate, shorter student guide.  The other student guide is used for the larger kits.  The SC-300 (the kit we own) can build over 300 circuits and complete the first 8 chapters of the student guide.  For chapters 9-14 you need the larger SC-500 or SC-750 kits.  There are upgrade kits available for smaller kits.
The Student Guide can be purchased separately.   There are also educational versions available (indicated by an "R" after the model number: SC-300R).  These are a good value and I would probably choose these if I were purchasing another.  They come in a hard plastic case (our cardboard box and plastic insert are showing years of use!) and include the student guide.
Heidi homeschools her two children in Maine using an eclectic mix including Charlotte Mason's ideas, quality literature and hands-on learning. She strives to show her children that learning is an exciting, life long adventure. She shares their experiences on her blog, Home Schoolroom.

Save
Save
Save