The Child Training Bible is a tool for parents and children to be able to go directly to the scriptures for training and instruction in 20 key areas plus a section on the gospel. It's a wonderful resource for families!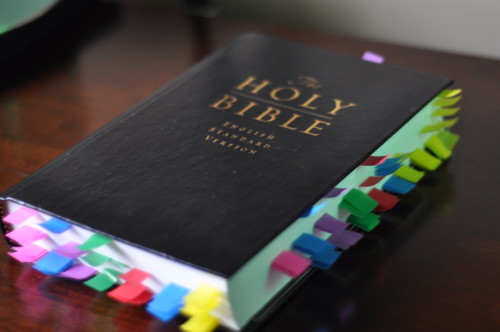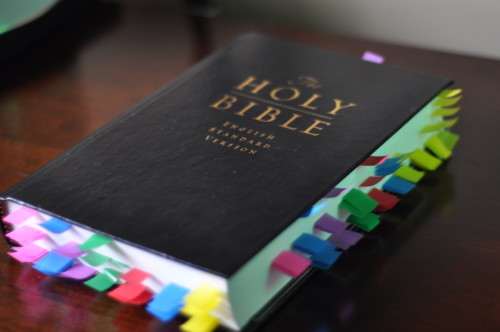 The Child Training Bible
See that colorful chart in the front of my Bible? It's a key for topics, such as Anger, Pride, Lying, Jealousy, Quarreling, etc. Next to each topic on the key are tabs on the pages that have scriptures related to that topic. Once you go the tab, you read the highlighted passages for that topic. In the back of the Bible is a chart with questions for the topics that you use in discussion with your children.
Voila! You do have to put it all together, but once you do, it will serve you and your family well! The inexpensive set comes with instructions on how to put it all together and tips on using it with your family.
How to Use The Child Training Bible

Say your child is having an issue with pride. You go to the chart at the front and locate Pride – see that yellow box labeled Pride at the bottom right of the chart? Then you go through the yellow tabs that correspond with Pride. You choose how many and which scriptures to read with your child. Some of the scriptures are about the sin and some are about the response to the sin. This helps you teach your child how to put off certain behaviors and what to put on instead. There is also a tabbed section for the Gospel. You use the questions located on the charts at the back of the Bible to get at the heart of your child and point them to the gospel. There is also a prayer that you can use to wrap up your training moment.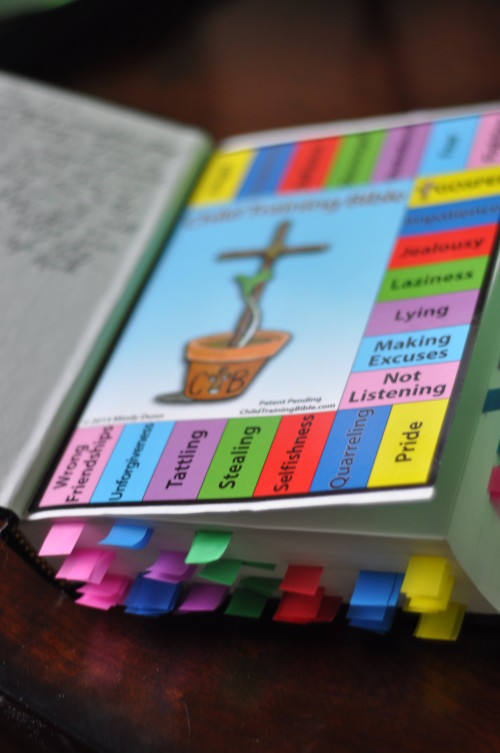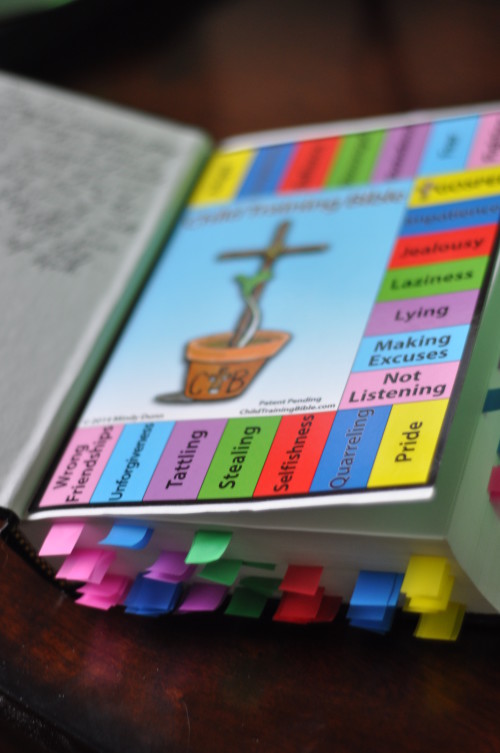 What we like about this tool:
We use this to teach our children to go to the word of God for answers which I hope sets them up for a life-long habit of going to God for all their needs.
It not only helps us correct our children, it shows them what behavior they should exhibit instead of the sin and it points them to the gospel.
It was developed by a homeschool mom!!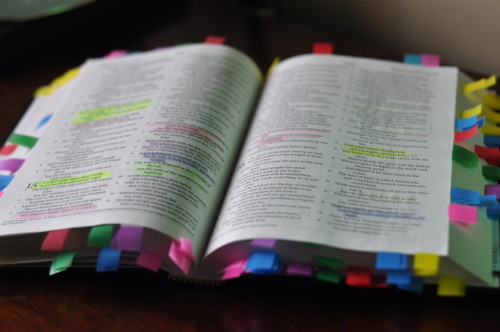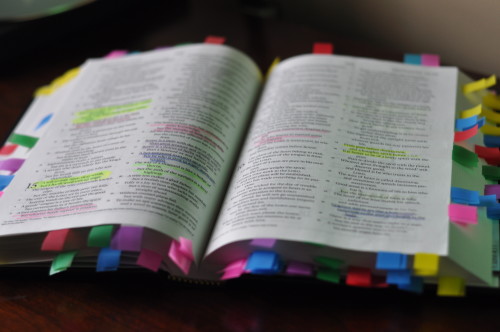 How to Get The Child Training Bible

The Child Training Bible kit is available at The Child Training Bible website. You can order all the necessary items on the CTB website.
For $9 (plus shipping) you receive the following in the CTB Chart Set:
1 Child Training Bible Key
3 Scripture Tabbing Charts (double-sided)
Set of Instructions
In addition, you will need:
A 9″ x 6″ Bible
Highlighters
Tabs
Once you get the items in hand, you will need to spend some time putting it together. Although there is a time commitment required up front in order to put this together, it is well worth the investment.
For more information, visit The Child Training Bible site. There you can also find free downloadable study guide page (on the FAQ page). Also check out these other links for more reviews of The Child Training Bible.
Another training Bible is The Virture Training Bible. Find more information visit the Virtue Training Bible website.
In summary:
This is an invaluable resource for all parents to teach and train their children to go straight to the word of God for answers, wisdom, and encouragement. My mom gave me this Child Training Bible last year for Mother's Day. I had never heard of it before, but I'm glad she had! She took the time to put this together for our family and I'm very thankful that she did.
~ Written by Amy Matkovich who blogs at A Journey of Purpose about striving to live the life God has intended through homeschooling, living life simply, managing finances well, and parenting. She is passionate about homeschooling and encouraging families to boldly follow God's path for their lives. 
Save
Save
Save