Our family enjoys lapbooking. We don't use lapbooks for every single unit we complete, but I like to find two or three really good lapbooking units to use throughout the school year. I find my self going to Hands of a Child quite often when looking for the perfect fit for our lapbooking needs. Their units are typically thorough, easy to implement and well organized. I don't usually struggle with figuring out what goes where, or how to fold the pieces – which means a lot to this busy momma!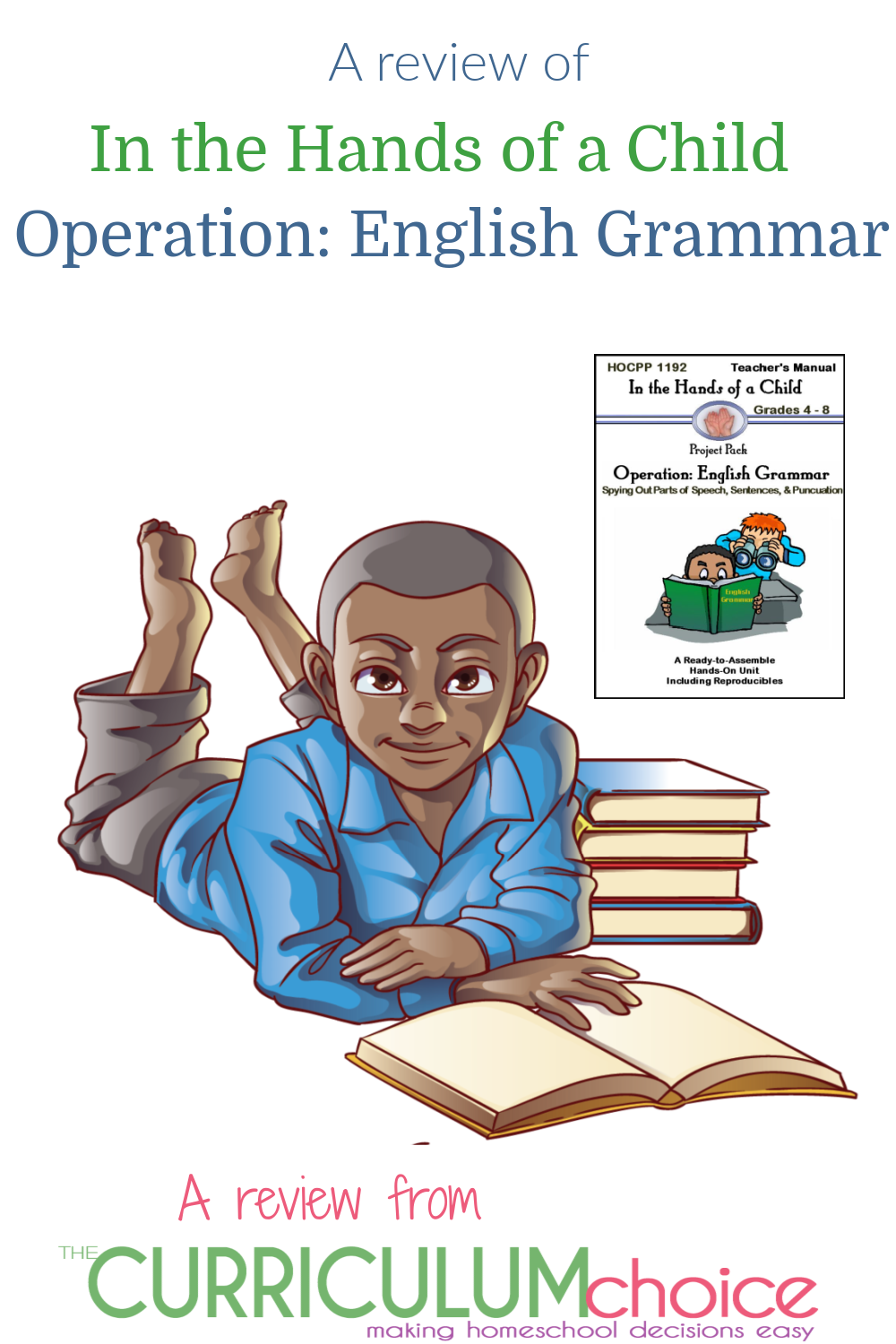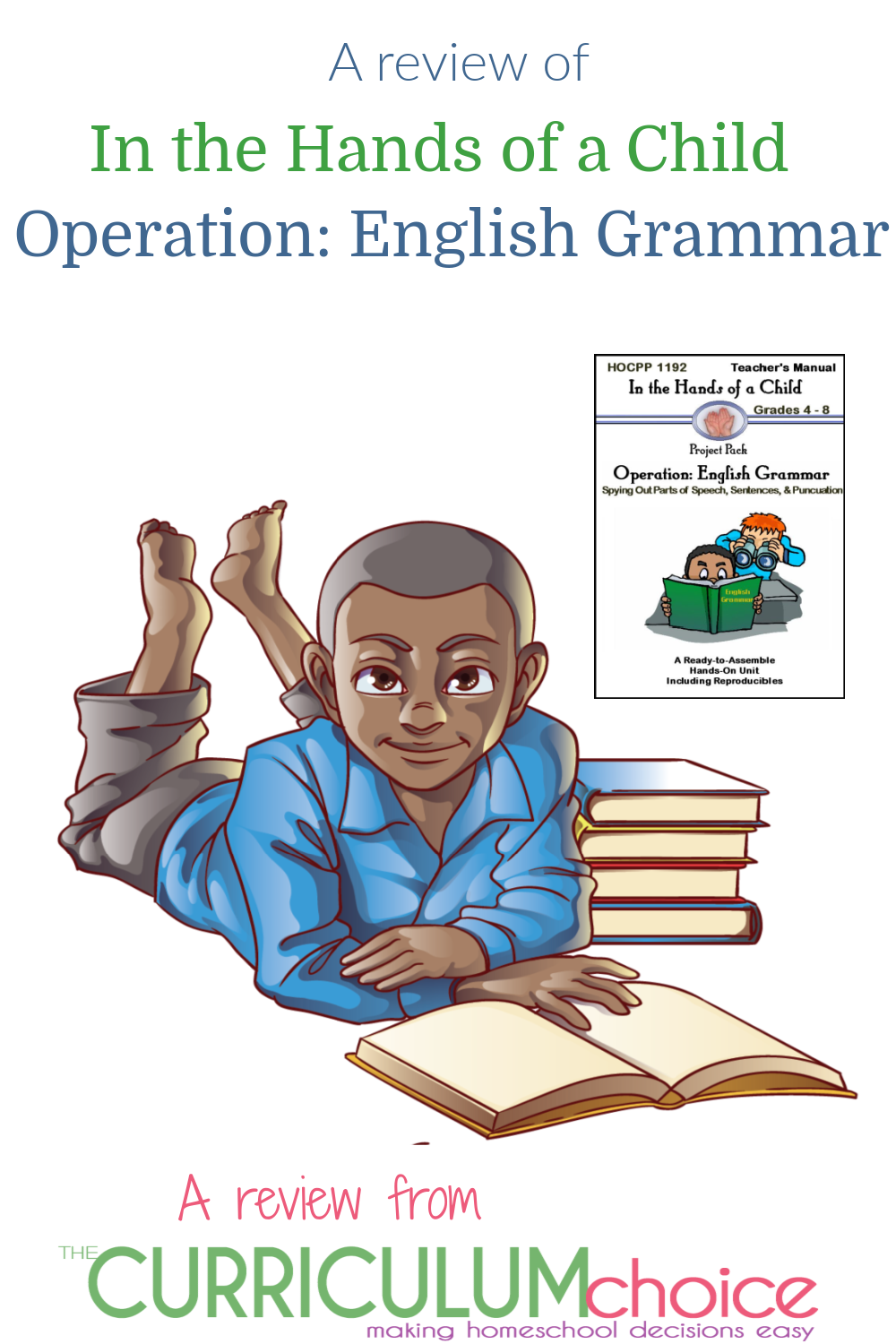 In the Hands of a Child Grammar Lapbooks
In the Hands of a Child is a company that develops unit studies in which the activities are completed, for the most part, using mini-books. All of these mini-books are meant to be contained in a series of file folders that are attached to one another so that you have a neat, complete and thorough record of the unit contained in one place. All the background information, templates for mini-projects, and directions for completing the units are included. Color pictures are also included to show what the final project should look like.
You may purchase either a spiral-bound printed copy, an e-book, or a CD of the PDF file. The company also offers an e-book version that allows your child to type information into the mini-books before printing and cutting. You may choose to buy answer keys and pre-assembled kits, as well.
The units begin with a table of contents, followed by a research guide. This research guide is where you or your child will find the background information needed in order to complete the activities. There's no need to run to the library for further research, unless you desire to add books for supplemental reading. Depending on the ability of your child, you may choose to read the information from the research guide to them, or have them read the information themselves.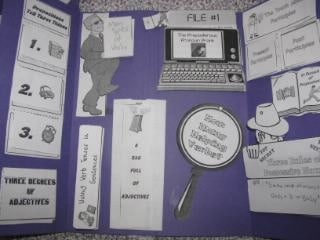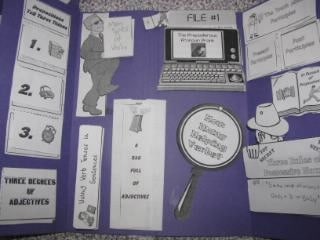 Templates for the mini-books, graphic organizers and other activities are included with clear directions on what to do and how to put together the pieces if necessary. Each of the activities asks your child to take something they read from the research guide and show what they learned. They might be asked to cut out a series of cards on which to write definitions then create a pocket in which to store the cards. They might be asked to cut out pages that will be stapled into a little book where the steps of a certain procedure are to be written. The activity ideas are varied and almost endless.
Many of the templates include little pictures that add visual interest to the activity. You can also often find extra clip art that your child might use for decorating their file folders. The templates are made so that it's very clear what is to be cut and what is to be folded so no (or few) cutting mistakes are made.
You are expected to copy the activity templates, so a copier, printer or copy shop is necessary – unless, of course you choose to buy the pre-assembled unit. It is suggested the copies be made on 24# weight paper or cardstock for more durability. You'll find having lots of colored paper on hand enhances the look of the projects, too. Other supplies needed to complete the unit packs include file folders, coloring tools, tape, glue, a stapler and scissors.
At the end of the book, you will find directions for putting together the folders that will house all the projects. The units are very thorough, but you may occasionally decide you'd like to add something yourself or even take away one or more of the activities. Just as with any unit study, these are very adaptable to whatever suits your family's needs.
Operation: English Grammar
From In the Hands of a Child, I've chosen to review the Operation: English Grammar Project Pack. It was one of our very favorites this year and has not only provided my 6th grade daughter with a wonderful review/overview of grammar, but she now has an easy to file and find resource to pull out when she needs to remember about a particular part of speech or punctuation mark.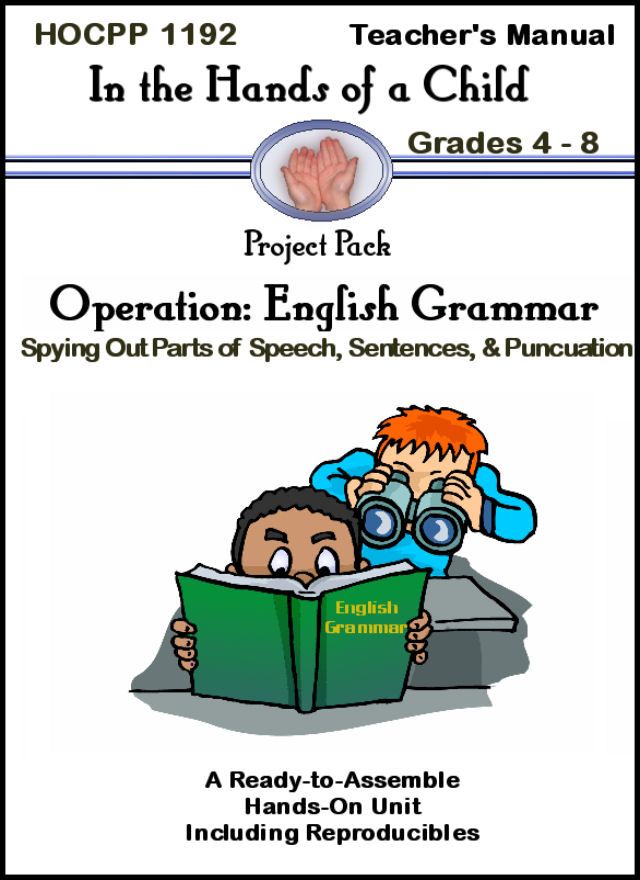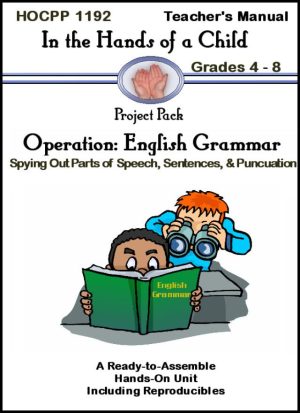 Geared for children in 3rd grade and higher, the English Grammar Pack is very unique. The student becomes "Special Agent Art Lang" from Planet Gabgone. He or she goes on an undercover mission to Earth in order to bring English grammar and sentence structure to Planet Gabgone. Through the various missions, your "special agent" child will have completed such a thorough portfolio of English grammar research that Planet Gabgone will easily be able to adopt the English language. Then the mission will be completed!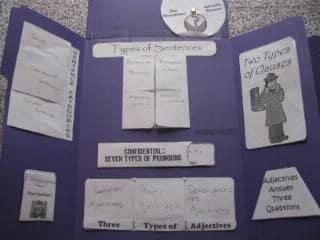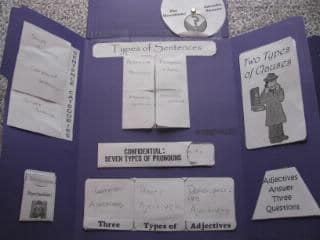 Each grammar or punctuation topic is covered in-depth. For example, when learning about nouns, the following types of nouns will be explained: common, proper, concrete, abstract, collective, singular, plural, compound and possessive. In order to cover all of these types of nouns, your child will go on four separate missions.
As another example, when learning about conjunctions, the following types of conjunctions will be covered: coordinating, subordinating, correlative and adverbial. This is no simple jaunt through grammarland!
In 28 different missions, your child will have covered nouns, pronouns, adjectives, prepositions, verbs, conjunctions, phrases, clauses, sentences and punctuation.
A long list of related books is included that might help cement the various parts of speech. Personally, I believe adding at least some of these related books and some worksheets to go along with each topic is a good idea. As much as a child will learn from the Project Pack, a bit of additional practice using each part of speech or punctuation is beneficial.
Age Recommendation
This Project Pack is recommended for 3rd grade and higher, but I feel like a 3rd grader, and maybe even a 4th grader, would need to be pretty advanced in order to completely understand everything covered. Whenever your child is ready to tackle these topics, though, I highly recommend this Project Pack for a "whole picture" of English grammar.
Purchasing Hands of a Child Project Packs
Click Here to purchase In the Hands of a Child Grammar Lapbook – Operation: English Grammar
If you'd like to find other Hands of a Child Project Packs, please visit their site at www.handsofachild.com.
Originally published June 2009, written by Cindy, she also blogs at Our Journey Westward.