One of my favorite online curriculum providers is Currclick.  I love that you can just about instantly fill a gap or meet a need in your homeschool with just one click of a button. The winter of 2013 was a rather snowy one for us here in England. We kept hearing reports of people going missing in the mountains, or of being stranded in their vehicles on snowy mountain passes. I asked my girls what they would do if they found themselves in such a situation. The answers were NOT reassuring! So I thought that clearly there was a 'gap' that needed to be filled 🙂 so I popped off to Currclick and found a lovely Note Pack from 'In the Hands of a Child' that addressed all the basic survival skills you might should you find your self in such an unfortunate position!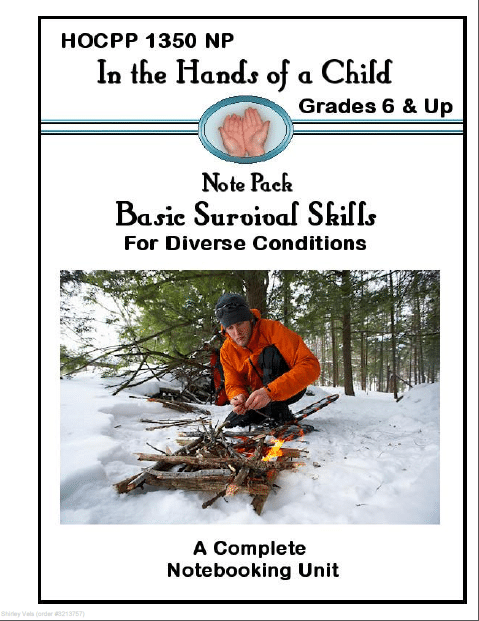 Title: Basic Survival Skills Note Pack or Basic Survival Skills Lapbook
Publisher: In The Hands of a Child
Format: PDF instant download
Cost: £4.11
Ages: 8-10 (lapbook), 11-13 Highschool (Note Pack)
PLEASE NOTE: Since publication of this review Currclick closed, thus access this lapbook/notebooking study and any In the Hands of a Child Lapbook/Notebook Units please visit their site directly at In the Hands of a Child.
First a note on the difference between a Note Pack and a Lapbook. Lapbooks require more cutting, sticking and assembling than the Note Pack does. In fact, the Note Pack requires none of those things. So if you have a child who just does not like all the cutting and sticking, then the Note Pack is the way to go.
Both the lapbook and the Note Pack have the same research guide and activities. You will also get a book list of recommended additional books that you can check out from your local library.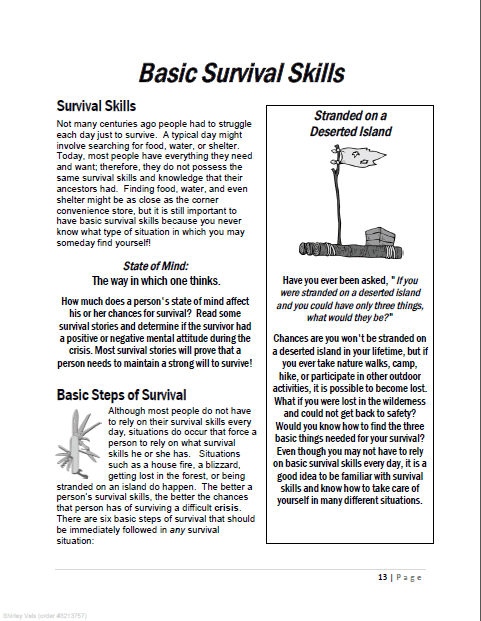 Each unit starts with a Table of contents, outlining what you will learn about. So no guess-work or prep for you mom!
A schedule of vocabulary words, recommended reading and activities has been drawn out for you. This particular unit should take you 10 days to complete – assuming you follow the daily schedule. We took much longer when we did it as I scheduled it in twice a week around our other subjects.
The layout of these unit studies helps to build listening, reading and comprehension skills. You will find a list of core concepts that are covered in the unit.
You have reproducible notebooking pages, so print off as many as you need for your children.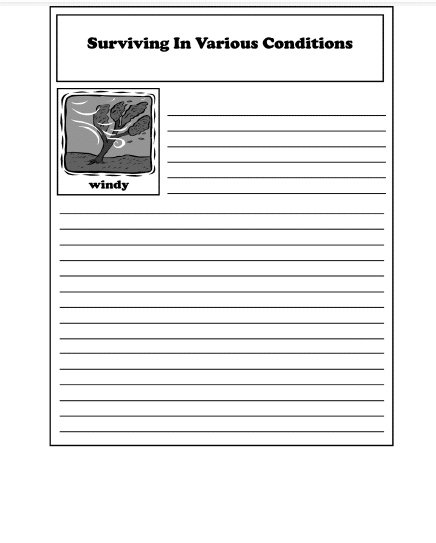 In this unit study you will cover:
Survival Skills
Desert Island
State of Mind
Basic Steps of Survival
Water
Basic Needs for Survival
Plan Ahead
Fire Building
Survival Equipment
Survival Situations
Signalling for Help
I added a few extras over the period of study. We watched a couple of Ray Mears survival episodes as well as whatever else I could find on National Geographic and other such programs.
On the whole we really enjoyed this unit study, of course there is no substitute for practicing what you have learned and summer is the perfect time to grab the camping gear and practice finding a suitable camping spot, practice your fire making and cooking skills, and watching the children act out their 'Swiss Family Robinson' skills 🙂