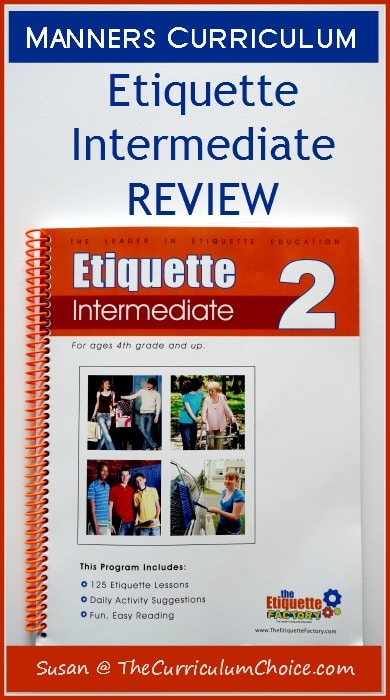 This post contains affiliate links.
As the mom of two boys I learned very early on that "manners" are skills that need to be taught!
When my children were young they honestly believed their sleeves served as the perfect napkin and if they were excited to share information with their friends it was perfectly fine to just start talking (even if their friend was in the middle of sharing his own extremely interesting story).
We have intentionally focused on teaching life skills as part of our homeschool. Several years ago I discovered The Etiquette Factory at our state convention and it has been the perfect resource for teaching my children the importance of learning and practicing proper etiquette.
Etiquette Intermediate
Etiquette is a set of guidelines for behavior that contributes positively to a society. The goal of proper etiquette is to help make those around us feel comfortable and valued. – The Etiquette Factory
The Etiquette Factory's Etiquette Intermediate is designed to give children in grades 4 and up an opportunity to learn and practice etiquette skills.
This program introduces 125 short but very effective lessons to help children learn manners and social skills such as:
When to shake hands
Making mistakes
Giving and receiving apologies
Table manners such as – Setting the table, Using your napkin, Forks or Fingers?
Gift giving
Balance in conversations
Telephone manners
Gossiping
Being a good neighbor
Exiting and entering an elevator
And MORE!
Each lesson is intentionally brief but includes key points to remember. The idea is that if we break each of these topics down into small, manageable "lessons" then there is a good chance we will remember them!
Here is the best part – the lessons are designed to be CHILD-LED!
Yes, read that again…the lessons are written to the child. The child should read the lesson and then, using the activity ideas provided, teach the material to the family. This is a great teaching method! If your child understands the material well enough to teach it, chances are the information will sink in and become a part of his or her regular behavior.
Example:
Here is an example of one of my children's favorite lessons – When to Shake Hands
This lesson is just 4 paragraphs long. It covers these key points:
Gentlemen always extend their hand when greeting another gentleman (you don't have to wait until you are grown-up to do this).
When greeting a lady a gentleman should wait to see if the lady extends her hand.
The handshake should be firm.
The activity for this lesson encourages everyone to get up and practice shaking hands. Participants are encouraged to see if they can trick each other into shaking hands where they are not supposed to.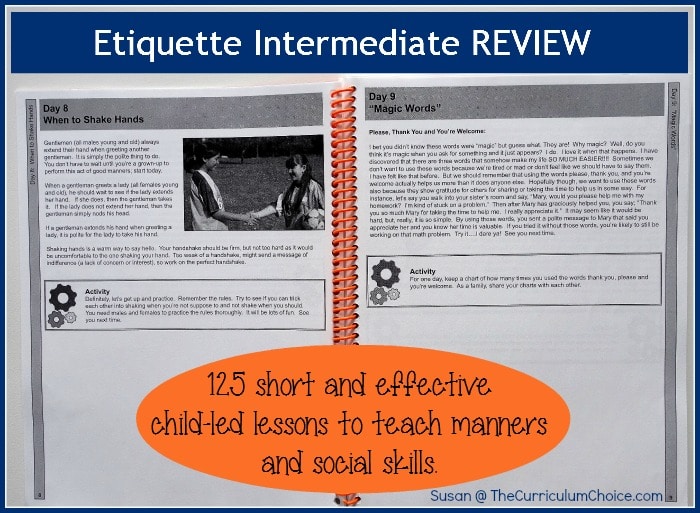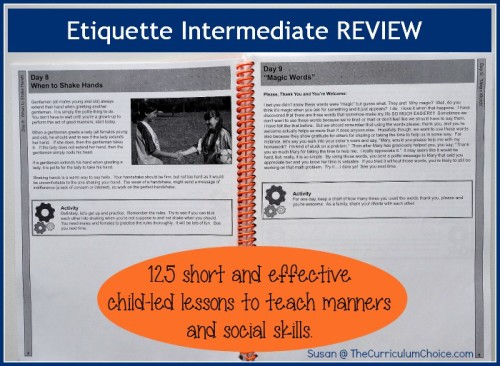 How We Have Used Etiquette Intermediate
We have used this program for several years (yes, even though the children seem to understand the material we have had occasions when we need a little refresher course!).
At Home – We have used this curriculum at home and reinforced the learning during family situations (such as family get-togethers and dinners) to practice the topics covered.
With a Co-op – This has been our favorite way to learn etiquette! One year we focused on the lessons surrounding food and eating. There were 5 children in the co-op and for every meeting each child would lead a different lesson. It was fun to observe the children teaching each other! Most of the lessons included props and/or food to help emphasize the behaviors to be learned. Together the children set a formal dinner table, practiced passing dishes of food, and quizzed each other about the correct use of utensils.
In Real Life – On several occasions we have taken our children to a nice restaurant or buffet to practice their new etiquette skills. We have also practiced being a spectator at a sporting event, discussed playground etiquette when meeting friends at the park, and looked for ways to display acts of kindness while volunteering at a local center for seriously ill children.
Although many of the topics covered in Etiquette Intermediate by The Etiquette Factory may seem like "common sense" we have found it very helpful to have the information collected and presented in this fun and easy to use curriculum. Because the lessons are short they serve as a nice break between more traditional school subjects.
For more information about Etiquette Intermediate, you can visit The Etiquette Factory where you will find a complete Table of Contents for this program as well as a Sample Lesson.