Don't miss the giveaway at the end!


Building a Strong Foundation
One of the greatest gifts we can give our children is a strong foundation in God's word. If you are looking for a bible study that gives your children the opportunity to truly make God's word personal, then Grapevine Studies – Stick Figuring Through the Bible is for you!
Stick Figuring Through the Bible
Grapevine Studies use a technique they call "stick figuring" in which students create an illustration of the scriptures being read aloud using stick figures to represent the characters. By creating these pictures, they bring the scripture to life and truly make it personal. Students are encouraged to be as creative and colorful as they like; whatever helps them to remember the scripture. If you need a little direction or want to model for your students, Grapevine studies offers stick-figuring examples in the teacher's manual. In addition, this approach increases the child's ability to retain the information because they are making connections to the scripture in multiple ways (hearing, seeing and "doing"/drawing).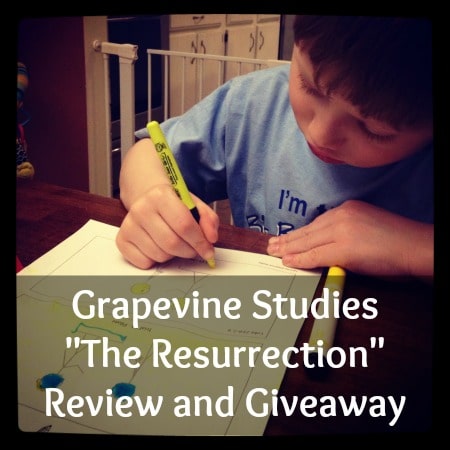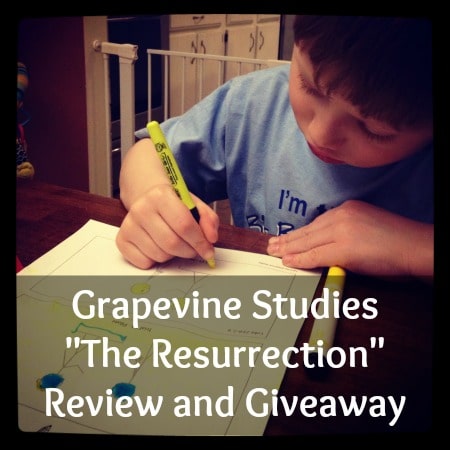 The Resurrection Study
The Resurrection bible study begins with the disciples preparing for the Passover meal (the Last Supper) and covers the events through His Ascension in a way that is honest, but age appropriate. The best thing about Grapevine Studies is that you can customize each lesson to cover whatever you feel is appropriate for your student. You can also work at a pace that works for you. The Teacher's book offers ideas for daily and weekly schedules, but again, it is completely up to you to decide what works for your family.
Grapevine Studies organizes and presents the scriptures – but leaves the final choice of what to include in each lesson up to the parent/teacher. I love this about Grapevine Studies. In our case I chose to read more of the surrounding scriptures as Billy took his time coloring.
Bible Study for All Ages
Grapevine Bible Studies are available for every age level beginning with their new offering, Traceables, appropriate for ages 3-5. We chose this level for Billy to work with and he really enjoyed it. Created to allow younger students to work along with their older siblings, Traceables offer a "filled out" stick figuring box (with the stick figures in gray) on the student worksheets which young students can trace over. In our case, Billy wanted to color the figures more than trace them, but that was okay! By the end of the lesson he had truly made a connection with the scripture and did very well answering the review questions. That understanding was the goal of the lesson, not perfect tracing.
In addition to the Traceables, Grapevine Studies offers the following levels
Beginner (Ages 5-7)

Level 1 (Ages 6-8)
Level 2 (Ages 8-10)
Level 3 (Ages 10-13)
Level 4 (Young Teen)
Level 5 (Teen-Adult)
Multi-Level (Ages 7 and up)
The True Meaning of Easter
With Easter just around the corner, I wanted to ensure that Billy knows the reason we celebrate. We spent lots of time during Christmas talking about the miracle of Jesus' birth; and I wanted to make sure we gave as much attention to the reason that He was born – to die for our sins, and to rise again, defeating death. Thanks to The Resurrection study from Grapevine Studies, I know Billy understands the real reason that we praise God on Easter morning. He is Risen!
Click Here to check out The Resurrection and other studies from Grapevine Bible Studies.
Use Code TCC13 to receive 20% off on any item not on sale
Try a FREE eLesson, "The Last Supper" (the first lesson of "The Resurrection" multi-level study)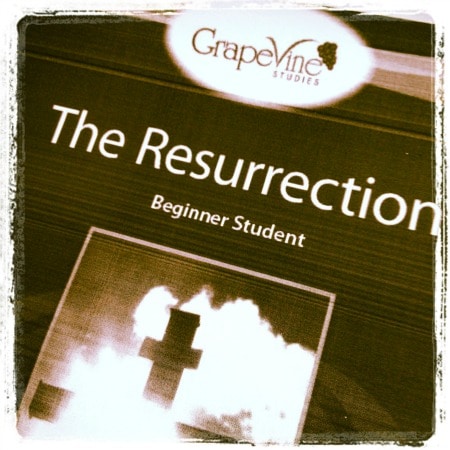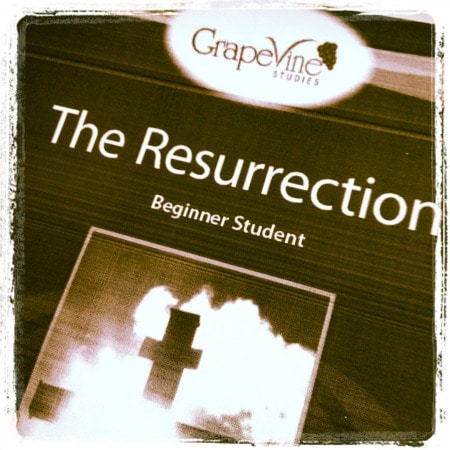 Giveaway
Enter to win a Resurrection Teacher and Student ebook set of your choice from Grapevine Studies!
Unit Studies by Amanda Bennett: Your Passport to Learning Adventures!