Don't miss the giveaways at the end – exclusively for Curriculum Choice readers!
Last month we enjoyed Amanda Bennett's Volatile Volcanoes unit study. I had been looking for something that would give us a little more in-depth learning about volcanoes following our A Child's Geography studies earlier in the year. Amanda Bennett's study met that need. We were so very impressed by these powerful parts and geographical wonders of our world.
What is it?
This Download n' Go unit study contains the resources you need for a thorough, week-long study of the world's volcanoes. No prep, all you need is readily available to click, print and go! Components include:
Daily Objectives
Book Suggestions
Introduction to lapbooking – a lapbook to print and complete is included!
What is a volcano?
Where in the world are volcanoes
How volcanoes form and volcano myths
Science secrets of volcanoes
Volcano wonders and unexpected volcanoes
Fun Family Ideas
The unit study truly is everything you need. There are writing pages to print for definitions, creative writing, Bible verse copywork and more. There are sketching pages (we especially like the How to Draw a Volcano Landscape video and the provided sketch page), diagrams to label, family fun ideas and bonuses for every day.
What ages?
Children of all ages are impressed with volcanoes (this Mama is too!). Volatile Volcanoes is for grades K-4 but my eldest three in 5th, 8th and 9th grades had fun with this study too!
What did we like?
We looked forward to our after-lunch studies each day. Though the study is designed for one week, we took our time and spread it out over two weeks. We each had our favorites:
Mama: the Bible verses matching the amazing photography of volcanoes. One example is pictured the collage above, "When I am afraid, I will trust in you." Psalm 56:3
9th grader: "It's fun and I really liked learning about the Icelandic volcano and how to pronounce it."
8th grader: "the videos and how we learned how to pronounce the names of the volcanoes"
5th grader: "videos of smoke and lava and the chalk pastel Nana taught"
1st grader: "lava coming out of the earth!"
Five-year-old: "the cake!" (we watched an erupting 'volcano' cake of DOOM video)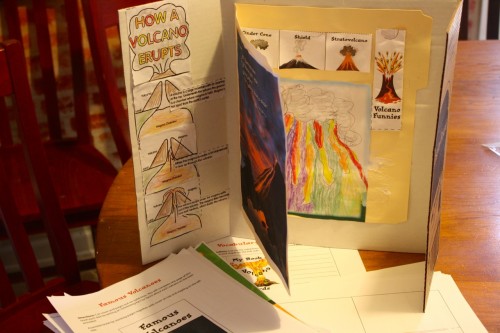 Projects! I appreciate the different approaches to learning that Volatile Volcanoes includes. Videos for the visual learner, read aloud books for the auditory learner, hands on lapbooking and other activities for the kinesthetic learner. My Middle Girl worked on the lapbook portion and is turning it into a display board.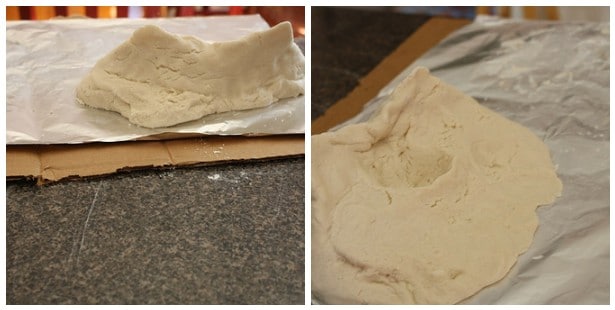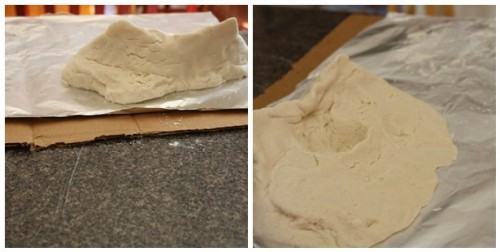 We have a homeschool expo coming up with our homeschool group that includes a science fair. We are in the process of making several different volcanoes to find the best way for fifth grader to make a volcano as her science project. Above is the starts of a salt dough Mt. St. Helens volcano model. A dozen years of homeschooling and we've never made a volcano! But, thanks to Unit Studies, we finally will! We are even considering the edible model of the earth – showing all the layers.
Where can you find it?
Volatile Volcanoes is available from Unit Studies for $8.95. But, a limited number are available to download for free below!
For You – Free Art Lesson!
Today at Hodgepodge, Nana and I are sharing a free Volcano Chalk Pastel Tutorial. It's one Nana taught during our studies. It was such fun to create that erupting hot lava with the deep oranges and red of pastels.
And below Amanda Bennett is most generous in a giveaway for our readers…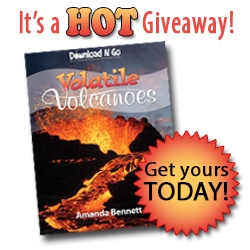 FREE Special – Just for Curriculum Choice readers!
There are 100 copies available through March 31, 2013. Just use this special code at checkout to download Volatile Volcanoes: USABVolcanoesFree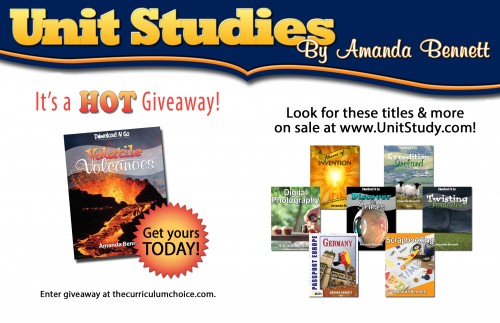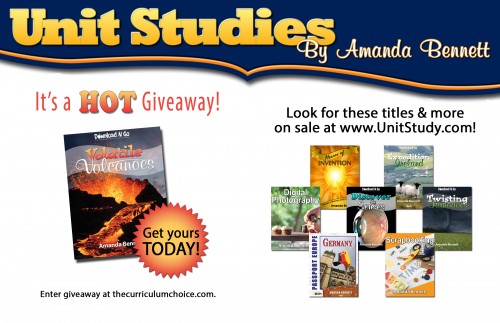 Click over to Unit Studies to get your free download while they last. And be sure to check out all the other titles currently on sale.
Unit Studies by Amanda Bennett: Your Passport to Learning Adventures!