Today in Homeschool Generations: Part 4 we will share advice for the new homeschool parent just embarking on this adventure, and communicate some of our hope for future homeschool generations.
Friends, I can hardly believe we have come to the conclusion of this Homeschool Generations series already! I have been personally so encouraged and challenged by the stories and perspectives shared by all the amazing homeschooling mamas who have participated.
Have you missed one of the previous posts in the Homeschool Generations series?
Read Part 1 to hear my personal story and experience as a 2nd-generation homeschool mom of 5. Read Part 2 and be encouraged by the hard-won wisdom and long-term perspective from 6 veteran homeschool moms (some of whom began homeschooling when it was still new and viewed with suspicion). Read Part 3 to hear from other second-generation homeschool moms as they share stories from their own education and how they're doing things differently (or similarly) with their own children today.
Prefer to listen to your content? Subscribe to Homeschool Conversations on Apple podcasts or wherever you get your podcasts so you can listen to this series read as an audioblog. Or just click the player above and listen right here!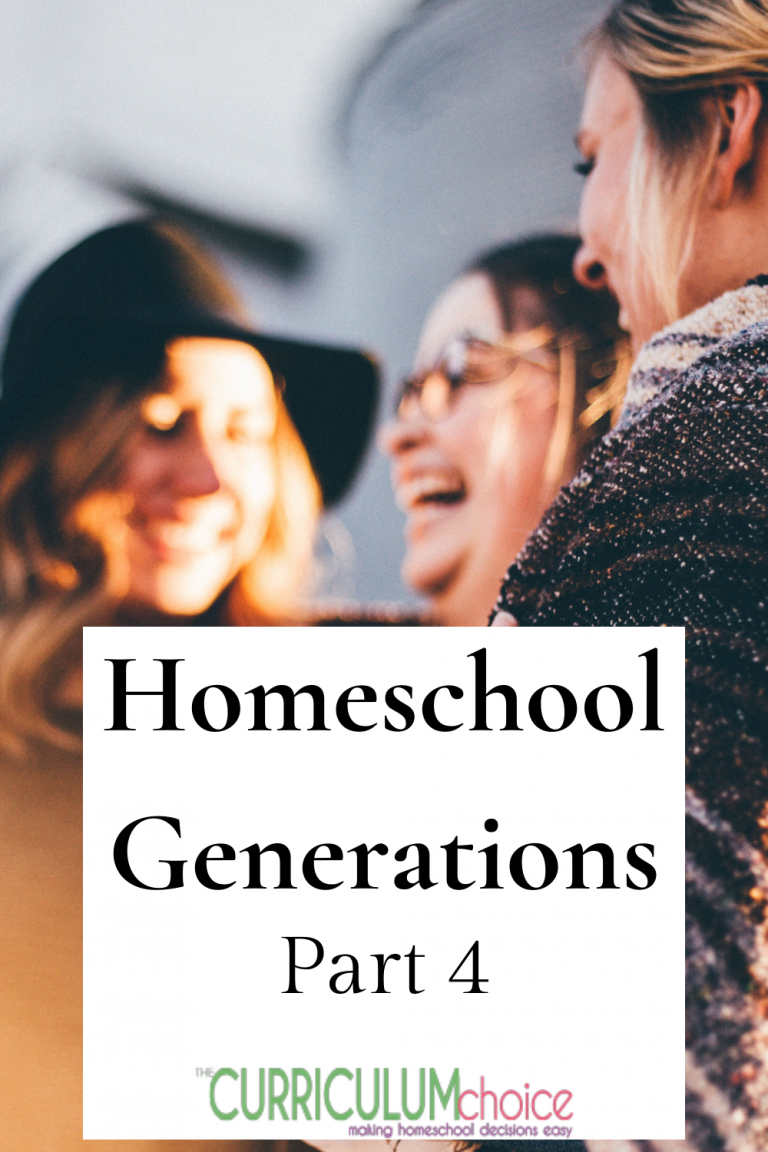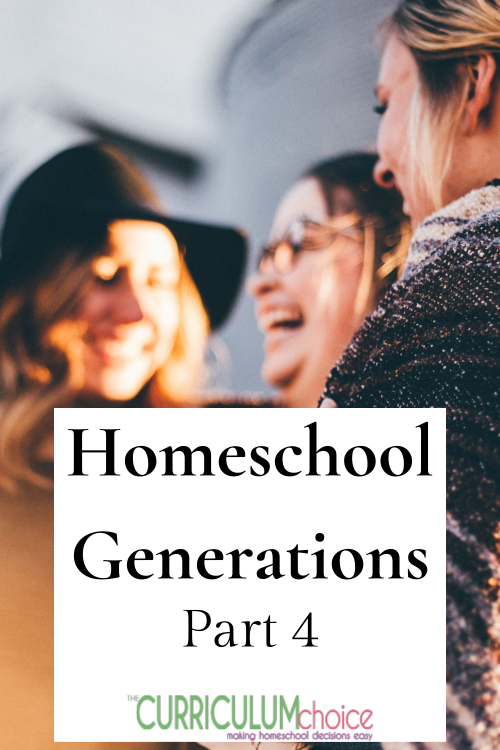 Hope for Future Homeschool Generations: Homeschool Generations Part 4
Advice for the New Homeschool Parent
We homeschool parents are great at putting a lot of unfair burdens on ourselves. Have you ever felt like you had to figure it all out from day one, pick the perfect curriculum, and live up to some random set of expectations? That's a recipe for exhaustion and burn-out right there!
I asked the mamas from Part 2 and Part 3 of this homeschool generations series to share their best advice for the new homeschool parent.
Spoiler alert: even if you've been homeschooling for years, this encouragement from our homeschool generations moms is probably just what you need to hear today!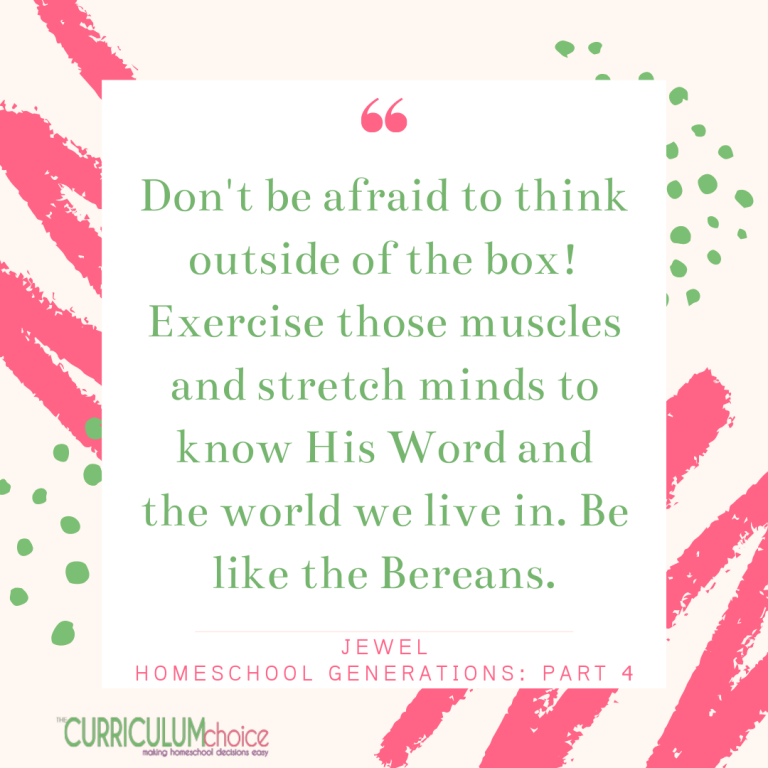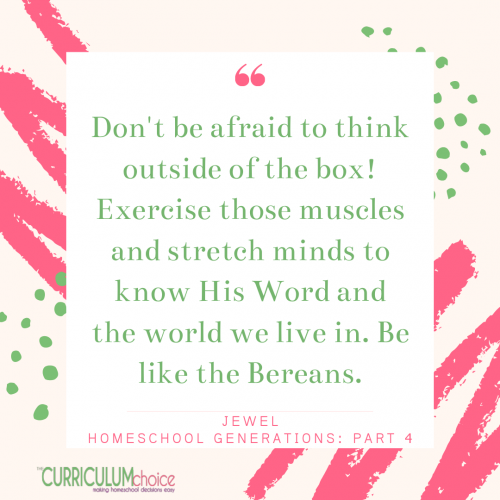 Before you jump into the details, Lisa Hajda (Generational Homeschooling) reminds us that we need to start with a solid foundation. She says, "I would say that it is really important to know WHY you are homeschooling. And it's important to remain a lifelong learner yourself! [Remember] that your kids are not a product in which your ego needs to be involved."
Kristin Moon (Kristin Moon Science) says, "Have a plan, but don't make it an idol. It is important to have a general outline (of the high school years, for example), but allow room for the unexpected."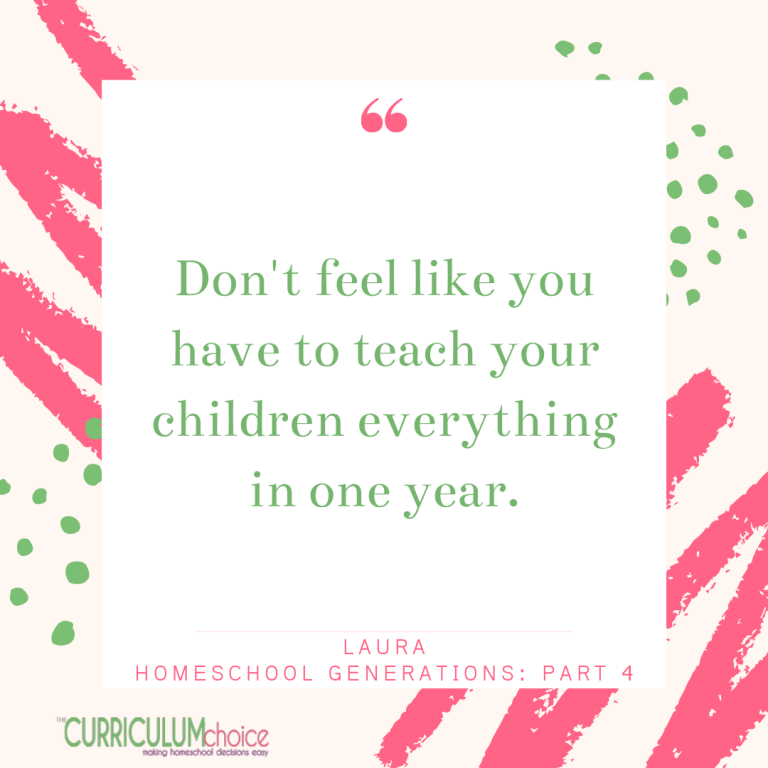 "For parents of small children, keep it simple," Missy Andrews (CenterforLit) encourages. "You don't have to do everything this year. Start with the basics and leave plenty of blank space in the day for exploration, reading, and play. Resist the urge to go somewhere every day. Homeschooling requires a degree of quiet, predictability, and stability. Build that into your home life."
Missy also shared some advice for the parents of older children trying homeschooling for the first time. "For parents of older children just jumping into homeschooling, resist the urge to duplicate a day school in your home. Resist the urge to max out your homeschooler's day by over scheduling them with classes. Give them time to explore within the subjects most important. You can do more next year. Remember that teaching isn't information transfer and that your larger goal is to equip your kids with the tools and appetite for a lifetime of learning, not just the answers to the test questions. You're not teaching history and lit and science, you're teaching them how to study history and lit and science. For everyone embarking on the project, give yourselves and your children plenty of grace. Education is relational, and grace is the thing most necessary in successful relationships."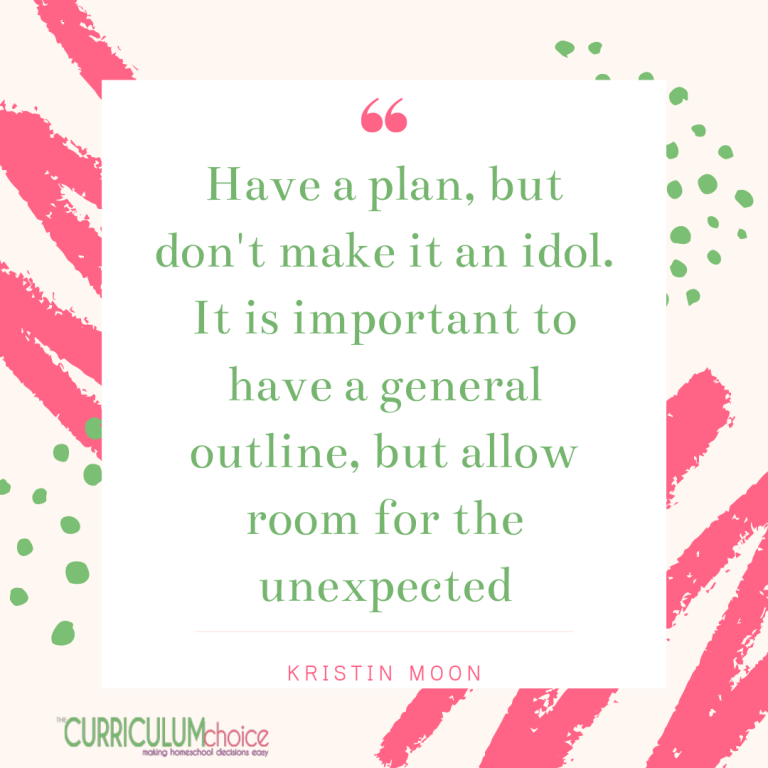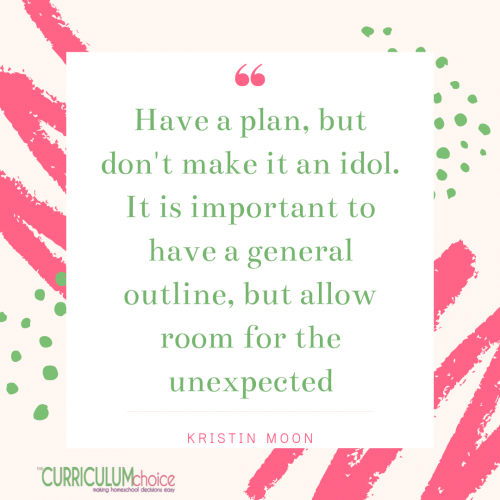 Jewel reminds us that homeschooling must be firmly grounded in our relationship with the Lord. She advises, "Pray; seek The Lord first and foremost! Here's the reality. God has uniquely and wonderfully created your child(ren). He has equipped them with gifts and abilities for His calling on their life. HE has a plan and good works planned for them from the beginning of time that they will walk in. As you notice their bent, encourage and feed that – even if it is nowhere in your wheelhouse! It might only be a piece of the tapestry of their life, but we are called to be good stewards of their hearts, minds, and gifts. Cheer them on toward God's call on their life! And don't presume to know what His call is before He reveals it. Also, make sure your education is well rounded in all subject areas and teaches from a Biblical Worldview."
"Let your children be children and have fun with school," encourages Mari Fitz-Wynn (Heart for Homeschool Ministries). "Relax and feel confident with what you're doing, because our kids feel our stress. Give them a break if they fail at something, encourage them when they succeed."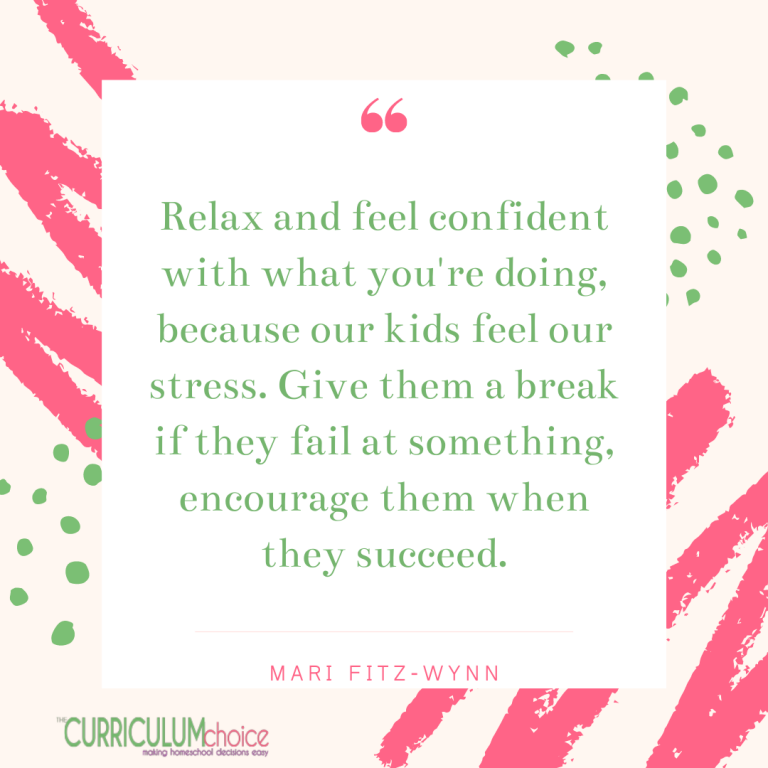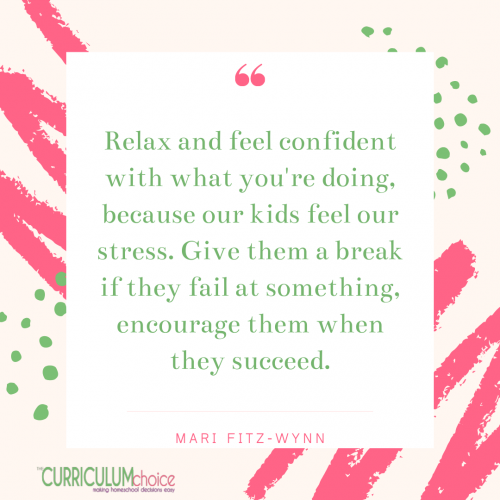 Katherine Weitz (Cottage Press Publishing) reminds us of the value of reading together, regardless of our children's age: "Read aloud often — and keep doing it all the way through their schooling/growing up years!" she says.
Ashley Kelso agrees and adds, "Read a ton! To yourself and your kids. Find some homeschool friends who are willing to answer questions and share ideas and resources with you. Don't try to recreate school at home. Be consistent."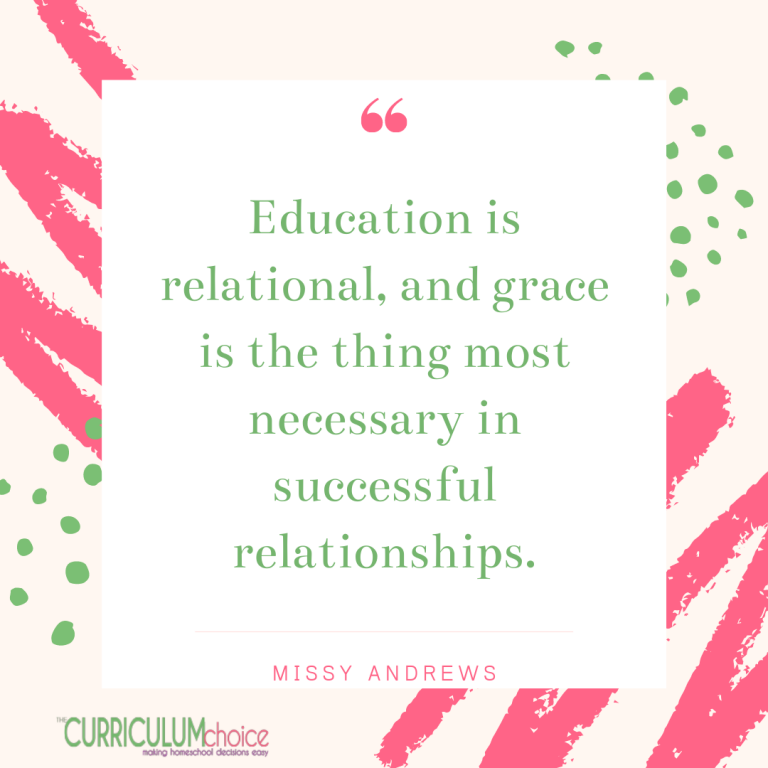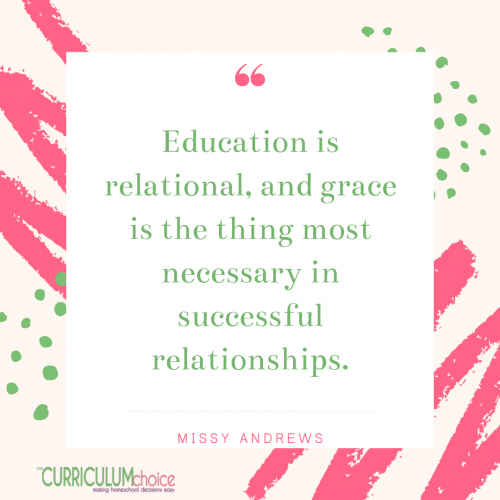 Comparison does not serve us well. Katie Waalkes (Life in the Mundane) encourages, "Learn what works best for you and your child and don't get caught in the game of comparison. Forward motion is far more important than hitting academic benchmarks."
Do you find yourself spending hours creating a perfect plan only to fail to implement any of it? Rachel (Seven in All) says, "Don't over-plan. Spending so much time on planning homeschool perfection, only to be faced with reality, is setting yourself up to be disappointed with the homeschool experience. Don't over-plan, but do prepare yourself to meet your own humanity and the humanity of your children each day."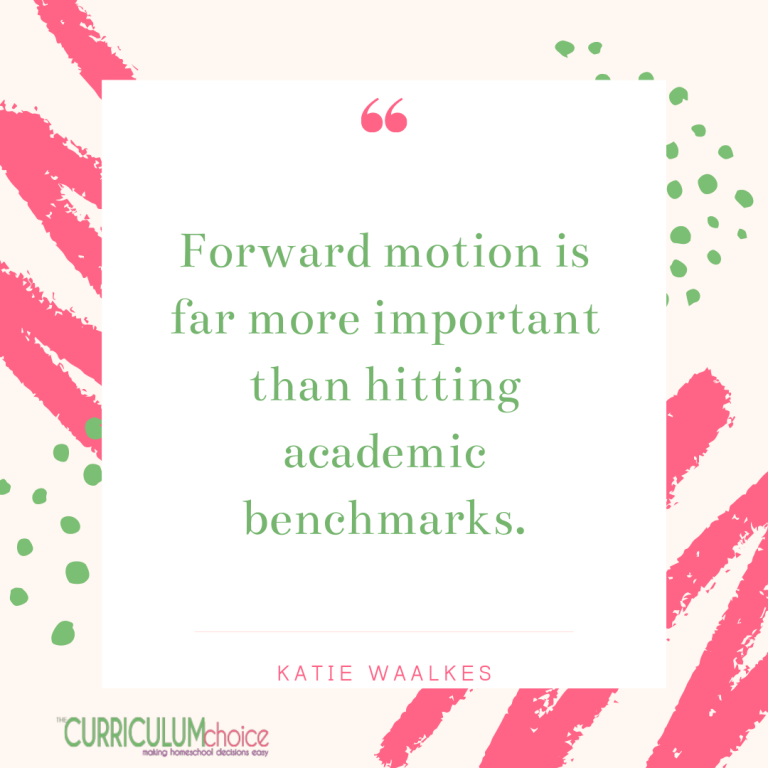 Melissa Cummings (Joyful Domesticity) advises, "Remember that these are the children God entrusted to you, and when you humbly seek His face, He will equip you to raise and educate them for His glory. Learn with your kids, alongside your kids, beside your kids. Show them that we never outgrow wonder or education. Prioritize a gathering of all ages together; spend time each day together for certain subjects, most importantly the faith and culture elements you love. This is the connective tissue which becomes the spine of our day, our week, and our family culture at large. It is worthy to pursue and prioritize."
Homeschooling is more about the home than it is about the school. Nicole Still (The Still Family) reminds us, "Don't try to replicate public school at home. Homeschooling is a natural extension of parenting. Foster a love of learning rather than forcing hours of worksheets and tests."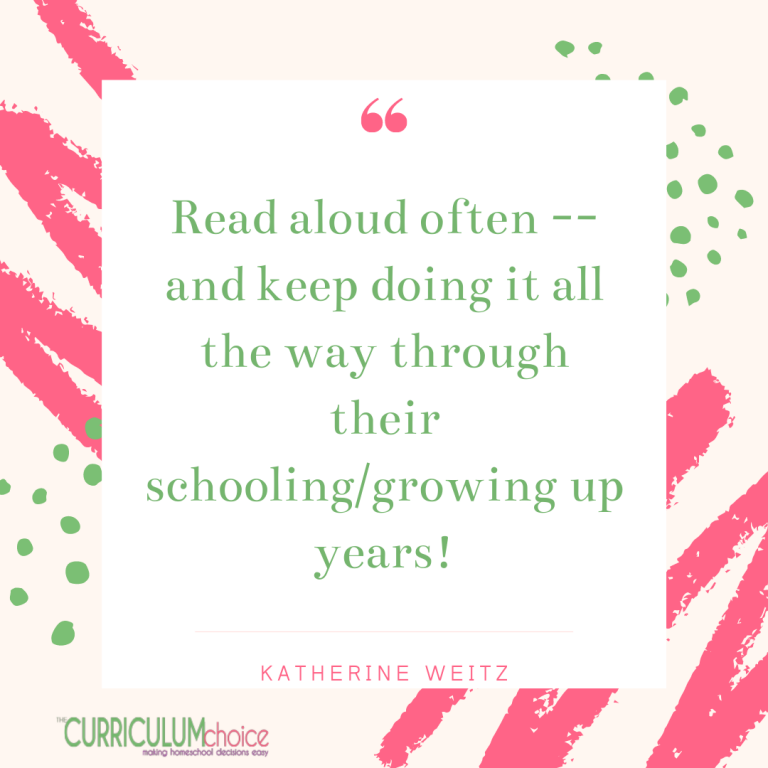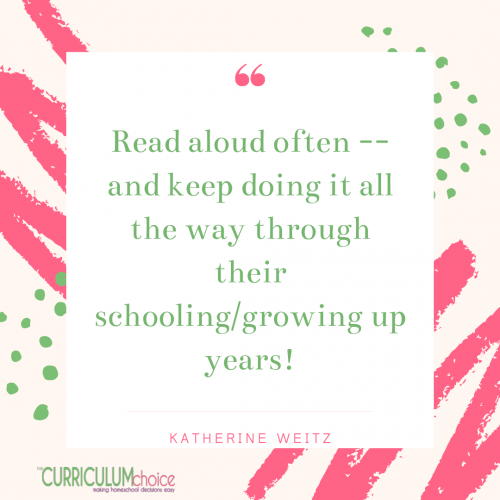 "Learning WITH your children is a great gift," Amelia Rodgers (Generational Homeschooling) points out. "It isn't necessary to be an expert on a subject before learning about it together."
Laura reminds us that our homeschooling is not defined by a single year. "Your curricula and plans will grow and change with you over the years. Don't feel like you have to teach your children everything in one year. By God's grace, you'll have many years with your children to impart many ideas, skills, and doctrine."
Mystie Winckler (Simply Convivial) agrees saying, "Don't worry about figuring out high school when you have a 5-year-old. Take the next step forward, keeping learning and growing, and you will grow into each stage as you approach it. Ask for advice and stories from moms who have been homeschooling for 10 years or more and listen to them even if you don't like what they say or if you don't think it fits your philosophy. Take real world wisdom over idealism. Do morning time and math, provide books, smile and talk with your kids, prioritize Scripture and church life, and everything else is gravy."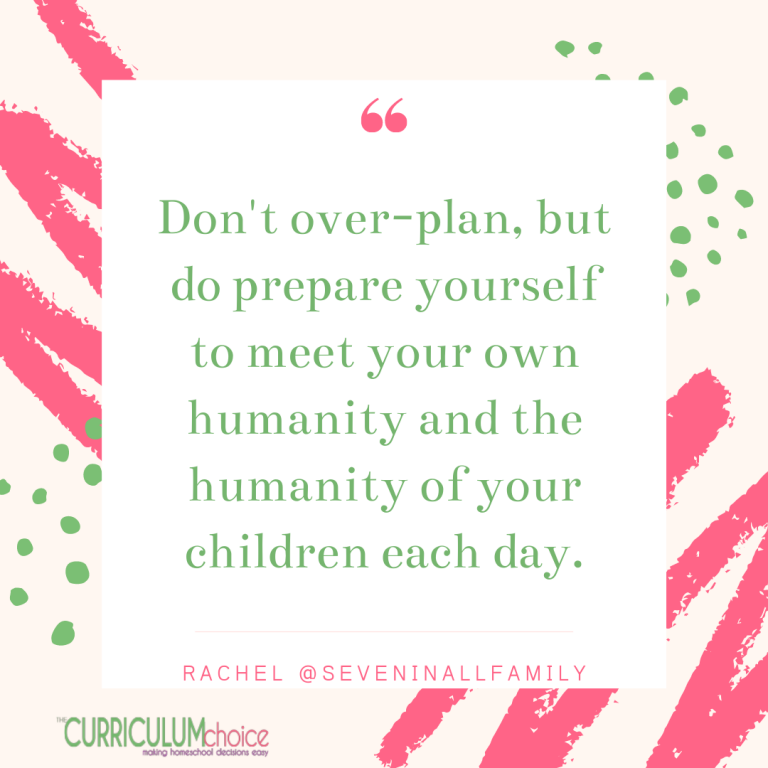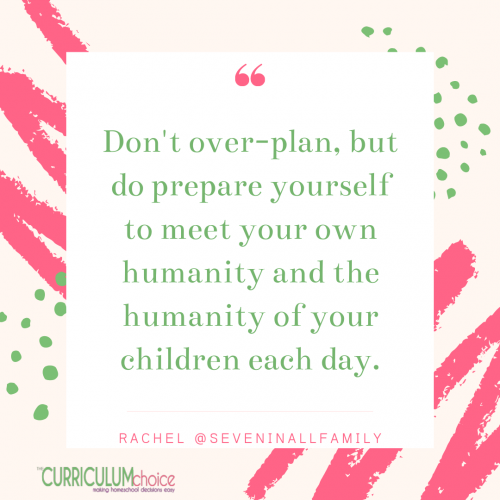 What kind of changes or growth do you hope to see in future homeschool generations?
It has been a joy to see the ways God has grown the homeschool community over the past several decades. He has been faithful even as we have often made many mistakes! I thought it would be fascinating to ask homeschool mamas what kind of changes or growth they hope to see in future generations of homeschoolers.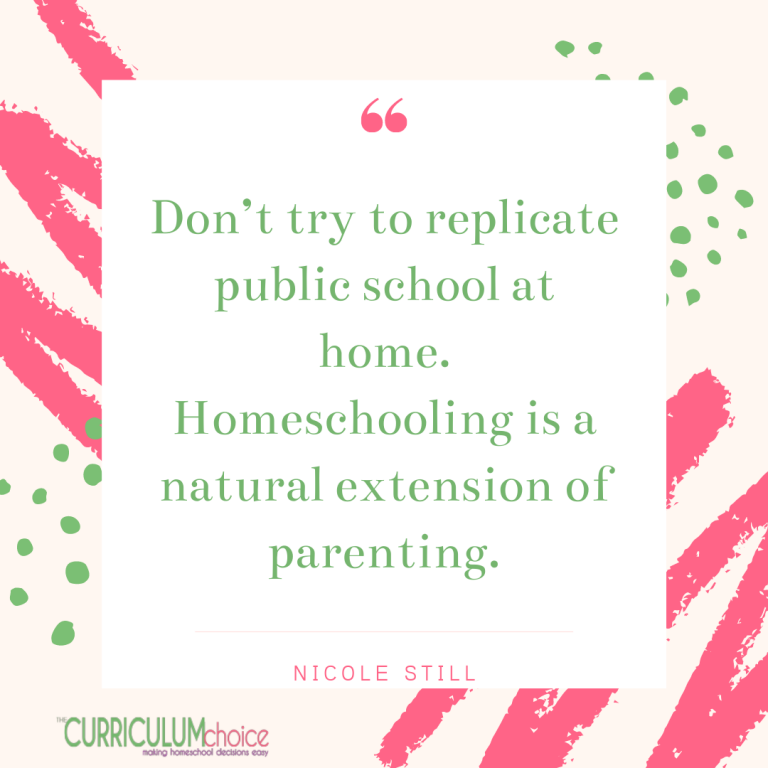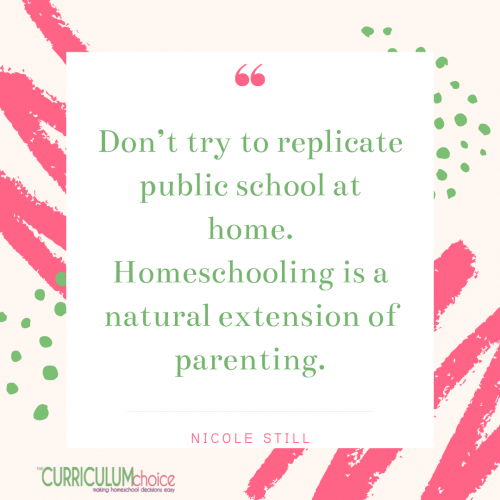 Rachel hopes to see "a greater focus on teaching about diverse cultures!"
Melissa would like to see "less nitpicking and cliquing. I think we need to foster fellowship and cultivate community across methods, finding commonality and camaraderie outside of our own wee bubbles. I would also love to see more free resources shared amongst mamas and companies and communities. Homeschooling ought not be financially unfeasible. I do think we ought to pay well and honor the work of diligent creators and worthy companies. But finding a balance somehow is something I long to see down the road. In order to homeschool well, my family needs to be able to live on a single income. When a homeschool education (curriculum, co-op, online classes) begins to cost as much as a college education, it really makes you question the balance."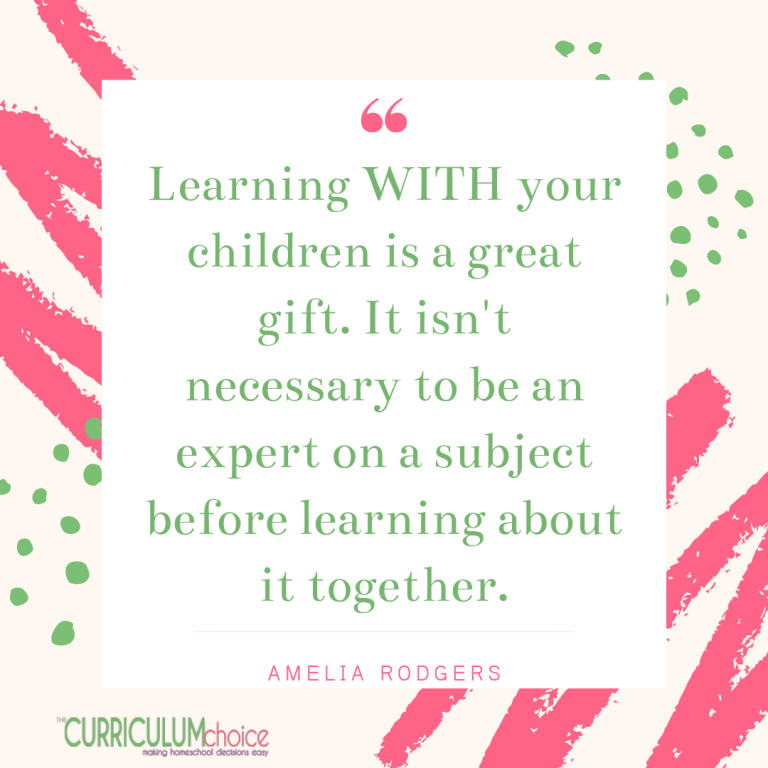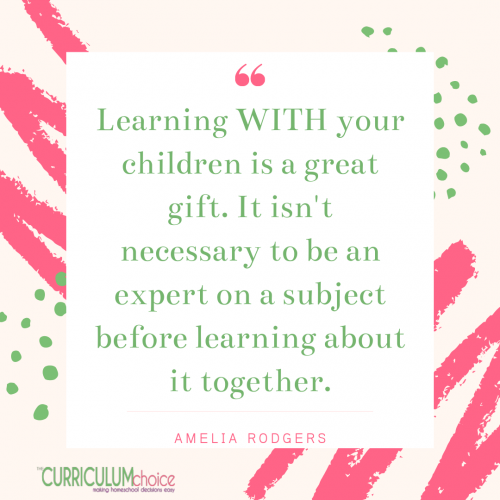 Katherine would love to see "more collaboration and community with other like-minded families, particularly in the middle and high school years, as well as those with a passion for educating the next generation offering their gifts for the larger community as much as possible."
Laura says, "I think some homeschoolers in my generation had a problem sticking with a church. I hope that future generations of homeschoolers will be able to commit to a true church and faithfully serve there without church hopping."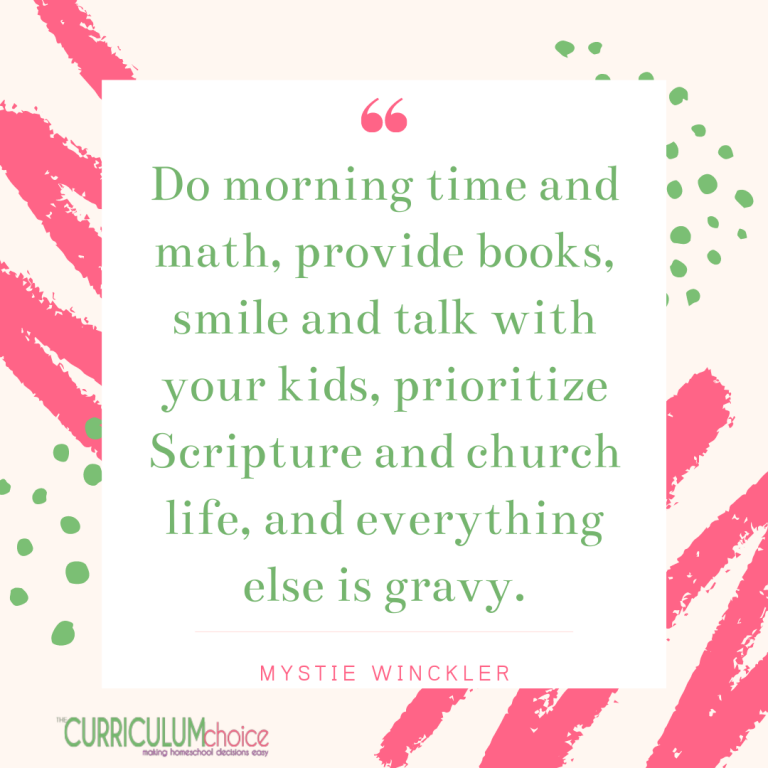 Nicole notes that current and future homeschool generations still have work to do to overcome negative stereotypes. She says, "I'm always surprised when old misconceptions are still brought up, like socialization. When I say I was homeschooled people say things like 'you don't seem like a homeschooler, you are so normal!'"
Amelia says, "I would hope to see more homeschooling families truly understand the value of what they are doing and plan to stick with homeschooling for the long haul."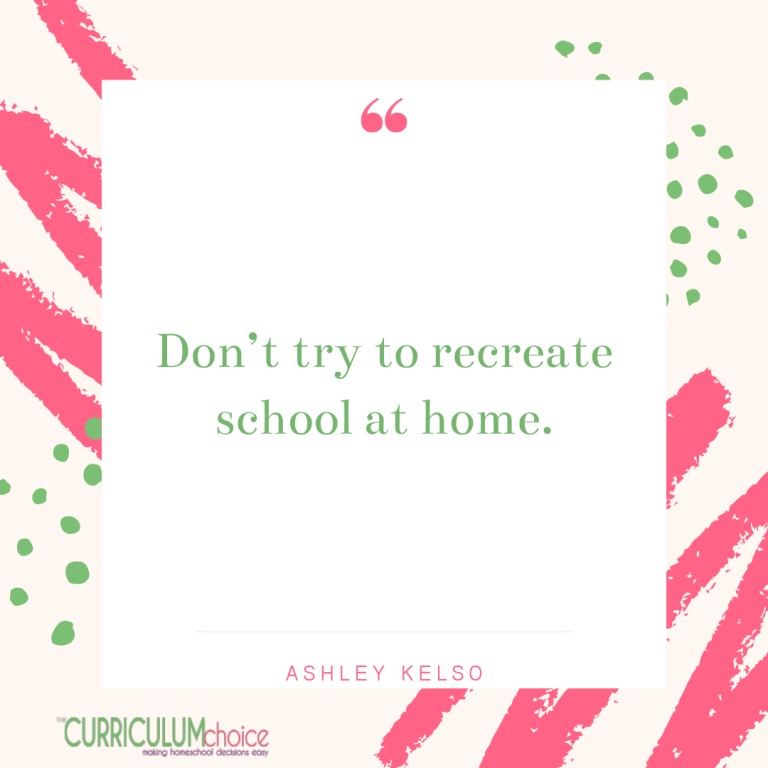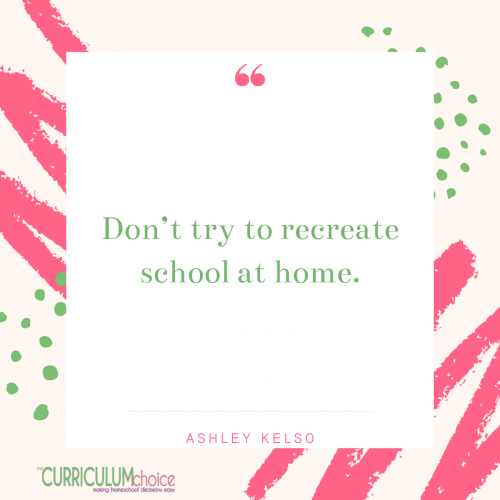 "I hope parents continue to homeschool for ideological reasons and not 'just' because school didn't work for their kids," says Ashley. "The bigger reasons give us something to stand on during the hard days."
Missy would like future homeschool generations to "see a deemphasis on identity building through and branding and an upsurge of grace-centered support groups. I'd like to see the spread of a Christ-centric vision for home education and a de-emphasis of the personal achievement/glory story so central to performance based education."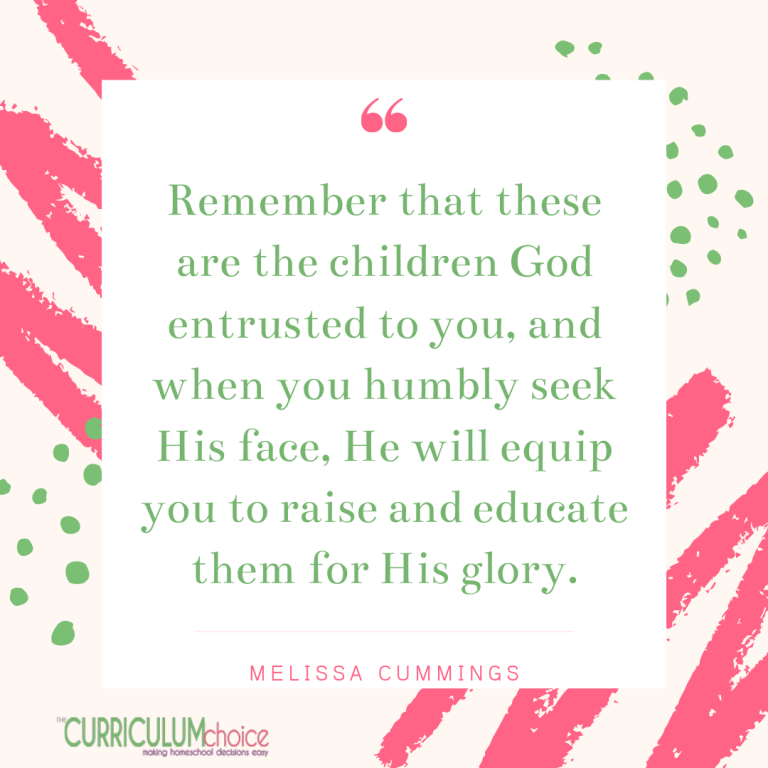 "I hope more homeschoolers can embrace the value of not just replicating public school at home!" says Lisa.
Jewel hopes future homeschool generations remember that "the sky is the limit," and she would love to see them reach for it! She reminds us, however, that "it may mean fighting for it. Don't be afraid to think outside of the box! Exercise those muscles and stretch minds to know His Word and the world we live in. Be like the Bereans."
What about you, homeschool mom?
What are your dreams for your own homeschool family? What are your hopes as you consider future homeschool generations? Let us know in the comments below.
Laura Adams said, "I really enjoyed reading through this series! I've noticed that a lot of second generation homeschoolers tend to be more rigorous about academics and less isolationist. Personally, I feel that the greatest blessing of being a second generation homeschooling family is that I know so many homeschool graduates who are doing well as adults. I also appreciate how my husband is so supportive…he specifically set out to marry someone who was willing to homeschool."
After reading this series, Mariel Howsepian, a public school teacher for 18 years and homeschool mom to a 5th grader, shared these thoughts:
"One of the things mentioned (multiple times) in the series was that homeschool families in the past had fewer curricula to choose from than homeschool families do now. The abundance of choices can be wonderful, but for homeschool moms who feel doubt (for various reasons), having all the choices can cause an increase in doubt. They see a new curriculum, and it promises to work better or faster or with fewer tears, so surely the curriculum they have is no good… I try to show what research says about how children learn, and that "real, professional" teachers are often not using research-based practices. Some homeschool moms doubt what they're doing because … they don't have credentials or classroom experience, but "real" teachers aren't being supported in doing what helps children learn. Homeschool moms have the freedom from a broken system in a broken world to meet their children where they are and move them forward. One mom in your series said it well – building on strengths and developing areas of weakness… I want to show [moms] that they have enough and are enough to do this. I hope to see future generations have less doubt, and greater confidence in the fact that God gave their children to them [and] chose them to be the mothers of their unique children, in specific times and places, for his purpose."
Mama, what you're doing is so important. It may seem small. It may seem insignificant. It may feel exhausting. But each of these little moments is adding up into something amazing. May God bless each of you in your homeschool journey!
Little drops of water,
Little grains of sand
Make the mighty oceans
And the beauteous land
So the little moments
Humble though they be
Make the mighty ages
Of eternity
~Julia Carney
For more encouragement from real-life homeschool moms, dads, and other educators, listen to the Homeschool Conversations podcast.