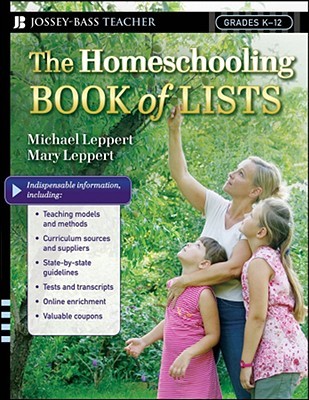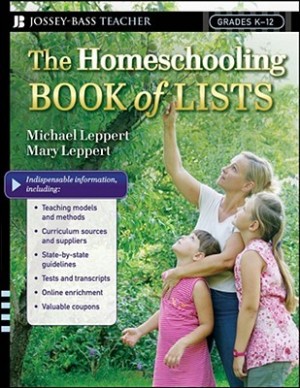 I rarely find home education materials in big-box bookstores, so you can imagine my surprise when this book jumped off the shelf and into my hands. Michael and Mary Leppert's comprehensive The Homeschooling Book of Lists is a resource I consult quite regularly. And here's why: it's jam packed with information.
More than just another guide to homeschooling, The Homeschooling Book of Lists is a compendium of homeschooling resources, publishers, suppliers, publications, websites, and other references. It's divided into five major sections:
Things to Consider Before Homeschooling
Homeschooling Models and Methods
Subjects and Lesson Plans
Homeschooling Resources
Getting Your Homeschooled Student into College
Each section then branches out into a wide variety of topics to explore and consider. For example, Part 4, Homeschooling Resources, comprises 20 different lists, such as:
Various religious resource lists
Ethnic resources
Boxed curricula
Homeschooling with nonelectric games
Special needs resources
Tutors and tutoring
Testing and test prep
Charter schools and independent study programs
Of course, any print materials that list website URLs run the risk that those addresses won't always be valid. The same holds true for this manual. However, a simple Google search enabled me to find whatever I needed, so this really isn't an issue.
I'm always on the lookout for new and different resources to enrich my children's education, but I don't have a lot of time to devote to this particular activity. The Homeschooling Book of Lists makes it easy for me. In fact,  my own copy of this handy reference tool for busy homeschooling families boasts highlighted and dog-eared pages — and for good reason!
 ~ by Ellen, The Bluestocking Belle