This month my middle school daughter started into the human body section of her Apologia General Science studies. Perfect timing because we've added in some really fun learning activities to that. We decided to explore and learn science with Dover Publications human body resources. A unit study! Let me tell you more…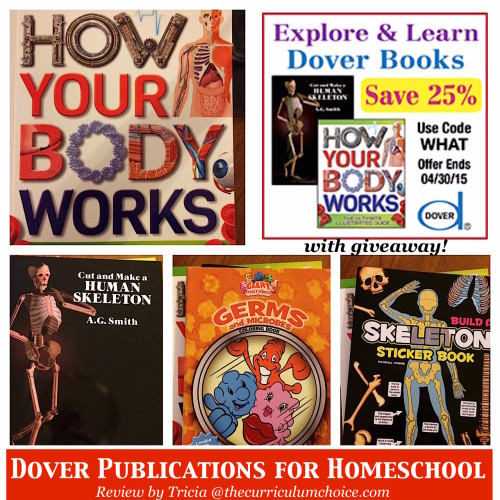 ~Don't miss the discount code plus the giveaway at the end!! We received these Dover Publications resources in exchange for an honest review. All opinions are our own and we love the benefits and blessings we are continuing to see! Please see our disclosure policy.

Multiple Age Science Unit Study with Dover Publications for Homeschool
For this unit study of human anatomy we used the following books from Dover Publications with all our ages – from first grade through high school: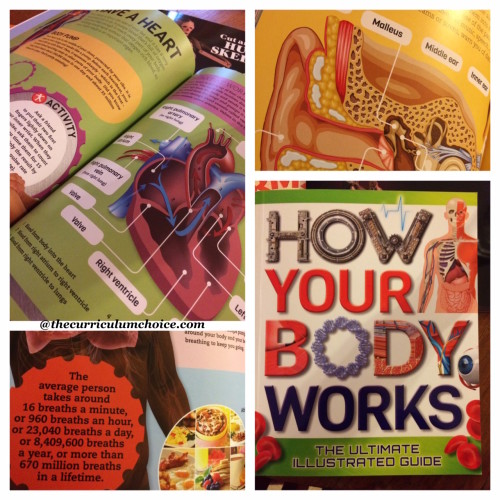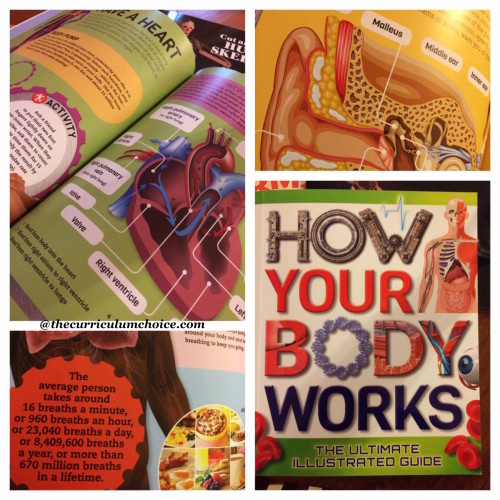 How Your Body Works: The Ultimate Illustrated Guide – Find out everything you ever wanted to know about your body! How do you breathe, eat, move, feel, and grow? Why does your heart beat and how does your brain work? Filled with amazing facts, clear and detailed illustrations, and fun activities. It's the ultimate guide to you and your body.
"Wow! The average human body contains enough carbon to make 900 pencils!" exclaimed nine-year-old while reading How Your Body Works.
How Your Body Works includes:
Building a Body
Fuel for the Body
Ready for Action
Life Support
Taking Control
Defensive Action
Glossary and Index
*A couple of special notes – this wonderful book does include the proper name for all body parts in the human development section. I know that parents want to be mindful of this at certain ages. There is also one page that discusses humans being related to apes. The book does not take an evolutionary slant. In our reading of this page, we discussed the fact that humans indeed do share many of the same genetic code – because we have the same Creator!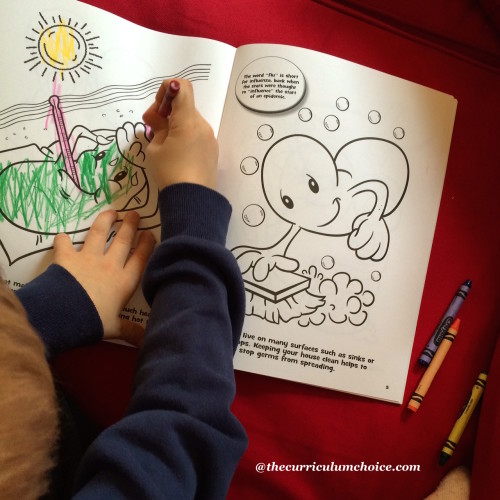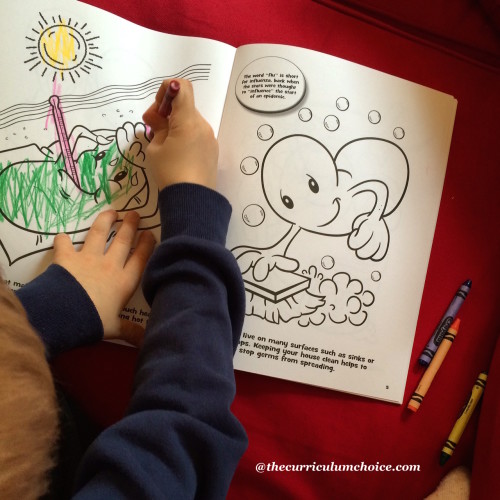 Loving Dover Publications Germs and Microbes Coloring Book with my elementary set! "Some germs that make you sick don't like too much heat. When you get a temperature, your body is getting hot to make these germs go away!" Coloring by first grader.
Giant Microbes: Germs and Microbes Coloring Book – "The GIANTmicrobes® are here to help kids discover the causes of the common cold, flu, bad breath, stomachaches, and other ailments. Adorable full-page illustrations to color show where tooth decay comes from, the source of penicillin, and what life inside an ordinary puddle looks like. Other fun facts explain germ-related causes, prevention, and treatments."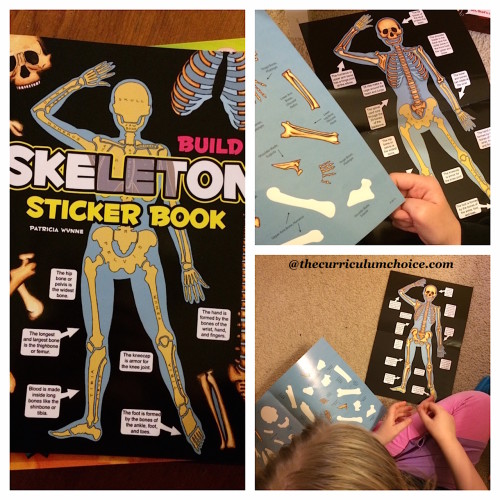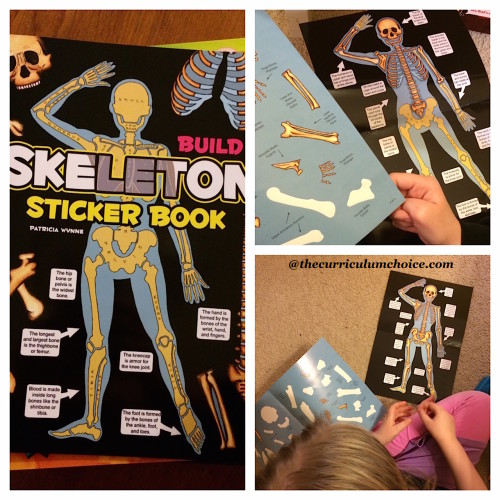 Build a Skeleton Sticker Book – "Have you ever wondered what the bones look like inside your body? This eye-opening activity book will help you discover where they fit — from head to toe. Just apply each of the 29 labeled bone stickers to the correct place on the skeleton, and get the inside story on your body's framework!"
"So what does bone mean?" ~ first grader
"So the ribs protect the heart and important organs…Wow! the arm bones are so thick!" ~ third grader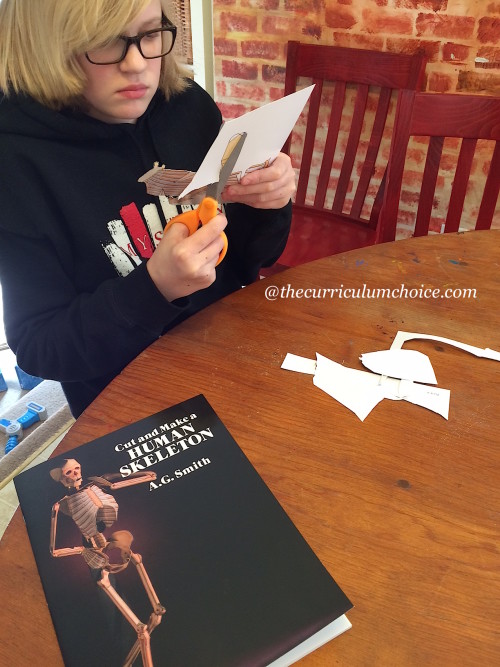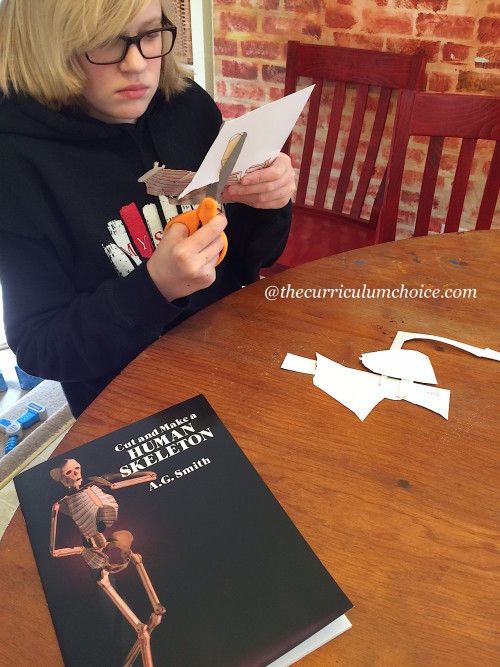 Seventh grader working on Cut and Make a Human Skeleton.
Cut and Make Human Skeleton  – "Create an exciting, educational, three-dimensional model (16½ inches high) of full human skeleton with scissors, glue, needle, and thread. Easy-to-follow instructions and diagrams help pre-teens and older youngsters assemble this accurate representation with little or no adult help. Color illustrations on covers."
How We Use Dover Publications in our Homeschool
These Dover Publications products complement and enhance what we are studying!
Complement existing studies – You all know that children learn in different ways with various learning styles. Building a skeleton gives a great visual of what we are studying!
Hands on science fun – My middle schooler and high schoolers can do the more difficult projects themselves. They can learn independently. Stickers for independent learning for the younger ones at their learning level.
Beautiful color illustrations labeled for learning – full-page color illustrations of the heart, explanations of how the brain works, the digestive system functions, the skeletal system and all the systems of the body.
More Dover Publications We Use in our Homeschool
These Dover Publications products complement and enhance what we are studying!
Where can you find Dover Publications? Special Discount!
Find each of the titles at the Dover Publications website. Plus for a limited time, you can get 25% off your order. Just use code WHAT through 4/30/15. There are just SO many resources for your homeschool. Be sure to visit Dover Publications and browse their teacher resources section.
Now for the giveaway!
Dover Publications
is offering the set of resources pictured above to one Curriculum Choice reader. The set includes:
Simply follow the instructions in the rafflecopter widget below:
Homeschooling for over fourteen years now, Tricia faces a daily dose of chaos with five children. She shares a mixture of art lessons, recipes and helpful homeschool habits at Hodgepodge. She and her husband, Steve (who writes app and technology reviews), are co-owners of Curriculum Choice.