My little girl is all grown up and will be graduating this year.  My how our precious homeschooling years have flown!  Just this month, we registered her for college.  My baby will be a college freshman in the fall!
We've known the entire year that she would attempt to CLEP out of at least one or two college courses before graduating.  Now that we have her plan of study from the college, we are getting serious about CLEP test prep.
~ Don't miss the giveaway at the end! ~
What is CLEP?
It's the College Level Examination Program which allows students to take tests in order to gain college credits.  There are currently 33 exams offered in various subjects.  Each exam costs $80, but if she passes she earns two or three credits toward college – and that's a lot of money saved!
Which CLEP exams has my daughter decided to take? Composition and Algebra.  Her plan is to spend four-six weeks on each test prep and have both exams taken before the end of the school year.
(The products mentioned below were given to me for free in exchange for an honest review.  I was also compensated for my time writing a review.  We are truly loving them! Please see our disclosure policy.)
How is she preparing for the CLEP exams?
My daughter has been using CLEP Test Prep books from REA – and they rock!  Right now, she's hot and heavy into the CLEP College Composition guide.  It offers her test-taking tips, study notes for each section of the exam and two practice tests.
Really cool, though, are two diagnostic tests (you're given access to online) which help you determine the "problem areas" where you need to spend the most time studying.  These diagnostic tests have been a huge blessing!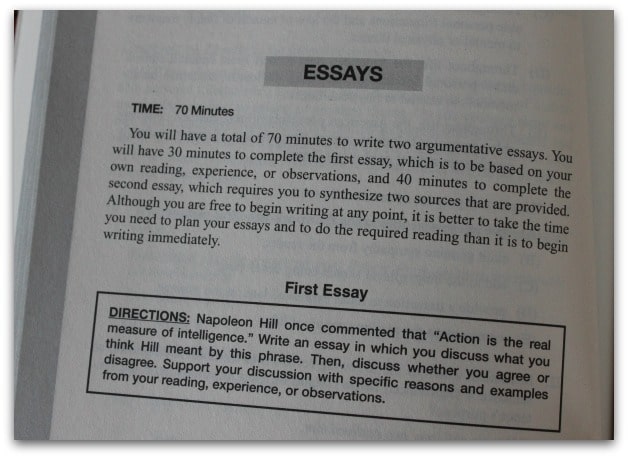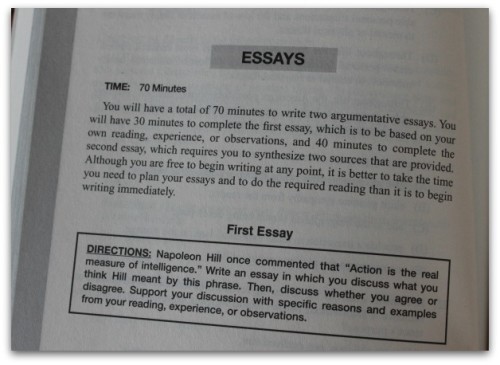 Our Plan of Action for College Composition Test Prep
The introduction of the book is the best place to start because it explains what to expect in the CLEP Composition exam and how to use the REA Test Prep book.
We jumped right into the online diagnostic tests next to develop a clear plan for focusing study efforts.
Currently, my daughter is using the study section of the book to review everything pertinent to the test, spending extra time on those diagnostically weaker bits and pieces.  This review section is SO helpful.  It not only covers content, but offers great test tips along the way.  The pages are easy to highlight and mark up with notes.
She will soon be ready to take her first practice test.  There are two tests printed in the book and two located online.  The printed and online versions are the same, so while you can take actually take four tests, there are only two different tests.  Make sense?  I will ask her to take the online versions because all CLEP exams are administered on a computer, so the online version is most similar to the real thing.  (The printed versions will be helpful for reviewing missed problems alongside the provided answer keys with explanations.)
After the first practice test, we'll reevaluate any problematic areas that need more study and then take the second practice test online.
Very soon after the practice tests, we'll plan to take the real thing at a CLEP testing center near us!  Won't it be wonderful if she passes and we can save $100's on college?!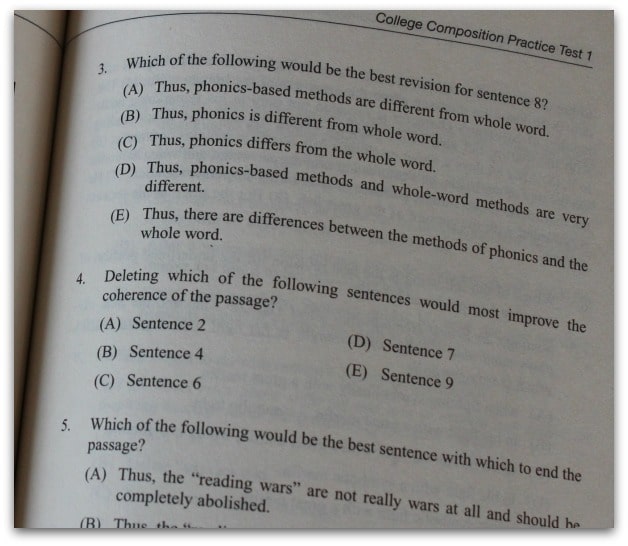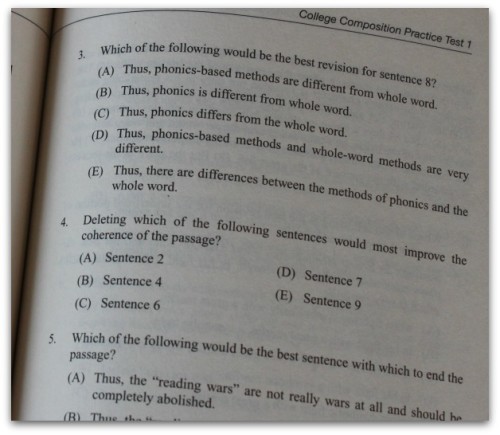 One or More at a Time?
I don't know whether it's wise to study for more than one CLEP test at a time or not.  We are choosing to work on one at a time.  In this focused manner, she can study a little less than the six weeks recommended and move through the subjects pretty fast.  It also keeps her mind clear for the subject at hand.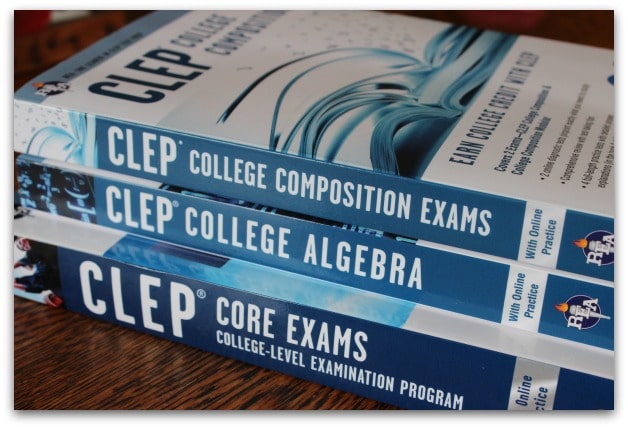 After the College Composition test, she will move into College Algebra.  For algebra, we have the CLEP College Algebra Test Prep guide.  Since her last algebra class was two years ago, I love that this book is full of explanations and examples of EVERYTHING she may or may not have forgotten.  She easily passed algebra I and II in our homeschool, but her confidence with math isn't very high.  While I know she will pass the CLEP exam with no problem, this book is going to be VERY important for her belief that she CAN do it.
Just like the Composition Test Prep guide, the Algebra guide offers diagnostic tests, a large section of review/study material, test taking tips and two practice tests (both online and in print.)  The review/study guide is actually kind of like a workbook, too, because each example is really a problem that you should try to solve before the answers and explanations are given.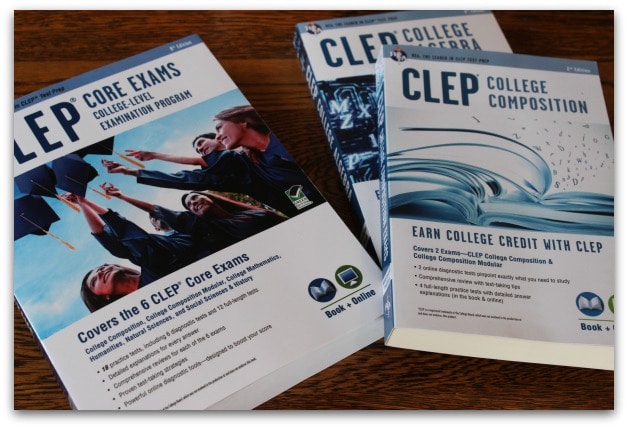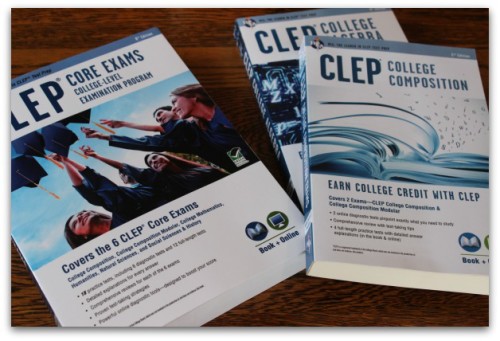 Because my daughter is considering another CLEP exam or two, but isn't quite sure which tests she'll focus on, we also have the CLEP Core Exams study guide from REA.  This book covers SIX subjects: College Composition, College Composition Modular, Humanities, Mathematics, Natural Sciences and Social Sciences and History.
In this LARGE book, you get six diagnostic tests (one for each core subject) and twelve full-length practice tests (two for each subject.)  Obviously, the review sections don't cover quite as much material as the individual exam books, but there is still A LOT of study material to prepare you for just about any of the 33 CLEP exams!  Once my daughter decides on another CLEP subject or two, we will be ready to start studying for any of them from this book.
SPECIAL DISCOUNT CODE
At $34.95 each, I think the REA CLEP Test Prep guides are well worth the money!  But even better, you can save 20% through March 16!  Use the code WEAF upon checkout.
Now for the GIVEAWAY!
One winner will receive the following from REA:
(1) CLEP Test Prep: College Compostion
(1) CLEP Test Prep: College Algebra
(1) CLEP Test Prep: CORE Exams
Simply follow the instructions in the rafflecopter widget below…
a Rafflecopter giveaway

-Written by Cindy West, eclectically Charlotte Mason homeschool mom of three.  Find her blogging at Our Journey Westward and find her curriculum at Shining Dawn Books.