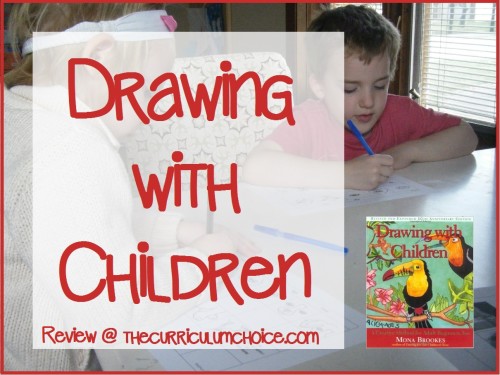 If there is one drawing book that I see consistently on homeschool curriculum sites, it's Drawing with Children by Mona Brookes.  I am not anything of an artist myself, so I thought this would be a good one for me to check out.  When it came in the mail, I pretty much sat down and read it cover to cover.  It is a wonderful resource for any teacher (or mom!) who is going to be instructing children in drawing.
It talks about setting the stage for drawing, having the right attitude, and what kind of materials to use.  The biggest point of the book is teaching children to not look at whole pictures (because that would be very daunting!), but to look at each individual type of line that makes up the picture.  Drawing is nothing more than putting lots of small lines/shapes together.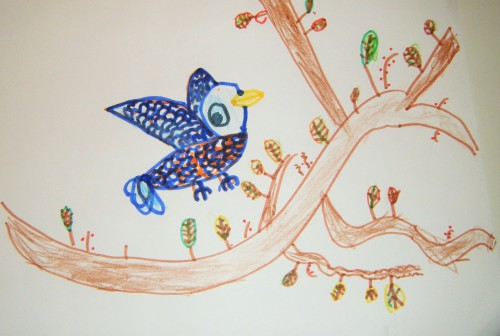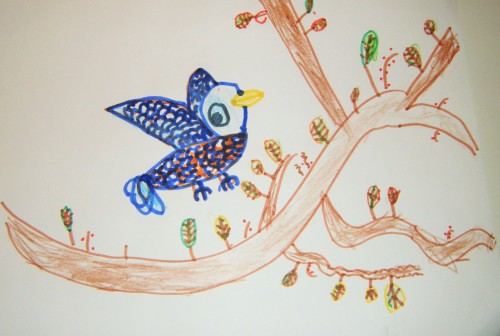 Drawn by my five-year-old
My kids and I had a lot of fun discovering all about the five types of elements of shape.  Before attempting to draw anything, we spend a few days looking around the house for these different elements, thinking of items outside that made of the elements, closing our eyes and imagining them in different shapes and sizes.  Then of course we got out paper and markers and tried drawing each element.
Once you learn about each individual element, you learn how to put them together.  Ms. Brookes shares great warm up exercises to use to enhance understanding and also to practice before art lessons.  One type of warm up is dividing a paper into small squares and drawing a different combination of shapes in each box in the first column.  Then fill the rest of the boxes (except one) in each row with similar, but different shapes.  In the one empty box, copy the design exactly.  Have you child find the exact match in each row.   My kids loved doing this exercise and all of the different types of warm ups suggested in the book.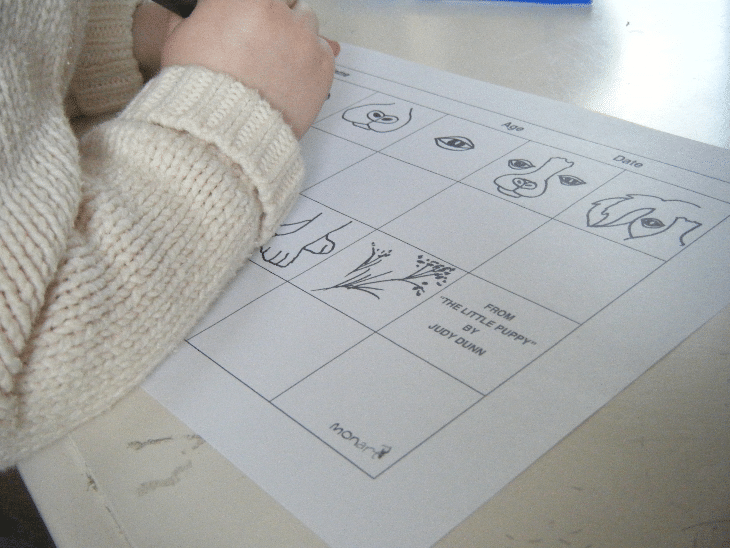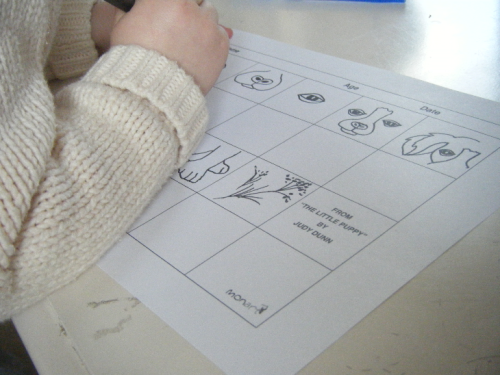 Here is my three-year-old daughter doing another type of warm up exercise.
What Drawing with Children is not, is a lesson book.  There are a few drawing lessons in the book, but not enough to have weekly lessons or anything like that.  You could either take the principles from the book and make up your own lessons, or apply what you have learned while using another drawing lesson book.  If you visit MonArt.com, you can see that they have recently added individual lesson plans for many types of animals, insects, and other objects.  The only downside is that they are a bit pricy because I think they are intended for art teachers who would be doing the lessons with a class of children.  I bought one to try it out, and I love how it came with so much information.  There was background information about the subject we were going to draw, warm up pages specifically for the lesson, very detailed drawing instructions, and more!  If you visit the website, you can watch a video about these lessons.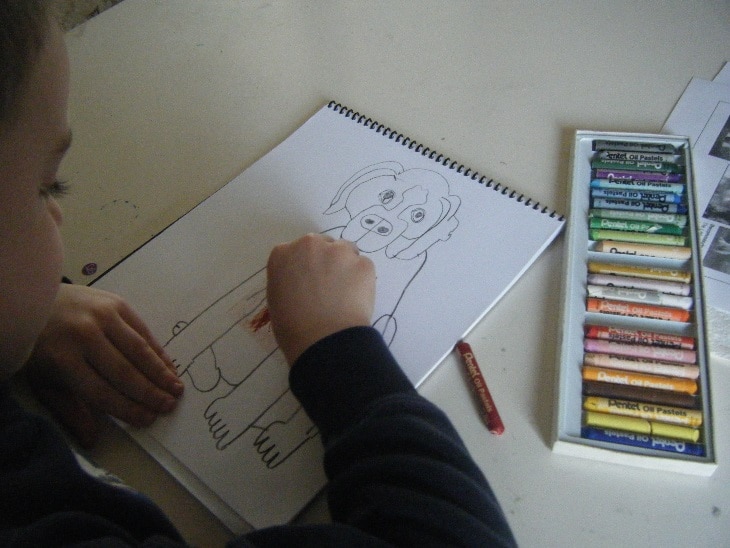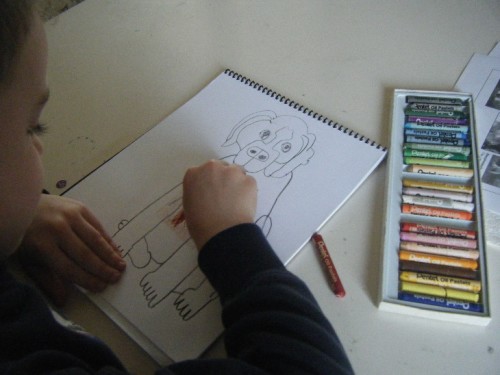 Here is my five-year-old son working on drawing a dog.  He is definitely a "quick stick figure" type of  drawer, so I was so proud of his efforts here!
Another option they offer for young students is their Drawing Through the Alphabet and Drawing Through Geography curriculum.  These programs integrate learning handwriting with drawing.  They look really neat!
I just think it is so neat to see that even young children can produce great drawings if they only understand the basic elements of shape.  Drawing with Children will definitely give you the tools you need to help your child be able to draw!  I highly recommend it as a resource for your homeschool shelf =)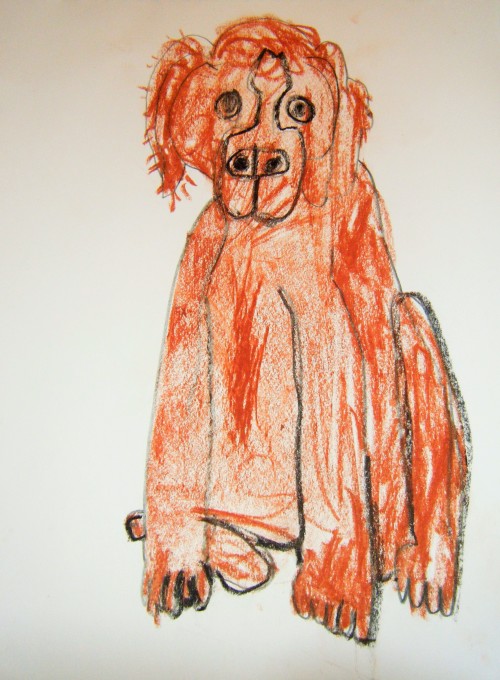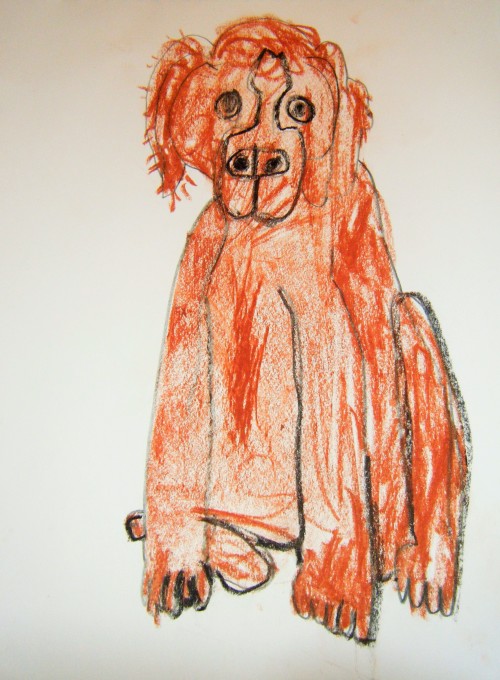 Finished dog by my five-year-old
written by Amy Maze – www.livingandlearningathome.com