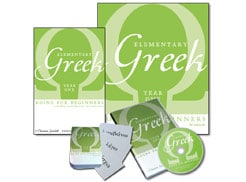 Elementary Greek , year one, by Open Texture  is designed to be used for as young as second grade.  It is a full year's course and is written simply for the teacher with little to no experience in the Greek language.  It's 30 weeks of lessons are laid out in daily portions that take around 20 minutes on average.  Each child needs their own workbook and everything else is non-consumable.  This course would also be great for a student of jr. high or above to complete on their own with little help from an adult.
One of my children took an interest in Greek in kindergarten.  How did this happen, you ask?  Well, living up to 2 older brothers isn't always easy.  So when my 3rd son saw a chance to do something different then his older siblings he jumped on it.  He wanted bragging rights in one area of his life, is what I'm guessing.  We began with the first two levels of Hey Andrew, Teach Me Some Greek.  Greek quickly became his favorite subject.  We really enjoyed Hey Andrew, but the reason why I switched is simply the time factor.  I have many children to school and I needed to simplify my day by combining more of my children's studies together or combining several subjects into one subject.  I was not about to ditch Greek with my son – being his favorite subject consistently.
So, along came Elementary Greek and solved a problem for me.  It also teaches grammar.  The grammar portion is gentler then say Shurley or Abeka, but it is comfortable from a Charlotte Mason perspective having shorter lessons.  This is how we worked it into our school.  I decided that we would take 2 years to do level one, doing Greek 3 times a week.  We do Primary Language Lessons 2-3 times a week also.  He drills his Greek vocabulary 5 days a week.
Some things that I have added to Elementary Greek to make it fit our needs better (having a younger student) have been:
notebooking grammar terms such as noun, adjective, verb, article adjective for us to reference in other areas of studies like writing.
played many games with the flashcards like laying them on the floor, throwing a bean bag on them and saying the Greek word in English, or saying the Greek letter's sound and we've played hang man using vocabulary words.
created our own silly songs and chants to remember the declensions and the irregular verb "to be".
made lapbook elements to remember things like the sounds of diphthongs, eventually we will put these together in a lapbook.
Elementary Greek  year 1 teaches the Greek alphabet, basic vocabulary, grammar and translation.  The workbook provides practice that is necessary to remembering the lesson.  The flashcards and CD are an essential part of the program.  We have enjoyed memorizing scripture in Greek also.  Click here to listen to some CD audio samples:
Lesson 20, memory verse
Written by Brenda