Is the study of economics in your four-year high school plan?  It should be!
Our families, our businesses and our world run on economic principles.  Or maybe I should say they run well (or don't run well) depending on how we handle economic principles.
Understanding basic economics is so important that every high school student should receive at least 1/2 credit instruction – if not more.  In fact, most states require at least 1/2 credit.
On my blog, I've written about several great economics resources for elementary through high school students.  I've found a wonderful new-to-me resource, though, that I'd like to share with you today!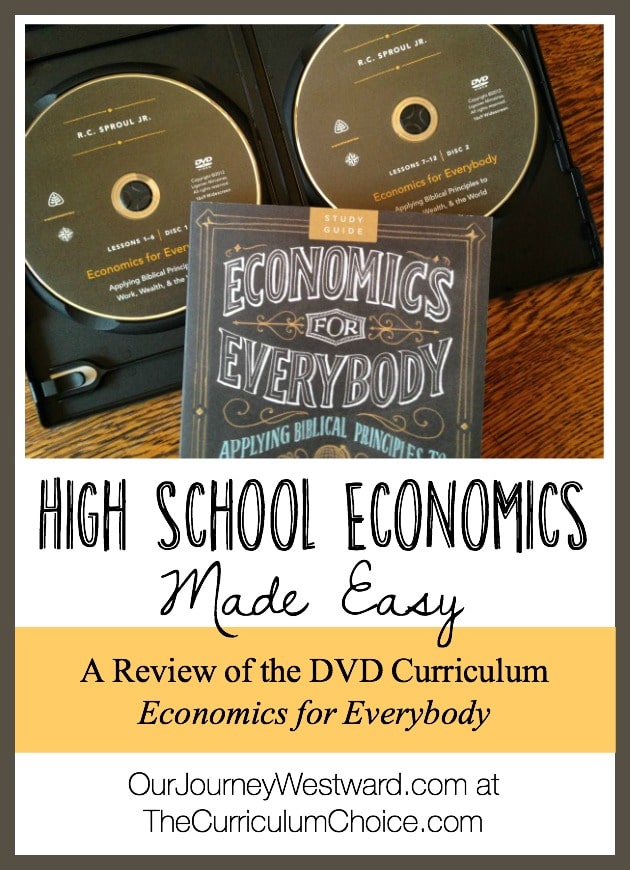 I received a copy of Economics for Everybody free in exchange for an honest review.  I have been compensated for my time spent writing this post and affiliate links are included.  As always, all opinions are strictly my own.
Economics for Everybody
Economics for Everybody includes a DVD and Study Guide that work together for an easy-to-use curriculum!
On the DVD, there are 12 teaching videos ranging from 15-27 minutes in length.  While they are full of economics instruction, they are NOT boring!  The teacher is engaging and the graphics are very interesting – even for skeptical high school students.  I love how old film clips and newsreels are utilized to demonstrate the concepts.
In the Study Guide, you find 12 lessons corresponding to the DVD.  These will always include:
A key message of the lesson
Scripture readings to reiterate the lesson theme
A listing of the lesson objectives
An relevant quote to learn
A lecture outline (which can be used for discussion and/or review before the quiz)
A multiple-choice and short answer quiz
Discussion questions (which could be used as writing prompts instead)
Suggestions for further study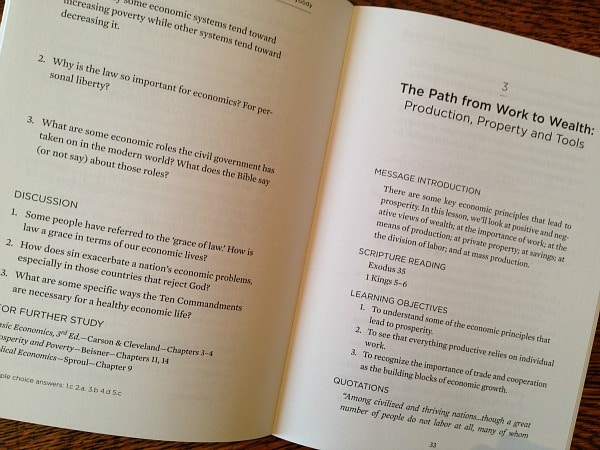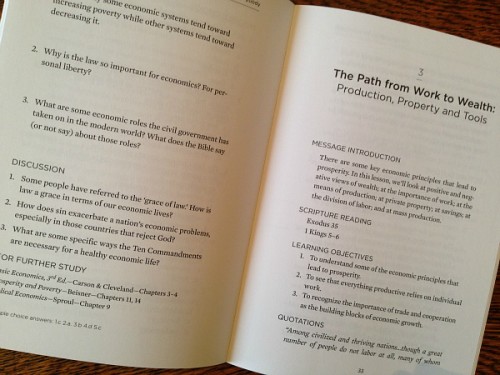 Our Weekly Schedule
There are suggestions in the beginning of the Study Guide which describe how you might use the curriculum.  In our home, we have chosen the following weekly routine:
Monday – view the video and read the Scripture selections
Tuesday – discussion with mom (I use the lecture notes to guide the discussion.)
Wednesday – read the quote and write a thoughtful response
Thursday – review the lecture notes and take the quiz (multiple-choice and short answer only)
Friday – choose a discussion question and write a one-page response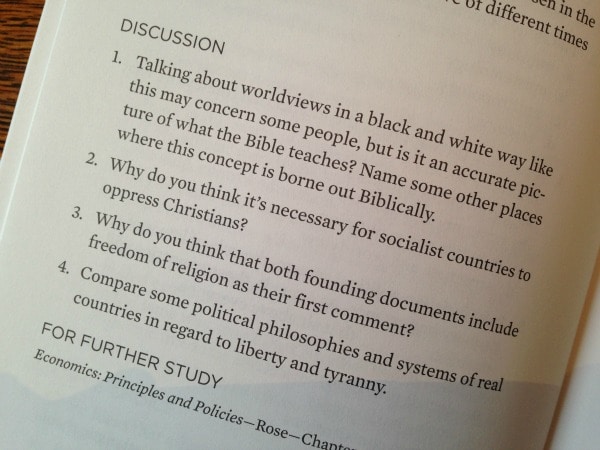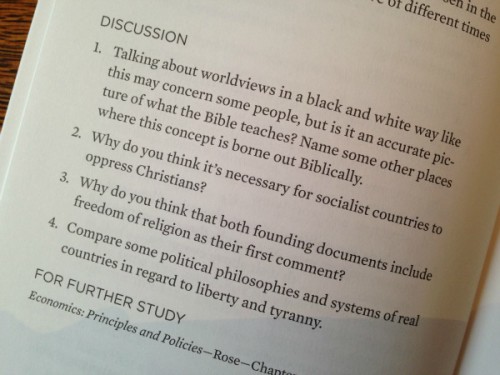 Full or Half Credit – You Decide
On its own, Economics for Everybody provides enough material for 1/2 credit.  Because we have used other economics curriculum in the past, we've chosen this 1/2 credit option. However, it's very easy to extend the curriculum to a full credit with the addition of one or more of the suggested materials for further study.  The Study Guide even lists chapters you should read in those suggested materials that go along well with the lesson at hand.
So…adding readings from one or more of the additional books and maybe assigning a few more written responses, discussions and/or projects – and you easily have a full credit's worth of material.
Christian Worldview
Economics for Everybody, written and taught by R.C. Sproul, Jr., focuses on a Christian worldview of economics and advocates a free-market economy.  While I don't agree doctrinally with all of the author's Reformed Protestant views, I love that Biblical principles are strong throughout the curriculum.  I also believe very much in a free-market economy and appreciate both the author's perspective and how opposing economic philosophies are explained.
Now that I've told you about one of my favorite economics curriculum choices, tell me about your experiences with economics instruction.  Have you used Economics for Everybody?  What other high school economics resources are your favorites?
-Cindy West is an eclectically Charlotte Mason homeschooling mom from Kentucky.  She's also an author, blogger, speaker, homeschool consultant and product reviewer.  Find her and lots of creative homeschooling ideas at Our Journey Westward.