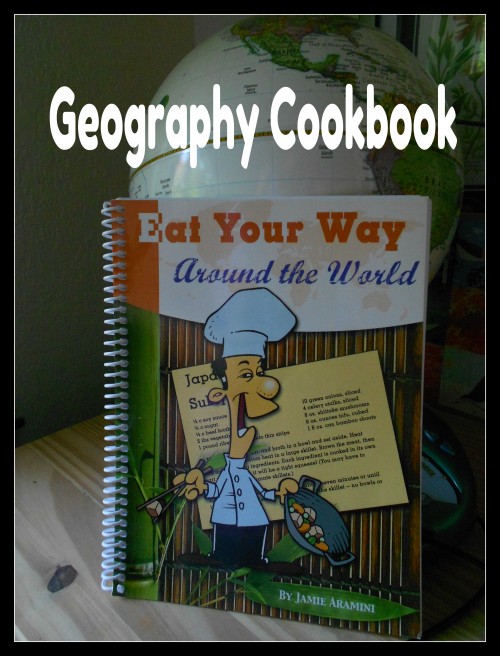 Our family is always on the lookout for interesting ways to add variety to our regular homeschool studies. With two teenage boys in the home, I was thrilled to find a geography related cookbook to go with our world geography studies. My boys never turn down the opportunity to eat.
Eat Your Way Around the World by Jamie Aramini and published by Geography Matters, is much more than a recipe book. Recipes are grouped by continent and then by country to make flipping to your desired subject and recipe a snap. Once at your destination, there is narrative text to give you some background information on the culture, the ingredients used, and suggestions to make your meal more authentic.  There is even information for some of the countries on etiquette.
For example, in the section on China, we learned that the eldest person at the table is always served first. Hot tea is served with each meal because it is thought to aid digestion. Most importantly, the book gives this practical tip: Do not use the chopsticks as musical instruments on the dishes or the table.
How Did Our Family Use This Book?
We would pull the book out at the beginning of the week and turn to our featured country (or continent). The boys would take turns reading out loud the information presented and we would decide which recipe we could work into our weekly menus.  The actual cooking of the recipe would be a sort of wrap-up of our study, a delicious reminder of the country we had just finished studying.  We would plan to serve the meal at dinner time so the boys could not only do the cooking, but they could share a bit of what they learned and appreciated about each country.
We enjoyed plenty of the recipes in this book: Shish Kebabs from Egypt, Injera (flat bread) from Ethiopia, Groundnut Stew from Nigeria, Soft Pretzels and Apfelstrudel from Germany, Scones from Great Britain, Soda Bread from Ireland, Beef Stroganoff from Russia, Maple Chicken from Canada, and so many more.
The recipes used ingredients easily found in our pantry or at our local grocery store – no fancy spices needed.
The instructions were very kid-friendly and we liked every recipe we tried.
The additional information in each section is worth the price of the book, even if you never cooked a single recipe. ( You would be missing out on a lot of interesting dishes if you did that so I don't recommend it.)
There is a wide range of countries represented and three recipes per country so there will be something for everyone.
112 pages with a spiral binding and laminated cover (easy to clean).
A big thumbs up review from this family for Eat Your Way Around the World…..or maybe that should be forks up?
Written by Barb-Harmony Art Mom. I blog at Harmony Art Mom and am the creator of Harmony Fine Arts. I would love for you to join us for the Outdoor Hour Challenges at the Handbook of Nature Study.