Copywork should be easy.  It should be related to the history lesson or pulled from the read-aloud selection.  It can come from art, music, or science.  It can be a statement, a poem, or a definition.  Copywork should be easy, but if I do not take the time to gather and organize the passages it becomes a tedious, time-consuming problem.  Most of the time, I am on top of things well enough to avoid copywork problems. 
There are times, though . . . oh, there are times . . .
For the times when time is not on my side and my child needs a bit of copywork and I have not prepared it, I use bought copywork.  I have to admit that I am sort of against this.  It seems a waste of time to purchase copywork when I could easily pull it from one of our readings.  I have purchased a couple of sets of copywork anyway, and I must say that I have been pleased.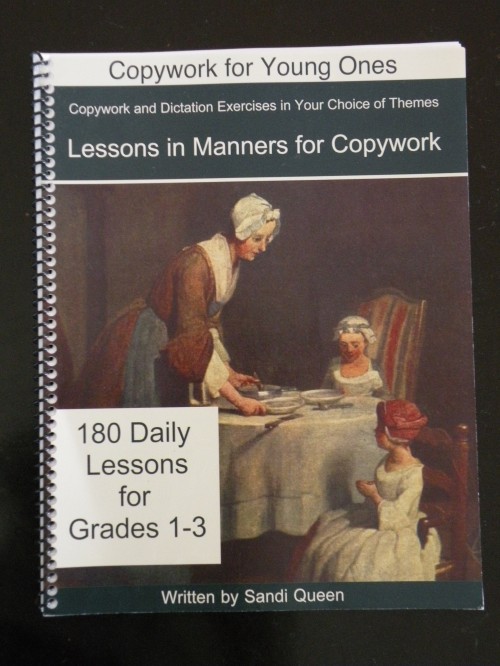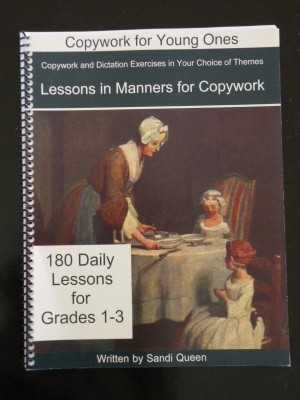 My current favorite in bought copywork is Lessons in Manners for Copywork from Queen Homeschool. 
This spiral-bound volume is part of Queen Homeschool's copywork series for students in grades 1 to 3.  It contains 180 copywork selections, as it is intended to be used every day for a school year.  The sentences range from 15 to 30 words.  They are appropriate in length and word choice for early elementary students, and could even serve as dictation exercises if the parent were so inclined.  Selections are biblically-based and designed to support parents as they seek to raise mannerly children.
The lessons in manners break down into several useful categories.  
 "Being Polite at Home"
"A Thank You Letter"
"Apologies"
"Special Rules for Boys"
"Special Rules for Girls"
"When Speaking About Others"
"When to Say Excuse Me"
"When Receiving a Gift"
"Politeness When Company Comes"
"Using Your Manners at Church"
"Using Good Manners When Giving the Gospel"
"When Playing in a Group"
"When Helping Dad or Mom"
"When Playing with a Younger Sibling"
"Introductions"
"Talking with Others"
"Other Rules for Using Your Mouth"
"Repecting Someone Else's Property"
"Good Manners in the Library"
"Putting Others First"
Each heading is followed by ten or more groupings of sentences covering the topic simply and directly.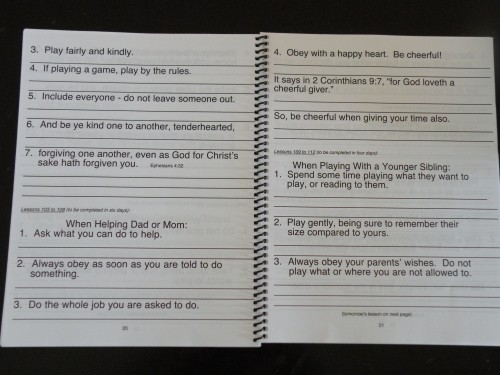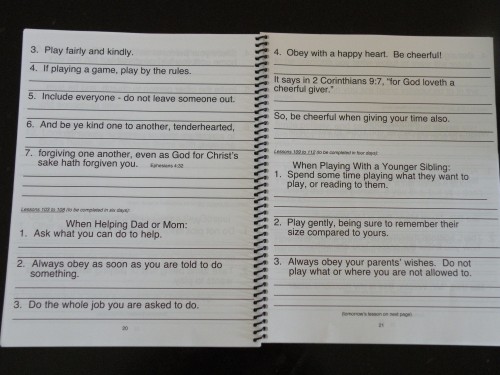 For example, a selection under "Being Polite at Home" reads "If you are next in line for the bathroom, and your little brother who is just learning how to use the potty needs to go, let him go before you." 
Simple and direct.
Selections pertaining to the topic of speaking about others include "Only speak the truth," "Never pass on gossip about others," and "Do not complain about people to others.  Let your requests be made known unto God."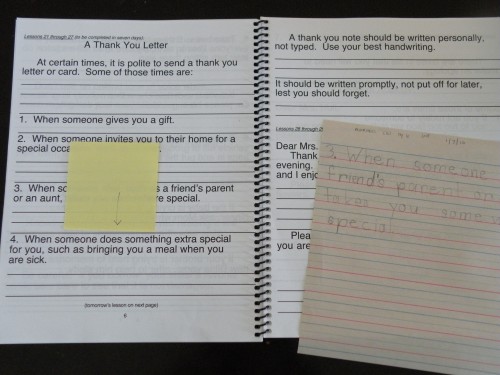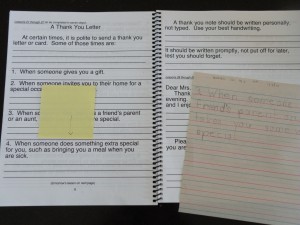 I have been pleased with this book on several levels.  At any moment, it is easy to take from the shelf and hand to my daughter.  We do not write in the book as the publisher suggests, as the lines are too small.  A piece of age-appropriate lined paper and this book, however, make for easy copywork.  I have also appreciated the commentary on being a mannerly child.  It has inspired several meaningful conversations discussing personal presentation and thoughtfulness for others, which have been in line with our family goals.  Lastly, it has 180 selections, which is, quite frankly, a lot of copywork.  So, though this book cost almost $10, I will get my money's worth by the time we are finished with it.
Lessons in Manners for Copywork and Queen Homeschool's other copywork books are available directly at the Queen Homeschool website.
Susan S.  is a homeschooling mama of three little ones who get bigger and livelier every day.  They delight in living books and hands-on math, and are nurturing a love for God and the amazing world that He created.