When we first began the school year this past fall, one of the things we were most looking forward to was the Cover Story writing curriculum. We had utilized a variety of writing programs over the years and none were really very exciting. I had a strong feeling that Cover Story was just what we needed to spice things up.
We've been working through Cover Story for a few months now and I am delighted to say it was just what we needed. The variety of writing assignments combined with a compelling yet challenging goal of publishing their own magazine have opened doors for future opportunities and built bridges between generations.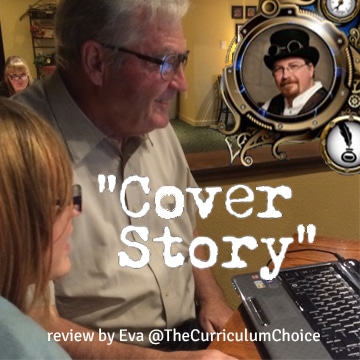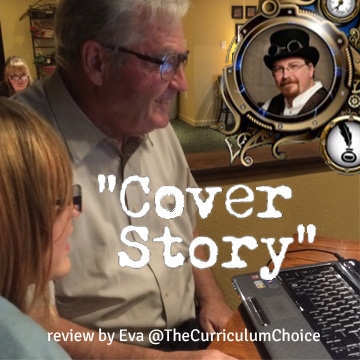 The Cover Story Vision
Cover Story is a DVD-based curriculum taught by a professional writer.  The HUGE benefit is that it's a complete language arts program with a strong writing component. In the course of one school year, each student creates their own magazine around a theme of their choice.
Throughout the year, they will work on a variety of creative writing assignments – all individual components that will comprise the magazine:
poems (haikus, limericks, etc.)
short stories
advertisements
non-fiction articles and reviews (read my son's restaurant review here – The Napa Rose Restaurant)
interviews
letters
While every child is working on a theme of their own choosing, the writing assignments are clearly described and yet adaptable to a variety of circumstances. This has really impressed me.
The interview assignment is one that has been the most remarkable thus far. My daughter's magazine theme is Japanese anime. She was in nearly in tears when we read through this assignment. "How am I going to do this, Mom? How do I write an astounding but true story about anime? The director of one anime died before the series was finished, that might work. But no one I know even watches it so how do I interview someone?"
I reached out to the publisher to inquire about our dilemma. Their response really helped us to connect the pieces:
The primary object of the lesson is to get kids to 1) interview someone, and 2) pay attention to what they are hearing — to dig for those tidbits of interest that are often more compelling than whatever they had in mind before the interview.
With this in mind, both kids were able to connect with their interviewee and find a compelling story. Not only did they complete the assignment – they made connections with elders and have begun to develop relationships with future mentors.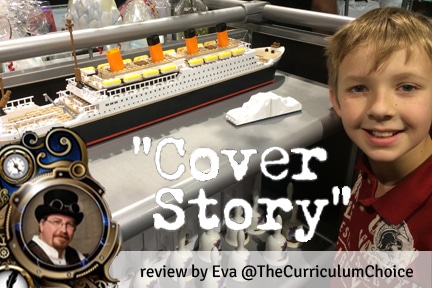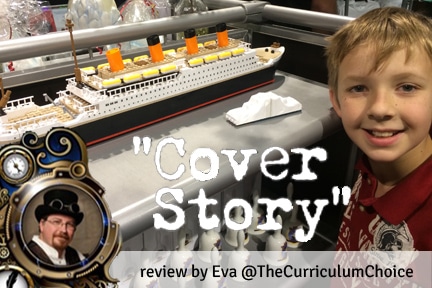 The Cover Story Curriculum Kit
6 DVDs with dramatized lessons ~ Each of the 70+ lessons is presented complete with costumes and props to explain a certain concept. My kids find the DVD a little silly so they've opted to skip these a few times.
1 student book ~ Generally, we read through the lesson after watching each video lesson. Occasionally, we skip the DVD lesson and begin here.
1 teacher's guidebook ~ Provides clear scoring guides and descriptions of what to look for in the student writing. It is clear and concise.
1 DVD of grammar lessons ~ We haven't used this piece, it is completely optional.
1 journal ~ This is a hardcover book that includes some passages already written from the fictional Professor Gunther von Steuban. The purpose here seems to be to observe life around you and to record what you experience, just like the professor. We opted not to do this component as we do so much journal writing independently.
Each writing strategy taught is through a step-by-step process of brainstorming and planning, then outlining before actually writing.  The repetition is helpful and cements the entire learning process.
I ask my kids to do the writing assignments on paper. Thereafter, they are expected to first self-edit and then exchange papers to peer edit before finally typing up their work on the computer.
While it is not required, my kids are looking forward to printing it and binding it like a real magazine.  They even have a few friends who've asked to purchase a limited edition copy! Way cool!