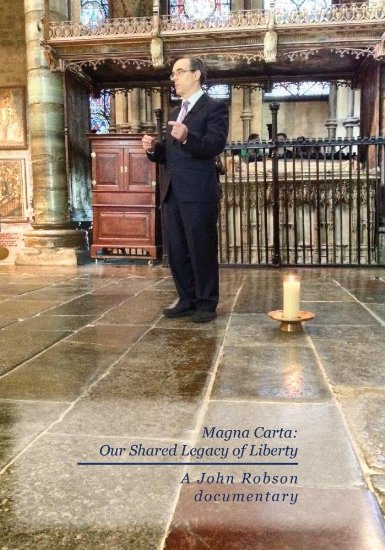 King John signed the Magna Carta 800 years ago.  Many people, like my young teens, wonder,
Who cares?  Why would it matter to us?
John Robson's documentary, Magna Carta: Our Shared Legacy of Liberty answers this question with a whirlwind tour through history and a stirring call to action.  From King Alfred's neglected cakes and Henry VIII to the Jamestown settlement and the 'comic opera' Upper Canada rebellion, freedom and the rule of law were recognized, threatened, established, fought for, and granted.  In this process the Magna Carta played an enormous role.  It recognized that the king could not make law but could discover law, and that he himself was under the law.  This is what made King John chew the rushes on his floor in royal fits of temper, and this is what the barons forced him to sign.  In recognizing limited power of the king, this charter gave freedoms that have lasted, in some form, to the present.
The freedoms of the Magna Carta, principles that were already well-established in its day, have been defended for 800 years.  Throughout the centuries and the English-speaking world, courageous men and women risked their lives for those freedoms.  Robson believes that in our day, with the erosion of the rule of law and of basic freedoms, they again need to be defended.  I suspect that is why he made this documentary, why he teaches university-level American history, and why he is heavily involved in the Canadian media.
This two-hour documentary, filmed on location, draws in several experts, presents historical re-enactors, and is generally pleasant to watch.  The music is well-done and so is the filming; my only problem with it is Robson's repetitive gesturing, but that is a minor matter compared to the film as a whole.
I watched The Magna Carta: Our Shared Legacy of Liberty with Miss 15 and Miss 13 a few months after reading James Daugherty's Magna Charta out loud.  Earlier this summer some of our family also saw one of the earliest copies, sent throughout England, at the Canadian Museum of History!   With this background the girls enjoyed the historical stories, the views of the castles, and the reenactments, although they were not as inspired by the struggle for freedom as Mr. 20 and I were.  Even so, I would recommend The Magna Carta for your homeschool no matter where you live; it will teach your teens history, but more than that, it will begin to show them, from history, that freedom is something precious, worth defending.
Although you can buy a copy of  Magna Carta here, John Robson has also posted it on YouTube.
Because the Magna Carta is fundamental to Canadian history, this forms part of our multi-year Canadian History course.
Disclosure:  As usual I am not compensated for this review.