History is one of the subjects that I like to think out of the box for. There are so many opportunities to learn without the use of traditional textbooks. From historical fiction to movies, hands on projects and field trips, you can make history come alive for your children! (And they will better remember it all too!) One of the many ways we are doing this in our homeschool is through the use of coloring books for history study.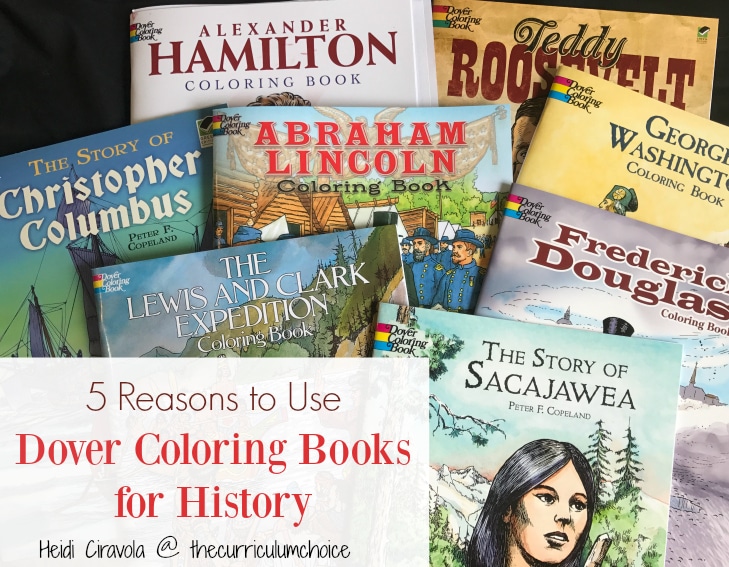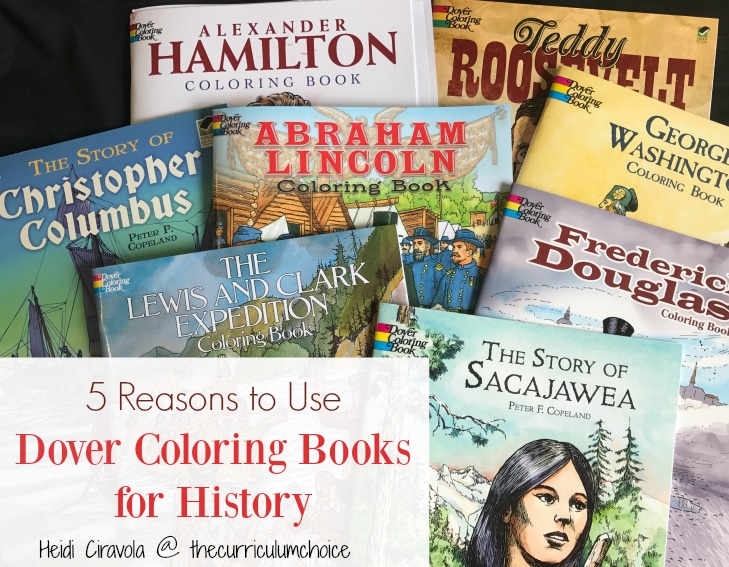 We are using a collection of Dover Coloring Books to cover some historic figures in American History. Figures such as Sacajawea, Christopher Columbus, George Washington, and Alexander Hamilton.  These coloring books offer a more engaging way to learn history than with a traditional textbook.
~Don't miss the discount code and giveaway at the end! I received these books for free in exchange for an honest review. My opinions are strictly my own.
5 Reasons To Use Coloring Books for History
1. Affordable
Most of the Dover Coloring Books are just $4 and $5, making them an easily accessible, affordable way to teach history. You can combine together a few coloring books to create studies on such topics as Presidents, Explorers, time periods such as the Ancients or Medieval times, and even events like the sinking of the Titanic or the World Wars.
2. Story Telling & More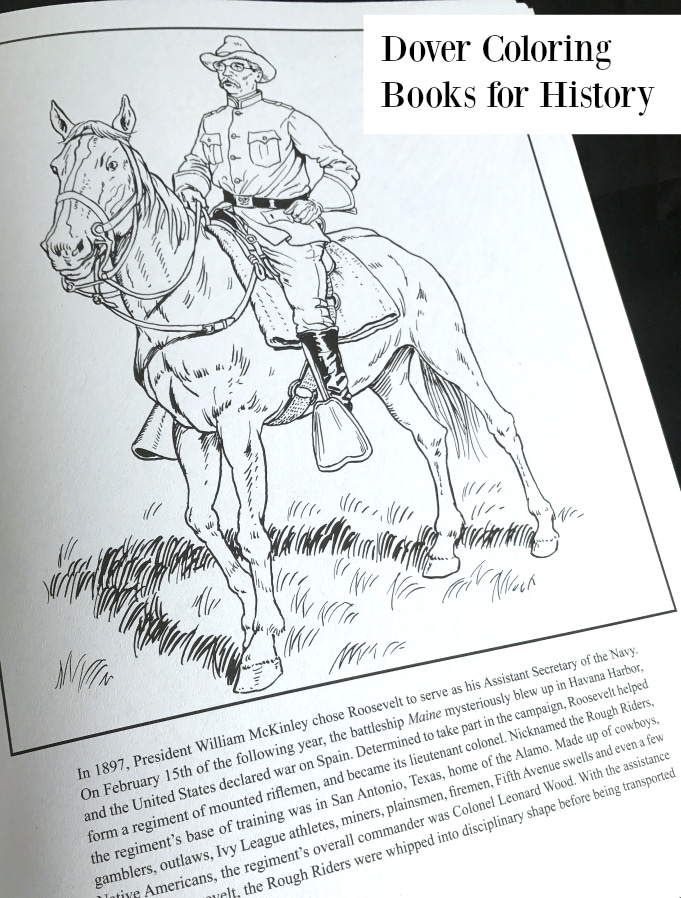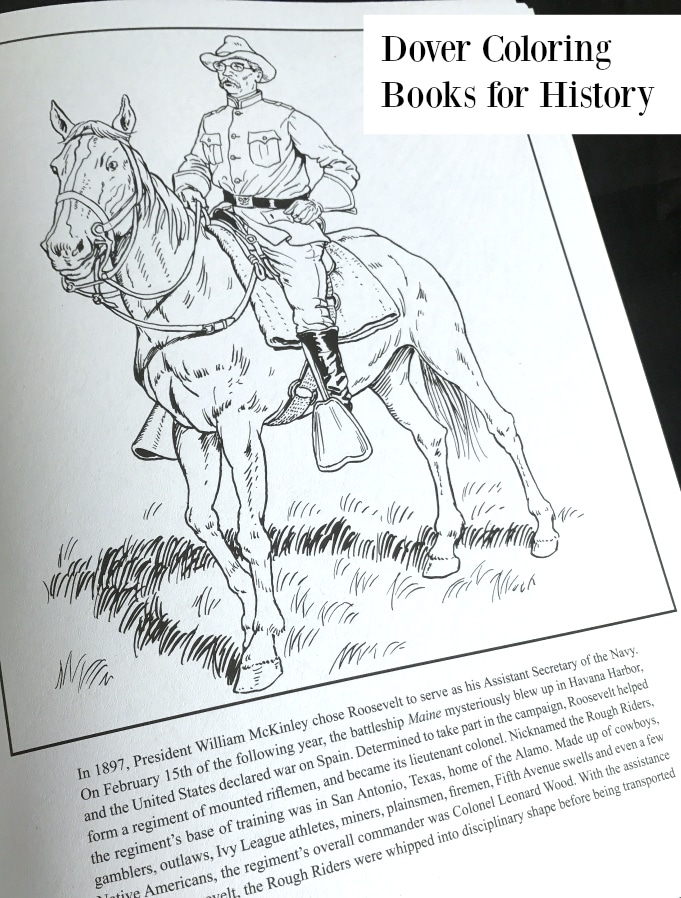 Instead of a dry textbook, these coloring books use more of a story telling approach. They are also chocked full of dates and details, but done so in a more interactive and engaging way.
Throughout the books other important details are added like maps (in the Christopher Columbus book to map the route he sailed) and original source material (Gettysburg Address in the Abraham Lincoln book).
3. Vivid Images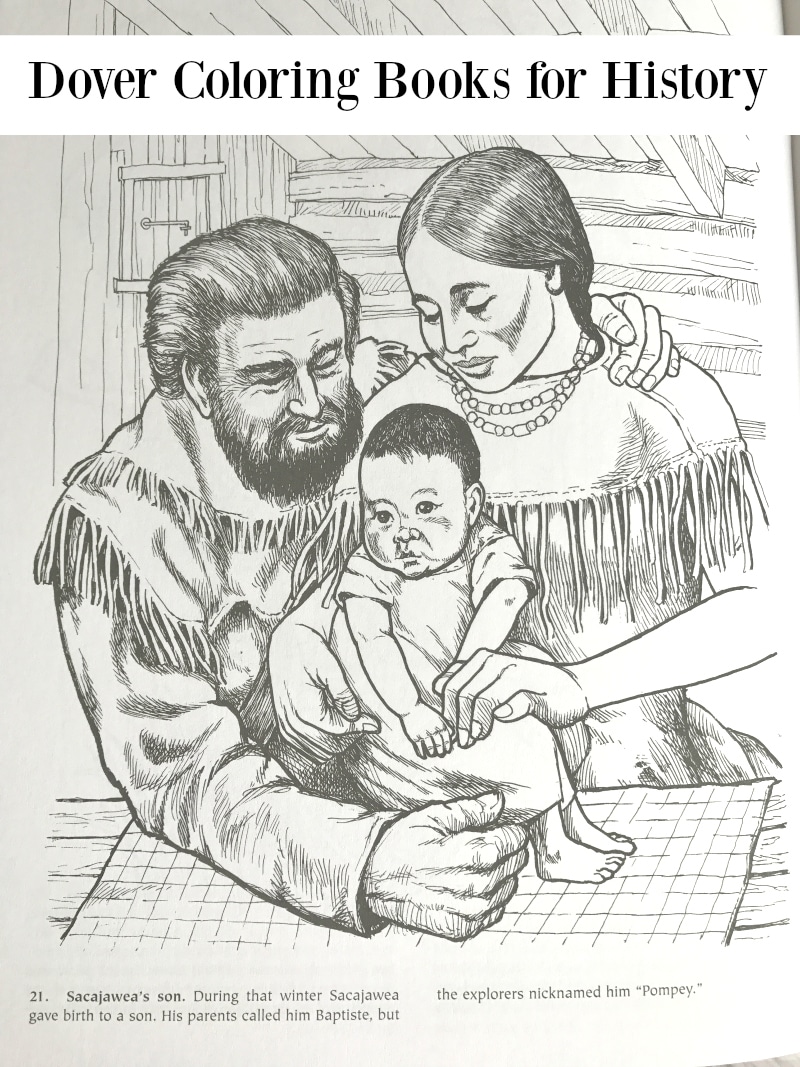 Every page contains images to color. Images such as full detailed depictions of life in the late 1700s (Sacajawea), replicas of monuments (such as the Lincoln Memorial), snippets of what life was like in America during the late 1800s (Frederick Douglass), and portraits of important people (Teddy Roosevelt).
4. Fun Activities
Beyond the fact that your children get to color in the pictures themselves, there are some fun activities included within the book, and other creative ways to use these coloring books for history.
Check out this fun activity from the latest Dover Coloring Book for History – Alexander Hamilton.
Create a Colonial Quill Pen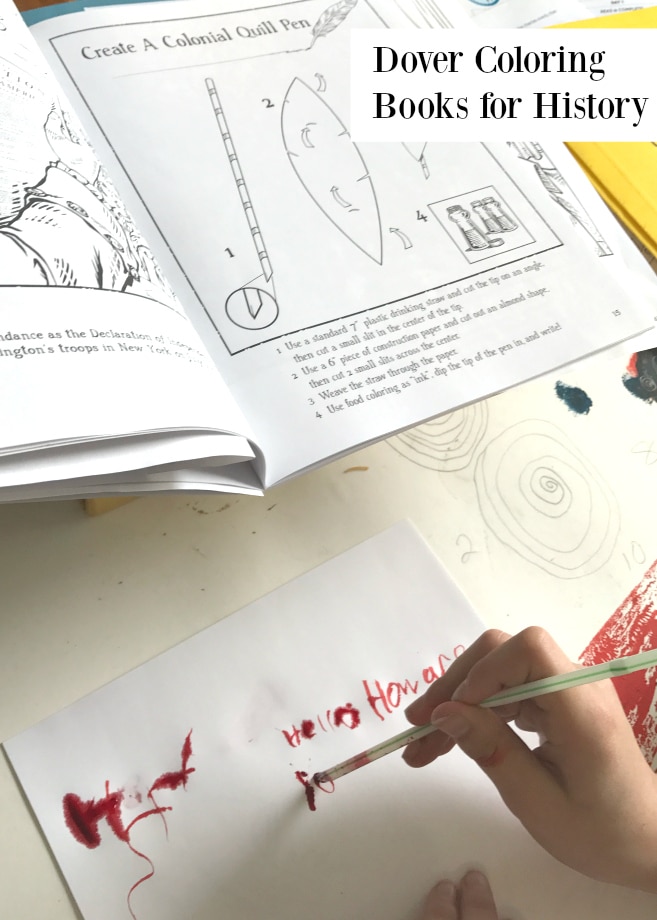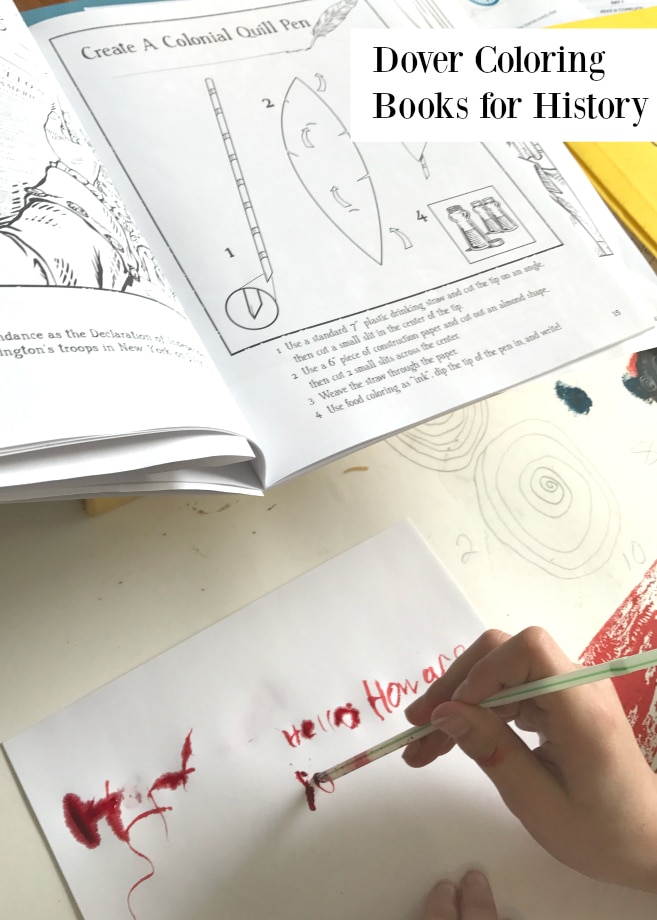 My daughter noted that in order to write she had to dip in the "ink" every couple of letters and found it to be annoying and time consuming. This of course led to a discussion about how we take our ink pens for granted and what it must have been like to write during this period of time.
5. Flexible
Dover coloring books for history can be a fun stemming point from which you add in other courses of study, research and resources.
They can be a fun enhancement to a separate course of study.
They can stand alone, giving your children an overview of a life and times in which they did not live, with dates to remember, people to meet, and places to visit.
Use them to create a history notebook.
This is a sample of the notebook pages we have created while using coloring books for history in our homeschool.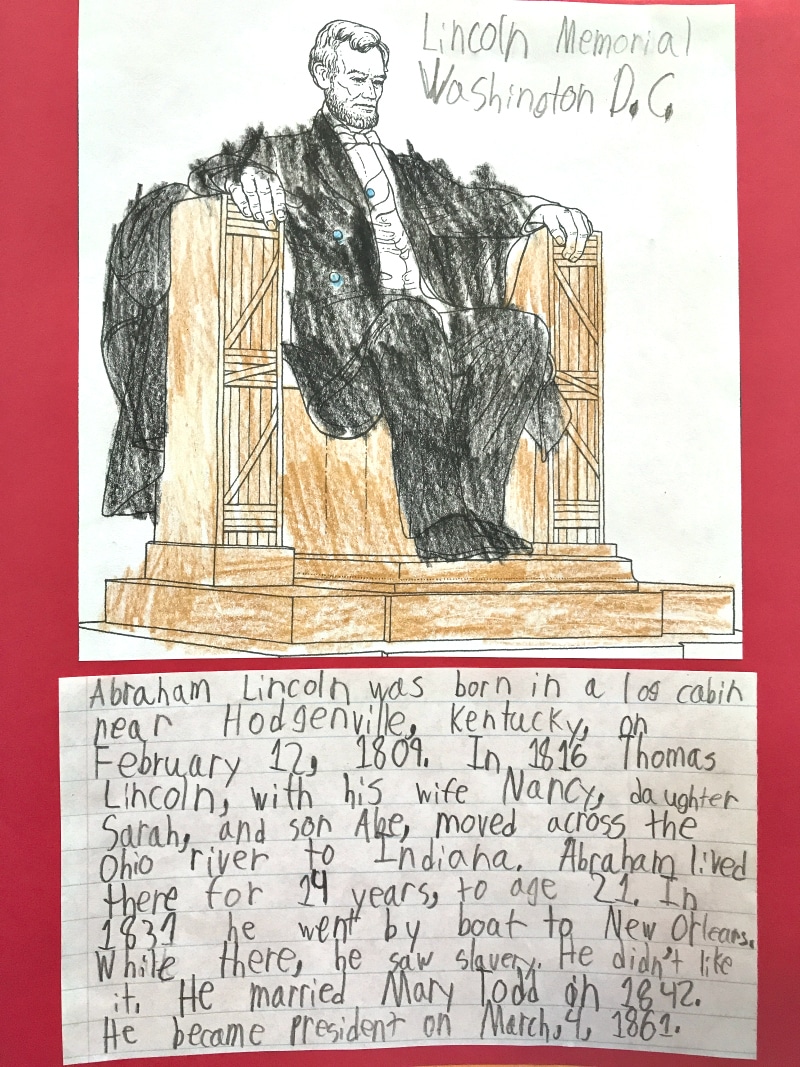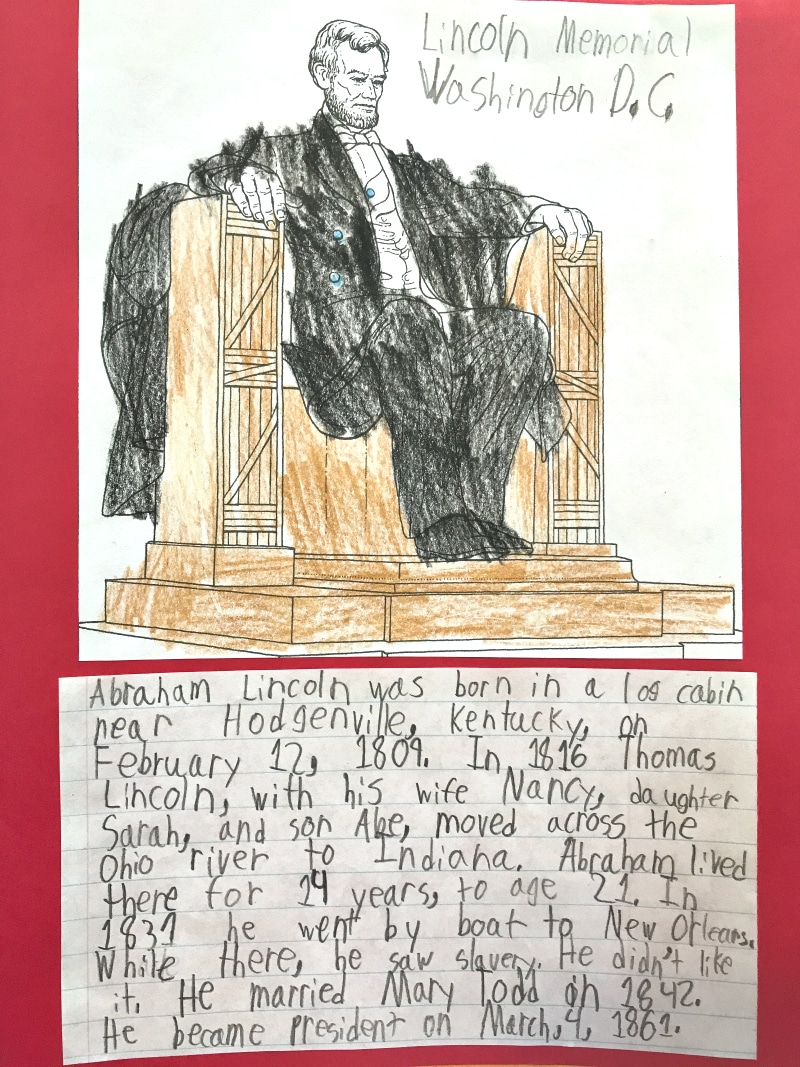 Using colored paper for the background and cutting up lined paper, you can create a history notebook of famous people, events, locations and more! This makes a great way to take what you have learned from the coloring books (and other resources you may have used) and put it together in a fun book to look through and refresh your memory for years to come!  Just pick a favorite image or two and use them to write a mini overview of the topic you studied to add to your notebook.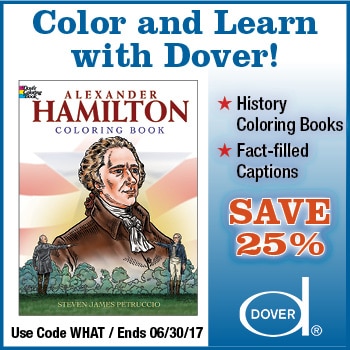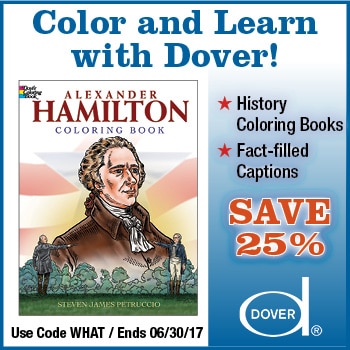 Discount Code and Giveaway
Use discount code WHAT at checkout for a 25% discount through 6/30/17!
Dover Publications is giving away one (1) "Historic Figures in American History" prize pack – with a brand new Alexander Hamilton coloring book! $35.92 value
Alexander Hamilton Coloring Book $4.99
Abraham Lincoln Coloring Book $3.99
Frederick Douglass Coloring Book $3.99
George Washington Coloring Book $4.99
Theodore Roosevelt Coloring Book $3.99
Story of Christopher Columbus Coloring Book $4.99
Story of Sacajawea Coloring Book $3.99
Lewis and Clarke Expedition Coloring Book $4.99
Simply follow the instructions in the rafflecopter widget below…
a Rafflecopter giveaway

Save
Save
Save
Save