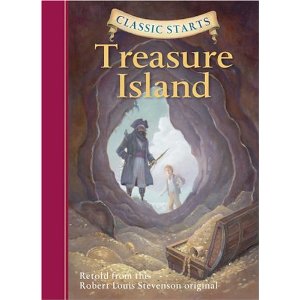 Since we've starting homeschooling, I've been so surprised at how much I learn right along with my kids.  I've always loved to read, but I feel like I wasn't exposed to the classics as much as I should have been as a child that went to public school.  So, I've made it my goal to once again, learn right along side my kids and read tons of classic literature.  When we first started out a couple of years ago, I wasn't sure they would be able to comprehend what we were reading, but I was so wrong!  Even my then 3-year-old would sit and listen and ask questions.
Although I want to incorporate more classics, a 400-page book and three little kids just doesn't seem like the best match sometimes.  So, I was really excited to find the "Classic Starts" series.  They are abridged versions of TONS of classics that are very easy to read and understand for little ones.  Even though they are abridged versions, not exactly like the original, they are extremely close and very well written.  They're very affordable and available in hardback and audio versions.  They are also sprinkled with illustrations here are there too, adding a visual element for younger kids listening.
This series is very large, featuring almost any children's classic story you can think of…like:
Treasure Island
20,000 Leagues Under the Sea
Black Beauty
The Secret Garden
Oliver Twist
Robinson Crusoe
The Adventures of Sherlock Holmes (We are reading this right now and my boys are totally digging this book!)
We read Treasure Island at the end of the school year as a 'fun read' and my boys loved this book!  You can click here to see how we used this book to delved deeper into our classic literature.
At the end of each book is a list of discussion questions, which can be read as you go along or when you're done with the book.  This is a great addition because you can really get some good narrations from your kids and know that they are grasping what they're reading.
Since summer is now in full swing, I would recommend adding some of these books to your summer reading lists!
Alicia can be found either reading classic literature to her three busy kids or blogging over at La Famille.