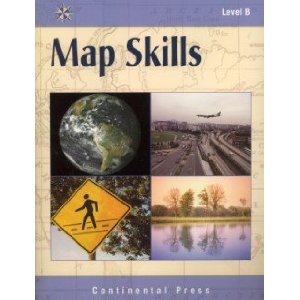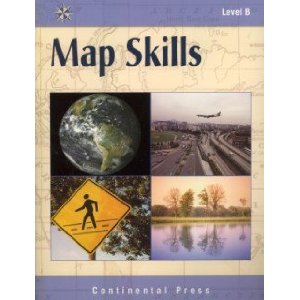 I feel a bit like a nerd to share this, but one thing that I always loved working on while I was in school was map skills.  I thought it was most fun when those maps were brightly colored, having always been a pretty visual kind of gal.  I was thrilled, then, to find the Map Skills series from Continental Press, which is available from a variety of online stores.
Pros:
Affordable – Because each level is just a thin workbook (though it is full color), the price for each level is very reasonable (the prices vary by the places I found them)
Optional Teacher's Guide/Answer Key – The teacher's guide/answer key is also very inexpensive, as it is just paper (no cover) and is only around 20 pages long (varies by level, I imagine).  The Teacher's Guide gives information about the student objective for each page, as well as introductory activities and often extension activities.  There is also, of course, a section of the booklet that is an answer key.
Visually Appealing – The student workbooks are full color.  This makes the maps easier to read, and is also just fun to look at.
Easy to Understand Instructions – Assignments can be done with minimal adult assistance, if desired, once a child understands the basic concepts.
Wide Range of Grades/Levels Available – Continental Press makes these books in Levels B – G, which they say are for 2nd grade through 8th grade.
Cons:
Length – Although this is a non-issue with me, if you are wanting to do a couple of pages each week for an entire school year, you will have to buy more than one level.  However, if you are happy with one page per week (or a couple of pages every other week), then one level will be enough for one school year.
Can Be Difficult to Find (if you want to combine shipping on your homeschooling order) – I wasn't able to find this program carried at many of the bigger homeschooling websites.  I easily found it, however, through the Continental Press Website, Amazon (through third party sellers, though some are selling cheaper than CP's website), and Catholic Heritage Curricula (though it is not a religious based program).
Angie is the founder of Many Little Blessings, The Homeschool Classroom, Catholic Mothers Online, and Catholic Gadget.  She also might need to make a map to find her bed soon.