It is so difficult to find well-researched, well-written Christian biographies that appeal to all ages!  As homeschoolers we are constantly looking for such resources, and in Simonetta Carr's Christian Biographies for Young Readers series we have found a treasure. These stunning books
speak to children, teens, and adults;
are lavishly illustrated with photographs as well as original artwork;
give a clear and fascinating picture of the person as well as his or her times;
discuss the person's ideas and contributions accurately but simply;
often present the person's own thought through letters and other writings;
portray heroes of the faith positively without glossing over their failings; and
present conflict in factual, non-inflammatory manner.
It is difficult to imagine a better series for our homeschools.
Our family has been blessed with 7 of the 8 volumes in the Christian Biographies for Young Readers series and I have written a detailed review of each one of them, to which I have linked in the mini-reviews below.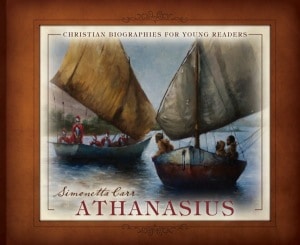 Athanasius (296-373) was central in one of the most crucial discussions the church has ever had:  who, exactly, was Jesus Christ.  Simonetta clarifies the issues while chronicling Athanasius's many narrow escapes, his interactions with several Roman emperors, his dedicated service as bishop in Alexandria, and the many problems Christians faced in those days.  The book ends with one of the great creeds of Christendom, the Nicene Creed, which arose out of the struggles of these days and is still used today.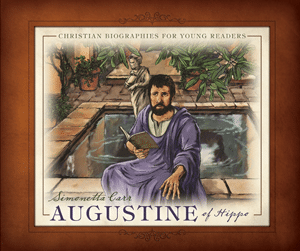 Augustine of Hippo (354-430), arguably one of the most influential men in Western civilization, began life as a wild lad in Hippo on the Mediterranean coast of Africa.  Constantly prayed for by his loving mother Monica, he was finally converted and became a dedicated leader who preached and wrote tirelessly.  Youthful crimes, sea journeys, emperors, ambushes, the Visigoth siege of Rome, and the Vandal siege of Hippo all figure in this book.  It also discusses Augustine's ideas, his writing, and his legacy.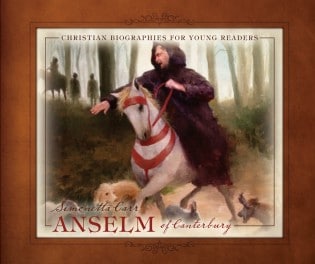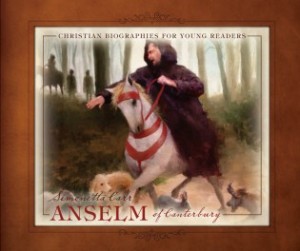 Anselm of Canterbury (1033-1109) also greatly impacted Western civilization.  Even though he wished for a peaceful life of writing and contemplation, Anselm's exciting life was full of dealings with powerful kings and popes and with his duties as archbishop.  He also found time to discuss the relationship between faith and reason in a way that still influences us today, and to teach his people about why God needed to become man.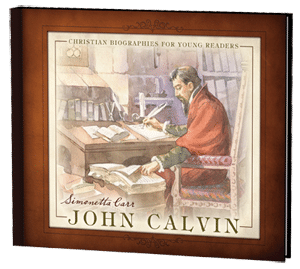 John Calvin (1509-1564), one of the most famous reformers, spent most of his life teaching about God's Word.  Although he, too, just wanted to study and write, he accepted a dramatic call to be a pastor in Geneva and continued to serve there and elsewhere despite mockery, exile, ill health, and personal grief.   Yet he also penned an enormous amount about the Bible and related matters.  "Since I remember that I no longer belong to myself, I offer my heart to God as a sacrifice," he wrote.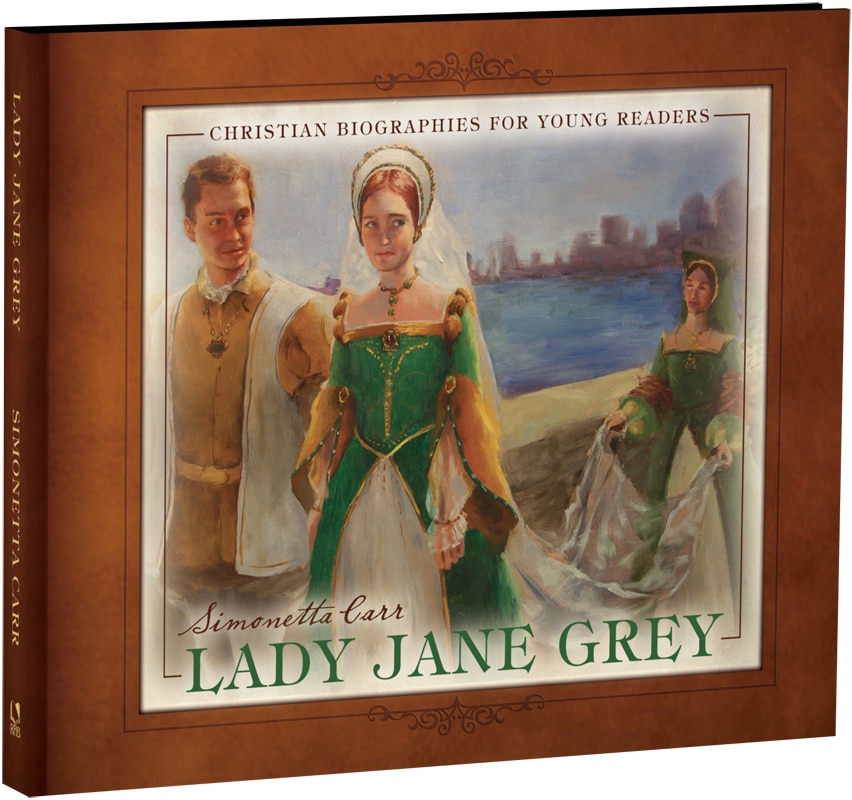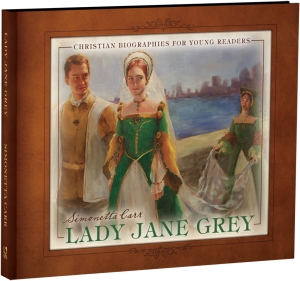 Lady Jane Grey (1537-1554) is an inspiration to us all.  This teen, queen for only a few days and a pawn in the hands of those who should have protected her, faced death bravely, leaving behind a legacy of courage and devotion rarely matched.  Her story has been told often, but for beauty, simplicity, and accuracy it is hard to surpass Simonetta's version.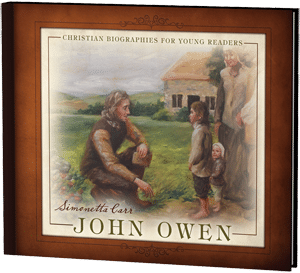 John Owen (1616-1683) is, I think, my favorite of this series. His love for God's people, as shown in the beautiful family catechism lesson on the front cover, flourished throughout the English Civil war and afterwards, despite the objections of those in authority.  His health, damaged during his intense student years, continued to plague him all his life, and the deaths of his eleven children as well as his wife filled his days with grief.  Even so he studied intensely and wrote clearly, defending the truth of the Bible against all who wanted to change it and giving practical encouragement to Christians ever since.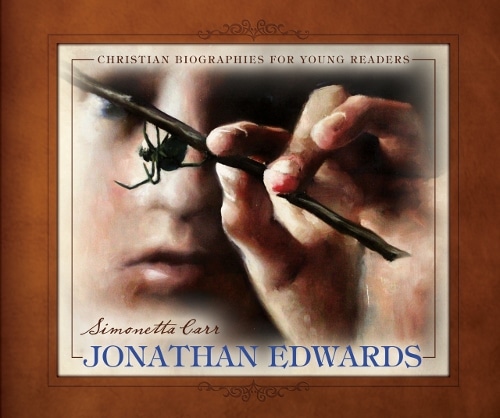 Jonathan Edwards (1703-1758) is like Anselm in that he lived at a time when people were beginning to doubt long-accepted ideas about the world, life, and God.  His answers, like Anselm's, reverberate through the years and still influence us.  Simonetta follows Edward's busy life from student naturalist to pastor, missionary, family man, and leader of the Great Awakening, giving a poignant glimpse of colonial America.
One additional biography, John Knox, I have not yet seen.  Other bloggers' reviews of this book are available here.
Reading through this series, I notice a common theme of devotion to God, love for his people, serving however God requires despite personal preferences, and coping with miseries such as conflict, ill health, and depression.  Our modern lives seem so much simpler in some aspects, but so much more complicated in the mental effort of focusing on what is important.
In our homeschools, the Christian Biographies for Young Readers can, obviously, be used for church history, but they are also valuable in different ways.  As biographies, they introduce our families to some of the greatest people who ever lived.  Because they give an intimate experience of the world at the time, they are also valuable supplements to any history course.  When I loaned them to a school teacher, she used them in a character unit study.
Even though Christian Biographies for Young Readers are excellent homeschooling resources, they are also treasures in their own right and would make inspiring gifts for anyone over 7.  Children, teens, and adults will learn from these books, true, but more importantly they will be inspired to serve God joyfully and with their whole being.
To find out more about these books, visit the publisher's website.  Note that some of them also have study guides.
Disclosure:  I received these books in order to review them on my personal blog and am thrilled to share them here as well.