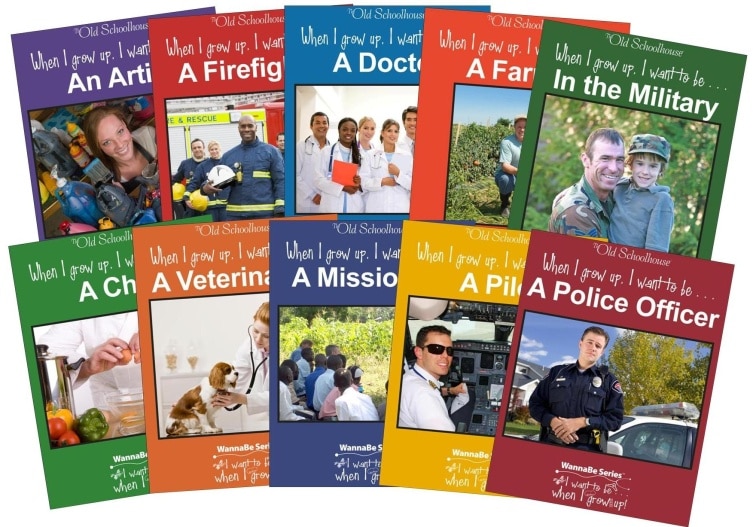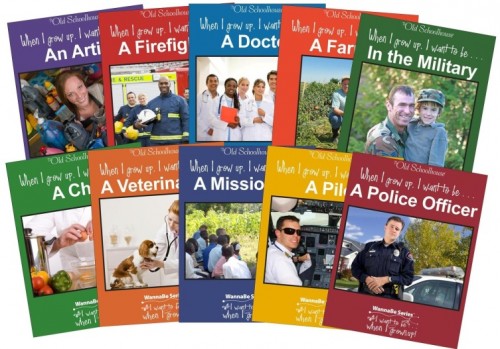 "What do you want to be when you grow up?" is a question most children love to answer. Those answers change many times through the years.  When I came across a sale for the Wanna Be series from The Old Schoolhouse, which are unit studies about different careers, I grabbed my debit card and ordered.  We love unit studies and I had nothing for careers in yet.  The series covers the following ten careers:
Firefighter
Veterinarian
Chef
Military
Doctor
Police Officer
Missionary
Farmer
Artist (upcoming release)
Pilot (upcoming release)
While these units are written for ages 4 – 10, even my husband and I learned a lot as we used our first two units.  I love that these units are written from a Christian homeschool perspective. I love reading how families make these careers work in their life.  The information for high school homeschoolers is wonderful, giving them direction on how to prepare for that career, while the end of unit activities have fun games and activities for younger kids.
What's inside a unit?
Information pages about the career, with information for preschoolers through high schoolers.
Crossword puzzles
Coloring pages
Handwriting Practice
Vocabulary
Copywork
Applied math problems – relating to the career.
Word Search
Creative Writing Prompts
Quiz
Fill in the Story
Experiments
End of Unit Activities – games, memory verses, and ideas for great themed parties.
Great resource lists that are internet linked.
Our first adventure centered around a police officer's job as peace keeper and law enforcer with When I Grow Up, I Want to Be a Police Officer. Each day we read a few pages from the e-book as a family and did activities.  I used the library list to gather books for our unit study basket, which we explored throughout the week.  You can find the ones we chose HERE.  We found out the tools of the trade, training needed for the job, and even some of the science behind fingerprinting.
My oldest wrote a story called The Jewelry Thief (read it HERE ) in response to one of the writing prompts in the unit.  She really enjoyed learning about how police use clues to solve a crime.  We finished up our unit with a trip to our local police department.
Our next Wanna Be adventure took two weeks using When I Grow Up, I Want to Be a Firefighter. We were able to compare many things we had learned about becoming a police officer with the path to becoming a firefighter.  Again, the library list and end of unit activities gave me plenty of ways to include my younger children.  Our second field trip in a month led us to Fire Station 3, where we saw up close and personal many of the things we had learned about during the unit.
The Wanna Be series is a great fit for our unit study family. Each title is a complete unit study.  I do not have to find books at the library unless I want to.  Many creative ideas are included for some themed games and activities perfect for my younger crowd, while the information is meaty enough that we will reuse these when the kids are older.  My children are already debating which career we will learn about next – I hope they choose chef!
Written by Tristan, mom to 5, homeschooling through unit studies with a side of lapbooks.  You can visit her at her blog, Our Busy Homeschool.
{Disclaimer because the FTC says I have to:  I bought these books with my own money, and yes, we really used them.  All opinions presented herein are my own.}