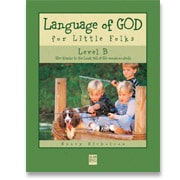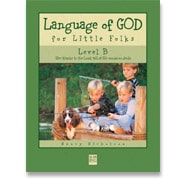 Language arts covers such a dizzying array of subjects — from spelling to composition, from grammar to vocabulary, just to name a few.  While, for whatever reason, we have gone primarily with secular sources for much of our language arts materials, we happily use Language of God for Little Folks from Catholic Heritage Curricula for grammar instruction.
The Language of God books take a gentle approach to grammar, much like other materials from Catholic Heritage Curricula. I really enjoyed that pages were easy to understand, and often my boys could work on these without assistance from me. (That's always a plus, in my book!)
As a Catholic homeschooler, I also enjoyed the overt religious content of this series of books. While learning about capitalization, for instance, the kids not only learned about capitalizing words like Susie and Dallas, Texas, but they also learned about capitalizing for Sister Mary Regina and Blessed Sacrament.
Although this isn't true of every page of the workbook, many exercises include Bible or saint stories. For example, the student may be working on proper punctuation while the sentence tell the story of when Jesus walked on the water.
These books have helped my children's grammar skills, and they have greatly helped me by being simple to implement.
The workbooks are available in Levels A through E (which is nice for struggling students, in that there is a specific grade level attached to a certain level listed on the actual book). Level A is listed on Catholic Heritage Curricula's website as being for advanced 1st grade to average 2nd grade, while Level E is listed as for advanced 5th grade to average 6th grade. The prices differ for the various levels (likely because higher levels have more pages), but they all range from $11.95 to $16.95.
Another nice feature of this book series is that the workbooks are spiral bound, which makes it easy for students to keep the book open to the appropriate page.  I also enjoy that there is an answer key in the back of the book, saving me from needing to buy a separate teacher manual.
We plan to continue using the Language of God series for our children as a portion of their language arts instruction throughout their elementary school years.
Angie can be found writing about faith, family, and household management at Many Little Blessings.  She is also the founder of The Homeschool Classroom and Catholic Mothers Online.