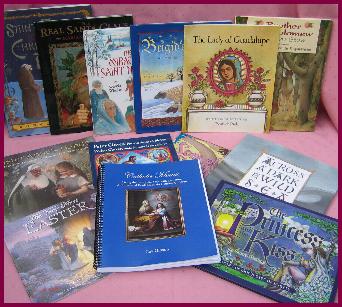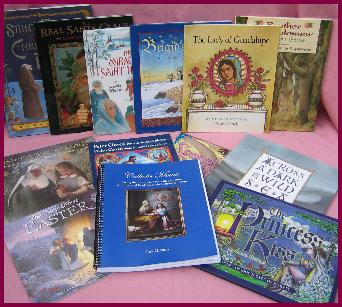 Catholic Mosiac is published by Hillside Education, intended for K-4th grade, though it has been my experience that these picture book suggestions are so well loved they are part of my families traditional yearly celebration of the liturgical year.
Young and older alike will look forward to reading or listening to such classics a:
Hans Christian Anderson's
The Little Match Girl
Song of the Swallows by Leo Politi
The Giving Tree by Shel Silverstein
Saint George and the Dragon by Margaret Hodges
Joan of Arc by Kiane Stanley
Horton Hears a Who by Dr. Suess
The Clown of God by Tomi de Paola
The Legend of St. Nicholas by Demi
If Jesus Came to My House by Joan G. Thomas
Chose from over fifty-two picture books featured in Catholic Mosiac with discussion questions, vocabulary words, copywork and enrichment activities.
Instructions are included for making a liturgical year notebook divided into the categories of:
Advent
Christmas
Epiphany
Lent
Easter
Pentecost
Ordinary Time
Baptism
Penance
First Communion
Confirmation
Vocations
Saints
Rosary
Mary Pope
Recommended resources are listed alphabetically and book lists are divided by month and then again by feast day for easy reference. The book list includes short summaries of each featured book. The black and white illustrations for each month would make nice coloring pages or notebook dividers. The parents help page for each featured book includes discussion question answers. I especially like the enrichment activities that often explain more about our faith. For example, did you know that Mary is often called our Lady of Seven Sorrows and is drawn with seven swords piercing her heart? The seven swords represent the seven sorrows in her life.
In Catholic Mosaic you will enjoy the many simple hands on activities explained through out the book. Children can make  a thankful collage, a scrapbook of beautiful things, a St. Brigid of Ireland banner, a St. Benedict ladder of humility and a mosaic valentine. Chose to go on an Indian scavenger hunt, make brown paper sandals, make a clay crown of thorns, a giving tree or create a chalice and host out of construction paper. Bake bread and cake, make a First Communion hanky, draw a kitchen angel and copy the uncial alphabet with a charred stick. Have fun with nature and decorate a walking stick, paint rocks and make crayon rubbing impressions. Celebrate Christmas by making an advent calendar and paper poinsettias.
I especially like how the craft instructions encourage children, and parents, to create a unique project, the finished craft is not a pattern look a-like product. All the crafts are explained well and use common household art supplies like construction paper, crayons, popsicle sticks, felt, scissors and glue.
There are five appendixes:
Prayers and Feast Days
How to integrate the Catholic Mosaic with Seton Art I
Integrating Catholic Mosaic with Catholic Heritage Curricula's A Year With God
Twelve Pro Life Activities Anyone Can Do
Twelve World Outline maps, with book lists from Catholic Mosaic to correspond with each map
Most of the featured books are easily found at a public or church  library, some favorites you will want to own can be bought from the book suppliers listed on page 18 in Catholic Mosaic.   Those looking to use living literature to study the liturgical year need search no more, Catholic Mosaic is the book to help you teach the truths of our faith through memorable stories and hands on activities.
Susan, who lives in the heart of Dixie with her husband and three school age children, blogs about quilting and homeschooling at Stitchin' Life.
image credit:  Fountain Resources