Are you looking for a way to add a little fun to your homeschool this March?  Do you want something easy to teach and hands-on? One year, in early March, my daughter was struggling with her reading program, and just needed a little time away from it for a bit.  I wanted her to do something related to language and something that would be new to her, and very hands-on.
~Don't miss the giveaway at the end!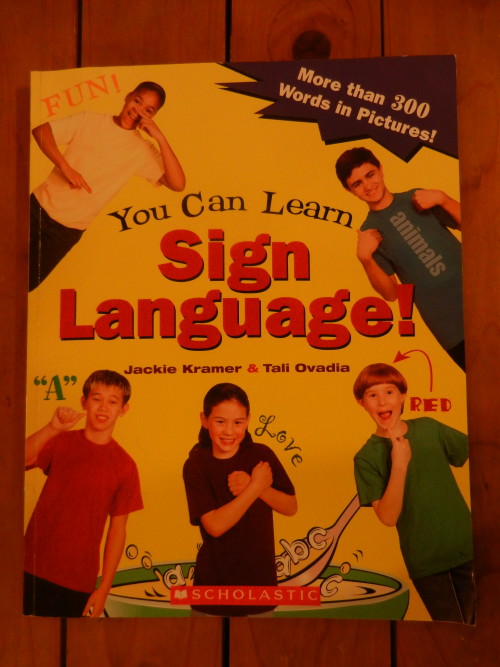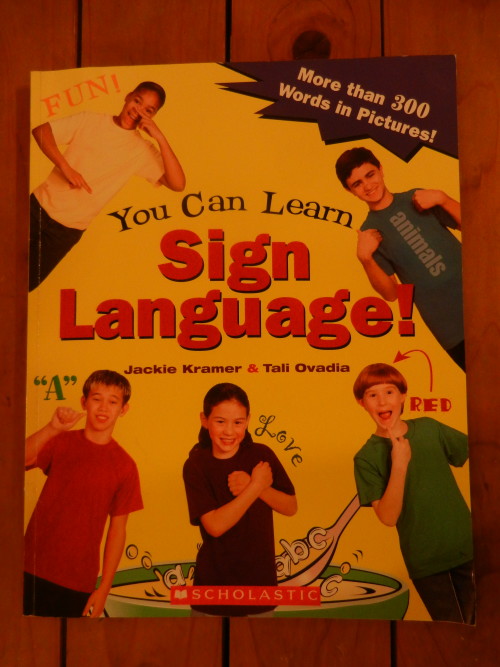 Guess what I found?  A little book, by Scholastic, called You Can Learn Sign Language, which is full of interesting signs to learn.  This was just the ticket for us.  It gave my daughter a break from her English curriculum, and introduced her to American Sign Language, which has a grammar all its own.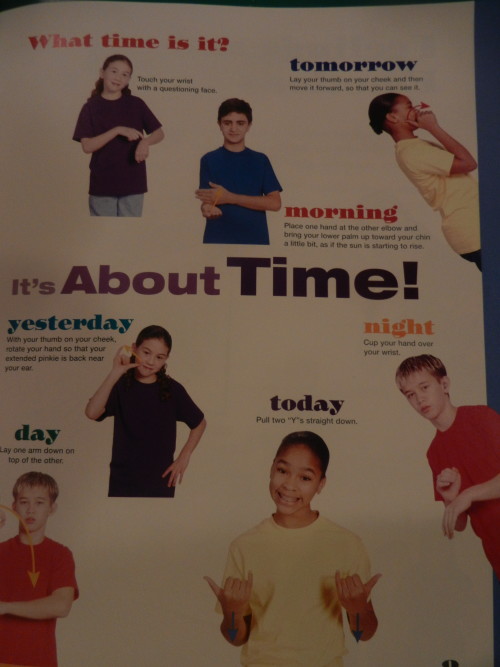 Is American Sign Language really a foreign language?  Yes it is!  And every country in the world has its own sign language that is different from all the others.  So deaf people in Australia can't sign with those from Spain, unless they know the sign language for the other country!
We learned that from You Can Learn Sign Language, which contains more than 300 signs to learn, with easy to follow instructions, and colorful, clear photos of kids demonstrating each sign.  This was such a wonderful way to add in something new, while we were waiting for spring to come.
You and your kids can learn to sign the ABC's, the numbers 1 – 10, and words for each of the following topics:
1.  Feelings and Emotions
2.  Colors
3.  Family
4.  Clothes
5.  Animals
6.  Sports
7.  Time
and 15 more.  Here's the page for Time, which includes such signs as yesterday, today and tomorrow.  You can see from this, how clearly the signs are illustrated in this book!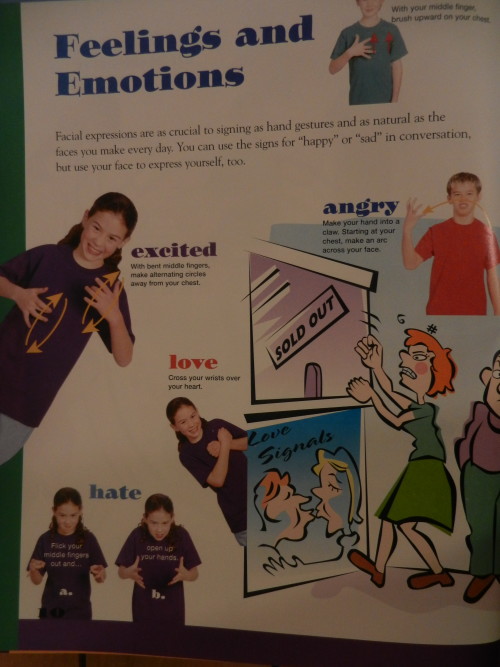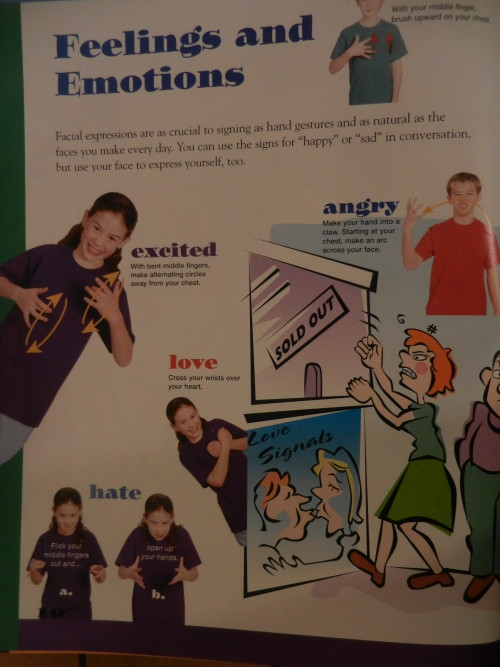 In addition, your kids can learn how sentences are put together in American Sign Language.  Here's an example.  In English, we would ask "What is your favorite?  In American Sign Language the words are signed in a different order…." Your favorite what?"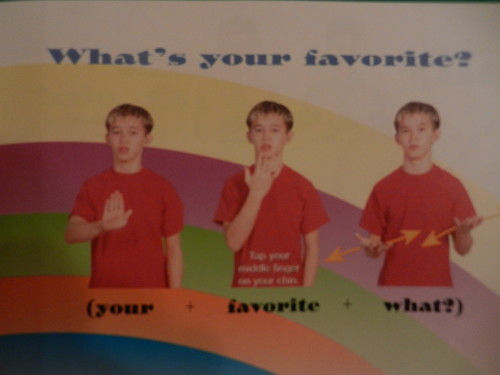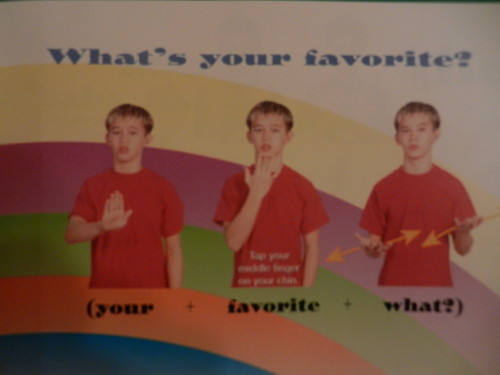 There are so many interesting facts to learn about sign language in this book.  It is endorsed by Edward Igham, a deaf psychologist who is also a Deaf Studies instructor, so it is a quality resource on the subject.  It is written for elementary kids, but could be enjoyed by all ages.  Make it a family project!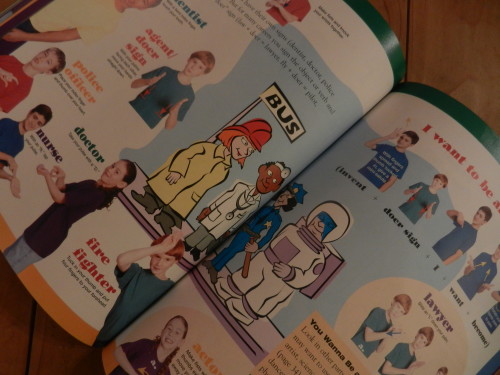 There are easy ways to use this book for kids of all ages, such as:
1.  Very simple signs, which can be used for communicating with toddlers, who aren't yet talking.
2.  There are finger spelling signs for each of the ABC's, for kids who are learning the alphabet.
3.  Primary aged kids will enjoy learning the animal signs and more.
4.  Their older siblings can try their hand at creating sentences in American Sign Language.
Take a little time after lunch, and enjoy learning sign as a family!   And while you are doing that, everyone will be improving their fine motor skills and eye hand coordination.  What a bonus!
If you are looking for a fun and quality way to introduce your family to sign language, we recommend You Can Learn Sign Language by Scholastic.  For more information, please go to Scholastic.  And have fun!
Now for the Giveaway!
One (1) winner will win one copy of You Can Learn Sign Language by Scholastic. Simply follow the instructions in the rafflecopter widget below:
a Rafflecopter giveaway
Betsy blogs at BJ's Homeschool about high school and college and all the fun of homeschooling the early years too.  As a veteran homeschooler and the mom of a college student and homeschool grad, Betsy also offers free help to homeschool families,   She is the author of Homeschooling High School with College in Mind.